1. Bewitch
Marvel in the magic of Halloween at Arts in the Dark as State Street hosts a nighttime parade (6-8 p.m.) of dancers, musicians, artists and floats. After-parties take place at Millennium Park (7:30-9:30 p.m.), with DJs, stilt-walkers, fortune tellers and more; and Maggie Daley Park (8-10 p.m.) with a screening of the 1988 flick "Beetlejuice," plus spooky games and trick or treating.
Parade: Steps off at 6-8 p.m. at State and Lake Streets; proceeds south on State Street to Van Buren Street. Free / MAP
After-parties: 7:30-9:30 p.m. at Millennium Park, 201 E. Randolph St. Free / MAP; 8-10 p.m. Maggie Daley Park, 337 E. Randolph St. Free / MAP

Find more fall festivals in our 2018 guide
---
2. Howl
Have a barking good time at the Spooky Pooch Parade as costumed canines of all ages and sizes strut their stuff. In addition to the parade, dogs will vie for best dressed in a costume contest, including best dog and owner costume and best horticultural interpretation. Don't have a dog? Cheer on the pooches along the parade route.
Details: 11 a.m.-1 p.m. Saturday at Chicago Botanic Garden, 1000 Lake Cook Road, Glencoe. $15-$25 dog registration / MAP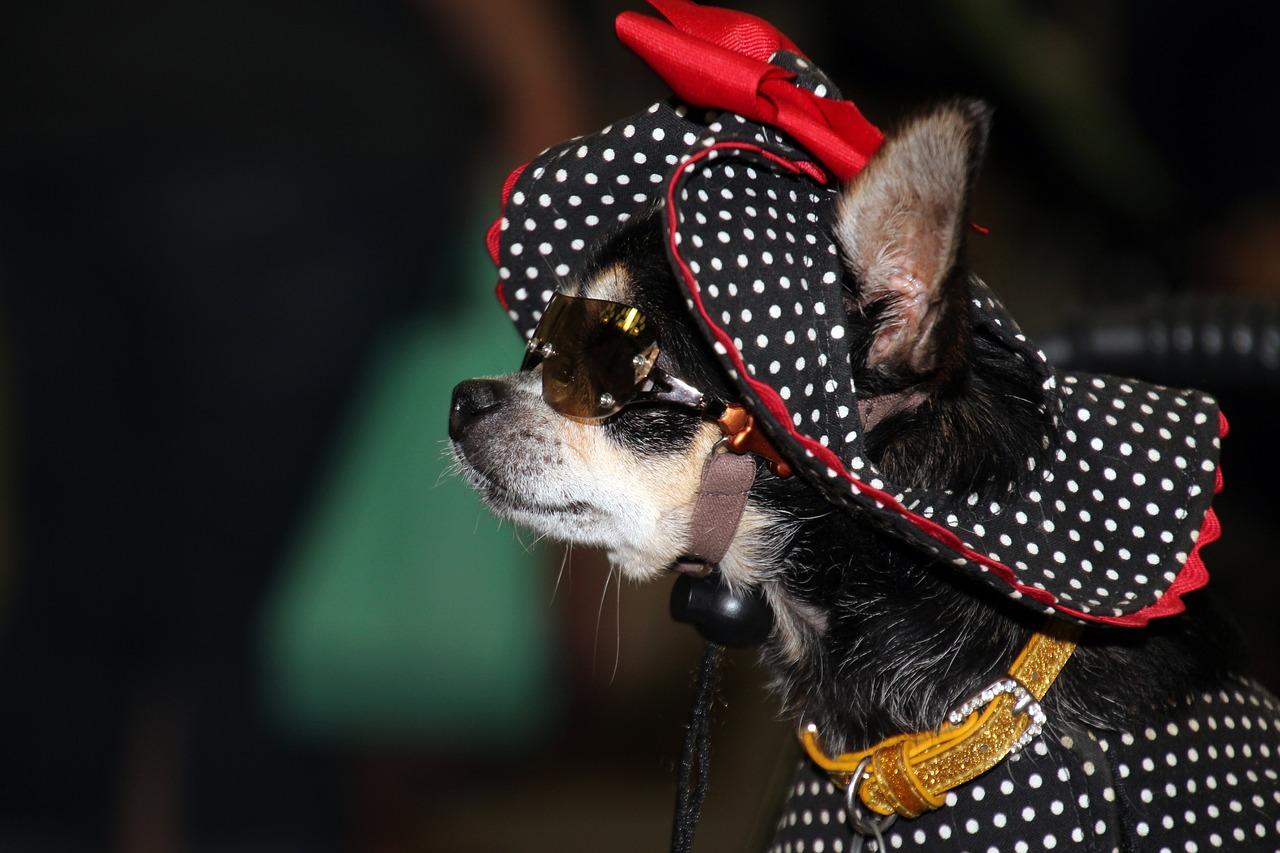 (macdeedle / Pixabay)
3. Groove
Award-winning artists and performers bring their talents to the South Side for the Logan Center Blues Fest. The second annual event pays homage to the genre's Chicago roots with concerts, workshops, films and conversations with artists that reflect the diverse history of the blues tradition. Among the event's headliners are Chris Thomas King with Jerron "Blind Boy" Paxton (Friday); Ruthie Foster with Deitra Farr and Leanne Faine (Saturday); and Charlie Musselwhite (Sunday).
Details: Times vary for performances and workshops. Friday-Sunday at the Logan Center, 915 E. 60th St. Free-$35 / MAP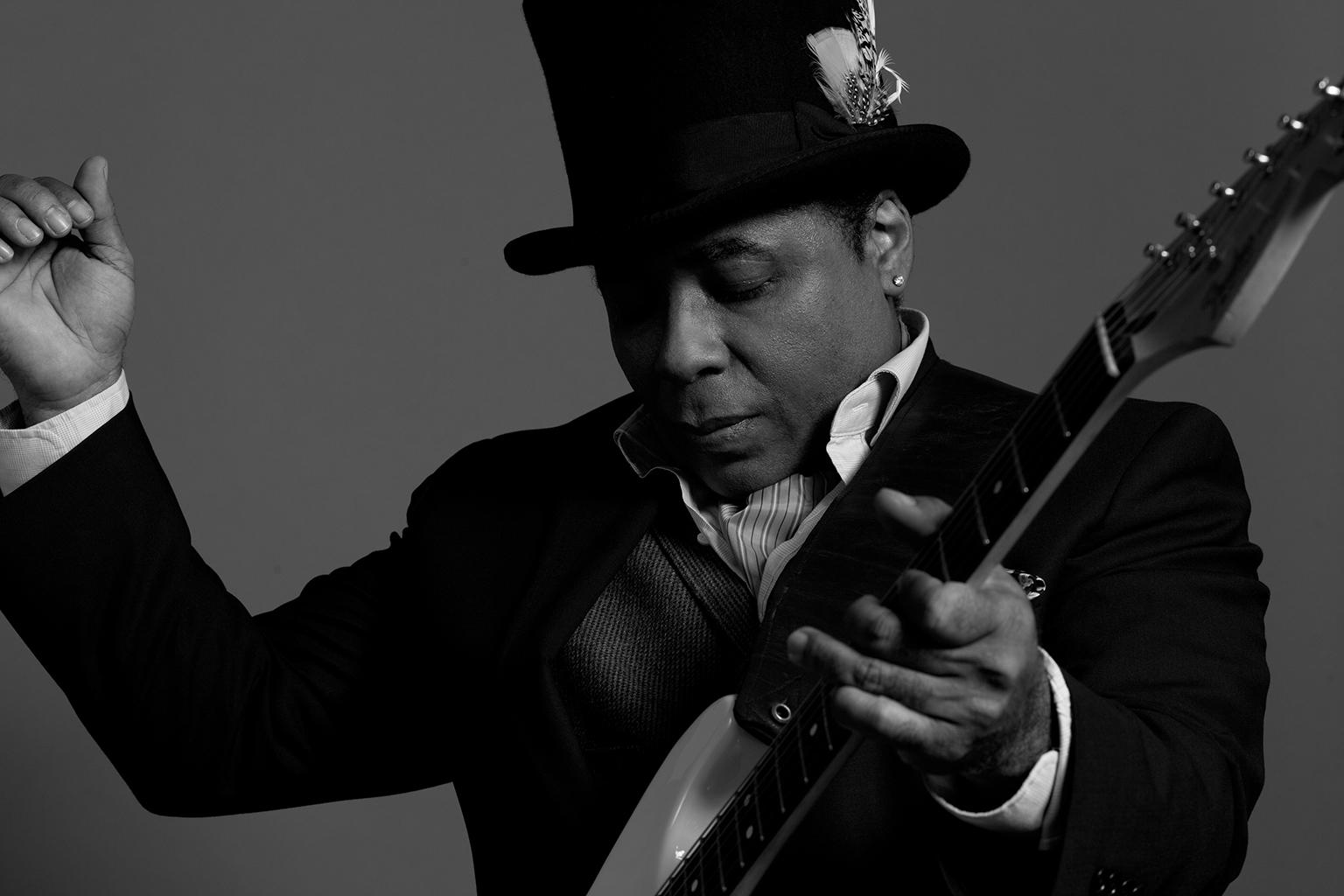 Chris Thomas King (Courtesy of Logan Center for the Performing Arts)
4. Imagine
Tap into your creative side at the Family Festival: Who Are You? Create a family comic book, make a collage from vintage ads and design a costume based on the artworks in "Hairy Who?" (See Chicago Tonight's story on the exhibit.) Sensory-friendly resources and activities will also be available.
Details: 10:30 a.m.-3 p.m. Saturday at the Ryan Learning Center at the Art Institute of Chicago, 111 S. Michigan Ave. Free / MAP

5. Haunt
Prepare for a zombie apocalypse at Nightmare on Chicago Street, where the undead have taken over downtown Elgin. Expect to see overturned cars, boarded-up buildings, burning tires and barrels of "toxic waste" littering the streets – and, of corpse, zombies! Stay alive in safe zones, featuring live music, food and drinks. Venture at your own risk – you never know who or what will be around every corner. (Note: Event is for adults 17 and older. Anyone under 17 must be admitted and remain with an adult.)
Details: 6-11 p.m. Saturday along Chicago Street between Douglas Avenue and Villa Court, Elgin. $12-$15 / MAP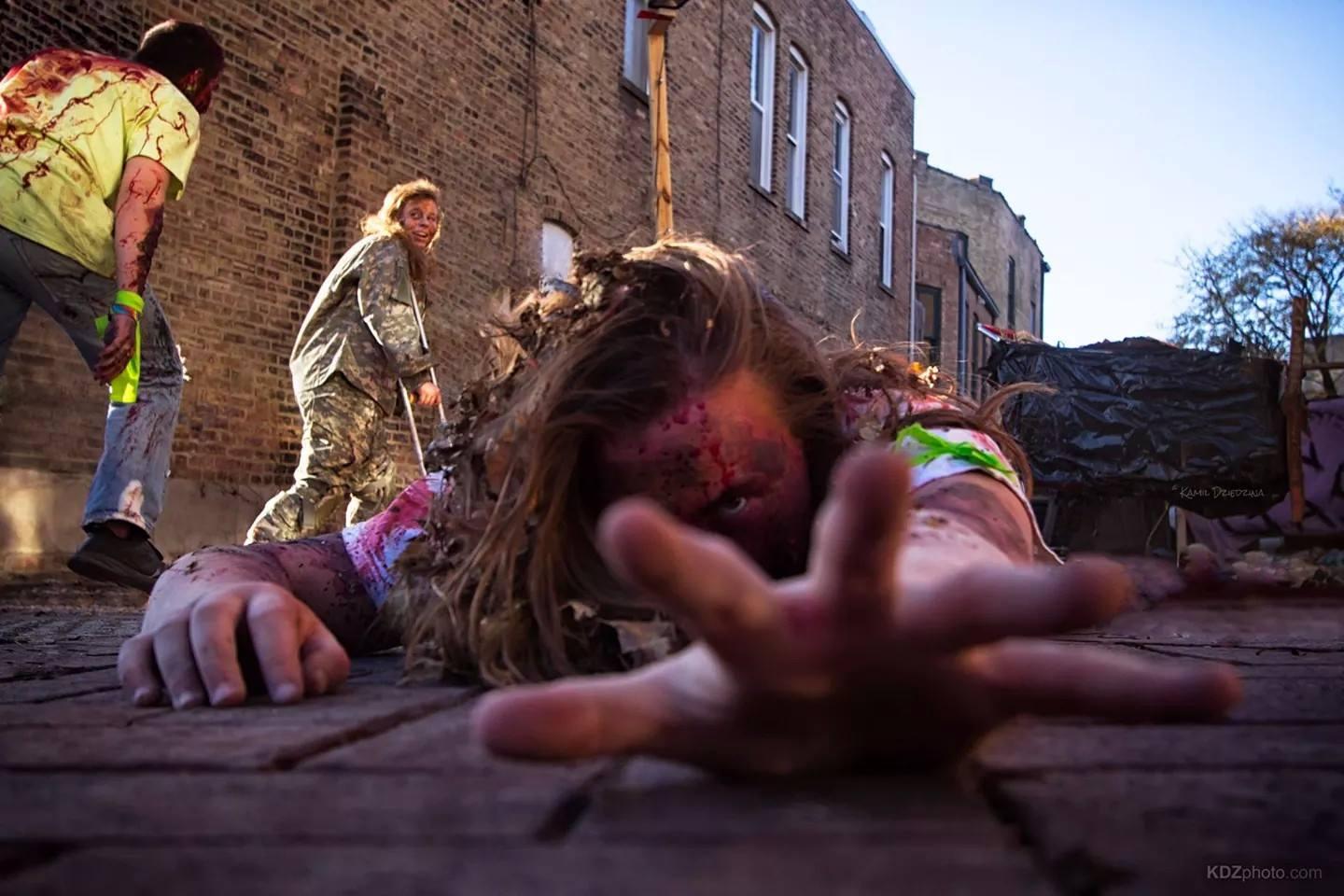 (Nightmare on Chicago Street / Facebook. Photo credit: Kamil Dziedzina, survivor)
6. Stroll
Surround yourself with the colors of fall at the Tree ID Walk. Openlands' Treekeeper program manager Al De Reu will guide you through the trees of beautiful Garfield Park. Children are welcome but must be accompanied by an adult. Walk takes place rain or shine, so be sure to dress for the weather.
Details: 10 a.m.-noon Friday at the Garfield Park Conservatory, 300 N. Central Park Ave. Free, pre-registration is required / MAP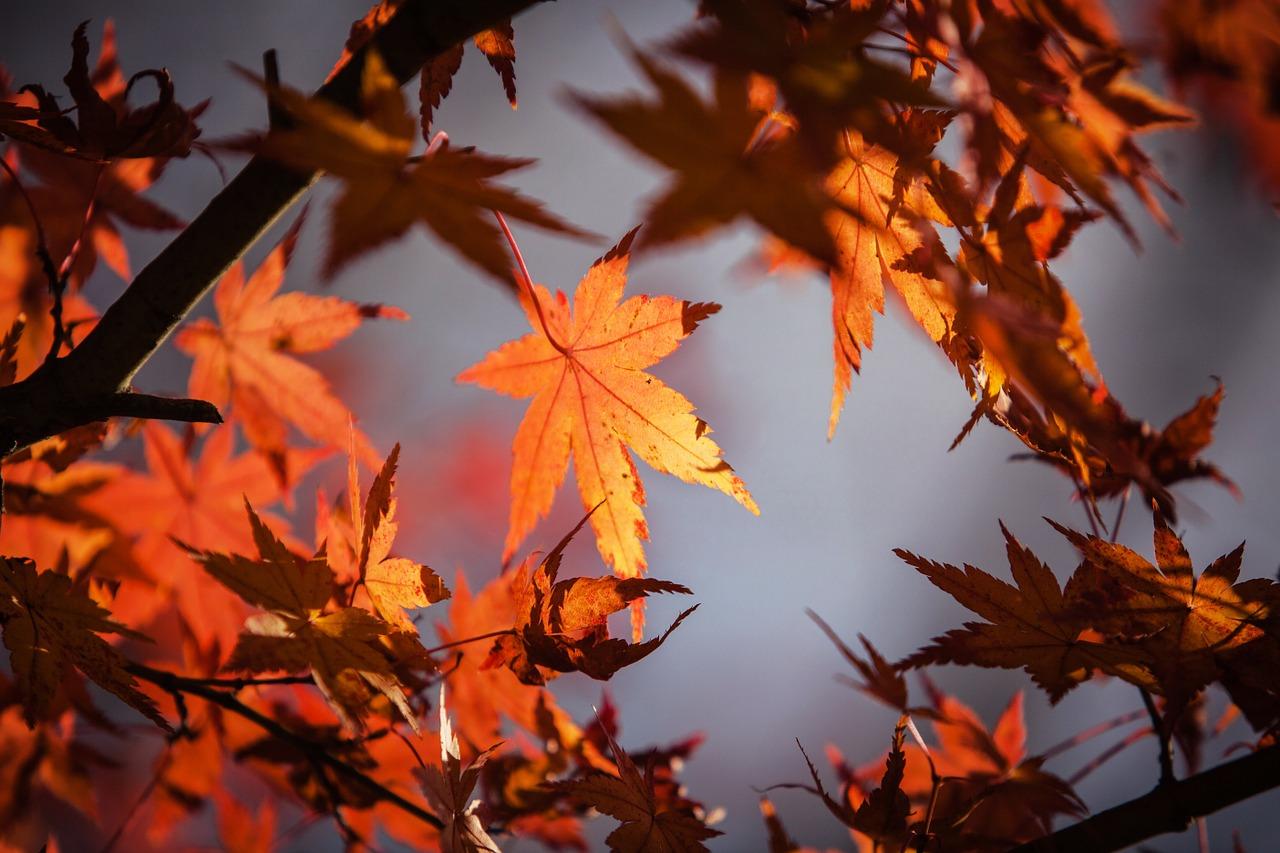 7. Browse
Shop till you drop (in costume, of course), at the Wheaton Haunted Halloween Flea Market. Mingle with horror film celebrities, including Robert Mukes of Rob Zombie's "House of 1,000 Corpses," and Felissa Rose of Robert Kiltzik's "Sleepaway Camp." Also on tap are hay rides, a pumpkin-carving contest, bands and a costume contest.
Details: 3 p.m.-midnight Saturday at the DuPage County Fairgrounds, 2015 Manchester Road, Wheaton. $7 / MAP

8. Engage
Descend into a surreal world where a mad architect's relentless pursuit of utopia has gone awry at "The Walls of Harrow House." Part haunted house, part immersive puppet theater, you'll explore the secluded home of reclusive architect Milton Harrow and meet its monstrous inhabitants.
Details: Performances at 7 p.m. and 8:30 p.m. Thursday; 7 p.m., 8:30 p.m. and 10 p.m. Friday and Saturday at Chopin Theatre, 1543 W. Division St. $25 / MAP
(Credit: Christine Kozol)
9. Speak up
Share your stories and hear the tales of others at the Evanston Public Library Storytelling Festival. Expect to hear immigration tales, spooky stories, African folktales, LGBTQ stories and more. Among the featured storytellers are Bill Harley, a Grammy-winning author and storyteller, and Nestor Gomez, a former undocumented immigrant from Guatemala who produces his own show, "80 Minutes Around the World Immigration Stories."
Details: 7-8:30 p.m. Friday; 10:30 a.m.-10:30 p.m. Saturday; 9:30 a.m.-4 p.m. Sunday at various locations, including the Evanston Public Library, 1703 Orrington Ave. Evanston. Free / MAP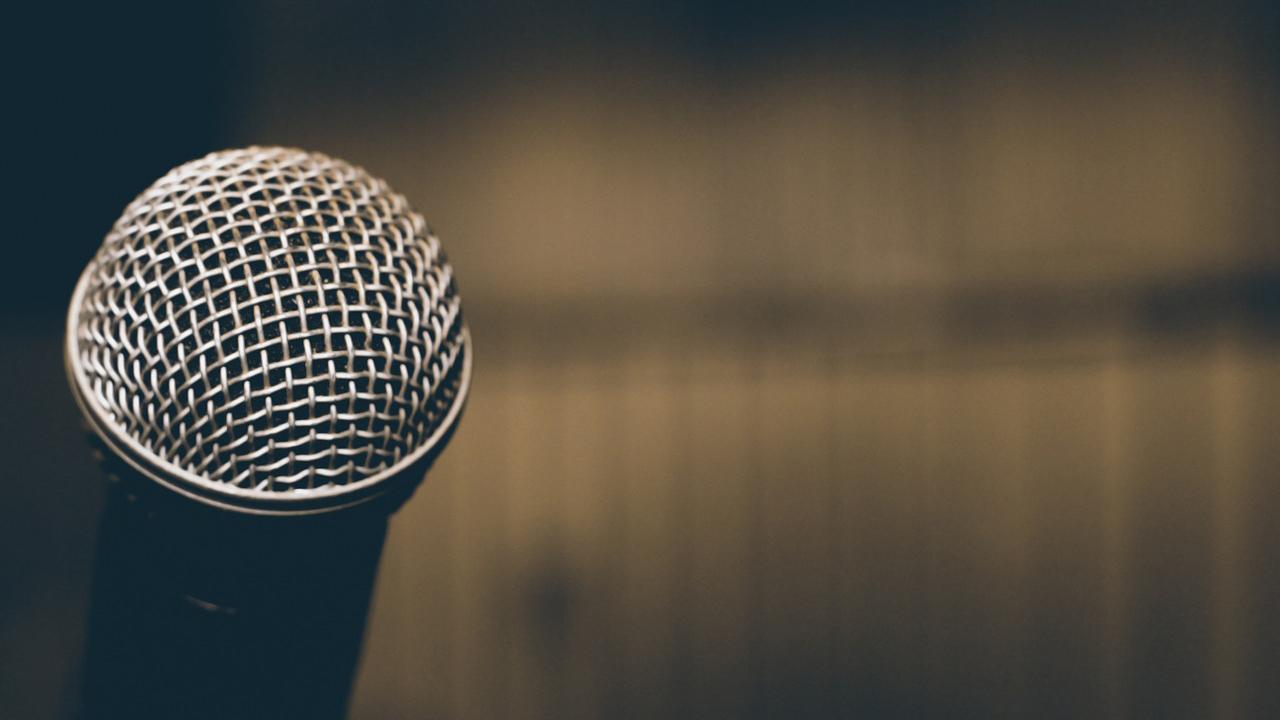 (HugoAtaide / Pixabay)
10. Screen
Presenting more than 150 films from across the globe, the Chicago International Film Festival brings legendary actors and filmmakers, as well as emerging talents to Chicago screens. This year, organizers seek to spotlight the work of women in cinema, including Chicago-born Elizabeth Chomko's directorial debut in "What They Had" and Nia DaCosta's feature debut "Little Woods," which has screenings on Friday and Sunday. For a full schedule of shows, click here.
Details: Show times vary through Oct. 21 at AMC River East 21, 322 E. Illinois St. $8-$12 for general screenings; $17-$20 for special presentations / MAP

Events listed are subject to change. We recommend double-checking times and locations before you head out the door. Want to share your upcoming events with us for consideration in a future roundup? Send us an email.
---