UPDATE: Chicago Hotel Workers Reach Agreement with 9 Hotels
Workers have been striking around the clock at more than two dozen Chicago hotels for nearly two weeks following the expiration of their contract.
The 6,000 workers – which include housekeepers, bellmen, doormen, servers, bartenders and banquet servers – are seeking year-round health care coverage as many lose benefits when they're laid off during slower months.
"The Chicago hospitality industry is doing extraordinarily well. Last year there were a record number of visitors: 55 million people. Chicago hotels raked in $2.3 billion in revenue last year," said Sarah Lyons, research analyst of UNITE HERE Local 1, the union representing the hospitality workers.
"The hospitality industry is an economic engine for our city, and this strike is to ensure that women and men who are the backbone of the industry are able to take a sick child to the doctor during the wintertime and have the security of year-round health care," Lyons said.
According to Lyons, many hotels lay off workers temporarily when business slows down, typically during the months of October through March, and hire them back and reinstate their benefits when business picks up. While workers with seniority are able to work year-round and keep their benefits, "that's not the case for many folks," she said. "They work incredibly hard in the summertime when business is booming and they're kicked to the curb during the wintertime."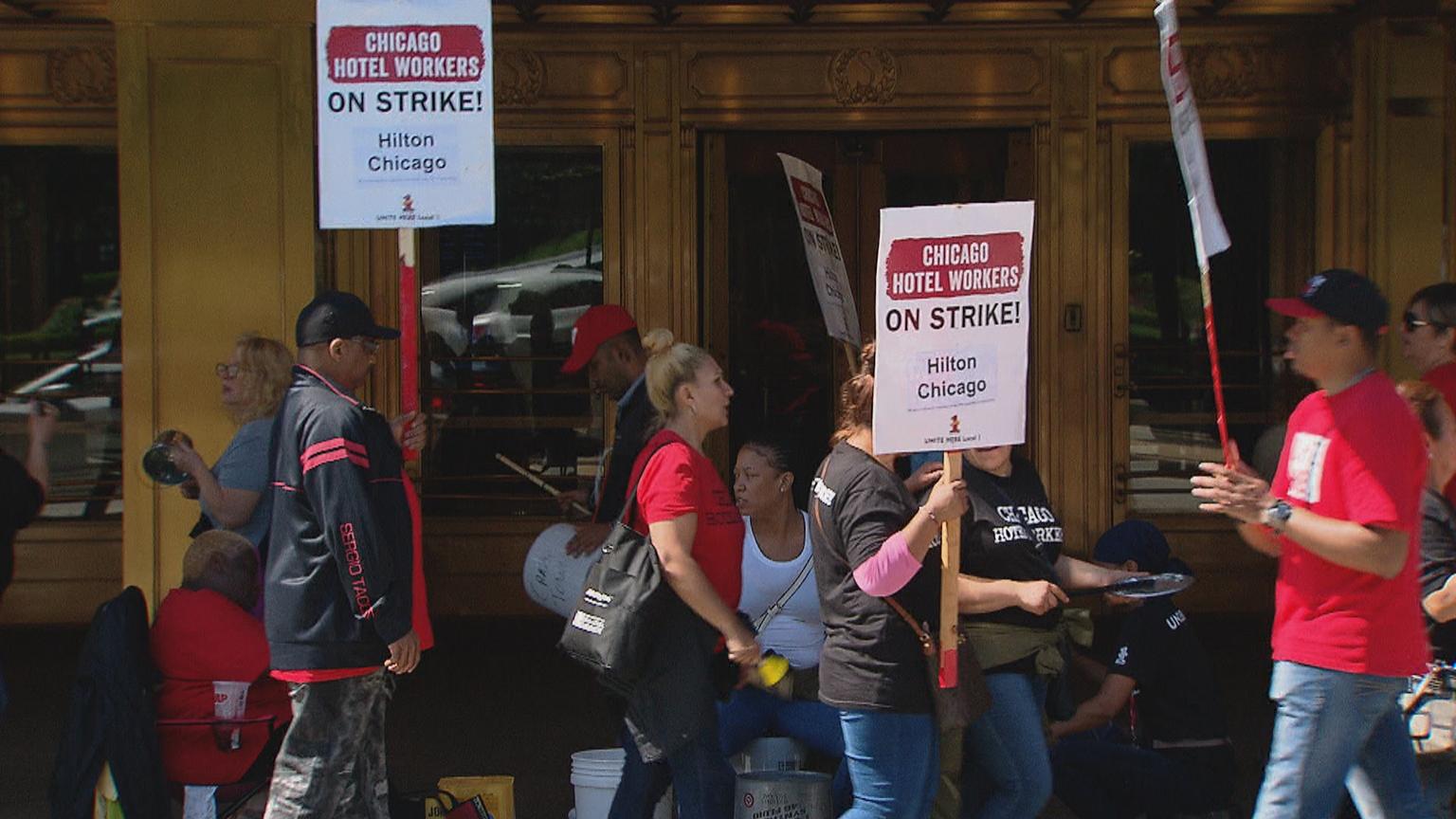 Workers picket in front of the Hilton Chicago on Tuesday, Sept. 11, 2018. (Chicago Tonight)
Contracts expired Aug. 31 and cover 30 hotels, including the Hyatt Regency Chicago, JW Marriott, Sheraton Grand and Hilton Chicago. Workers at all but four hotels covered by the contracts are striking. (A list of affected hotels is available here.) Contracts with each hotel are negotiated separately and the union says it's willing to sit down "with any employer who wants to have a serious discussion," Lyons said.
In a statement, Michael D'Angelo, Hyatt's vice president of labor relations, said the hotel was "disappointed" by the decision to strike but respects workers' rights.
"We are disappointed that UNITE HERE Local 1 has chosen to strike at this early stage. Hyatt and Local 1 are not at an impasse on any issue. In fact, Hyatt and Local 1 conducted previously scheduled negotiation sessions this week, and the union is still reviewing Hyatt's proposal and responses. Colleague benefits and wages remain unchanged as we negotiate a new agreement," D'Angelo said. "Our colleagues are the heart of our business, and we respect their right to voice their opinions."
Workers began striking at 5 a.m. Friday, Sept. 7 and intend to keep going. "Folks are willing to do what it takes. … This is too important to give up, and people will be out there as long as it takes to make sure they can protect themselves and their families," said Lyons. "Folks are standing strong because health care is that important to people."
Note: This story was originally published Sept. 13. It has been updated.
Contact Kristen Thometz: @kristenthometz | [email protected] | (773) 509-5452
---
Related stories
Chicago's Minimum Wage is Rising, But is it Enough to Live On?
In Wake of Janus Decision, What's Next for Public Unions
Report: For Minimum Wage Workers, Affordable Housing 'Out of Reach'
---