Aretha Franklin, the iconic "Queen of Soul," died Thursday of advanced pancreatic cancer at her home in Detroit, surrounded by family and friends. She was 76 years old.
"I'm trying to keep moving. I'm trying not to cry. … She was a good friend of mine," said Clarence Waldron, who has known Franklin since the '80s and worked as her publicist from 2014-2016. "This, to me, is a death in the family."
Video: Aretha Franklin performs in a 1985 WTTW production of "Soundstage."
Waldron first met Franklin while working as a reporter for JET magazine. "She was very shy," he said, but the two became "fast friends."
"She was a very loyal friend. If she loved you, she loved you and she showed it," Waldron said. "Every Christmas she would send me some kind of gift – usually a huge bouquet of flowers. … One year I got a box of Omaha steaks. I ate steaks forever. I'll always remember her generosity."
Known globally by her first name, Franklin had a career that spanned six decades. Among her countless hits: "Respect," "(You Make Me Feel Like) A Natural Woman" and "I Never Loved A Man (The Way I Loved You)."
Aretha Franklin is crowned by Pervis Spann at the Regal Theater in May 1964 while Rodney Jones watches. (Courtesy of Jet Magazine)
Born Aretha Louise Franklin on March 25, 1942 in Memphis, Tennessee, her family moved to Detroit when she was 2. Franklin began singing at her father's famed New Bethel Baptist Church as a young girl.
Franklin's performance of "My Country 'Tis of Thee," at President Barack Obama's 2009 inauguration was, Waldron says, a "dream come true for her father," a civil rights activist and minister.
"He dreamed of this," Waldron said. "He wrote for this and marched for this, and the fact that his daughter is singing for the first black president of the United States of America … She was very proud to be there with Obama and to be living something her father dreamed would happen."
The performance left Waldron awestruck. "I was like, 'Oh my God, this is Aretha Franklin. I know her. I'm friends with her," he said.
In 2015, Franklin sang for Pope Francis in Philadelphia, which Waldron said "was an amazing moment. That was a big deal to see her mingling with the Pope."
Those performances aside, Waldron said he'll always remember Franklin's performances locally and how she's acknowledge him or others, like the Rev. Jesse Jackson, on stage. "She always called somebody out," Waldron said. "Having my name called out on stage, that was a nice thrill."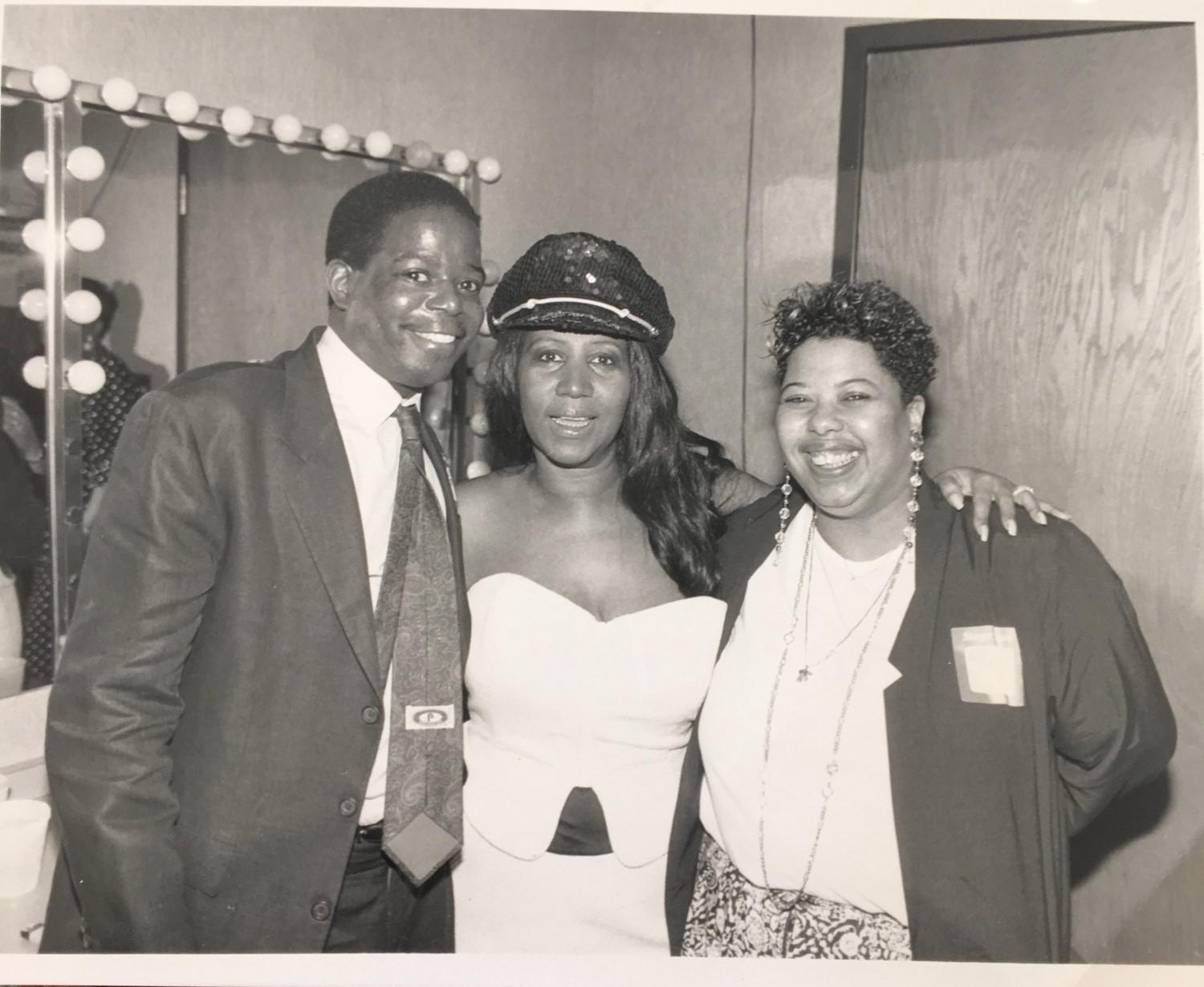 May 11, 1991: Aretha Franklin at the Holiday Star Plaza with Clarence Waldron, then senior editor at Jet Magazine, and Ava Odom Martin, then Ebony/Jet showcase producer and current Chicago Tonight assignment manager. (Courtesy of Debra Meeks Photography)
Waldron says on a more personal note, he'll always remember Franklin's humor. "She had a profound sense of humor. She was very witty," he said. "She liked to laugh. She was a big (fan) of Tyler Perry's Madea character. She'd answer the phone, (like Madea) saying, 'Good mornting,' and we'd just laugh."
Franklin won 18 Grammy Awards for her music, with the most recent for Best Gospel Performance for "Never Gonna Break My Faith" with Mary J. Blige in 2008.
She was the first woman inducted into the Rock & Roll Hall of Fame in 1987 and became the youngest artist to receive the Kennedy Centers Honor in 1994. In 2005, she was awarded the nation's highest civilian honor, The Presidential Medal of Freedom, by President George W. Bush.
In 2014, she released "Aretha Franklin Sings the Great Diva Classics," which includes renditions of Adele's "Rolling in the Deep" and Gloria Gaynor's "I Will Survive." That same year, Franklin had an asteroid named after her.
"She was and is the queen of soul," Waldron said. "People need to continue to embrace the music and that amazing voice. … Remember how she made you feel the first time you fell in love with Aretha Franklin, and that's what I'm going to continue to do."
Waldron and broadcasting executive Melody Spann Cooper join Phil Ponce on Thursday to talk about Franklin's deep Chicago connections.
Video: Aretha Franklin performs in a 1985 WTTW production of "Soundstage."
---
Related stories
Stan Mikita, Chicago Blackhawks Legend, Dies at 78
Remembering Oak Park Record Store Owner Val Camilletti
Elizabeth Brackett, Award-Winning Journalist and Triathlete, Dies at 76
---