Pitchers and catchers report on Feb. 13. That's about the only good news that Cubs fans can point to Thursday night. Beyond that, it was a merciless ending to a rough NLCS rematch against the Los Angeles Dodgers, who now advance to the World Series for the first time since 1988 after a 11-1 Game 5 victory. They'll play the winner of the ALCS, where the New York Yankees currently lead the Houston Astros 3 games to 2.
The victory is sweet revenge for Dodgers starter Clayton Kershaw and the rest of his team, who lost to the Cubs last year in six games when the Cubs went on to win the World Series.
The big blow of the game was a third inning grand slam by Enrique Hernandez, his second long ball of the game, to put LA up 7-0.  The pumped-up crowd that was feeling momentum from Game 4's victory was quickly deflated before many patrons even found their seats. Cubs starter José Quintana gave up a triple to Dodgers first baseman Cody Bellinger, which scored Chris Taylor in the top of the first to begin the onslaught. Quintana struggled in his brief outing, and was removed after he loaded the bases with nobody out in the third, before reliever Hector Rondon gave up the big blast. 
The Cubs bats never fully got going in the postseason, despite their NLDS division series victory. Still, the long-term fortunes are bright for the franchise, which has reached the National League Championship Series three years in a row.
But for the next several months, the only action in Wrigleyville will be the construction work on the Hotel Zachary on Clark Street and a private mixed-use development on Addison Street. The former is scheduled to open next year, as the massive redevelopment of the area around the stadium reaches its final stages.
Here's our second live report a few minutes before 8 p.m.:
Follow Paris Schutz on Twitter: @paschutz
---
Related stories: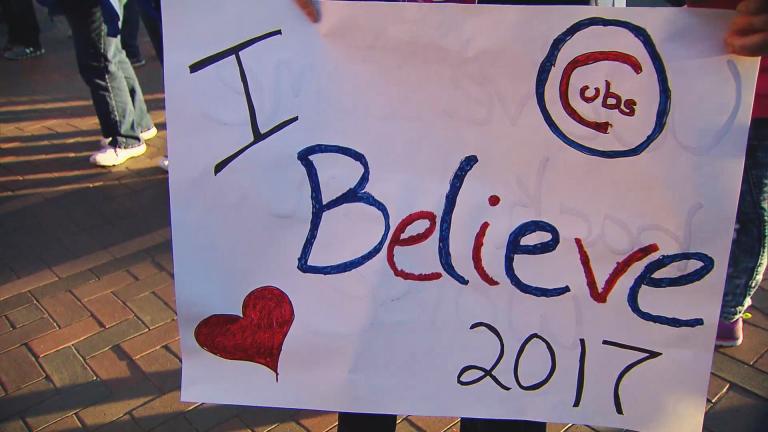 NLCS Game 4: Cubs Try to Avoid Being Swept by Dodgers
Oct. 18: The 2016 World Champions face elimination in Game 4 of the 2017 National League Championship Series.
---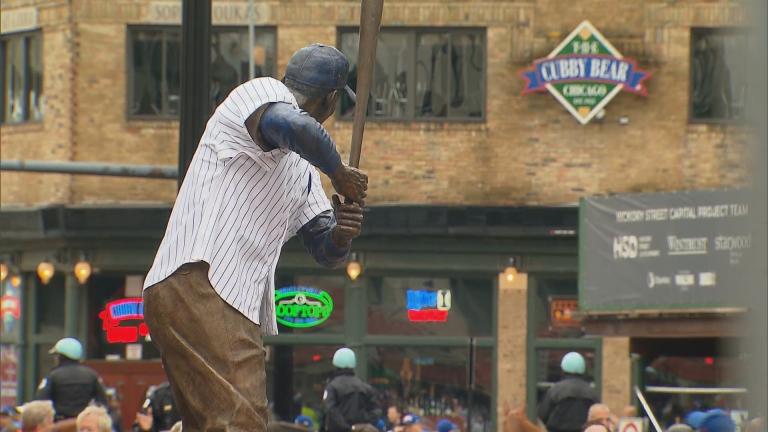 Cubs Look to Get Hot at Home in NLCS Game 3
Oct. 17: Down 0-2 to the Dodgers in the National League Championship series, the Cubs hope playing at the Friendly Confines will turn the team's fortunes around.
---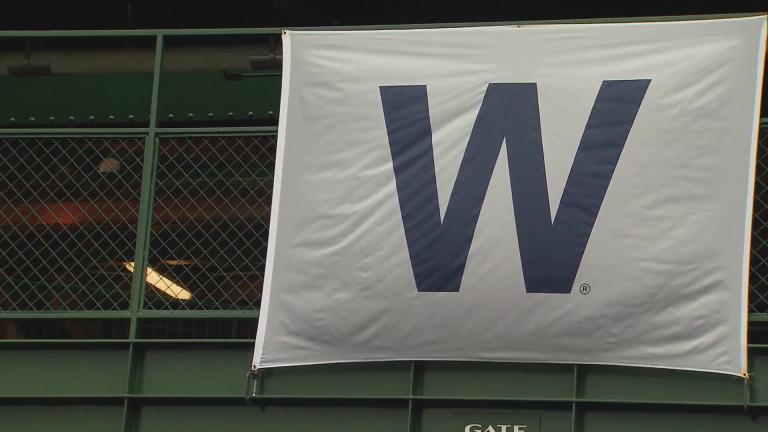 Win or Go Home For Cubs vs. Nationals Game 5
Oct. 12: Cubs fans are gathering outside Wrigley Field for Game 5. It's not the packed scene we've seen for the last three nights, but a sizable crowd has congregated on the Wrigley Plaza to watch the game on the big screen.
---