Lake Michigan's first floating water park features a floating trampoline and slides. (Courtesy of Wibit Sports)
1. Float
Be among the first to experience Lake Michigan's only floating water park when the WhoaZone opens Saturday. The highly anticipated aquatic park features slides, towers, bridges, cliffs, a floating trampoline and monkey bars. You can also rent kayaks, stand-up paddleboards and beach chairs. Each hourlong session includes a 15-minute orientation and rules of conduct review.
Details: The park is open daily through Sept. 4, starting from 10 a.m.-6 p.m. this Saturday and Sunday. Whihala Beach, 1443 Park Service Road, Whiting, Indiana. $20 per session; $30 for a double session. | MAP
2. Eat
You might want to ditch breakfast if you're near the South Loop this weekend. That's where about 50 businesses are setting up for the Chicago Food Truck Festival. Line up for eats from CheSar Gluten Tootin Free, the Tamale Spaceship, Harold's Chicken Shack, Chicago Pizza Boss and scores more; wash it all down with sangria, beer or wine in a garden area. Extras: Tents and limited outdoor seating, plus live music. Rain or shine.
Details: 11 a.m.-7 p.m. Saturday-Sunday at 1600 S. Wabash Ave. VIP entry costs $5-$10; free ticket sales have ended. | MAP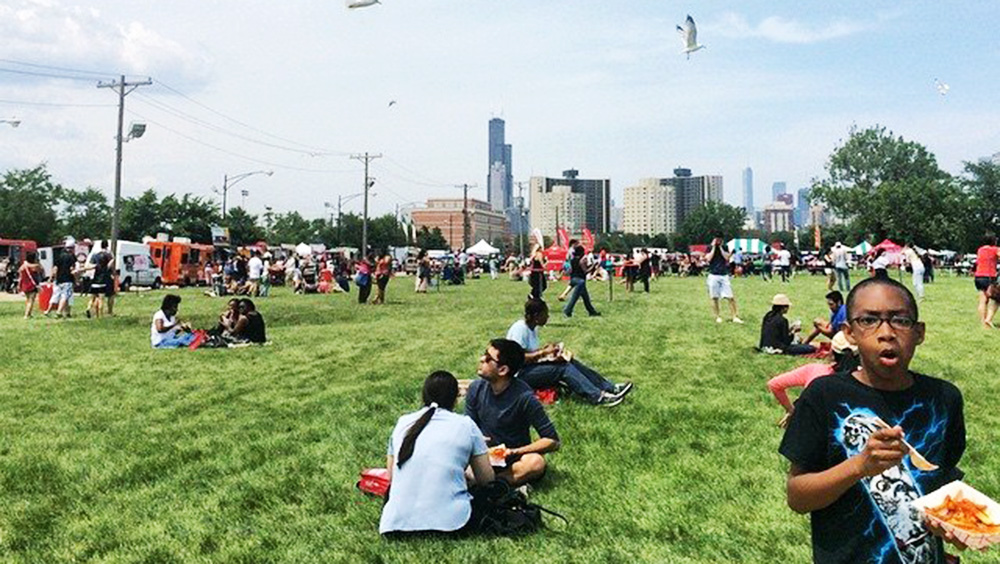 (Chicago Food Truck Festival / Facebook)
3. Sweeten up
Enjoy one of the greatest perks of summer—fresh fruit—at Strawberry Fest. After taking last year off, the three-day festival is back in action and serving up all the strawberry-infused dishes you can imagine. Between watching a strawberry pie-eating contest and chowing down on a prime rib sandwich with strawberry salsa, catch live music on three stages. Kids activities include carnival rides, water balloon tosses and a junior knight training.
Details: 11 a.m.-11 p.m. Friday; 10 a.m.-11 p.m. Saturday; 10 a.m.-6 p.m. Sunday in Downtown Long Grove, 308 Old McHenry Road. $5; free for children under age 12. | MAP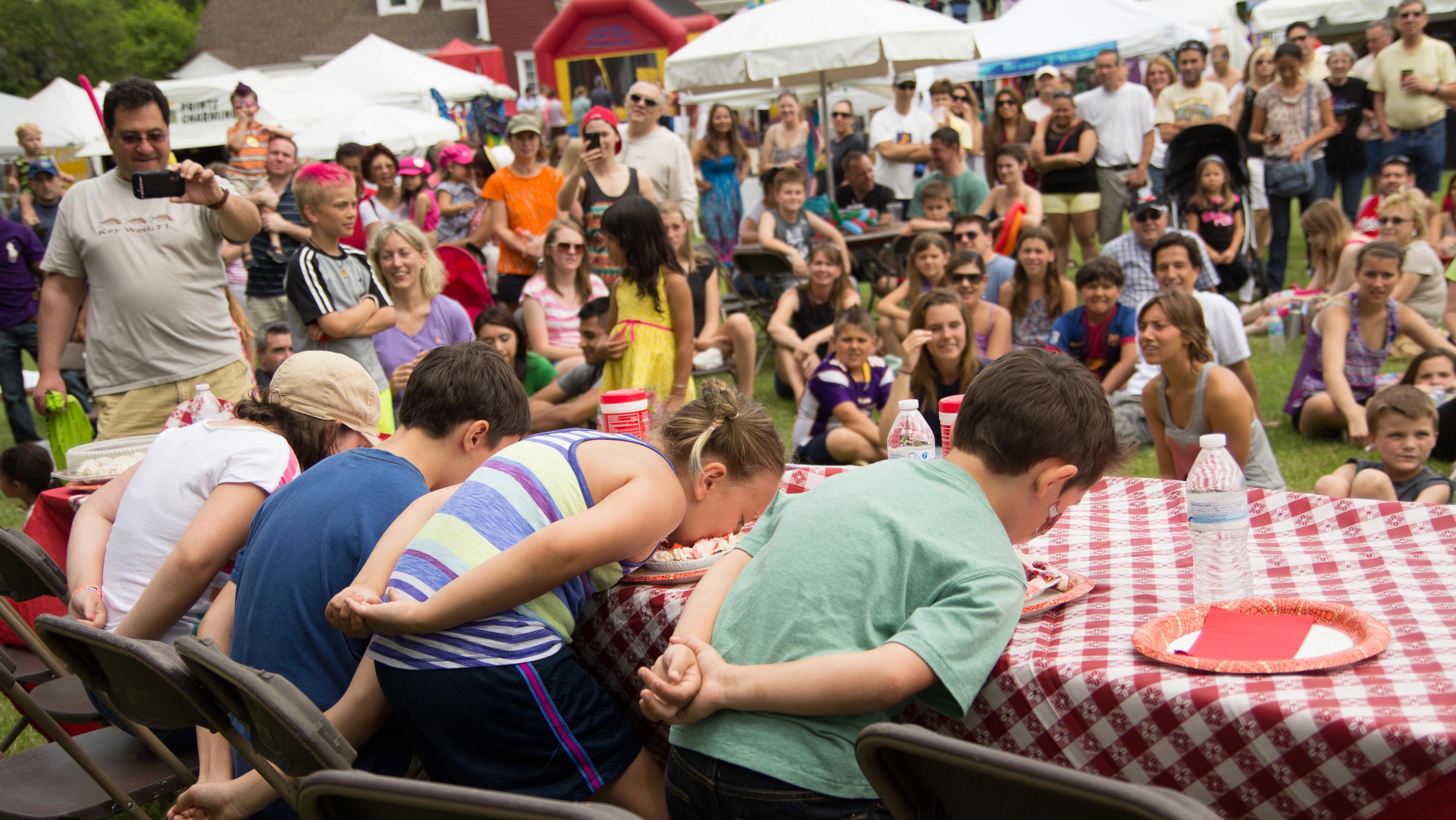 A strawberry pie-eating festival takes place at Strawberry Fest. (Courtesy of Jody Grimaldi)
4. Practice
Master the art of making a perfect Chicago-style hot dog at the Best Chicago Style Dog. Steve Vrettos, the owner of Vienna Beef Hall of Famer Jeff's Red Hots, teaches you how to assemble the infamous char-broiled dog, and if you're feeling confident enough you can participate in a competition after class—or just indulge in lawn games.
Details: 11 a.m.-2 p.m. Sunday at Jeff's Red Hots, 3901 N. Cicero Ave. $10; $15 to compete. | MAP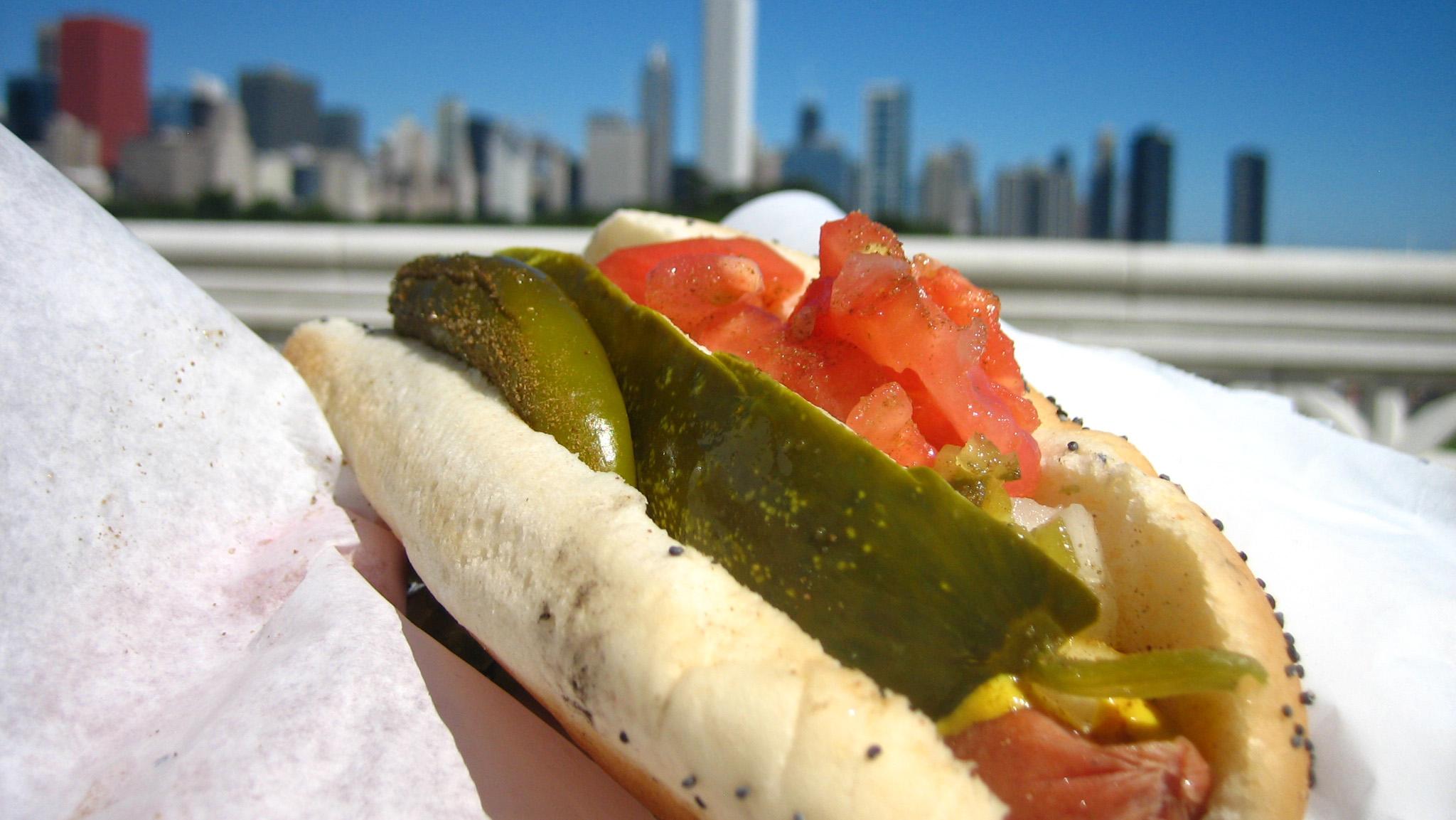 Master the art of the Chicago hot dog. (Jeremy Keith / Flickr)
5. Electrify
Our good old friend electricity is powering new possibilities in transportation. See what's new at the Electric Bicycle Expo, where you can peruse 130 electric bike models and take your favorite for a test ride, and meet the makers of the transportation alternative. A raffle offers a chance to win your own two-wheeler courtesy of Tempo Bicycles.
Details: 3-7 p.m. Friday; 9 a.m.-6 p.m. Saturday; 10 a.m.-4 p.m. Sunday at Lincolnwood Town Center, 3333 Touhy Ave. Free. | MAP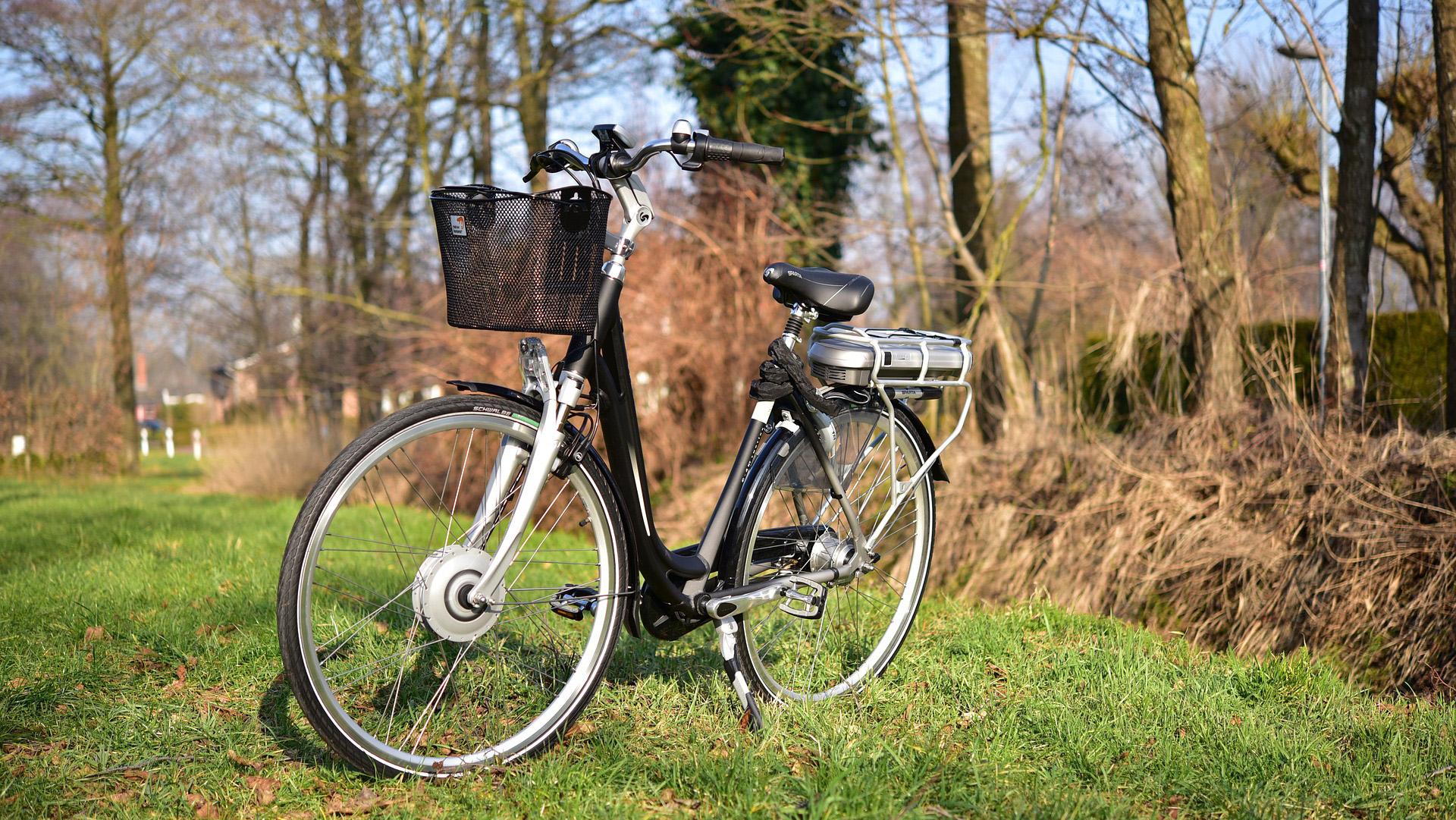 Take an electric bike for a spin this weekend.
6. Be a fan
Though hockey season is on hiatus, it's never far from our minds—especially this weekend, as the Blackhawks host the 2017 NHL draft. Get in on the action at the NHL Draft Fan Fest, where the Neon Trees are scheduled to perform. Snap pictures with Blackhawks players and enjoy interactive games before taking in the draft firsthand.
Details: 3-9 p.m. Friday- Saturday at United Center Parking Lot C, 1901 W. Madison St. Free at select pickup locations. | MAP
7. Stand proud
The 48th annual Chicago Pride Parade brings together hundreds of thousands of people to celebrate the LGBTQ community. This year's theme is Viva la Vida/Stand Up, Stand Proud, and the grand marshal is Illinois native Lea DeLaria of "Orange is the New Black" fame (she plays Carrie "Big Boo" Black).
Details: Noon-3 p.m. Sunday beginning at the corner of Montrose Avenue and Broadway. | MAP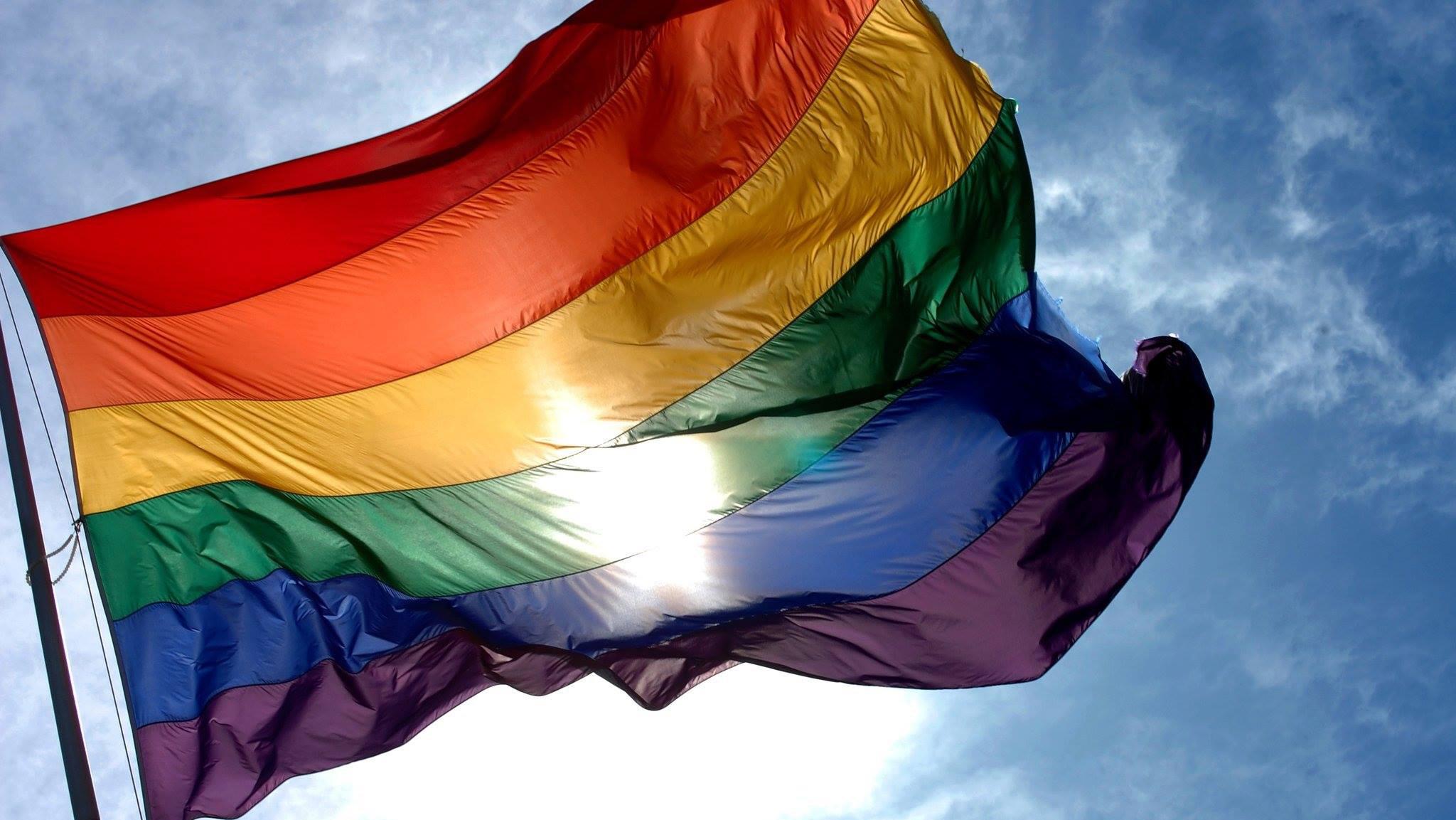 The Chicago Pride Parade returns this weekend. (Church of the Three Crosses / Facebook)
8. Chugalug
Tap into a North Side corridor dotted with breweries (and newly designated as Malt Row by a local chamber of commerce) at Ravenswood On Tap, the neighborhood's craft beer festival. Ten local breweries set up shop, a handful of food vendors are on hand to provide grub and a dozen of musical acts take the stage, including Cold Country, Tara Terra (Saturday) and Mike Maimone (Sunday).
Details: 1-9 p.m. Saturday; 1-6 p.m. Sunday along Ravenswood Avenue between Berteau and Belle Plaine avenues. $5 suggested donation. | MAP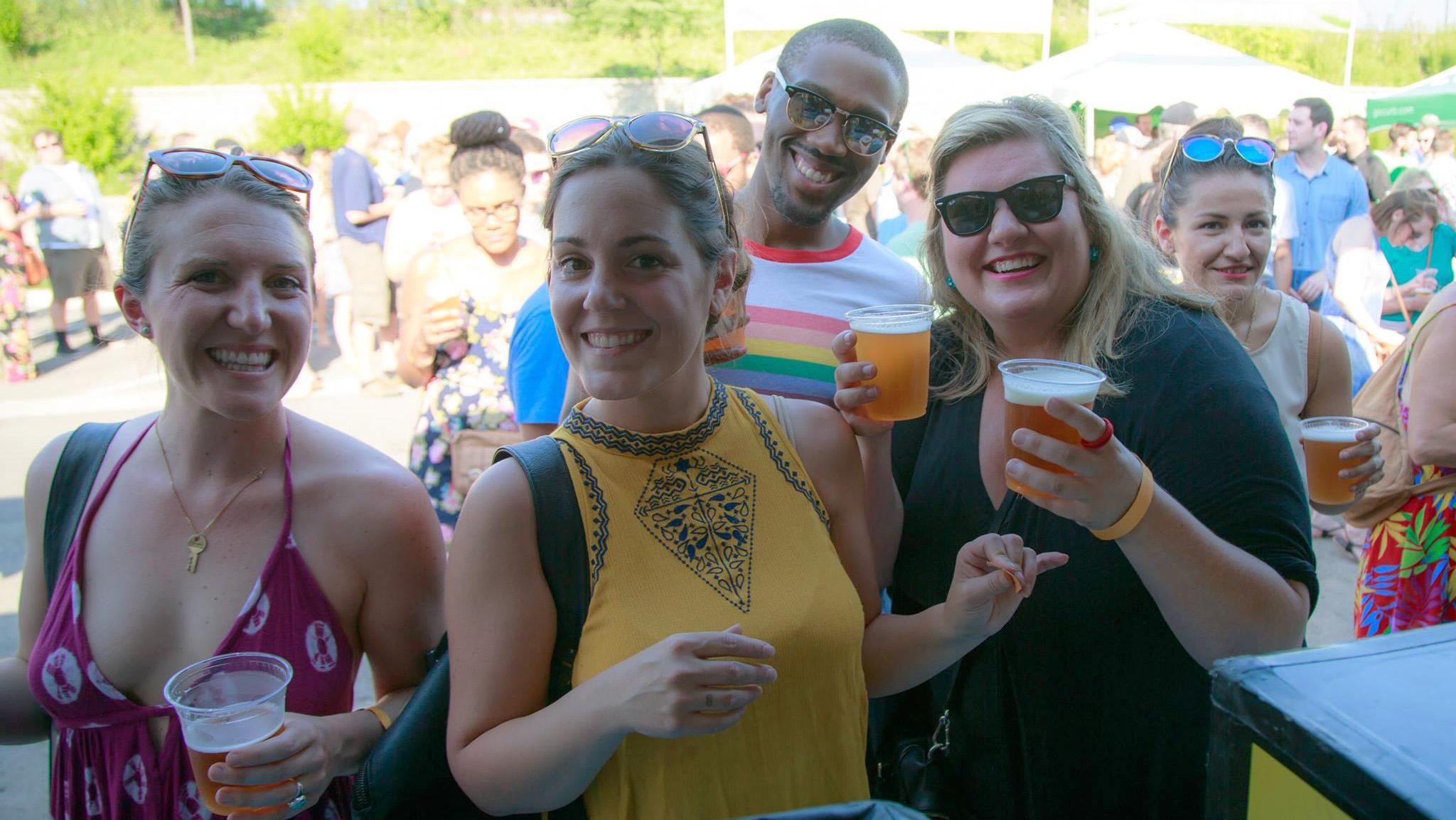 Suds it up at Ravenswood on Tap. (Greater Ravenswood Chamber of Commerce / Facebook)
9. Dance
Dust off those cowboy boots at Lake Shake Festival, a three-day festival dedicated to country music that features such names as Thomas Rhett and Randy Houser (Friday), Miranda Lambert and Little Big Town (Saturday), and Rascal Flatts (Sunday)—among dozens more. If country music isn't for you, check out Mamby on the Beach where MGMT, Misterwives, Miike Snow and Marian Hill are among the dozens of artists making an appearance.
Lake Shake Festival: 3:15-9:15 p.m. Friday-Sunday at Huntington Bank Pavilion at Northerly Island, 1300 S. Linn White Drive. $49.75 for a single-day pass, $149 for a three-day pass. | MAP   
Mamby on the Beach: 12:30-10 p.m. Saturday-Sunday at Oakwood Beach, 4100 S. Lakeshore Drive. Tickets range between $61.11 and $199. | MAP
Dozens of musicians, from Misterwives to Marian Hill, perform at Mamby on the Beach. (Mamby on the Beach / Facebook)
10. Marvel
Thirty-six dancers and 24 musicians take the stage for ¡Orgulla de la Tierra Mia!, a Mexican folkloric dance concert. Renowned sculptor Rafael Zamarripa choreographs the event that features one of Mexico's most well respected dance companies—the Ballet Folklorico de la Universidad de Colima.  
Details: 7:30 p.m. Saturday at the Auditorium Theater of Roosevelt University, 50 E. Congress Pkwy. $40-$75. | MAP
Events listed are subject to change. We recommend double-checking times and locations before you head out the door. Want to share your upcoming events with us for consideration in a future roundup? Send us an email.
---