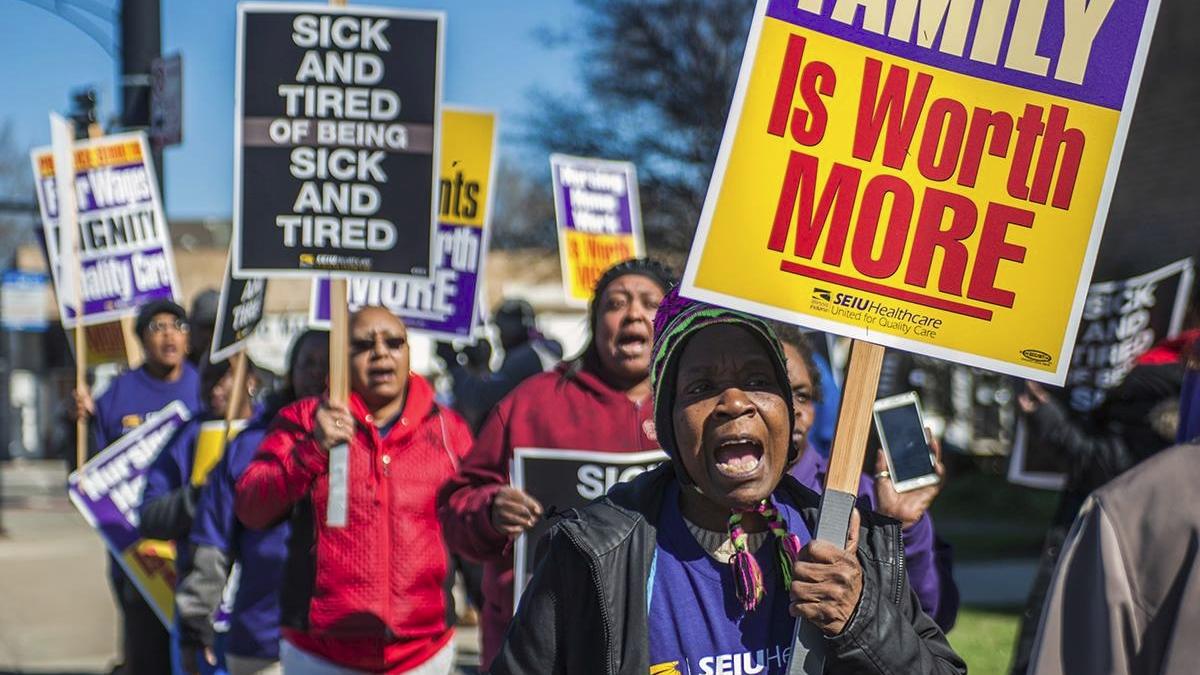 (Courtesy of SEIU Healthcare Illinois Facebook)
SEIU Healthcare Illinois members reached a tentative agreement on a three-year contract with the Illinois Association of Health Care Facilities late Wednesday night, avoiding a strike in which 5,000 nursing home workers across 53 Chicago-area facilities were expected to participate.
The strike was set to begin Thursday.
The union announced nursing home workers' intent to strike last week, citing insufficient wages and staff shortages that weren't being addressed in contract negotiations.
The last long-term contract between the association and the union expired in 2014. Since then, there have been a number of 60-day contract extensions. 
Though the details of the negotiations were not disclosed, IAHCF spokesperson Nick Kalm told Chicago Tonight the association was proposing a 14 to 18 percent increase in wages, while the union was asking for a 37-percent increase.
Nursing home workers, including certified nursing assistants, food service workers and janitorial staff, earn an average of $11 an hour.
Kalm said both parties were "pleased to have reached an agreement," but he expressed frustration over current levels of Medicaid funding and said the two parties will continue to work on the issue.
"The Medicaid funding crisis underlying our negotiations remains and we would like to work with SEIU … to encourage our state legislators to protect and increase Medicaid funding from one of the worst levels in the country," Kalm said in a statement.
More than 80 percent of members' revenue comes from Medicaid reimbursement.
---
Related stories: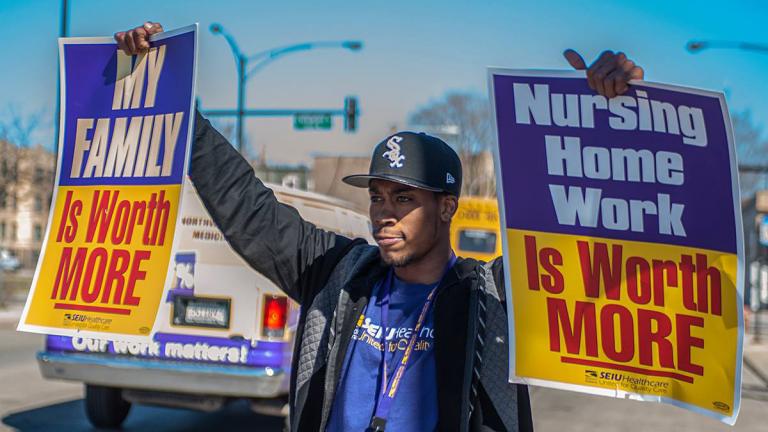 5,000 Chicago-Area Nursing Home Workers Threaten Strike
April 28: Thousands of nursing home workers at 53 Chicago-area facilities have threatened to go on strike beginning next week, according to an announcement from SEIU Healthcare Illinois.
---