1. Splurge
According to a recent study, experiential gifts and purchases inspire more gratitude than material ones. Here's an experience you're not likely to forget: a narrated Holiday Lights Helicopter Tour with Chicago Helicopter Experience. The 17-minute nighttime tour showcases birds-eye views of the Mag Mile, ZooLights and other seasonal illuminations. On Thursdays (starting Dec. 1), groups of five or fewer can hitch a ride with Santa, who narrates the course while his chauffeur steers the "sleigh." Bonus: Everyone who signs up for a Thursday tour (with or without Santa) gets holiday cookies and hot chocolate.
Details: Tours depart daily from 5-9 p.m. Friday through Jan. 1 at 2420 S. Halsted St. $178-$228; group rides with Santa for up to five people cost $1,000. | MAP

2. Laugh
"Trainwreck" star Amy Schumer, also the author of best-seller "The Girl with The Lower Back Tattoo" and creator of Emmy Award-winning sketch series "Inside Amy Schumer," stops in Chicago on her world tour.
Details: 7 p.m. Saturday at UIC Pavilion, 525 S. Racine Ave. $49-$124. | MAP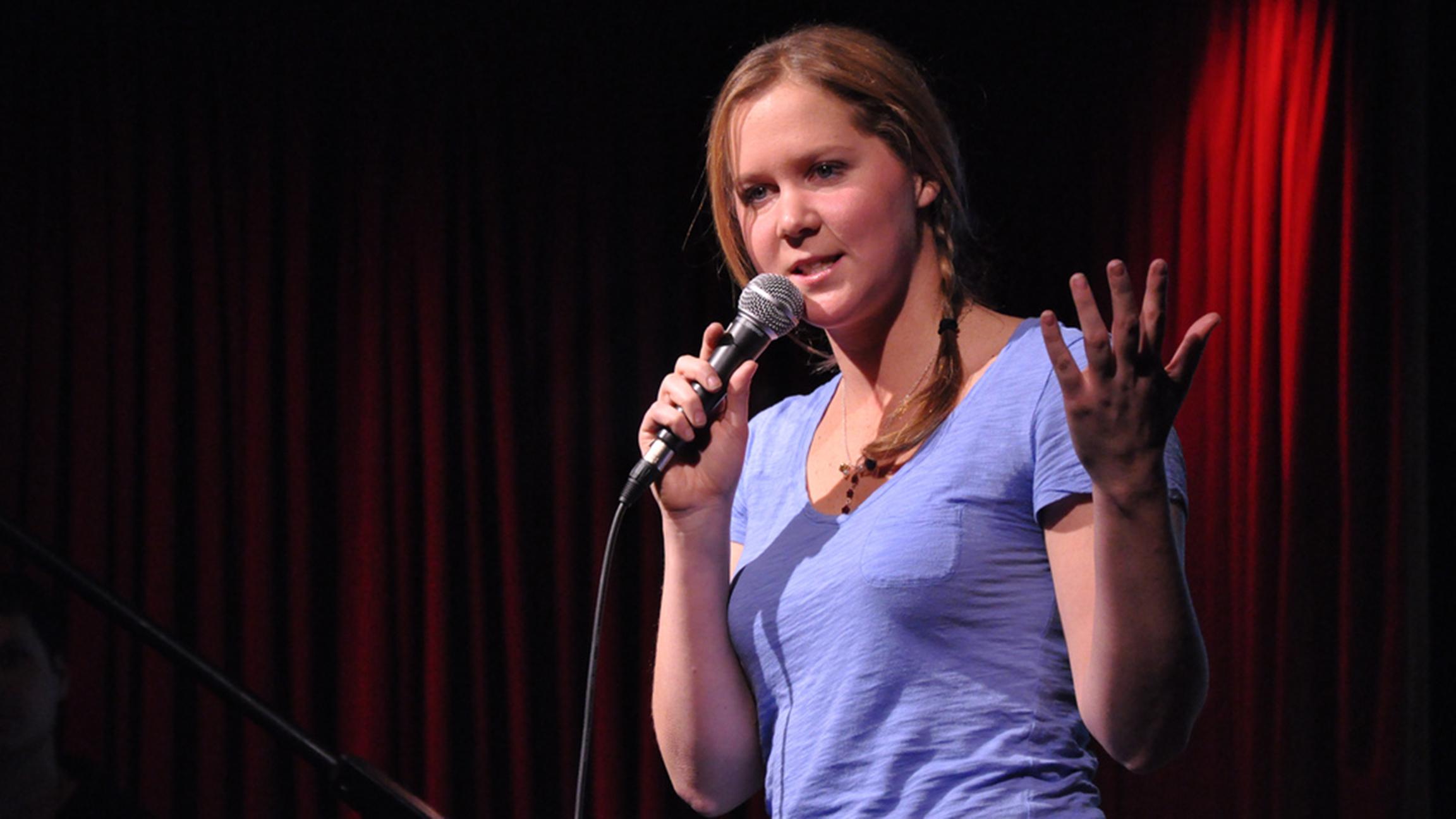 Before she was a "Trainwreck": Amy Schumer performs in 2010 at Comedy Below Canal. (92YTribeca / Flickr)
3. Relax
On a shopping day known for sharp elbows, leave the big box stores to the breathless crowds and start a new tradition: The Late Late Craft Show. The fifth annual event showcases handmade gifts from 30 artists. Browse greeting cards, candles, jewelry, prints, Christmas ornaments, housewares, winter wear and more. Bonus: Because the sale takes place in a bar/restaurant, you can reward your efforts with a pint. (Take that, Best Buy.)
Details: 5-11 p.m. Friday at Mrs. Murphy and Sons Irish Bistro, 3905 N. Lincoln Ave. Free. | MAP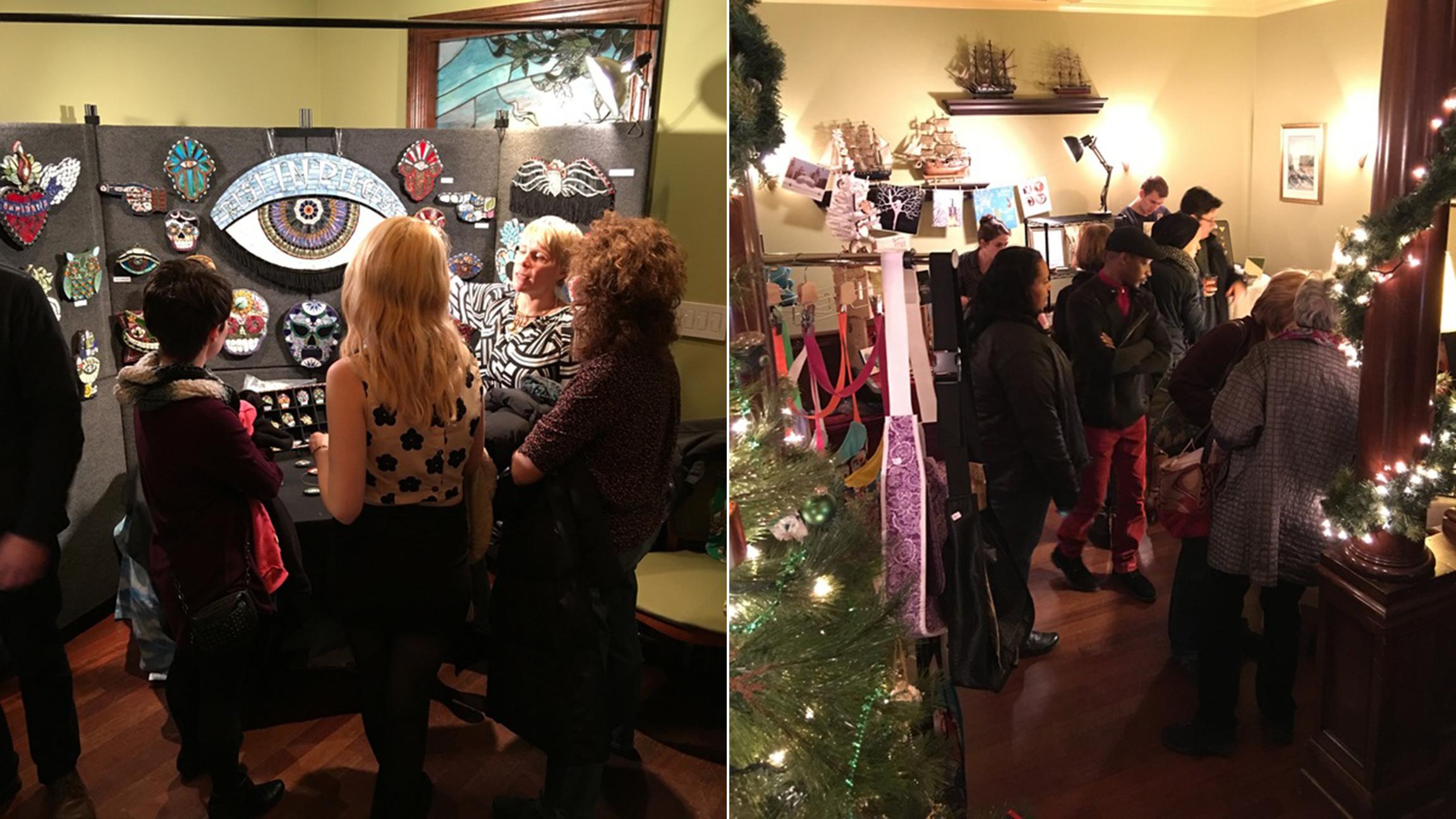 Organizers say the 2015 show (pictured) was the busiest yet. (Courtesy of The Late Late Craft Show)
4. Look up
This week, it's is all about tradition. Here's one that's 80-plus years strong: The city's Thanksgiving Parade features giant helium balloons, marching bands, equestrian units, drum lines, dance teams and other entries along a mile-long stretch of State Street. Among the estimated 5,000 participants marching in this year's colorful, musical spectacle: Santa Claus, the Harlem Globetrotters, the Jesse White Tumblers and the parade mascot, Teddy Turkey. Organizers recommend arriving early for a good spot; State and Adams streets are a good bet for less-crowded viewing, they say.  
Details: 8-11 a.m. Thursday along State Street, from Congress Parkway to Randolph Street. Free. | MAP
Watch the Mobile Azalea Trail Maids float along State Street at this year's parade. (Courtesy of Chicago Festival Association)
5. Discover
A new, traveling exhibition highlights the collection of preeminent researcher in the field of American quilt making. "Unpacking Collections: The Legacy of Cuesta Benberry, an African American Quilt Scholar" includes dozens of quilts acquired by the Michigan State University Museum in addition to quilt patterns, notes and historic clippings collected by Benberry.
Details: 10 a.m.-5 p.m. Tuesday-Saturday; noon-5 p.m. Sunday, through Feb. 28 at the DuSable Museum of African American History, 740 E. 56th Place. $8-$10; $5-$7 for students and seniors; $2-$3 for kids ages 6-11; free to all on Sundays. | MAP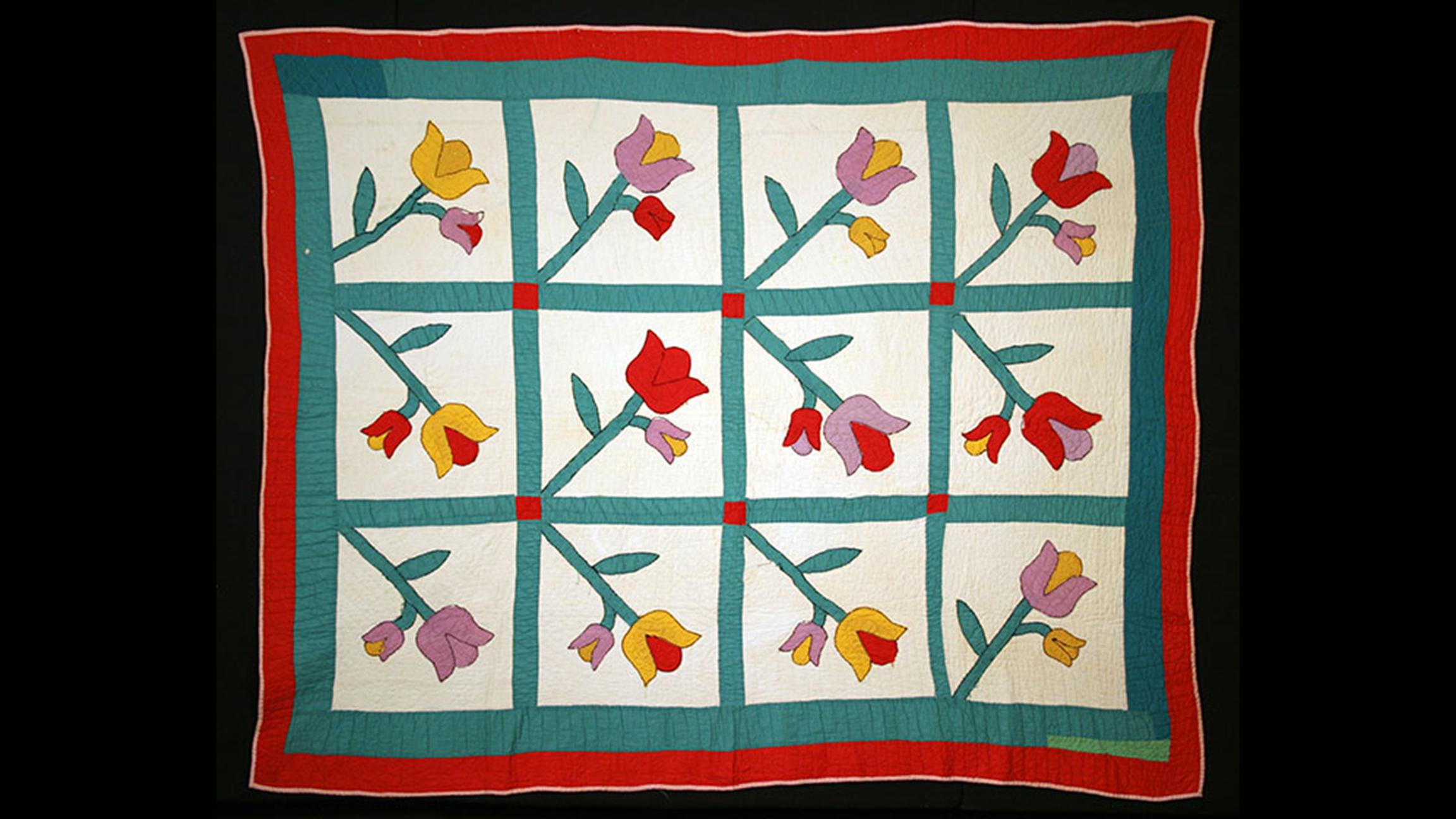 "It is when a collection–its parts and its whole–is figuratively unpacked, that we can learn more about the scholar and the subjects they researched," said Marsha McDowell, MSU Museum curator. (Courtesy of the DuSable Museum)
6. Twinkle
The Lincoln Park Zoo gets a sparkling holiday makeover to the tune of 2 million lights. The 22nd annual ZooLights features extended hours this year and special events like a holiday market (Nov. 29), the sudsy BrewLights event (Dec. 1) and family nights (Dec. 12, 19, 26), plus ongoing activities such as photos with Santa, crafts, musical light shows, ice-sculpting demos and more. A lighting ceremony kicks things off at 4:25 p.m. Friday.
Details: 4:30-9 p.m. Friday-Sunday; continues through Jan. 1 at Lincoln Park Zoo, 2001 N. Clark St. Free. | MAP
See the zoo in a new light: More than 2 million of 'em illuminate the grounds at ZooLights. (Courtesy of Lincoln Park Zoo)
7. Harmonize
An event that's sure to warm your heart and warm-up your vocal chords: Caroling at Cloud Gate kicks off this week with teen crooners from After School Matters: The I.A. Music Program. Santa Claus makes an appearance before the annual concert and sing-along series. Stick around the area afterward for ice skating at Millennium Park, or check out Christkindlmarket, which is open until 9 p.m. (see below for details).
Details: 6-7 p.m. Fridays through Dec. 16 at Millennium Park, 201 E. Randolph St. Free. | MAP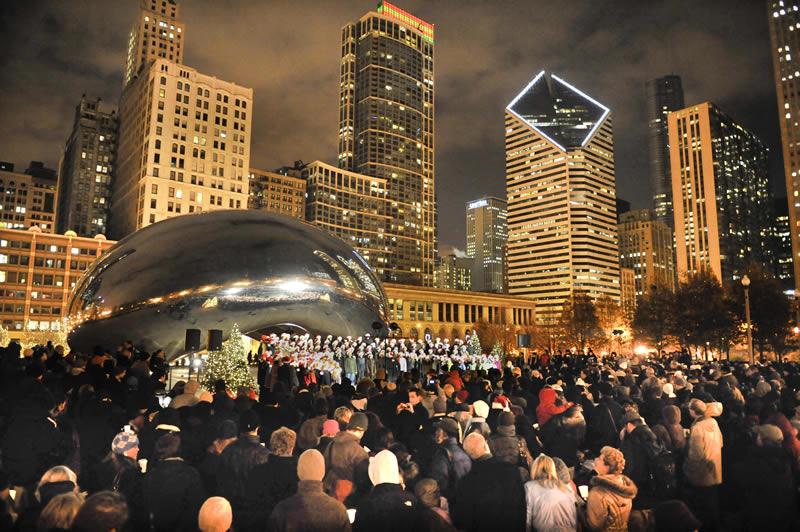 Gather round the bean for an evening of holiday songs when the city's annual series kicks off. (Courtesy of City of Chicago)
8. Gather
Dozens of vendors transform Daley Plaza into a traditional German holiday market at the 21st annual Christkindlmarket. Peek inside wooden huts to browse handmade ornaments, beer steins, toys, jewelry, cuckoo-clocks, then head to the festival tent for hot spiced wine in a keepsake mug (sorry, no boots this year) or German beer. Sausages, potato pancakes, pretzels and other snacks are available for purchase.
Details: 11 a.m.-8 p.m. Wednesday; 11 a.m.-4 p.m. Thursday. Regular hours resume after Thanksgiving: 11 a.m.-9 p.m. Friday-Saturday; 11 a.m.-8 p.m. Sunday-Thursday through Dec. 23; 11 a.m.-4 p.m. Dec. 24 at Daley Plaza, 50 W. Washington St. Free. | MAP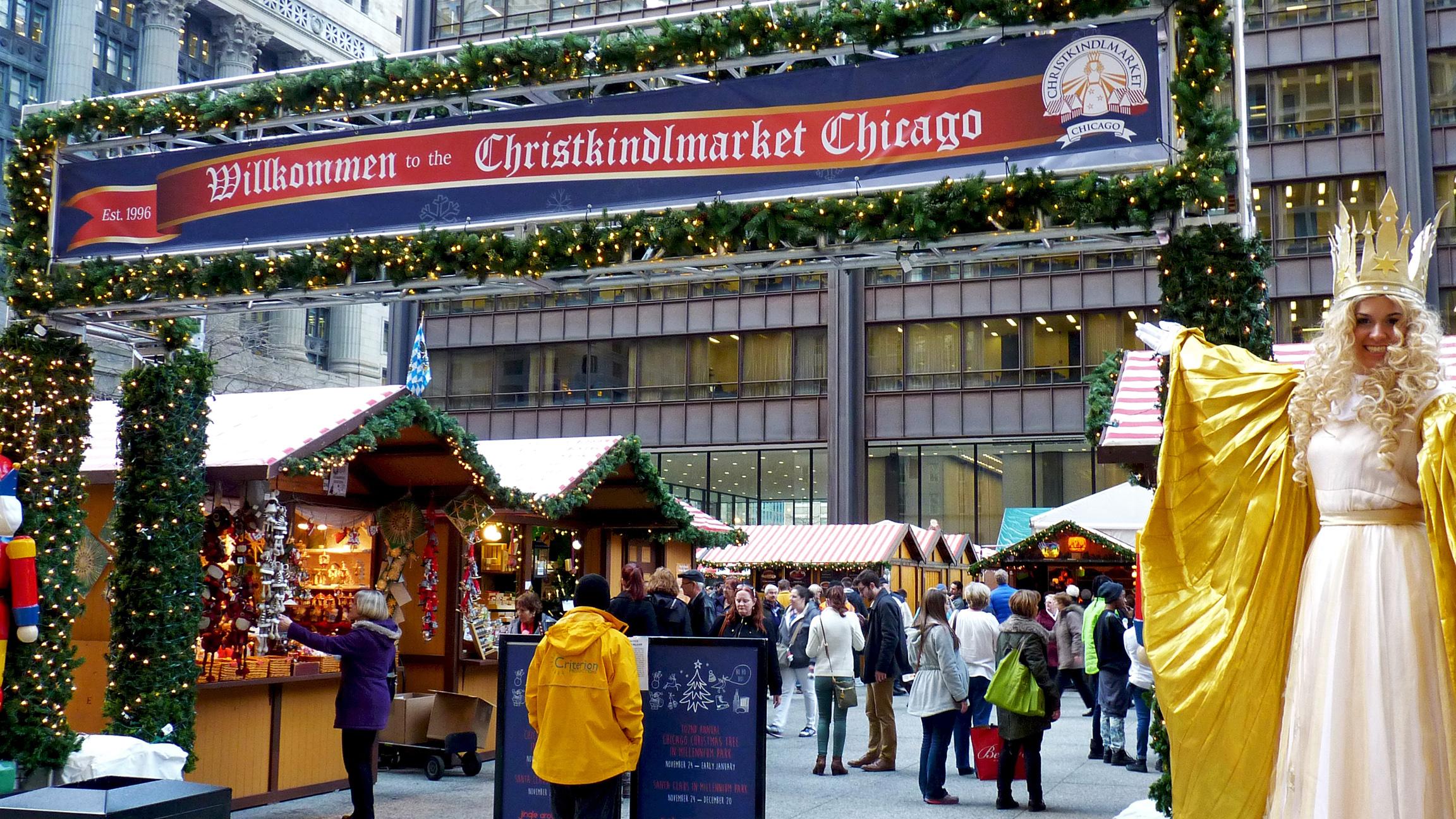 Christkindlmarket: Go for the shopping. Stay for the hot spiced wine and sausages. (Courtesy of Christkindlmarket)
9. Chime in
The hills are alive … and they want you to make some noise. That's right: Ditch movie-watching protocol and belt out the lyrics to classic songs when "The Sound of Music" Sing-a-Long returns to the Music Box. The annual screening of Robert Wise's 1965 musical drama includes a pre-show costume contest and vocal warm-up; song lyrics are presented on screen for those of us who draw a blank after the first few "favorite things."
Details: 1 p.m., 7 p.m. Friday-Saturday; 1 p.m. Sunday. (Click here for additional dates.) Music Box Theatre, 3733 N. Southport Ave. $12.50; $8 for kids ages 12 and under. | MAP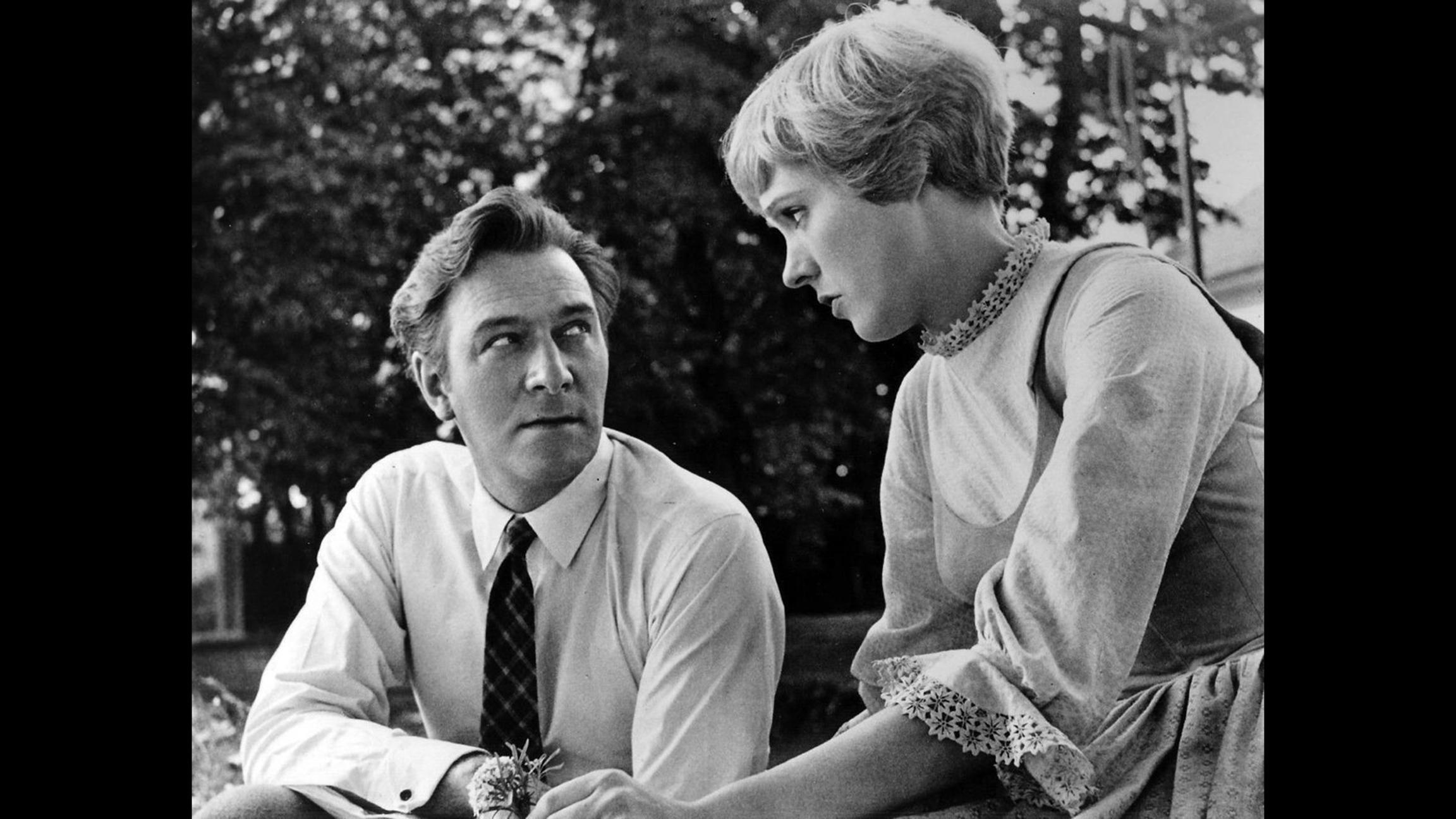 Sing along with Christopher Plummer and Julie Andrews this weekend and next at the Music Box.
10. Chop
Ready to trade in your fake tabletop Fraser fir for the real thing? Go the extra mile (or 70, roughly, if you're driving from the city) and cut down your own at the Camelot Christmas Tree Farm. Pick from eight varieties, including Fraser and Douglas firs, Scotch pines and blue spruce. Saws and twine provided; pre-cut trees are also available. Before you get too excited to live out your woodland fantasy, take note: chain saws not allowed (but free cookies, hot chocolate and coffee are served up in a heated shed, which should assuage your disappointment).
Details: Open daily starting 9 a.m. Friday. Regular hours: noon-4 p.m. Monday-Friday; 9 a.m.-4 p.m. Saturday-Sunday at 16380 Somonauk Road, DeKalb. $60 per tree; cash and check only. | MAP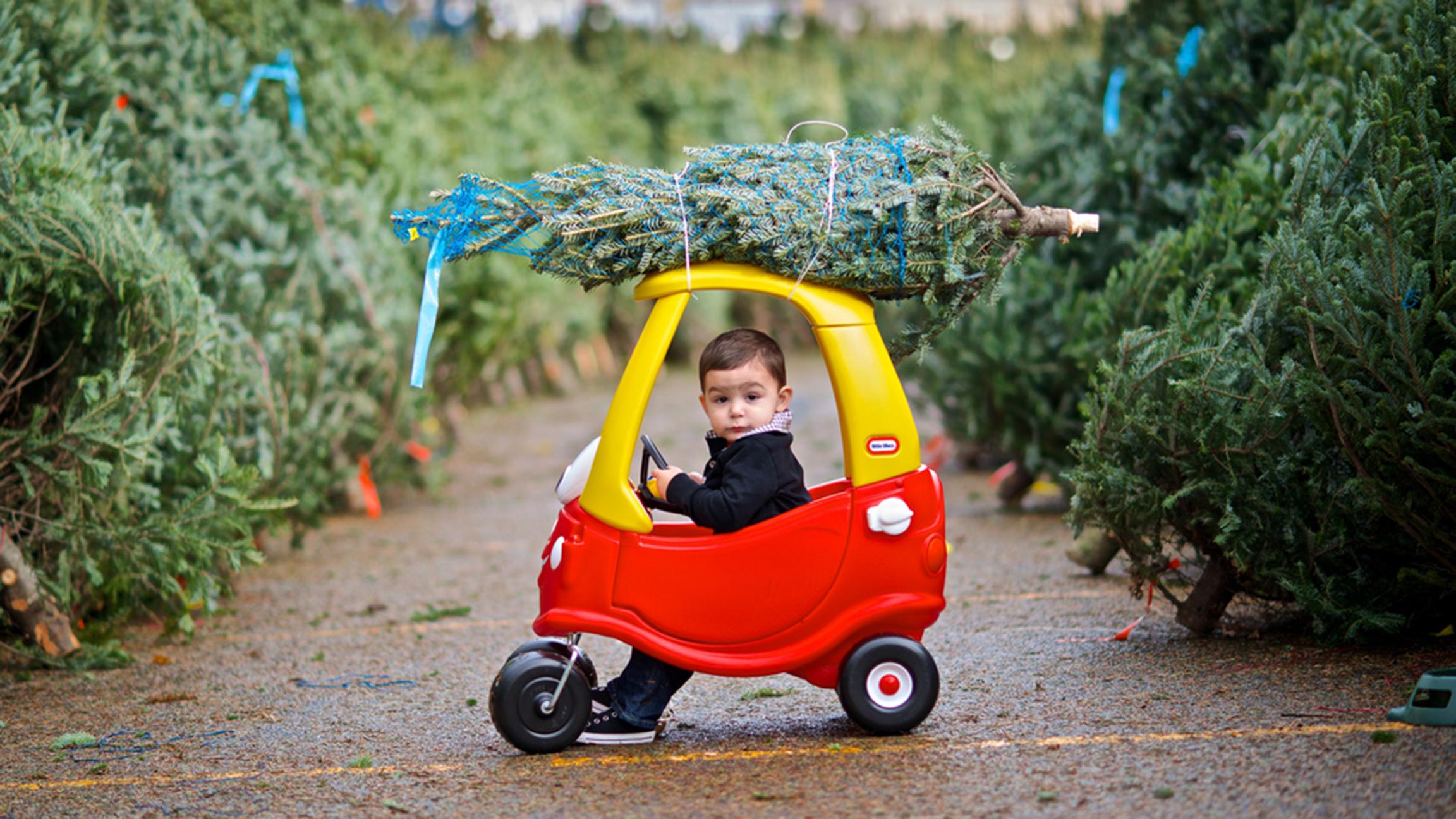 Road trip: Browse trees by the dozen at a Christmas tree farm in DeKalb. (FrankGuido / Flickr)
Events listed are subject to change. We recommend double-checking times and locations before you head out the door. Want to share your upcoming events with us for consideration in a future roundup? Send us an email.
---