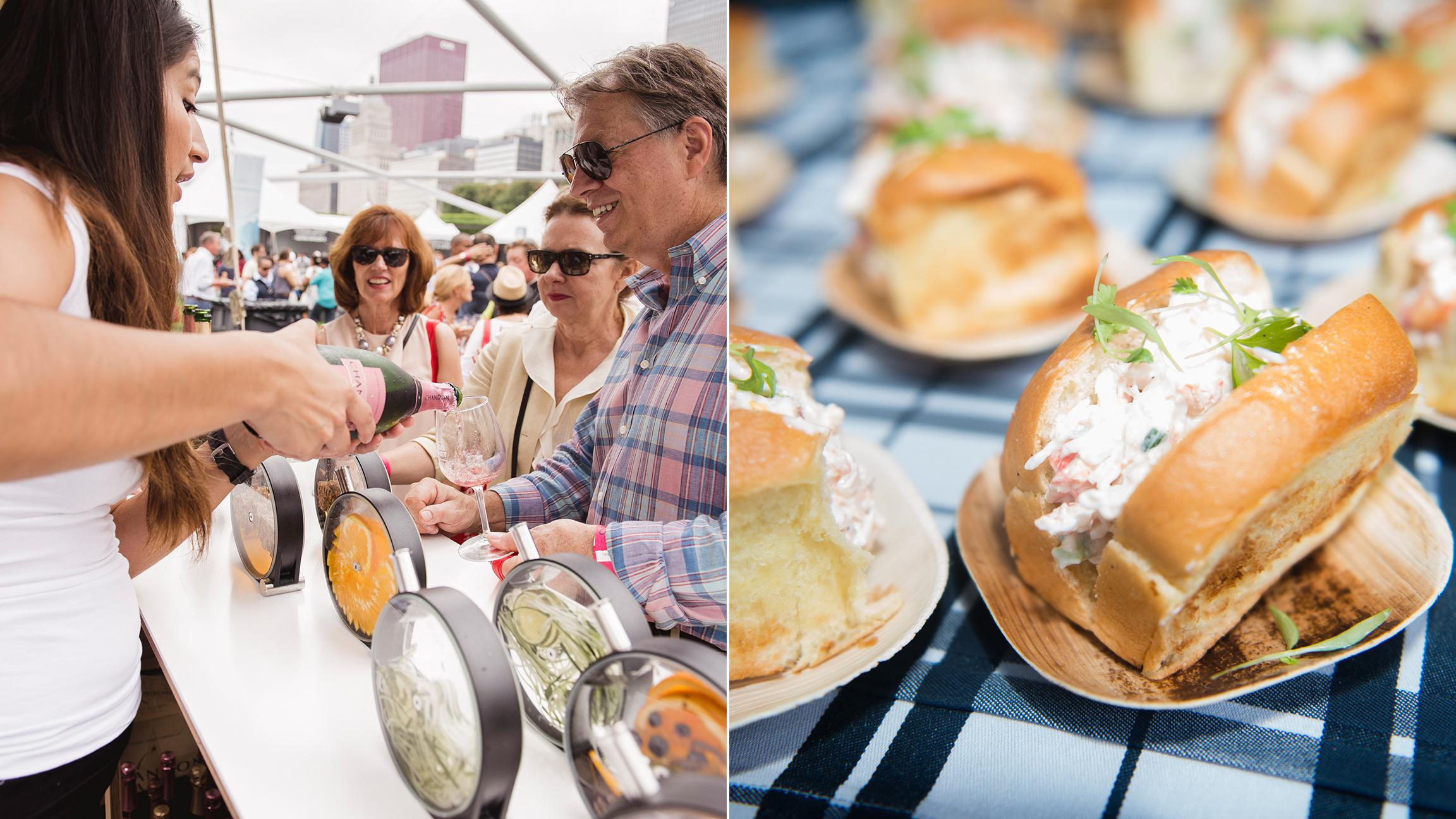 Chicago Gourmet attendees in 2015 enjoy Champagne, left, and Maine lobster rolls. (Photos by Nathanael Filbert, left, Beking Joassaint / Courtesy of Chicago Gourmet)
The big event: Chicago Gourmet
If you're ready to splurge on your taste buds, now is the time. The decadent celebration of food and wine that is Chicago Gourmet returns with Rick Bayless at the helm serving as the event's first "host chef." Joining Bayless are a stellar lineup of chefs, sommeliers, mixologists, speakers and emcees including Stephanie Izard, Art Smith, Jose Garces, Alpana Singh, Amanda Cohen, Joseph "JJ" Johnson, Lorena Garcia, Ina Pinkney, Lin Brehmer, Catherine De Orio, David Manilow and Richard Roeper, among others.
In addition to sampling food, the event includes cooking demos, seminars, book signings and more. An exclusive grand cru tasting (2-4 p.m. each day, $205) features "the world's finest wines." Ooh la la.
Details: Noon-6 p.m. Saturday; noon-5 p.m. Sunday at Millennium Park, 201 E. Randolph St. $185 daily pass; $295 weekend pass. | MAP
Free pick of the week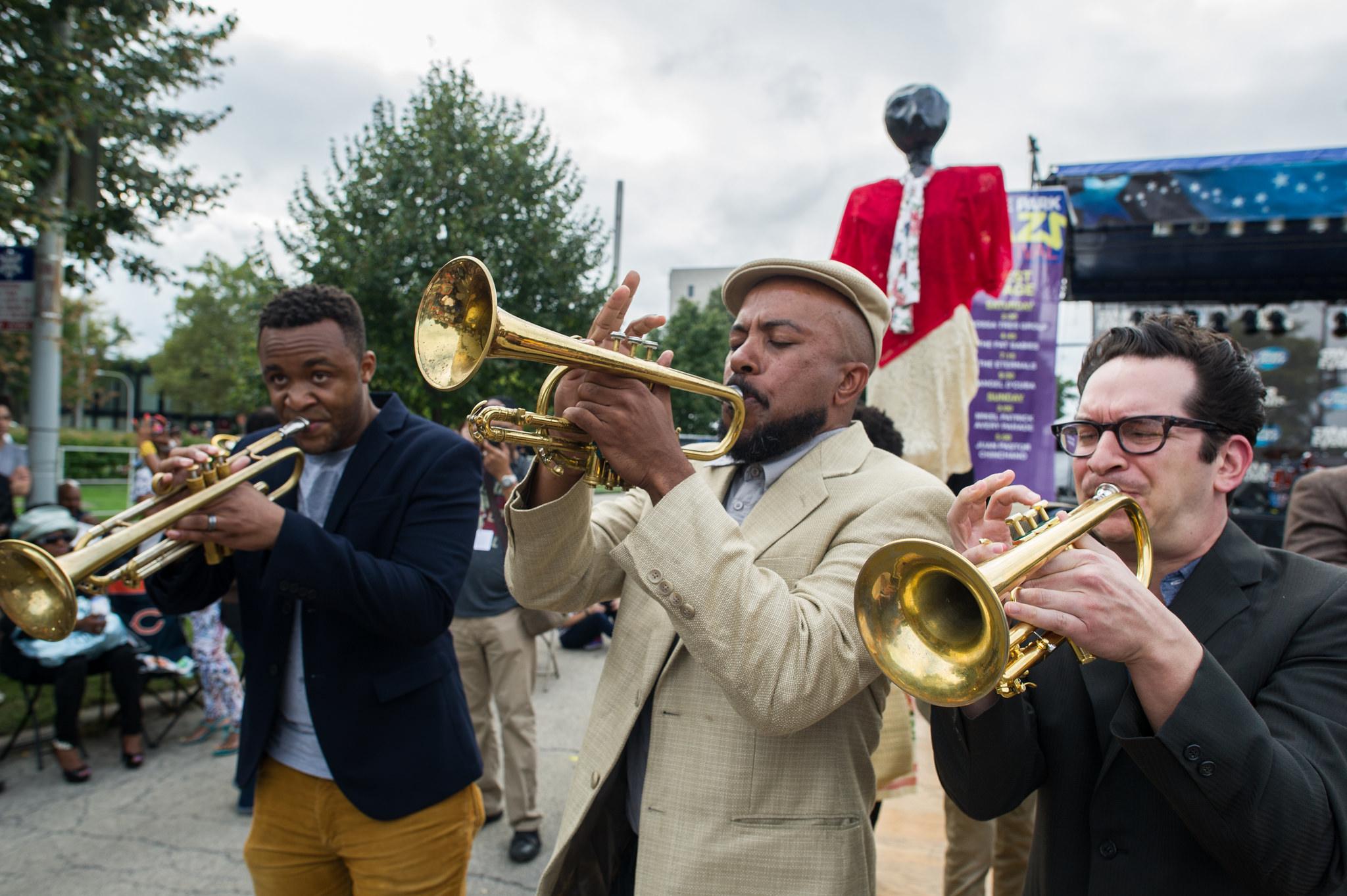 Sound the horns: The 10th annual Hyde Park Jazz Festival returns. (Marc Monaghan / Flickr)
Hyde Park Jazz Festival
Local, national and international artists perform on 10 indoor and outdoor stages across Hyde Park at the 10th annual event. This year's lineup includes Miguel Zenon, the Dee Alexander Quartet, Angel d'Cuba, Supreme Love, Randy Weston, Denise Thimes Quartet, Chicago Jazz Orchestra, Victor Goines Quartet and others. Bonus: Free bus rides between stages make for easy relocating.
Details: 1 p.m.-midnight Saturday; 2-7 p.m. Sunday at various locations in Hyde Park. Concerts are free, but a $5 donation is suggested. Jazz pass for preferred seating at select venues costs $125. | MAP
Also on tap ...
Soul Coast 5K
Walk or run along the lakefront at this second annual event hosted by the South Shore Chamber. The route stretches from 75th to 83rd streets. Registration includes a T-shirt and medal.
Details: 9 a.m. Saturday at Rainbow Beach, 3111 E. 77th St. $35. | MAP
PBR Movie Night: 'Willy Wonka & the Chocolate Factory'
Raise a can of Pabst to the late actor Gene Wilder for his Golden Globe-nominated portrayal of the sugar-crazed titular character. As always, the bar offers its "PB&J" special for $8.50: a slice of pizza, 16-ounce PBR and host of Jameson.
Details: 8 p.m. Sunday at Boiler Room, 2210 N. California Ave. No cover. | MAP
Gene Wilder as Willy Wonka in Mel Stuart's 1971 film. (Captain Miller / Flickr)
Wasalu Jaco (aka Lupe Fiasco) 'Beta'
Explore an exhibition of new abstract acrylic-on-canvas paintings by the Grammy award-winning hip-hop artist and West Side native. Read more about the show in our story.
Details: 10 a.m.-7 p.m. daily through Nov. 30 at the Ed Paschke Art Center, 5415 W. Higgins Ave. Free. | MAP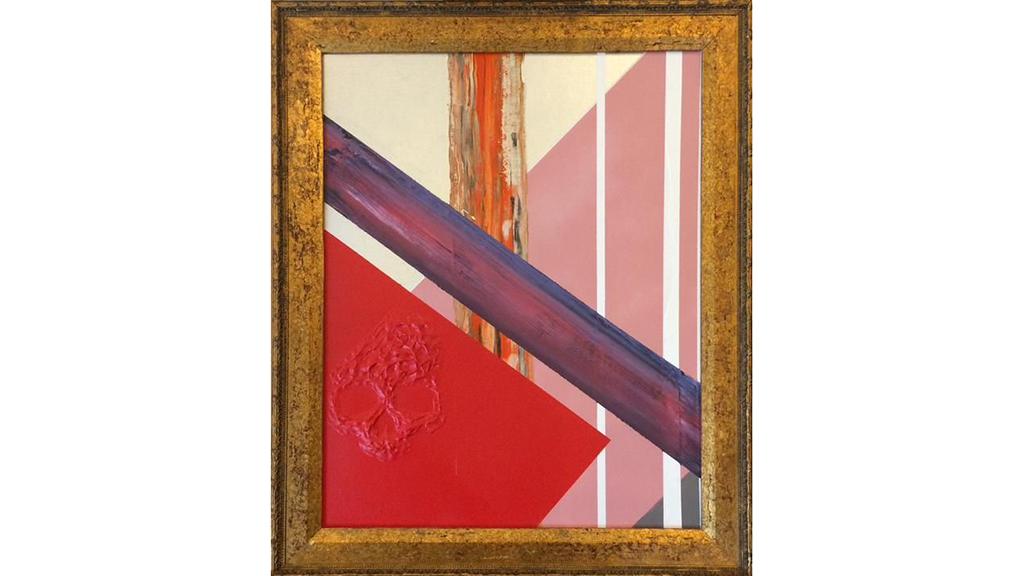 "Uomo Mangiato Tigre (Man Eating Tiger)" by Wasalu Jaco (aka Lupe Fiasco). (Courtesy Ed Paschke Art Center)
'#30 Dia de los Muertos: Journey of the Soul' opening
The 30th annual exhibition honoring the deceased features work by more than 50 Mexican artists, including ofrendas (literally offerings, or altars), popular art and fine art. The exhibition continues through Dec. 11.
Details: Opening reception from 6-8:30 p.m. Friday at the National Museum of Mexican Art, 1852 W. 19th St. Free. | MAP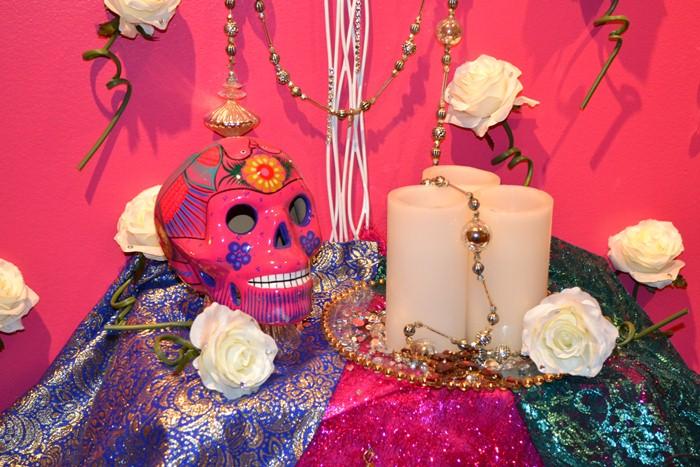 "The Queen of Tejan" by Al Rendon and Henry M. DeLeon at the 2015 Dia de los Muertos exhibition at the National Museum of Mexican Art. (Sean Keenehan / Chicago Tonight)
Long Grove Apple Festival
The historic village goes ape for apples at this 25th annual fest, featuring everything from apple treats to apple-themed games for families and a pie-eating contest (apple, of course). Live music includes Sixteen Candles, 7th Heaven, ARRA and Bella Cain.
Details: 11 a.m.-11 p.m. Friday; 10 a.m.-11 p.m. Saturday; 10 a.m.-6 p.m. Sunday in downtown Long Grove, 308 Old McHenry Road, Long Grove. $5; free for kids ages 12 and under. | MAP
Dose Market
Snack, shop and summon your DIY side at this art market-meets-cafe featuring 80 vendors. Browse housewares, art, eyewear, jewelry, personal care items, stationery, vintage and more. Don't miss an opportunity to get crafty by creating an animated gif, posing for an illustration or making a work of art using a coffee-dipped brush. Vendors also sell sweets, cocktails and heartier fare.
Details: 10 a.m.-4 p.m. Sunday at Morgan MFG, 401 N. Morgan St. $10. | MAP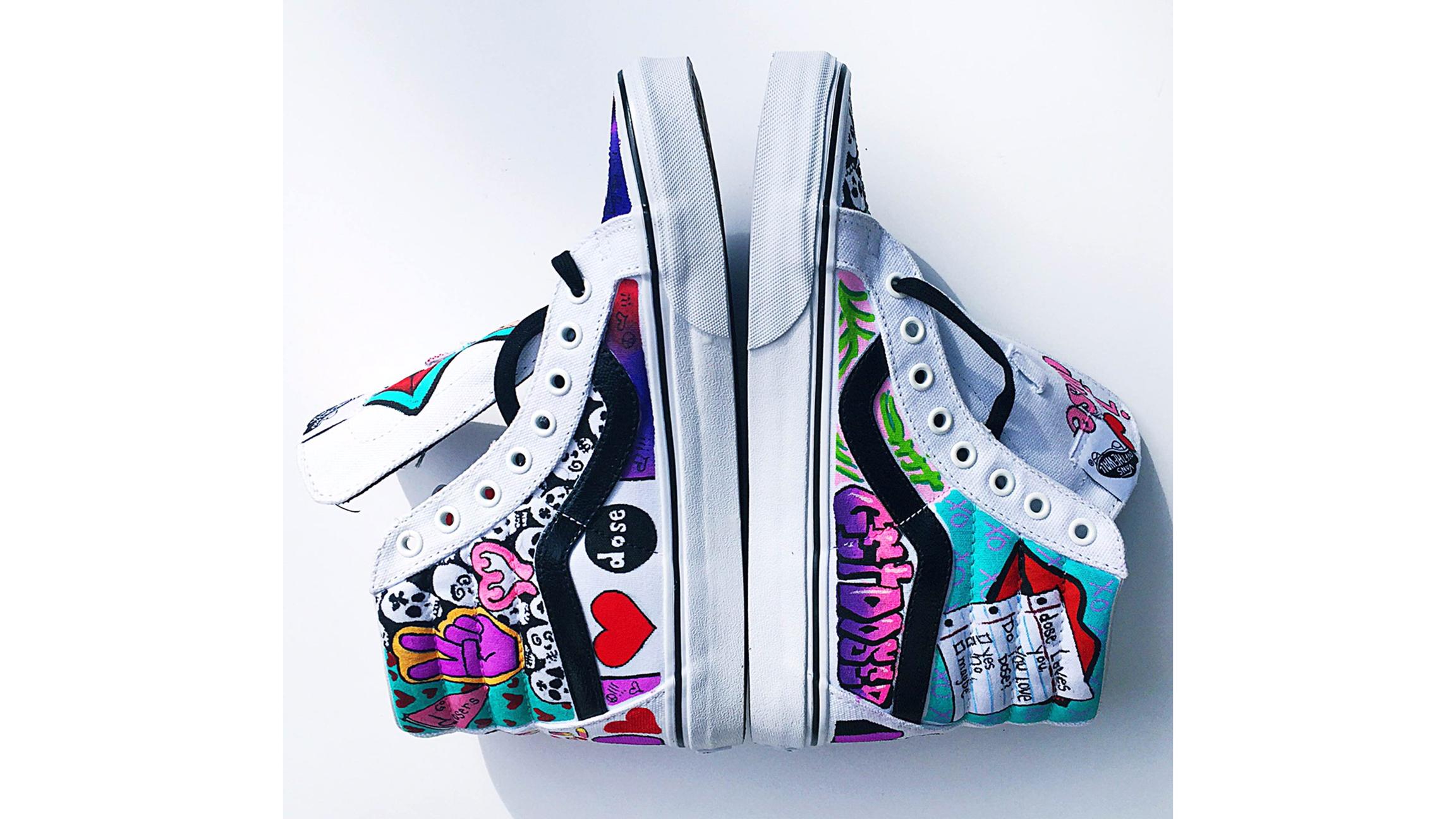 One-of-a-kind kicks: Visit Lo + Co Custom Sneaks at this weekend's Dose Market. (Courtesy of Dose Market)
Oktoberfest Chicago
Fluff up your lederhosen for a weekend of beer, brats, pretzels and live music at the 15th annual indoor-outdoor fall festival. Expect both oompah music and party bands in addition to family activities on Saturday and Sunday afternoons. A craft beer tasting takes place from 6-9 p.m. Friday night and costs $40.
Details: 5-10 p.m. Friday; 11 a.m.-10 p.m. Saturday; 11 a.m.-7 p.m. Sunday at St. Alphonsus Church, 1429 W. Wellington Ave. $5 suggested donation Friday and Saturday only. | MAP
Expo Chicago
The fifth annual international art show features contemporary and modern works represented by 145 galleries, including nearly 20 from Chicago. 
Details: 11 a.m.-7 p.m. Friday-Saturday; 11 a.m.-6 p.m. Sunday at Navy Pier, 600 E. Grand Ave. $20 daily pass; $30 three-day pass. | MAP
A Visit with Artist Hector Duarte
The Mexican-born, award-winning artist behind more than 50 Chicago murals discusses his work and leads a workshop on mask making. For information, call: 773-660-2341.
Details: 1-3 p.m. Saturday at Pullman State Historic Site, 11057 S. Cottage Grove Ave. Free. | MAP
Bungalows and More Tour
Peek inside historic homes at the 10th annual tour featuring six crowd favorites from years past, and a new home for 2016. Proceeds benefit the Berwyn Historical Society. 
Details: Noon-5 p.m. Sunday. Check in: Berwyn Historial Society, 1401 Grove Ave., Berwyn. $20-$25. | MAP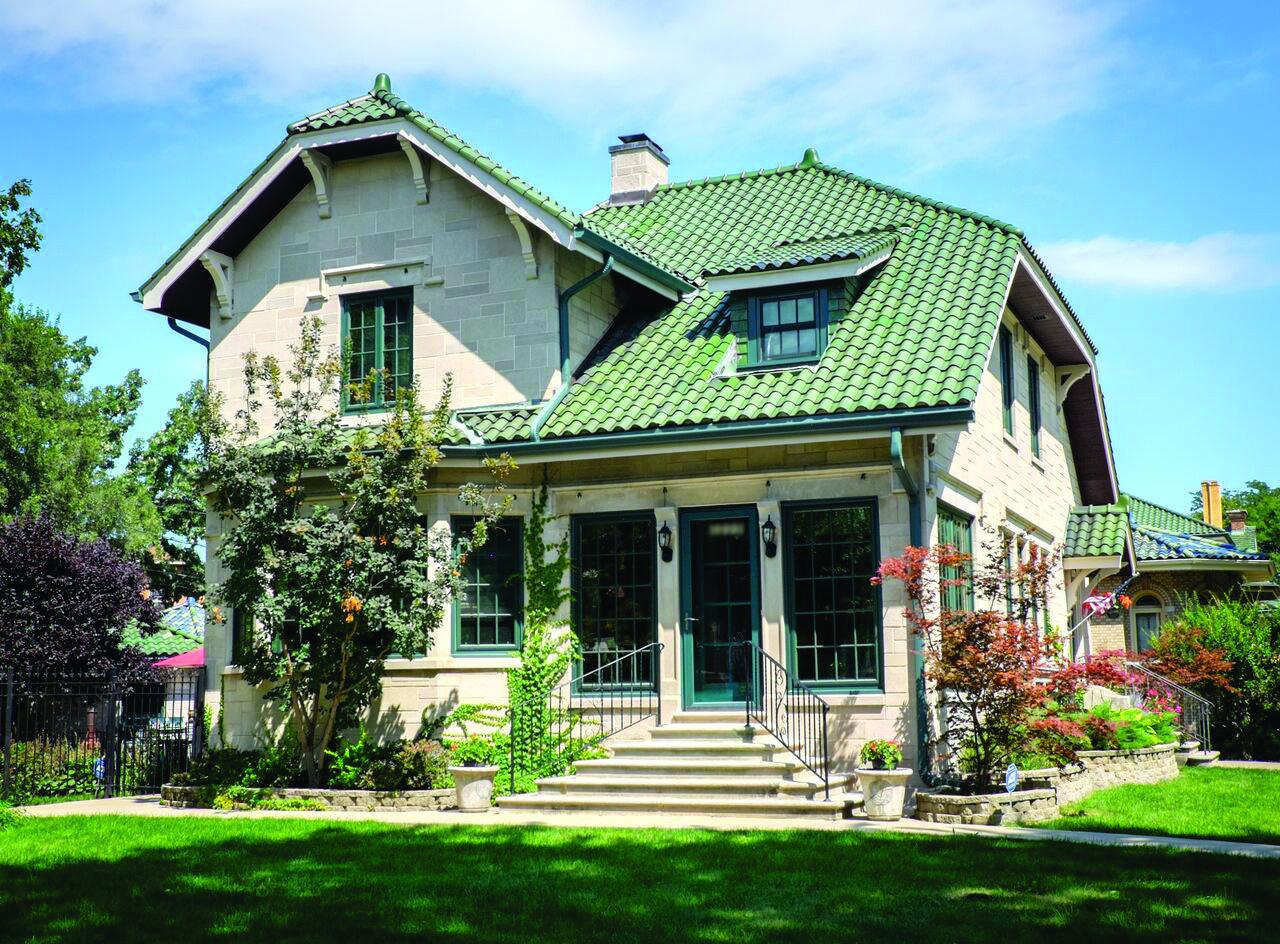 Among this year's stops on the Bungalows and More tour is a home often referred to as the "phoenix house" because it sat unoccupied for several years before being rehabbed, according to tour organizers. (Courtesy the Berwyn Historical Society)
Concert Across America to End Gun Violence
A benefit concert for the Chicago Peace Hub and the Institute for Nonviolence Chicago features five hours of live music, including headliners Tributosaurus as Neil Young, Cheryl Tomblin, Blake Christiana and others.
Details: 4 p.m. Sunday at Wire, 6815 Roosevelt Road, Berwyn. $20. | MAP
Events listed are subject to change. We recommend double-checking times and locations before you head out the door. Want to share your upcoming events with us for consideration in a future roundup? Send us an email.
---