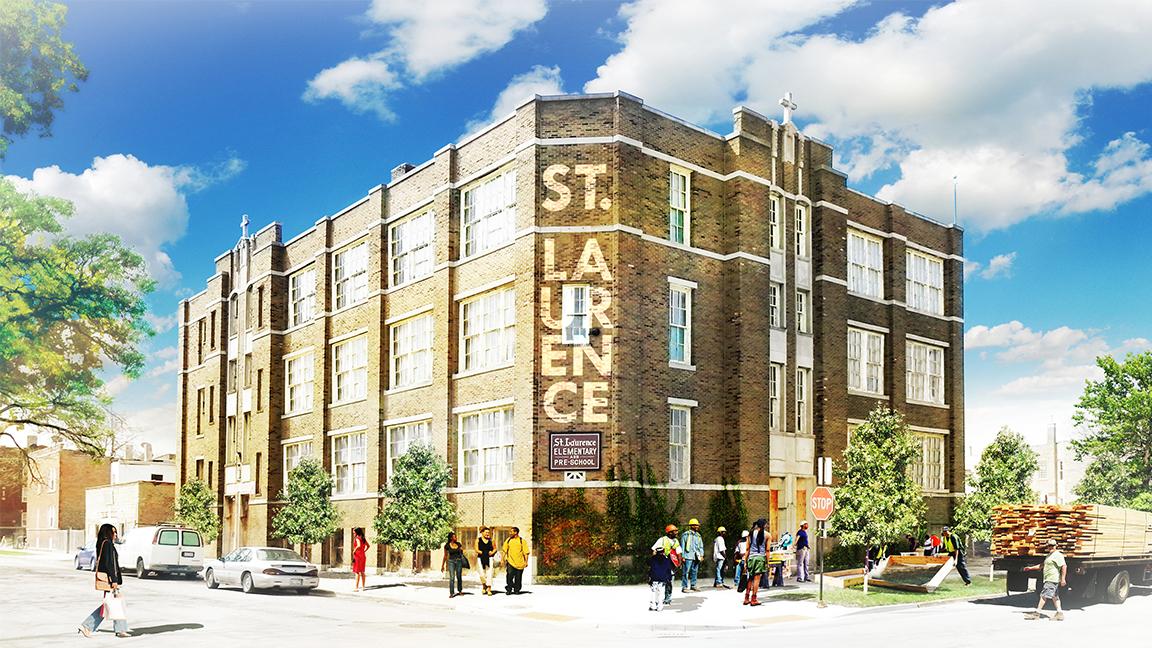 An artist's rendering of plans for St. Laurence school, where children and adults will be able to take free art classes. (Chicago Arts + Industry Commons / Place Lab)
An investment of more than $10 million will help transform unused buildings and vacant lots on Chicago's South and West Sides into centers for arts and culture that offer free community programs.
The three-year plan is part of a $40 million, corporate-funded initiative called "Reimagining the Civic Commons." Detroit, Memphis and Akron, Ohio, are also receiving money through the initiative, which is funded by the JPB Foundation, the John S. and James L. Knight Foundation, the Kresge Foundation and the Rockefeller Foundation.
"Communities thrive with arts and culture, and they're often one of the first things that get cut from public funding," said Lori Berko, the chief operations officer of Place Lab, a University of Chicago venture coordinating the initiative's local partners. "Providing a space, platform and tools to people through cultural assets in these communities is critical."
In Chicago, artist Theaster Gates is spearheading the project, which includes turning a shuttered elementary school into an educational arts center and growing gardens in empty lots.
"The work I engage in provides platforms for people to come together, to share and engage with one another," Gates wrote in an email. "The projects are about saving storied buildings from destruction, activating vacant lots, and turning some blighted areas into something beautiful."
One of the project sites has been open for nearly a year: Gates opened the Stony Island Arts Bank in the Greater Grand Crossing neighborhood in October 2015. It serves as a gallery, media archive and library, and is also the headquarters of Place Lab, of which Gates is president. The former community savings and loan bank was constructed in 1923, closed in the 1980s and purchased by Gates from the city for $1 before he raised $4.5 million to renovate it. Because construction is complete, the institution will receive funding for public programming.
About a mile away, the 40,000-square foot St. Laurence school, which closed in 2002, is being converted into an arts education center with classes for adults and kids, including printmaking, painting and drawing.
As part of a third project in the Greater Grand Crossing area, a team of landscape architects and designers will transform 13 adjacent vacant lots into urban gardens. Small living spaces in the gardens will allow resident artists to practice their craft for three to six months. Community members will have access to educational programming on agriculture and food production. The gardens are expected to open in the winter of 2017.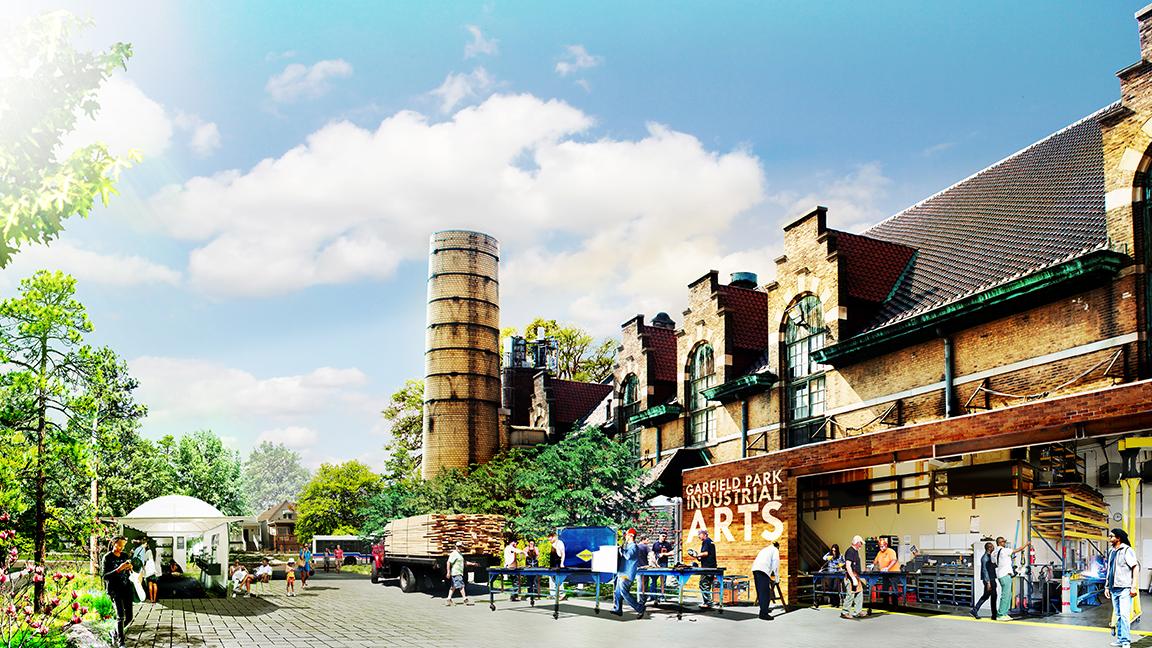 A rendering of the Garfield Park Industrial Arts project on Chicago's West Side. (Chicago Arts + Industry Commons / Place Lab)
On the West Side, 13 renovated stables and a building constructed in 1896 that was previously used to store power generators will become Garfield Park Industrial Arts. The stables will be converted into artist studios, while the powerhouse will include a welcome center, showroom and gallery. Students will get a chance to learn brick making, wood milling and other industrial skills.
Chicago will receive $5 million from the four corporations funding the three-year project and an additional $5.25 million from four local philanthropic organizations that will be publicly named in the coming weeks, according to Berko.
The "Reimagining the Civic Commons" project was piloted in 2015 with an $11 million investment in Philadelphia's public spaces.
Berko said the Place Lab is working on finding ways to financially maintain these amenities beyond the span of the national campaign.
"It's unrealistic to assume that philanthropic dollars are going to be able to sustain these assets forever," Berko said. "We want the cultural assets to always be free to the public and we're looking at ways to do that."
The group is looking into different options, including selling products made at Garfield Park Industrial Arts, to generate revenue.
Development on the public spaces began this summer, with efforts concentrated on cleanup and renovation preparation, according to Place Lab. All spaces are expected to open by the spring of 2018.
Follow Evan Garcia on Twitter: @EvanRGarcia
---
Related stories: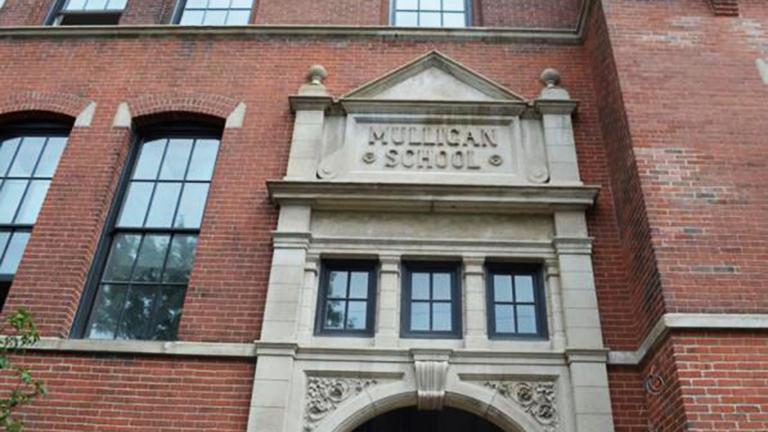 Former CPS Buildings Getting New Life As Residential Apartments
Sept. 9: Shuttered classrooms and long-closed gymnasiums will soon give way to multi-bedroom suites and rooftop decks overlooking the city skyline.
---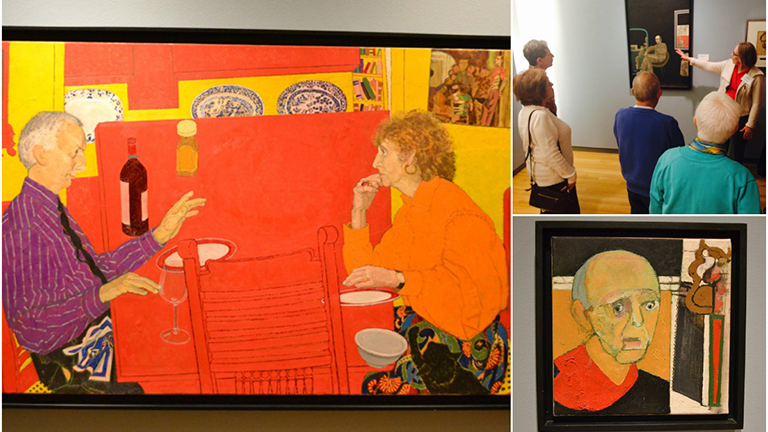 Arts Program Engages Alzheimer's Patients, Caregivers
May 16: A partnership between a local art museum and leading Alzheimer's disease center allows patients and their caregivers exclusive access to exhibits, including one that documents an artist's progression of the disease.
---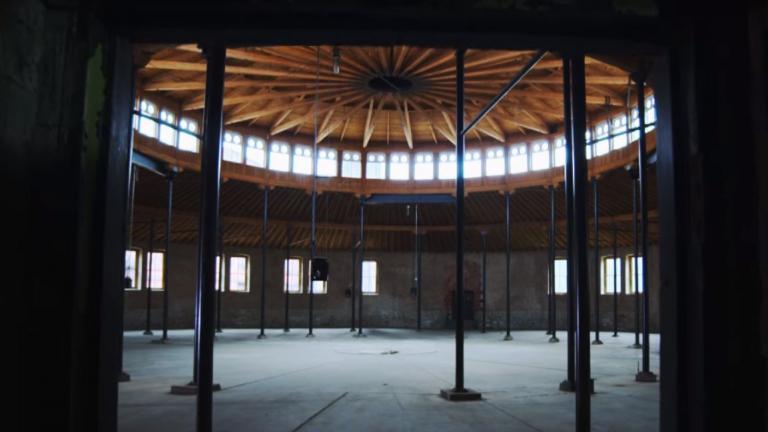 Why a Historic Daniel Burnham Building Sits Empty on Chicago's South Side
March 7: Designed by famed Chicago architect Daniel Burnham, the 61,000-square-foot structure was first a 19th century stable, later housing theatrical costumes and sets in the 1930s.
---