The video cannot be displayed.
Former Illinois Gov. Rod Blagojevich on Tuesday had yet another chance to plead his case in court. After an appellate court struck down 5 of the 18 counts that sent him to prison on corruption charges, the ex-governor had a resentencing hearing, and it did not go well for him.
Tuesday marked the first time in nearly five years that Blagojevich has been seen by people other than fellow inmates and family.
The most striking visual aspect of his appearance via closed circuit TV from the federal prison in Littleton, Colorado, had to be his hair. He can no longer color it, so he now has a head of billowy white hair in the same signature style.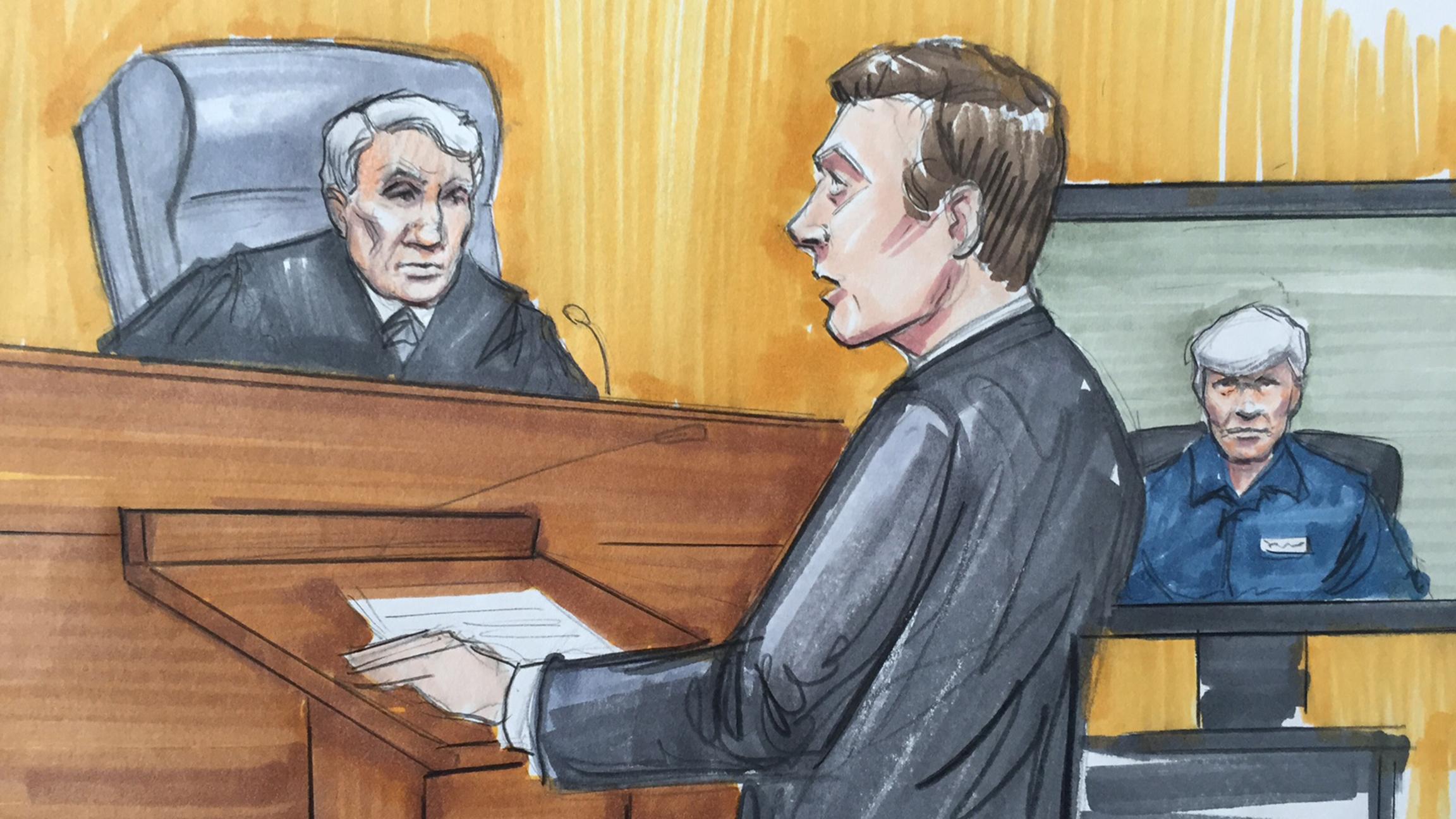 (Courtroom art by Thomas Gianni)
The now 59-year-old also appears to show signs of age and maybe even weight loss. But otherwise, he sat at a table in what appeared to be a cinder block room wearing a blue-green prison jumpsuit.
Throughout the nearly two-hour hearing, the former governor was attentive and on a couple of occasions appeared to become emotional as his daughters Annie, 13, and Amy, 20, took turns addressing Judge James Zagel, calling their father amazing. Amy said she doesn't want to grow up without her father.
The ex-governor's wife Patti submitted a letter to Zagel on Monday night, saying among other things:
"I am pleading with you, indeed begging you, to please be merciful. ... What is hard for us, is torture for Rod. Rod knows the short window of Amy and Annie's childhoods is rapidly closing."
But the pleas from the family and defense attorneys had no impact. Zagel said while he had sympathy for the ex-governor's wife and daughters, that Blagojevich should have known all along that his illegal activities would impact his family.
While some observers expected the judge to possibly reduce the 14-year sentence by a year or two, Zagel left it unchanged.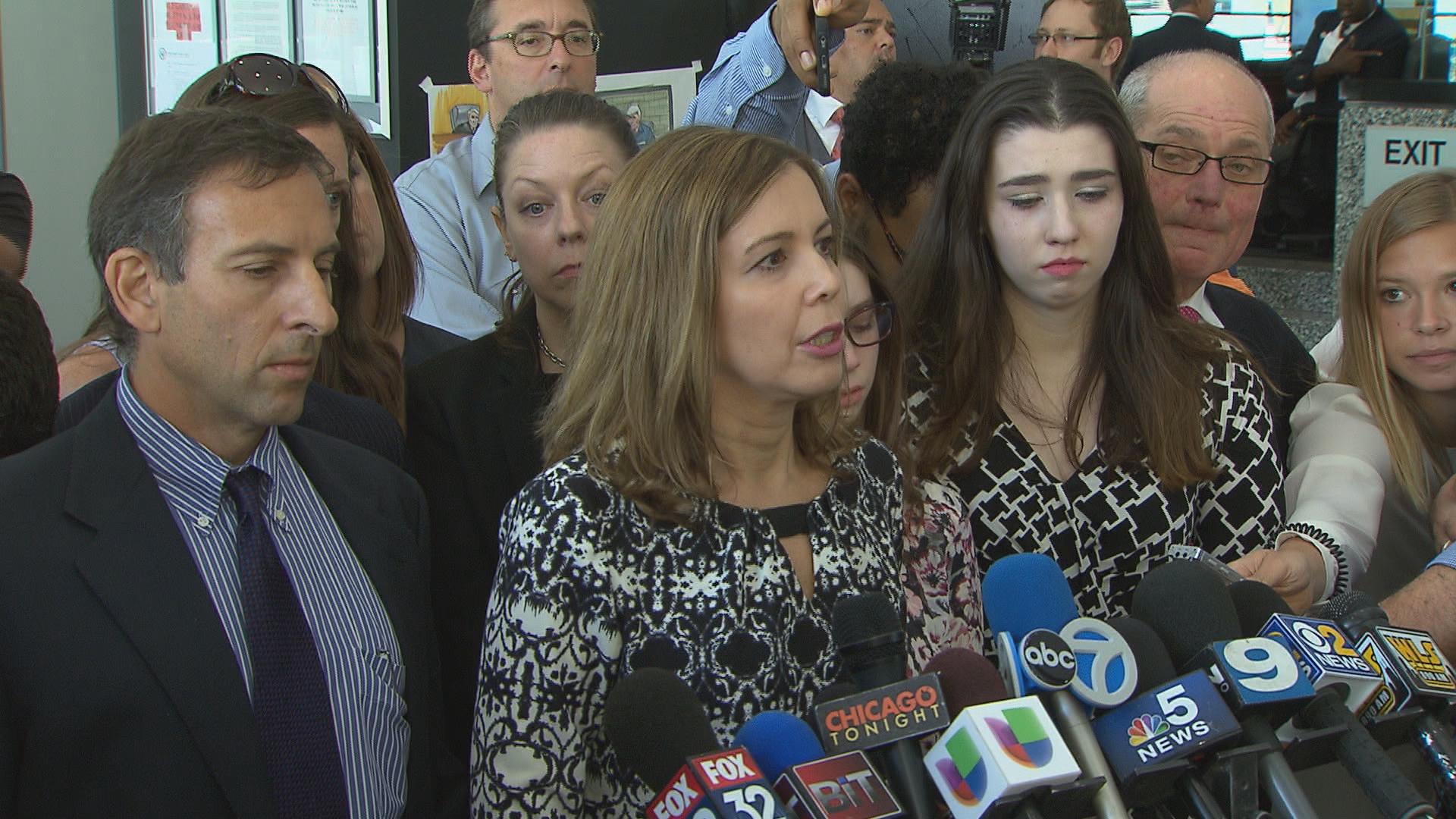 Patti Blagojevich
"From our point of view, and from the point of view of thousands of people that have reached out to me over the last four years, we find this sentence unusually cruel and heartless and unfair," Patti Blagojevich said.
"I'm dumbfounded and flabbergasted at the inability for the judge to see that things are different than they were four and a half years ago, and his unwillingness to bestow even the smallest amount of leniency or mercy or kindness."

"From our point of view, and from the point of view of thousands of people ... we find this sentence unusually cruel and heartless and unfair."
–Patti Blagojevich
---
Blagojevich was given the chance to plead his case, but he did not read from a written statement. Instead, he spoke for about 20 minutes in what at times seemed to be a stream-of-consciousness rambling, saying that his four and a half years in prison have been hard and they've changed him, making him more humble, allowing him to leave anger behind and gaining understanding and compassion. He says he's come to understand he made mistakes, but a full apology and admission that he committed crimes was not forthcoming.
In addition, around 100 of Blagojevich's fellow inmates wrote letters of support for him.
Zagel responded that while Blagojevich may be a model inmate and a changed man, he inflicted "significant damage" on the people of Illinois. He said the criminal counts that still stand are the most serious.
Defense attorney Len Goodman argued that the dismissed charges changed the case entirely and that Blagojevich never profited from his actions. 
"As he sits there now, he is the only politician in this country in recent history that is sitting in prison for asking for campaign contributions, which he was going to use to push his political agenda, which was to push bills through for the people of Illinois," Goodman said after Zagel refused to change the original sentence.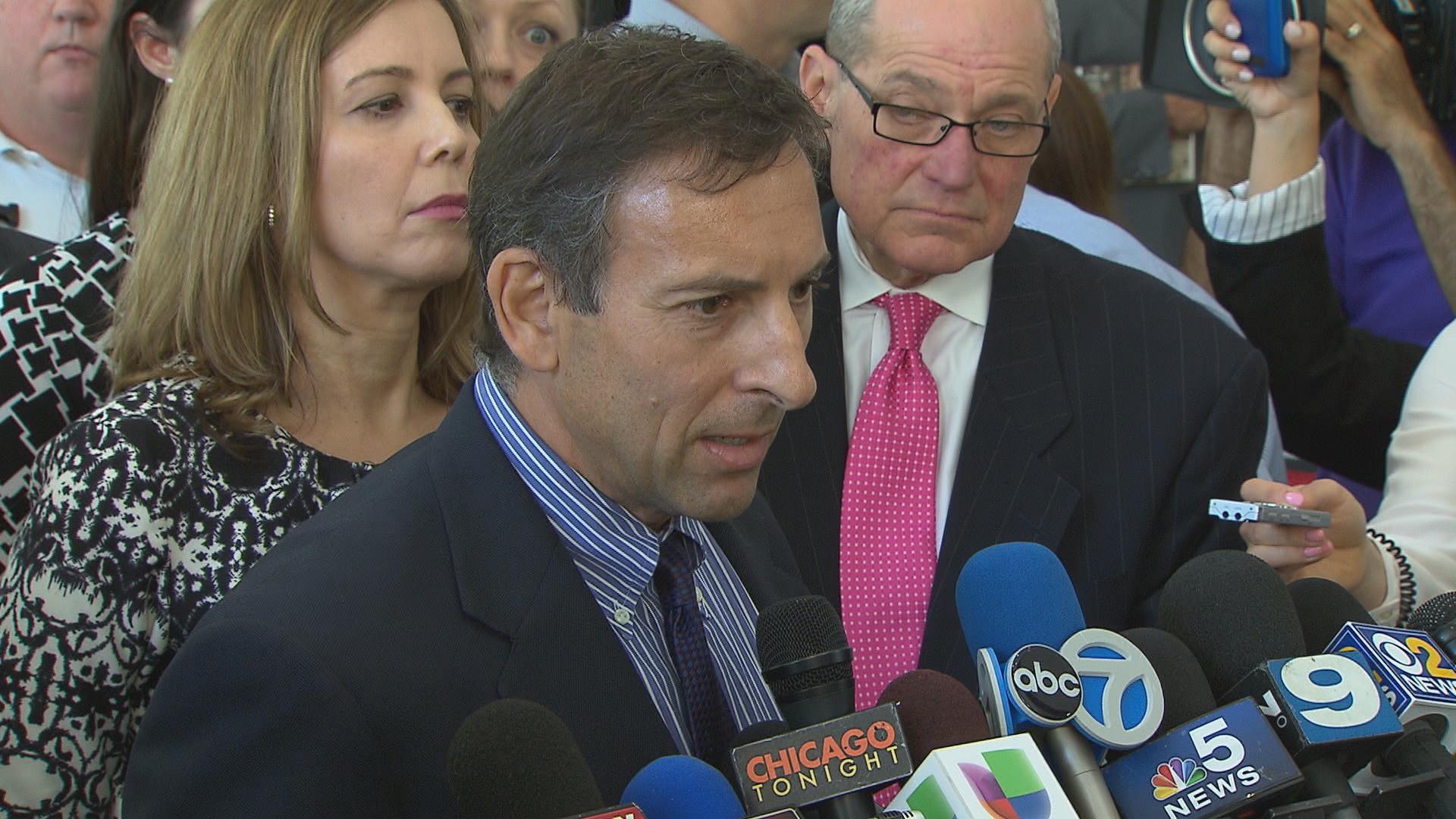 Len Goodman
"They told the jury–you can go back and look in the transcripts–they told the jury that if he asked for a campaign contribution, and there's any connection between that request and some official act, he's guilty. That's what the jury was told, again and again. By that standard, Hillary Clinton's raising a billion dollars from large corporate donors that expect something in return–there's a connection. So by that standard, any single elected official that can't self-fund is vulnerable and can be taken down by these prosecutors."
Also attending Tuesday's hearing was Rod's brother Robert, who was also indicted along with his brother–as we may recall, the first trial ended in a hung jury and Robert's charges were then dropped. He and his brother have not spoken in six years but Robert continues to defend him.
"He admitted responsibility, he was contrite. If he needed to get on his hands and knees to make the point, then maybe he should have done that. But it was clear to me by listening to him, and the arguments by his counsel, that he did admit that he made mistakes and was wrong," Robert Blagojevich said.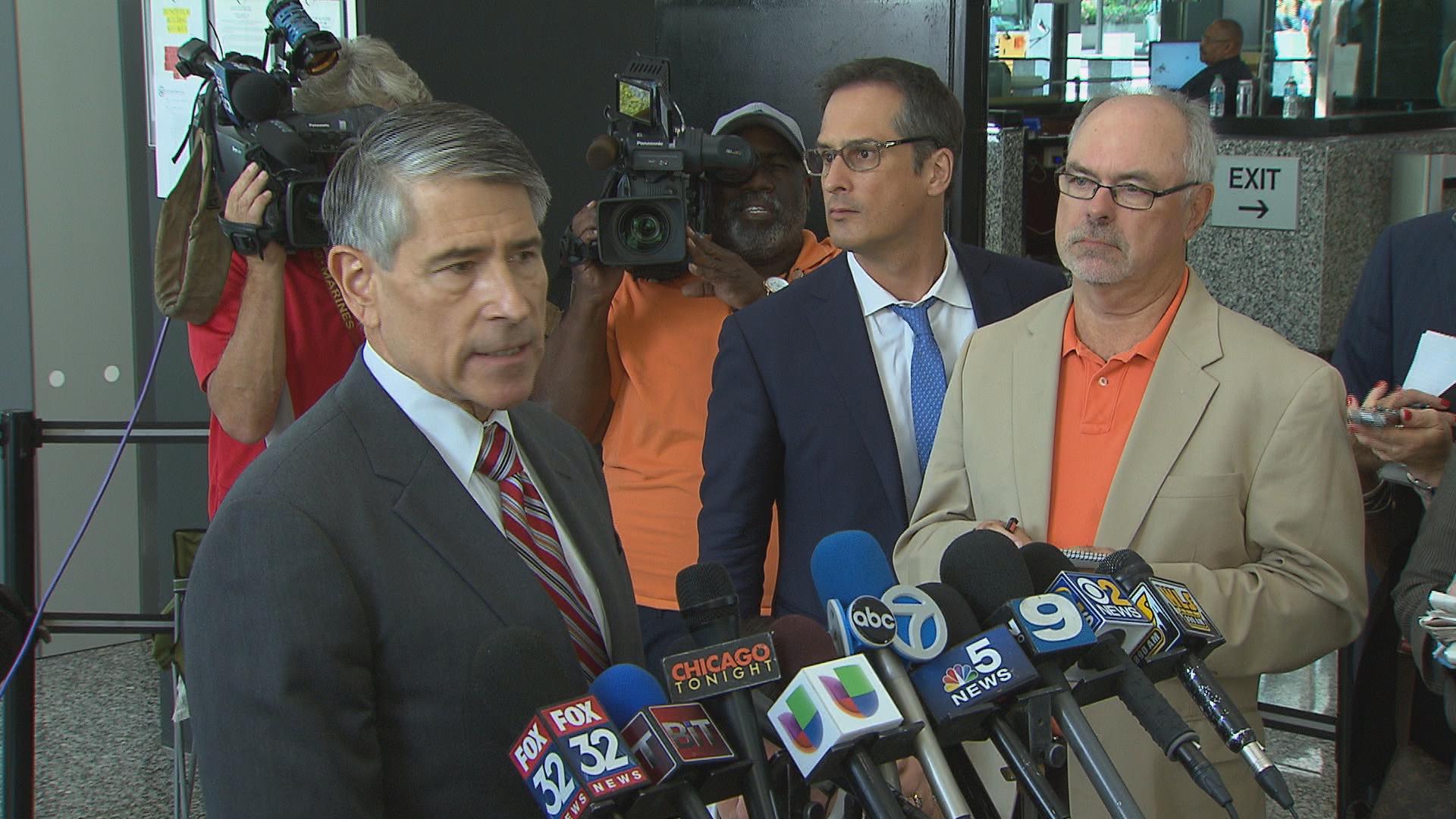 Robert Blagojevich
"When I look around the country and I look here locally, even to other people who have been convicted of crimes where they enriched themselves–in Jesse Jackson's case, $750,000 and he only gets a year and a half–there's a great disparity of equal justice, sadly in my brother's case, and it concerns me as an American citizen."
Defense attorneys say that now that Zagel has ruled, they will once again appeal to the U.S. Supreme Court.
Blagojevich turns 60 in December and–barring any other court action that might reduce his sentence–he will be 67 and a half when he is scheduled to be released in May of 2024.
---
Related stories: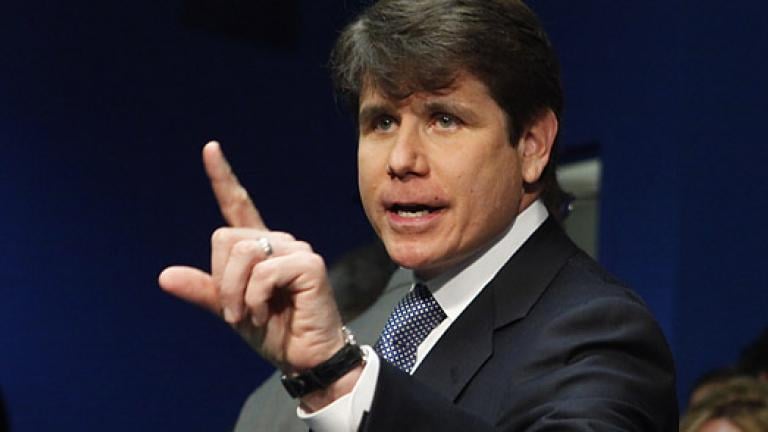 'A Just Cause': Examining the Blagojevich Case 7 Years Later
Feb. 1: Seven years ago, the Illinois Senate voted to impeach and remove Rod Blagojevich. Senate President John Cullerton, Republican leader Christine Radogno and the author of a new book are here to talk about that political crisis.
---
Browse our Blagojevich archive for more stories on the case from "Chicago Tonight."
---
Click here for more stories about Rod Blagojevich's 2010 trial.
---
Get stories on on Blagojevich's 2011 retrial.
---
Check out our blog with more stories and analysis on Rod Blagojevich's trial.
---