The video cannot be displayed.
There are 25 gates surrounding Harvard Yard—each with its own story. Two of those famous brick and wrought iron gates trace their roots back to Chicago, including the university's main gate.
The Johnston Gate was sponsored by Chicagoan Samuel Johnston who graduated from Harvard in 1855 (he also sponsored Chicago's Shakespeare statue in Lincoln Park).
"Samuel Johnson, like all Chicagoans, he made no little plans. So he was walking through the gates of Harvard and there used to be a post and rail fence there," said Blair Kamin, Pulitzer prize-winning architecture critic for the Chicago Tribune. "He thought that was inappropriate for America's first university, a great university."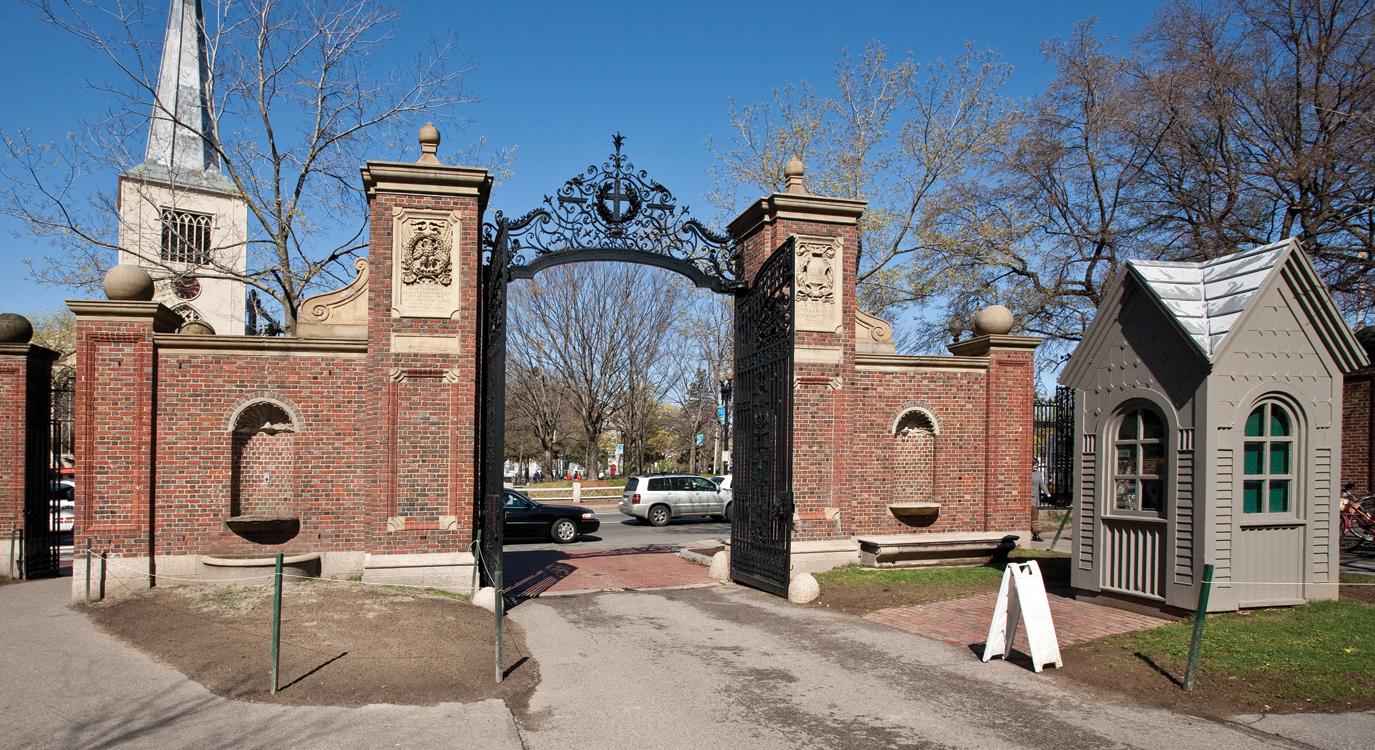 The array of wrought iron atop Johnston Gate includes a wreath-adorned cross that symbolizes Harvard's early commitment to training ministers as well as numerals denoting the year of the university's founding, 1636. Above "1636"is a small shield displaying the year of the gate's completion, 1889. (Credit: Ralph Lieberman)
When Johnston died in 1886, he left $10,000 for the construction of the gate which was dedicated in 1889. The gate includes a wrought iron wreath-adorned top as a nod to Harvard's commitment to training ministers and its founding by the Puritans in 1636.
"I often say all architectural roads lead through Chicago, so two of the most famous gates that surround Harvard Yard—the Johnson Gate and the Dexter Gate—have roots in Chicago," Kamin said.
The Dexter Gate was created as a memorial for Samuel Dexter who was born in Chicago, graduated from Harvard University and then died four years after his graduation from cerebral spinal meningitis.
"This gate, which is along Massachusetts Avenue, contains a famous inscription: 'Enter to grow in wisdom,'" he added.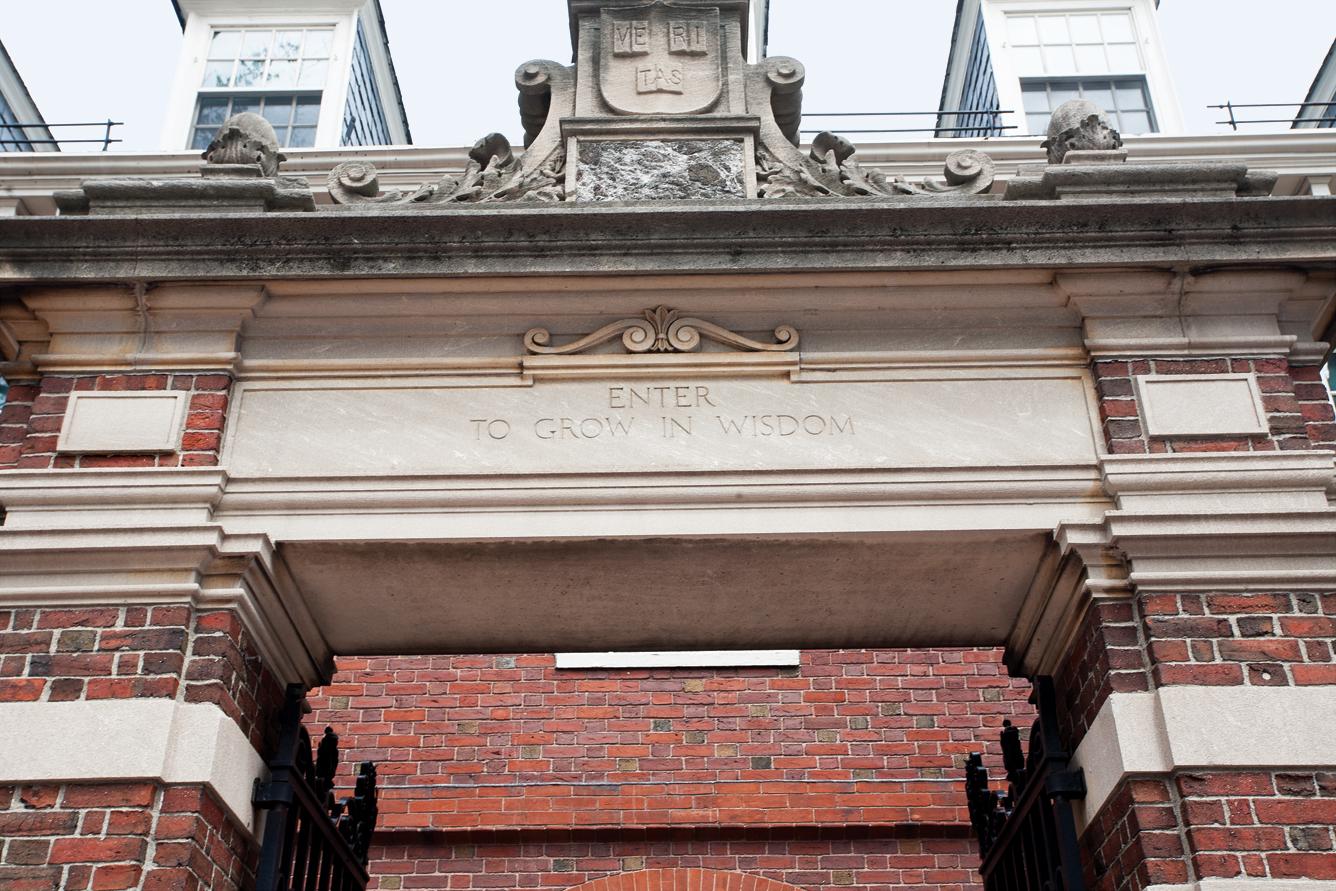 The Dexter (Class of 1890) Gate, famous for its "Enter to Grow in Wisdom" quotation, belongs to a row of prominent Harvard gates along Massachusetts Avenue. Wigglesworth Hall is in the background. (Credit: Ralph Lieberman)
Kamin spent a year at Harvard as Nieman Fellow, and during that time he became enamored with the gates of Harvard. They even inspired him to write a book.
"They're just beautiful. People walk by them as though they are made out of chain link and obviously, they're not made out of chain link. They're beautiful brick work, extraordinary wrought iron McKim, Mead & White, the great architects, designed most of them," Kamin said of Harvard's gates.
"Ultimately, it became a desire to understand them and their backstories: Why Harvard had put them up in the late 19th and early 20th centuries and also how they weren't just symbols of exclusion and elitism. ... But also symbols of belonging that really, I think, was the key. They were symbols of being part of something greater than one's self."
Below, read an excerpt from "Gates of Harvard Yard."
All too often, the gates that herald the entrance to Harvard Yard are seen (if they are seen at all) as architectural afterthoughts. Harried students, professors, and visitors rush through these portals, treating them as mere passageways that lead to grand edifices, not carefully wrought constructions that direct human movement and uplift everyday experience. This guidebook urges a different view: Pause. Behold. And see these elegant, often magnificent, sentries with fresh eyes. 
The twenty-five portals form a legacy that is rich in architectural artistry and the lore of a renowned university. Despite their aura of architectural permanence, they open a window onto Harvard's shifting aspirations and identity—from its origins as a tiny all-male training ground for Puritan ministers to a sprawling institution that percolates many of the world's great ideas and draws students from every strata of society. Yet the complete story of the gates has never been fully told. This book endeavors to fill that gap, revealing how remarkable architects, visionary patrons, and generous classes of alumni joined forces to transform Harvard Yard's perimeter and, with it, the university's architectural character. 
Principally made of brick, stone, and wrought iron, the gates belong to a global phenomenon as old as time. From the imposing entrance to Beijing's Forbidden City to the triumphal passageway of Berlin's Brandenburg Gate to the glistening Gateway Arch in Saint Louis, human beings have been building gates for millennia. The reasons transcend geography and cultural differences. Gates control access and keep out those who are considered dangerous or undesirable. They are expressions of power and prestige as well as anxiety and conflict. They incite emotions ranging from awe to trepidation. That is because they often mark crucial transitions, from life to death, as at the entrances to cemeteries, or from ignorance to wisdom, as at the portals of universities. They have inspired artists who portray them as thresholds to transcendent realms (most famously, Lorenzo Ghiberti in the Gates of Paradise and Auguste Rodin in The Gates of Hell). Seen in this light, gates do not simply delineate space; they communicate ideals and serve as symbols of human aspiration, even divine order. Whatever motivates their construction, they are ubiquitous—so much so that it can be said without great exaggeration that there are three certainties in life: death, taxes, and gates. Like Janus, the Roman god of beginnings and transitions, gates are profoundly ambiguous and complex, rather like life itself. And if there is an afterlife, we will, as some believe, encounter gates there too. 
Excerpt from Gates of Harvard Yard, edited with an introduction by Blair Kamin, published by Princeton Architectural Press (2016) 
---
Sign up for our morning newsletter to get all of our stories delivered to your mailbox each weekday.
---
Related 'Chicago Tonight' content
Ask Geoffrey: The Story Behind the 1851 Northwestern Gate
May 20, 2015: Who makes the city's flowery fireworks happen every summer? Geoffrey Baer digs into Chicago's public gardens, plus visits West Englewood's Old Abe and a gate to nowhere in Streeterville.
---