Who makes the city's flowery fireworks happen every summer? Geoffrey Baer digs into Chicago's public gardens, plus visits West Englewood's Old Abe and a gate to nowhere in Streeterville.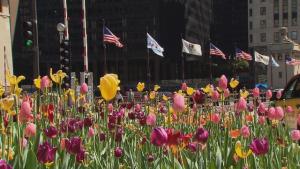 We all see the beautiful planting areas in the city's streets and parks. Who is responsible for deciding the plants planted? Who plants and take care of them through the seasons? 
--Gary Maves, South Barrington
Two city departments are responsible for most of the landscaping in Chicago's parks and streets – the Chicago Department of Transportation and the Chicago Park District's Department of Cultural and Natural Resources. They outsource the design and maintenance to private companies. 
One notable exception, until just a few months ago, was Chicago's Magnificent Mile. The median planters along North Michigan Avenue were first planted in 1993. Right now they're planted with over 100,000 tulips. Until this year, Mag Mile business actually paid for the maintenance of the plantings as well as the design by the landscape architect firm of Hoerr Schaudt. CDOT took over the Mag Mile maintenance and design in 2015. That department manages almost all median planters throughout the city.
Beauty is not the only criteria for gardens in the middle of the street. The plants also have to be tough to flourish in the urban environment of car exhaust and salt spray, on top of Chicago's wild weather swings. Tulips are not hardy enough to be left year-round in median planters, so as spring turns to summer bulbs are removed and given away for free at the Garfield Park Conservatory – keep an eye on the Garfield Park website and Facebook page for the giveaway date. Tulips are replaced with hardy perennials like black-eyed Susans and native grasses in the summer, and in the fall, medians are replanted again with chrysanthemums and ornamental kale.
The medians throughout the city would be too disruptive to replant seasonally, so most of those are filled with a mix of hardy perennials, trees, and shrubs that CDOT has approved for municipal landscaping. CDOT's list of approved trees and plants can be found here – it's a great resource for urban gardeners looking to add color to their parkways.
A different department maintains the plantings in Chicago's public parks – the Department of Cultural and Natural Resources – these include gardens, nature areas, lagoons, beaches, and the land around the city's museums. The oldest parks were designed a century or more ago by such legendary landscape architects as William LeBaron Jenney, Jens Jensen, and later Alfred Caldwell. More recently other big names have contributed designs, such as Piet Oudolf and Kathryn Gustafson for the Lurie Garden in Millennium Park, Site Design for Ping Tom Park in Chinatown, and Michael Van Valkenburgh for the new Maggie Daley Park.
While Chicago adopted its motto, Urbs in Horto ("City in a Garden") in the 1830s, the widespread re-greening of the city beyond parks and historic boulevards can be traced in part to Mayor Richard M. Daley's passion for plants. According to the city, during Daley's tenure as mayor, Chicago added more than 600,000 trees and 85 miles of landscaped medians.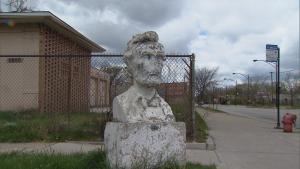 There is a bust of Abraham Lincoln at 69th and Wolcott. Can you tell us its history?
--Leslie Rodriguez, Logan Square
Most sculptures of Abe Lincoln around the city are in parks, plazas, and libraries and are city-owned, but one forlorn little bust sits on a more or less residential corner in the West Englewood neighborhood.
It's about four feet tall and is made of concrete, and it was a tribute to our 16th president erected in 1926 by gas station owner Phil Bloomquist who lived on the block. But Bloomquist's motivation might have been more promotional than patriotic. Bloomquist's business stood on that corner and was called the Lincoln Gas Station. Back then Wolcott was actually called Lincoln Street. It was changed to Wolcott Avenue in 1939 to avoid confusion with Lincoln Avenue up north, so while Bloomquist was reportedly a great admirer of President Lincoln's, the station's name likely had as much to do with the name of the street as the president.
Throughout the years the Lincoln bust has become a neighborhood landmark – scout troops and American Legion posts even held flag ceremonies there in the 1940s. Since that time the neighborhood, and the bust, have seen some changes. The once predominantly German-Irish neighborhood is now 96 percent African-American. The bust was originally painted white, but for a couple of years in the 2000s someone in the neighborhood repainted him black. More recently he was repainted white again. He's been tagged with gang symbols at least once, and he also lost his nose along the way.
Folks in the neighborhood say that occasionally someone – they don't know who – used to give Abe a fresh coat of paint every once in a while, but that whoever it was seems to have stopped. He could certainly use a facelift right now, but all in all he's not looking too bad for a nonagenarian!
At the southeast corner of inner Lake Shore and Huron is an ornate old 1851 gate with Northwestern's name on it. My guess is it was originally on the Evanston campus. Can you clarify its history?
--Hugh Griffin, Streeterville
The gate in question, known as the McKinlock Gate, is at left. It stands on a corner of Northwestern University's Streeterville campus. It's never been in Evanston, and it doesn't date back to 1851 – that's when the university was founded. The elaborate wrought-iron gate was erected in 1930. It was to be the grand entrance to the Alexander McKinlock Memorial Campus of Northwestern University, and it represented the first part of a gift from a wealthy utility executive, George Alexander McKinlock Sr., to honor his son.
George Alexander McKinlock Jr. survived World War I's Battle of Cantigny but was killed by a German sniper a couple of months later in 1918. The bereaved McKinlock parents pledged $250,000 to buy nine acres to create a campus in Streeterville for the university. George Sr. commissioned the master blacksmith Samuel Yellin to design and create the gate. It stood at Lake Shore Drive and Superior until around 1984, when it was moved to the current site a block south. 
Unfortunately, the rest of McKinlock's bequest never materialized, and that's why the campus isn't known as the McKinlock Campus today. McKinlock Sr. lost most of his fortune during the Great Depression, and in 1936 he died suddenly, leaving behind significant debt. His estate canceled the gift to Northwestern and the school returned the money it had already received. The campus was then renamed the Chicago Campus, and the McKinlock name was erased from the gate but the remainder was left intact.
McKinlock Jr.'s name does still grace part of another prestigious university, though: Harvard University has a student residence hall named McKinlock Hall – the younger McKinlock was a Harvard alumnus.