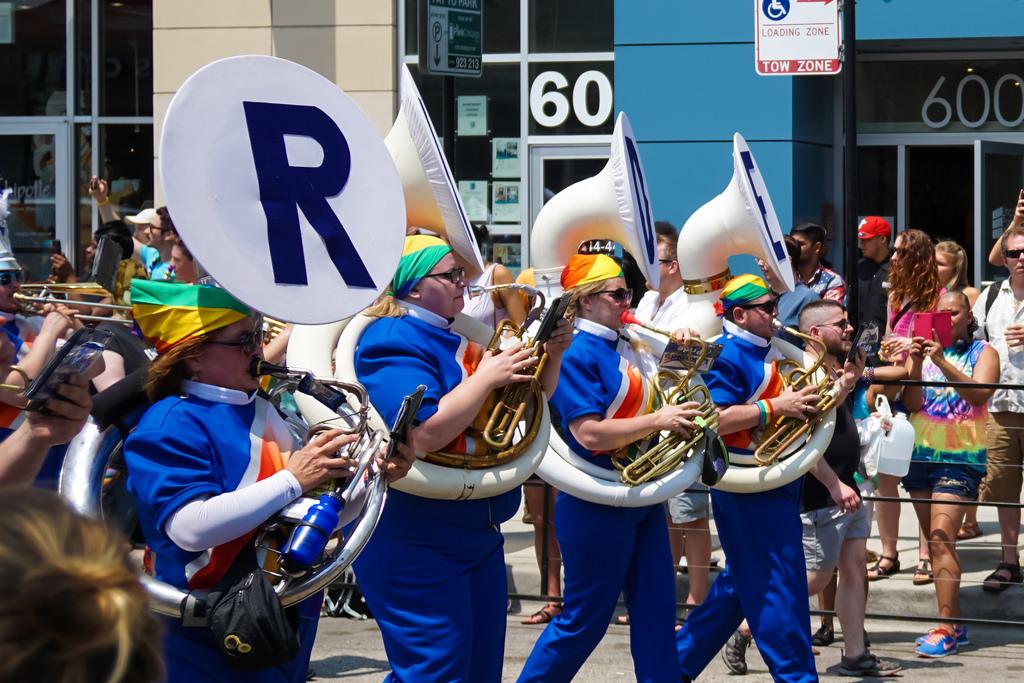 2015 Chicago Pride Parade. (opacity / Flickr)
The big event
Pride Month culiminates on Sunday with the 47th annual Chicago Pride Parade, stepping off at noon in Uptown. Longtime parade coordinator Rich Pfeiffer said last week on "Chicago Tonight" that the mass shooting in Orlando had left him somewhat speechless. "But we're just pulling ourselves up and saying, 'We've got to go on.' … We'll have a moment of silence at the beginning of the parade, but then we'll go on, we'll celebrate, we'll live our lives. That's what we have to do, and that's what we're going to do."
From the starting point at Montrose Avenue and Broadway, the parade proceeds south along Broadway to Halsted, south on Halsted to Belmont, east on Belmont to Broadway, south on Broadway to Diversey, east on Diversey to Cannon Drive. Free.
Free pick of the week
Movies in the Parks (Ongoing)
Various locations
Nothing beats an alfresco movie night (when the weather cooperates). The Park District's 16th annual free film series features more than 250 screenings of new and classic movies across the city. Here's a sample of what's on offer this weekend: "Back to the Future" (Thursday at Brooks Park, 7100 N. Harlem Ave.); "The Goonies" (Friday at Athletic Field Park, 3546 W. Addison St.); "Creed" (Saturday at Ellis Park, 535 E. 35th St.); and "The Hunger Games: Mockingjay - Part 2" (Sunday at LeClaire Courts-Hearst Community, 5120 W. 44th St.). Movies start at dusk. Free. (See the full schedule here.)
Also on tap ...
Proud to Run (Saturday)
Montrose Avenue and Simonds Drive
Show your pride while stretching your legs in this warmup to Sunday's parade. Entry fee includes a technical shirt, medal, tote bag and more. Race-day registration closes at 7:30 a.m. 10K start: 8:04 a.m.; 5K start: 8:20 a.m. $50. 
Long Grove Summer Fest (Friday-Sunday)
Downtown Long Grove, 308 Old McHenry Road
The village's annual Strawberry Fest gets a new name and expanded menu. Highlights this year include three stages of live music, food vendors from local restaurants featuring barbecue and fruity fare, and special activities for kids, including carnival rides and games. 11 a.m.-11 p.m. Friday; 10 a.m.-11 p.m. Saturday; 10 a.m.-6 p.m. Sunday. $5; free for kids ages 12 and under. Free for all on Friday from 11 a.m.-2 p.m.
Summer Concert Series (Thursday)
Giddings Plaza, 4731 N. Lincoln Ave.
Get a head start on the weekend with this family friendly, free weekly concert series in Lincoln Square. Bonus: The music is a stone's throw from the Thursday night farmers market at the CTA Western Brown Line "L" stop (4-8 p.m.) and adjacent to restaurants, bars and a super delicious gelato shop. This week's band: Kaleidoscope Eyes, a Beatles tribute act. 6:30-9 p.m. Free.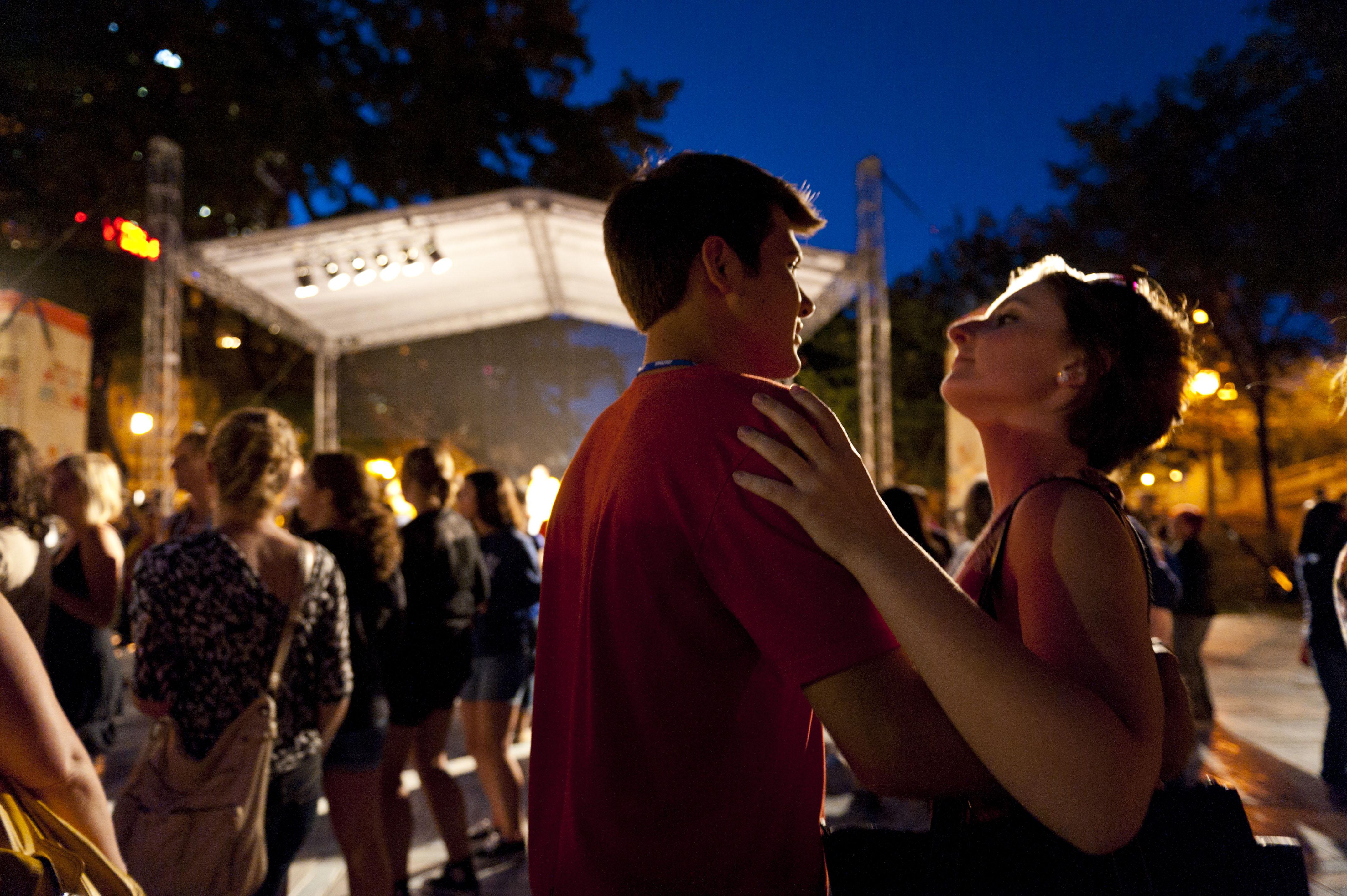 Grab a dance partner for the city's annual SummerDance festival through Sept. 11. (Courtesy City of Chicago)
SummerDance (Friday-Sunday)
Spirit of Music Garden, Grant Park
The 20th annual free music and dance series kicks off with swing (Friday), salsa (Saturday) and tango (Sunday). Arrive at 6 p.m. for an hourlong dance lesson led by a professional instructor. Live music and dancing begins at 7 p.m. Schedule: 6-9:30 p.m. Friday-Saturday; 4-7 p.m. Sunday. Through Sept. 11. Free.
Elston Avenue Sausage and Music Fest (Saturday-Sunday)
Elston Avenue at Grace Street
A celebration of encased meats takes place outside the Abbey Pub. Vendors include Paulina Meat Market, Greek Delights, Genoa Italian and others. Live music includes the Smoking Popes and Local H (Saturday); and HoneyHoney and Murder by Death (Sunday). Kids activities and carnival rides round it out. Noon-10 p.m. Saturday-Sunday. $5 suggested donation.
Ravenswood On Tap (Satuday)
Foster and Ravenswood avenues
New to the festival circuit is this sudsy North Side party, featuring craft brews from nine local breweries – including Empirical Brewery, which is the backdrop of the fest – and one distillery: Koval. Food trucks provide eats for purchase, a live music stage entertains. 3-9 p.m. Rain or shine. $5 suggested donation. Beer tickets cost $6 for a 12-ounce pour. 
PBR Movie Night: 'Ferris Bueller's Day Off' (Sunday)
Boiler Room, 2210 N. California Ave.
The monthly film series at the restaurant and bar celebrates everyone's favorite truant, Ferris Bueller. Specials include a slice of pizza, shot of Jameson and PBR tall boy for $8.50. 8 p.m. Free.
Fountain Square Art Festival (Saturday-Sunday)
Sherman Avenue and Church Street, Evanston
Browse works from more than 150 artists and the 37th annual event billed as the North Shore's oldest juried art fair. New this year: A craft beer event takes place Saturday evening (6-9 p.m.; $25) that includes up to a dozen three-ounce samples from local, regional and national breweries. 10 a.m.-9 p.m. Saturday; 10 a.m.-6 p.m. Sunday. $5 suggested donation.
Swedish Days Festival (continues through Sunday)
Downtown Geneva, Illinois – info booth at Third and James streets
Explore downtown Geneva during this annual festival featuring live music, American and Swedish food vendors, carnival rides and more. Don't miss the 67th annual Swedish Days Parade on Sunday, stepping off at 1 p.m. from the intersection of Anderson Boulevard and Center Street. Free entry. 10 a.m.-10 p.m. daily. 
Chicago Food Truck Festival (Saturday-Sunday)
McCormick Place South Loop, 2200 S. Indiana Ave. (second entrance at 200 E. 24th St.)
Bring a lawn chair and your appetite for the second annual food fest. Last year, more than 50 trucks participated. Extras include live music, a sangria garden, outdoor games, and beer, wine and spirits selections. 11 a.m.-7 p.m. Saturday-Sunday. Free entry, but tickets are required. VIP tickets also available. 
Night Out in the Parks (Thursday)
Harrison Park, 1824 S. Wood St.
Pack a picnic and relax to the sounds of the Project Inclusion String Quartet at this outdoor concert presented in conjunction with the Grant Park Music Festival. The Thursday night series continues through July 29 at cultural centers and parks across the city. 7 p.m. Free.
---
Events listed are subject to change. We recommend double-checking times and locations before you head out the door. Want to share your upcoming events with us for consideration in a future roundup? Send us an email.
---
Sign up for our morning newsletter to get all of our stories delivered to your mailbox each weekday.
---