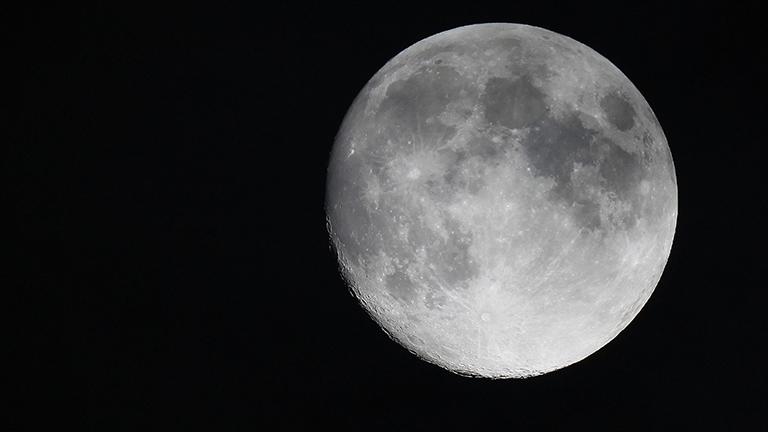 (Jérôme Salez / Wikimedia Commons)
Monday marks a rare celestial event: For the first time in decades, the full moon falls on the summer solstice.
Anyone living in the Northern Hemisphere will get about 17 hours of daylight as the sun reaches its northernmost point in the Northern Hemisphere, traveling its lengthiest path of the year through the sky.
According to National Geographic, the last time a full moon took place during the summer solstice was on June 21, 1948. On June 22, 1967, the full moon and solstice were separated by a few hours in some time zones.
If you miss the full moon Monday, you'll have to wait almost half a century for the next time it falls on the solstice: June 21, 2062.
Despite its name, Monday's full moon will not appear reddish in color. The term strawberry moon comes from what the Algonquin tribes in North America considered the start of strawberry-picking season. However, a total lunar eclipse can result in a moon that appears red- or brown-hued, like the harvest supermoon eclipse last September.
Monday's moonrise is set for 8:33 p.m.
Follow Evan Garcia on Twitter: @EvanRGarcia
---
Sign up for our morning newsletter to get all of our stories delivered to your mailbox each weekday.
---
Related "Chicago Tonight" Stories
Chicago Scientists Prepare Ultra-Sensitive Camera for South Pole Telescope
February 4: Scientists at the University of Chicago are hoping a new, highly sensitive camera they're developing for the South Pole Telescope will reveal new information about the early universe.
---
Five Planets Visible to the Naked Eye in Rare Astronomical Event
January 25: For the first time in a decade, five planets will be visible at the same time in the pre-dawn sky – and you won't need a telescope to see them.
---
Harvest Supermoon Eclipse Result of Rare Combination of Celestial Events
September 25, 2015: Weather permitting, the Chicago area will be treated to prime time, front-row seats for a rare astronomical phenomenon Sunday evening when a total lunar eclipse of a simultaneous harvest moon, supermoon and blood moon rises above the horizon.
---