The video cannot be displayed.
Chicago native Sidney Blumenthal has covered national politics for The Washington Post, The New Republic and The New Yorker. He's also served as a senior adviser to both Clintons and wrote a memoir about his years with them in the White House.
His latest book is the first in a multi-volume series about the life of Lincoln. The book, "A Self-Made Man: the Political Life of Abraham Lincoln," covers the president's childhood and early career. 
Blumenthal said he's always been "obsessed" with Lincoln.
"I was inspired by my interest in American history. I'm a native Chicagoan, native Illinoisan," Blumenthal said. "I was above all interested in the issue of race and presidents, having served with President Clinton and worked on the race initiative."
According to Blumenthal, Lincoln's experience working for his father, Thomas Lincoln, is what inspired his interest in the issue of slavery.
"Thomas Lincoln thought that his son should not become educated, but instead learn a trade. And Lincoln felt himself to be oppressed. Thomas Lincoln took [Abraham's] wages until he was 21 and treated him as an indentured servant. He rented his son out," Blumenthal said.
Lincoln's difficult relationship with his father and desire for intellectual pursuits is what led him to leave his family in Kentucky for Indiana. But Blumenthal said Lincoln's early experience with politics in Illinois is what transformed him.
"Politics was a rough and tumble game. He learned media – the modern media of his day. He was essentially the co-editor of the leading Whig newspaper in Springfield anonymously writing editorials. He was known as a young man as 'the slasher' for his cutting and sarcastic style for debating against opponents. And all of that turned into a different Lincoln over time. He was tempered. The circumstances changed," Blumenthal said.
Below, an excerpt from the prologue of the book.
"A Self-Made Man: the Political Life of Abraham Lincoln"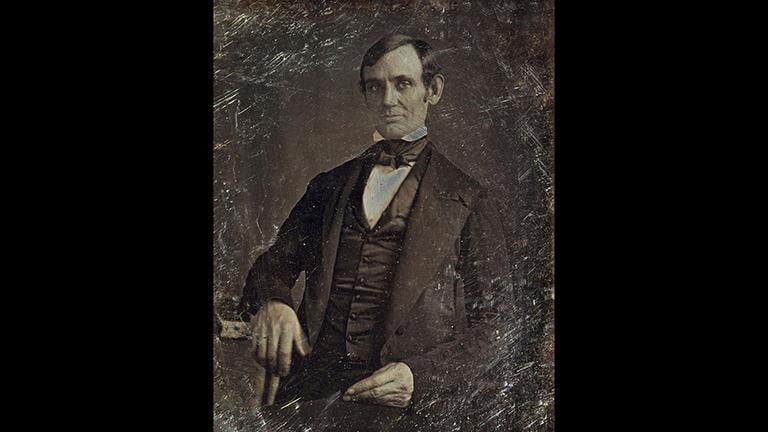 First photograph of Abraham Lincoln taken around 1846. (Courtesy Library of Congress)
The first time Abraham Lincoln spoke openly about his origins was the year he assumed his new identity as a Republican. Until then he had been remarkably reticent about the facts of his personal life. He was one of the best-known political figures in Illinois, yet he kept an essential part of himself mysterious. By 1856 he had been a professional politician on public view for twenty-four years, more than half his lifetime a stalwart member of the Whig Party, and it was as a Whig that he had climbed rapidly in its ranks. At the age of twenty-seven he was elected to his second term in the legislature and his peers chose him as the Whig floor leader. He was dubbed the "Sangamon chieftain," head of the so-called Springfield Junto that directed the state party and de facto coeditor of the leading Whig newspaper, the Sangamo (later the Illinois) Journal, writing many of its editorials anonymously. He was the manager of Whig presidential campaigns in the state and a presidential elector to the Electoral College. He was the prime mover behind installing the convention system that selected candidates, enforcing party discipline, and using that system to drive out a competitor and make himself congressman. He had always campaigned on the Whig platform for economic development: internal improvements—federal and state financing of massive infrastructure projects—and the tariff to protect and encourage manufactures. He emphasized that he was one of "the people," not "the aristocracy," and felt hurt that he was once accused of being part of the upper class because of his marriage to Mary Todd, who belonged to the Edwards-Todd family, the most distinguished in Springfield, living on Aristocracy Hill. Projecting himself as a self-made man, he believed himself to be and wanted to be seen as rising from the common clay. He was also determined to leave his past behind, even to bury it, as if hiding his humiliation. His impulse was to protect himself from revelations about his origins. As for the actual details of his early existence, he had been stone silent.
By 1856 he was out of office for the biblical length of seven years since his obscure one-term congressional term, wandering on a horse named Bob from county courthouse to courthouse in the Eighth Judicial District of Illinois. While he sharpened his skills as a lawyer before juries and read Euclid late into the night to deepen his understanding of logical argumentation, he also unsuspectingly gathered around him the network of political men who would help lift him to the presidency, his team of loyalists. In the meantime, the party of his lifelong attachment shattered. This shipwreck, leaving him adrift as a political Ishmael, was his miraculous chance. His political career had capsized before his party went under, but he discovered himself suddenly afloat.
Emerging from the Whig crack-up, which he observed from a distance like a great natural disaster, he was a more mature man who had absorbed the experience of his wilderness years. "It is a fact that Mr. Lincoln was a peculiar man, a wonderful, marvelous, and mysterious man to the world generally," recalled William Henry Herndon, his law partner. On the one hand, "He was a marginal man, always leaving a blank on his paper, so that the future might write the future lessons thereon." On the other hand, "Lincoln's man"—Lincoln's own platonic ideal—"was purely logical, and he followed his conclusions to the ultimate end, though the world perished." He seemed paradoxical, but was of a piece. "While I say that Mr. Lincoln was ambitious, secretive, and somewhat selfish, do not infer from these words that he was a dishonest man, nor an insincere man, nor a hypocrite, nor a mean man, nor a base man. He was, on the contrary, full of honesty, integrity, sincerity; open, fair, and candid when speaking or acting. He was for Lincoln always, but with Lincoln's intense honesty." He learned the political values of time and patience, but often aroused criticism that he was too slow or too fast, vacillating or rash, on everything from the Emancipation Proclamation to military strategy. "He was self-reliant, self-poised, self-helping, and self-assertive, but not dogmatic by any means. He clung like gravity to his own opinions. He was the most continuous and severest thinker in America." But he was not always this way, not in the beginning, and it took decades for Lincoln to develop and realize his self-conception as "Lincoln's man."
Excerpted and reprinted with permission. Click here to read more of the prologue.
---
Sign up for our morning newsletter to get all of our stories delivered to your mailbox each weekday.
---
Related 'Chicago Tonight' stories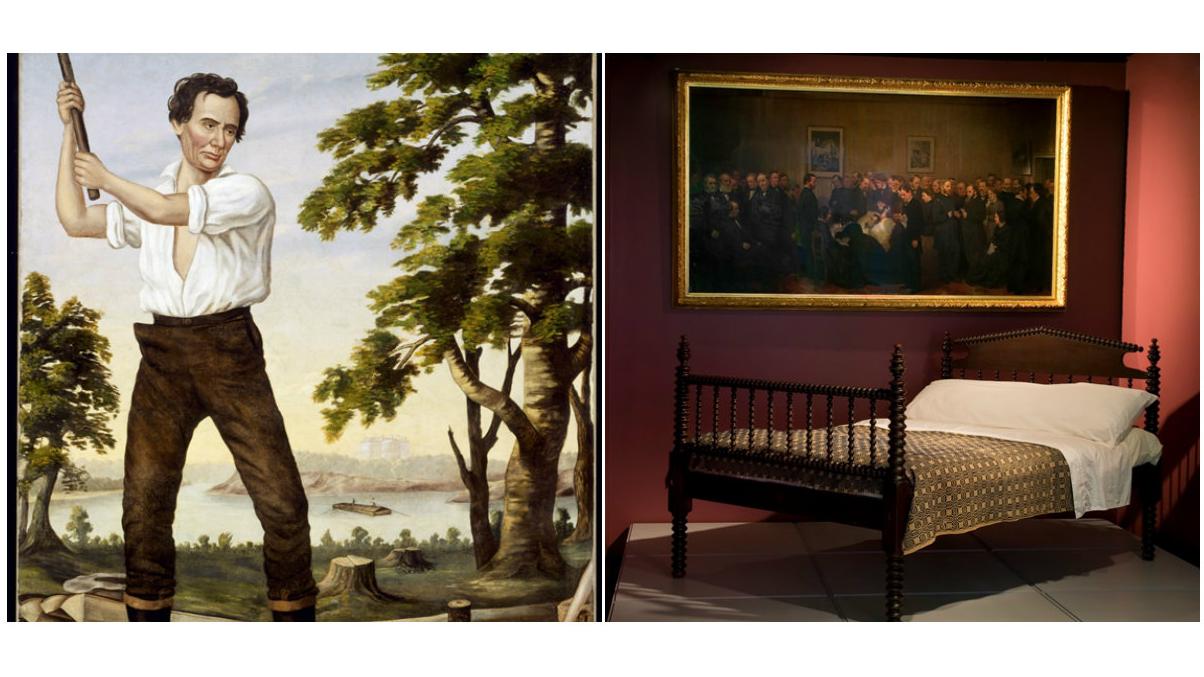 Lincoln's Deathbed, Family Carriage Back on Display at History Museum 
April 5: The Chicago History Museum has a whole slew of Abraham Lincoln memorabilia. But until now, at least one item – Lincoln's family carriage – had not been on display since 1986. See it and the president's deathbed starting Saturday.
---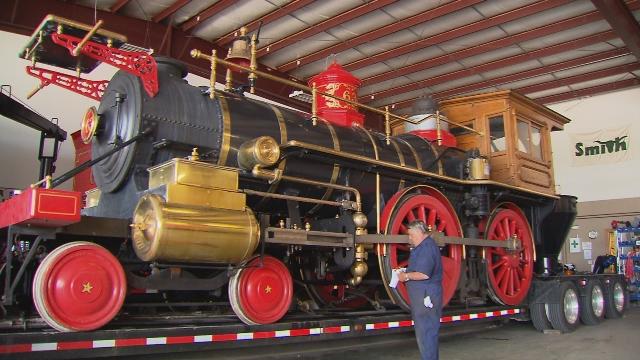 Local Man Builds Lincoln Funeral Train
Oct. 16, 2014: A local man built a full-size working replica of an 1860's steam locomotive in his spare time. Now he's at work on the Lincoln Funeral Car. 
---