The video cannot be displayed.
Excess nutrients can have a devastating impact on the marine environment. The problem is called nutrient pollution, and two of the main culprits are phosphorous and nitrogen, which come from sources such as agricultural run-off and household waste.
The U.S. Environmental Protection Agency calls nutrient pollution "one of America's most widespread, costly and challenging environmental problems."
Challenging because when too much phosphorus and nitrogen flow into waterways, they cause algae to flourish and create huge algal blooms so large they can be seen from space. As the algae dies and decays it consumes dissolved oxygen in the water, which can then kill other plants and animals that need oxygen for survival.
Chicago's wastewater contributes to nutrient pollution. It ultimately flows south to the Gulf of Mexico, where the excess nutrients help trigger algal blooms that have created a dead zone covering up to 7,000 square miles.
But a new nutrient recovery process developed by a Vancouver-based company called Ostara that is being used by the Metropolitan Water Reclamation District may help change that.
In the video below, Ostara's Chief Technology Officer Ahren Britton explains how the nutrient recovery process at the MWRD's new treatment facility in Stickney extracts premium-grade fertilizer from wastewater. 
---
"What we have is the world's largest nutrient recovery facility," said Phillip Abrary, the co-founder, president and chief executive of Ostara. "What it does is essentially recovers the phosphorous and the nitrogen in the wastewater at the Stickney plant and coverts that into a high-grade, slow-release fertilizer that can be used for all sorts of agricultural applications."
Joining Abrary in Chicago to officially open the facility is Robert F. Kennedy Jr., who serves on the board at Ostara. 
"The biggest source of freshwater pollution is phosphorus," said Kennedy, who is an outspoken environmental activist. "Phosphorus traditionally was very expensive and very difficult for these particularly small communities to remove. It cost millions and millions of dollars a year."
The process also required a lot of chemicals, Kennedy said. But there's another reason the new technology is so beneficial, and it's tied to the value of phosphorus itself.
"Every farmer in Illinois needs to buy phosphorus and put it on their crops," Kennedy said. "Crops won't grow without it."
But there are not unlimited supplies of the element in the natural world.
"We're going to run out of phosphorus probably in 30 to 50 years," Kennedy said. "So here's a way that we can produce it locally, at the sewage treatment plant, and then we can use it in a way that does not make it down to the Gulf of Mexico."
Video: Timelapse video shows a reactor being lifted, rotated and placed into what is now the world's largest phosphorus recovery facility at the Stickney Water Reclamation Plant.
---
Sign up for our morning newsletter to get all of our stories delivered to your mailbox each weekday.
---
Related stories from 'Chicago Tonight'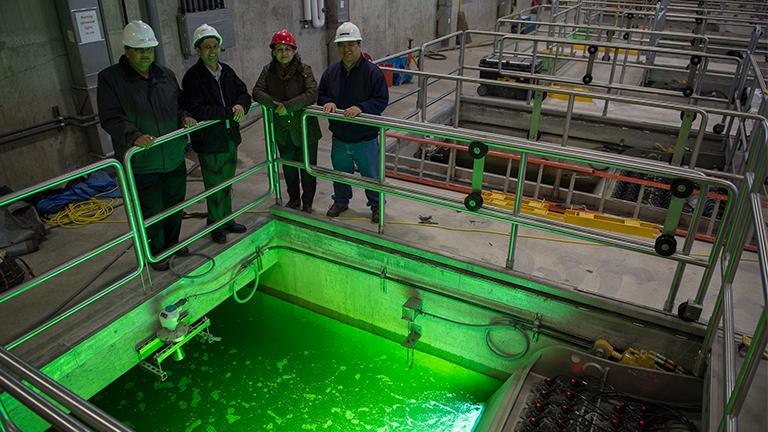 World's Largest Ultraviolet Disinfection Facility Tackles Chicago River
March 23: The notoriously polluted Chicago River is about to get cleaner with disinfection technology at a Skokie water treatment facility.
---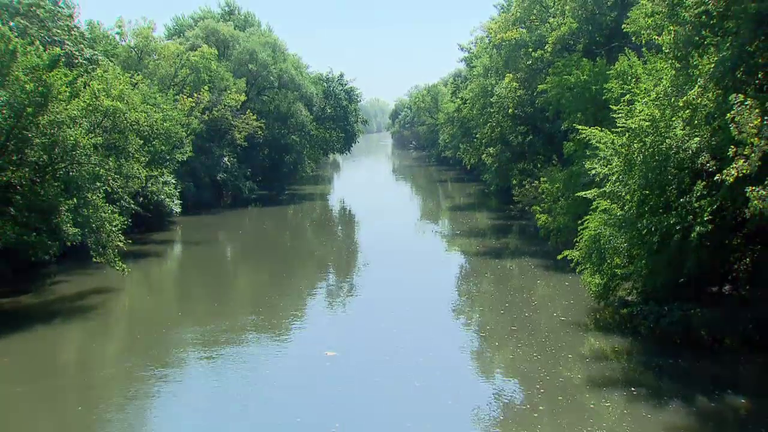 New Water Disinfection Plant Helps Clean Chicago Waterways
July 20, 2015: Swimming safely in the Chicago River is now one giant step closer to reality, according to sanitary officials. Chicago Tonight details the new disinfection process making that possible.
---