The video cannot be displayed.
Public officials are blasting the Transportation Security Administration as security lines at Chicago's airports – and airports around the country – have swelled to two- and three-hour wait times. What accounts for the spike, and what happens as the summer travel season approaches?
Help is on the way, according to local officials. Mayor Rahm Emanuel said Tuesday afternoon that he's secured more resources from the Department of Homeland Security. That includes shifting 100 part-time security screeners to full time, bringing in 58 new security screeners to O'Hare and Midway in the next three weeks, and 250 new screeners by August.
"When you put O'Hare and Midway together, we are the busiest aviation city in the country, and there are inadequate resources," Emanuel said. "But what is maddening and frustrating is this was all predictable and could've been dealt with months ago."
The TSA has urged travelers to start arriving three hours before their flights, although the lines were much shorter at O'Hare on Tuesday than the last few days because of a smaller travel volume. Illinois U.S. Sen. Dick Durbin says a lot of the problem is the increase in carry-on luggage because of hefty fees for checked bags. He says it's time to put a halt to that.
"More and more passengers are carrying their bags on, that means going through security, where we're unfortunately finding things that stop the process," Durbin said. "So I'm calling on the major airlines to waive baggage check fees for the summer months. They can help us solve this problem."
Last week, video of an extraordinarily long security line at Midway Airport went viral.
---
Durbin says he will convene a meeting of airlines and other stakeholders to address the issue.
Republican Illinois U.S. Sen. Mark Kirk issued a terse warning to the head of the TSA, Peter Neffenger: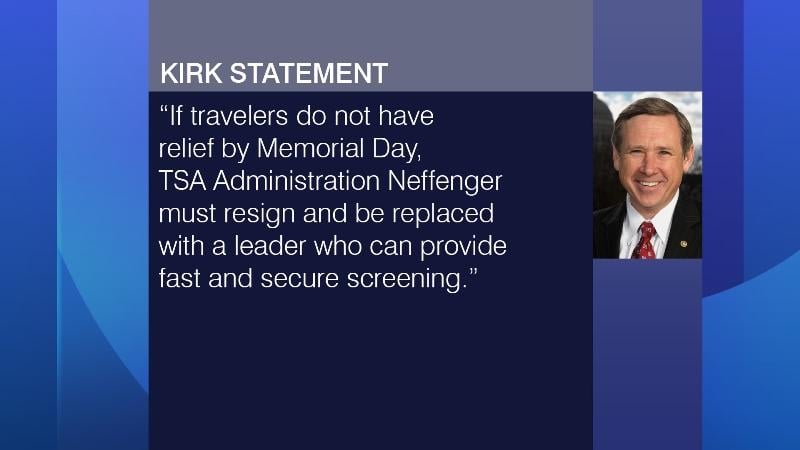 Transportation experts say the recent chaos has been building for months, as TSA staffing hasn't kept pace with an increase in air travel. They also say that far fewer travelers have signed up to be "pre-checked," where they can go through a much shorter line.
"The TSA just misjudged the manpower," said Joseph Schwieterman, a transportation expert at DePaul University. "They thought 25 million would sign up for pre-check. That's been closer to 7 to 9. And we're seeing an increase in leisure, unsophisticated travelers that bring things that stop lines. When a bag is flagged, it's important the line doesn't stop. That it's moved to a different conveyer so the line can keep going. That'll be rolled out here quick because right now the airlines just can't function with these kinds of delays."
Two TSA workers we spoke with were adamant that it's not their agency's fault. Blame the airlines, they said. They accused United and American of "flight banking," or clustering all of their flights at certain times of the day. An American airlines spokeswoman confirmed that flights are clustered around certain times, but that there's no correlation between scheduling and the recent bump in security lines.
Meanwhile, travelers say they are heeding the message.
"I arrived here about four hours early, expecting the worst, but honestly I was pleasantly surprised," said Chicago resident Carmen Rodriguez.
"Anybody that does their usual routine of showing up an hour or hour and a half before their flight, it's not going to work today," said traveler Martavious Irving.
Some airports allow airlines to hire private screeners that are not TSA members. But that isn't allowed at O'Hare and Midway. Nonetheless, American Airlines says they will hire people to help with the ancillary activities.
"Standing in the line and telling people to remove their shoes and take laptops out of their bags, we will put in place people this week to do those functions," said spokeswoman Leslie Scott. "We're hoping that frees up additional screeners to open an additional lane or expedite the process."
Calls to the TSA and Homeland Security Administration were not returned, but we are told they will be in town later this week to make further announcements at Midway.
Follow Paris Schutz on Twitter: @paschutz
---
Sign up for our morning newsletter to get all of our stories delivered to your mailbox each weekday.
---
Related stories
New Rideshare Rules Allow Airport Pickups
Nov. 4, 2015: New rules that will allow rideshare services such as Uber and Lyft to start making pickups from O'Hare and Midway airports could be in place as early as Nov. 18.
---