The video cannot be displayed.
Thursday marks the official opening of Draft Town in Grant Park. For the second year in a row the city is hoping to cash in on the NFL craze to boost tourism and the local economy. Is it really worth the cost?
Year two is bigger, louder and comes with more traffic headaches.
Across the street from the Auditorium Theatre, where the much-hyped first round takes place, is what can only be accurately termed Draft-a-Palooza: Regalia on display, interactive events like running the 40-yard dash and kicking a field goal. There's even a Ferris wheel with an NFL team logo on each car.
The NFL worked with the quasi-public private tourism agency Choose Chicago to put on the event. They are expecting about 200,000 visitors and an economic impact to the city of $82 million more than what they would normally see on a late April weekend.
The NFL foots the bill for constructing the gigantic festival, but they are leasing Grant Park for only 5 percent of what it would normally cost. The city says the Park District agreed to all but give up the rental fee because the event is free and open to the public. For private events that include an entry fee, such as Lollapalooza, the organizers have to pay close to full freight. They say the city also gives the park away for free for events like Blues Fest.
They also say any costs for things like security and traffic management are defrayed, not by the NFL, but by Choose Chicago through private funds they raise from sponsors – they are promising no taxpayer dollars are on the line.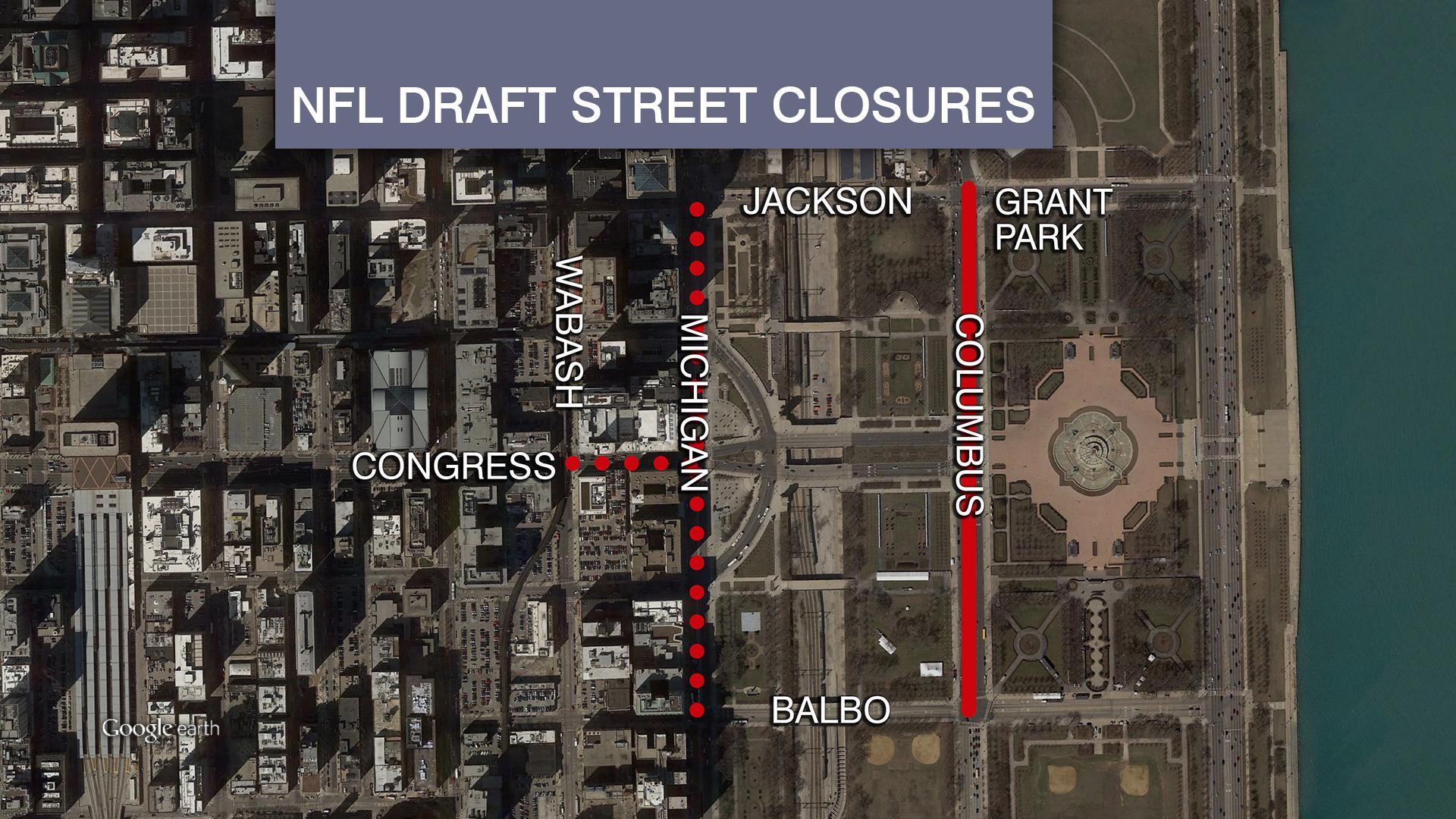 But perhaps the bigger cost is the traffic. There are a lot of street closures including all of Grant Park – Columbus, Balbo and the Congress Circle. Thursday night and Friday from 3-8 p.m., Michigan Avenue from Jackson to Balbo will be closed, in addition to Congress from Wabash to Michigan.
It is essentially the same event as last year, but they've changed the configuration and made it bigger.
"We've moved selection square to the east side of Buckingham Fountain," said Kara Bachman of the Chicago Sports Commission. "The entire Draft Town is bigger – about 20 football fields. Last year it was the size of 16. There are new elements to celebrate all of the teams like locker rooms, gear, everything you would want for football."
Rumors have it that this is the last year for the draft in Chicago. In fact, NFL Commissioner Roger Goodell has stated that it's likely the draft will go elsewhere next year.
Mayor Rahm Emanuel seemed to indicate he had something up his sleeve to get it back – as both of them attended an NFL-sponsored charity event this morning at Ariel Academy on the South Side.
One prominent local booster that has Goodell's ear says there's time to change his mind.
"I think Chicago's challenge is to make it as difficult as possible for the commissioner to pick another town, and I think Chicago is up to the challenge," said Chicago Bears Chairman George McCaskey. "It has to put on a great show, and I think we'll do that, despite the weather. It is Bear weather out there."
Indeed, the temperatures are slated to be in the 40s and low 50s all weekend, with rain in the forecast.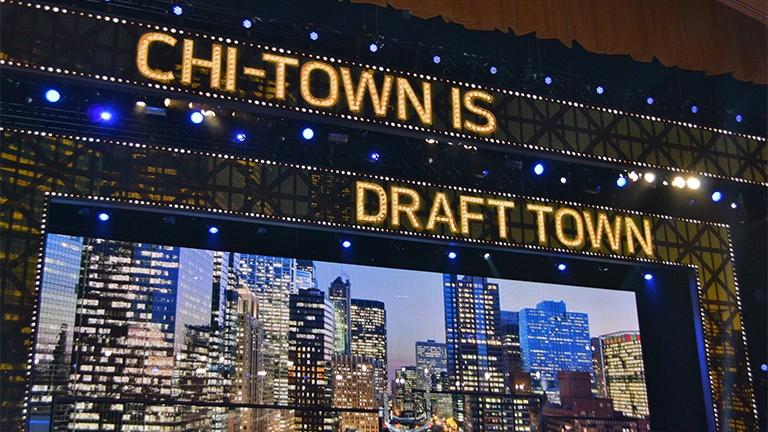 The NFL Draft in 2015. After a successful run last year, the NFL Draft returns to Chicago in 2016. (Crystin Immel)
Draft Town details
Draft Town opens in Grant Park on Thursday at noon and continues through Saturday.
The schedule for the free fan festival includes an autograph stage, football clinics, daily cheerleading performances and talks by Von Miller and Jeremy Langford (Thursday); Mike Ditka and Kyle Long (Friday); and Otis Wilson and Richard Dent (Saturday).
Other attractions include a Ferris wheel, NFL shop and an NFL museum stocked with Hall of Fame memorabilia. Food and beer are available for purchase.
Hours:
Thusday: Noon-10 p.m.
Friday: Noon-10 p.m.
Saturday: 10 a.m.-6 p.m.
---
Related 'Chicago Tonight' content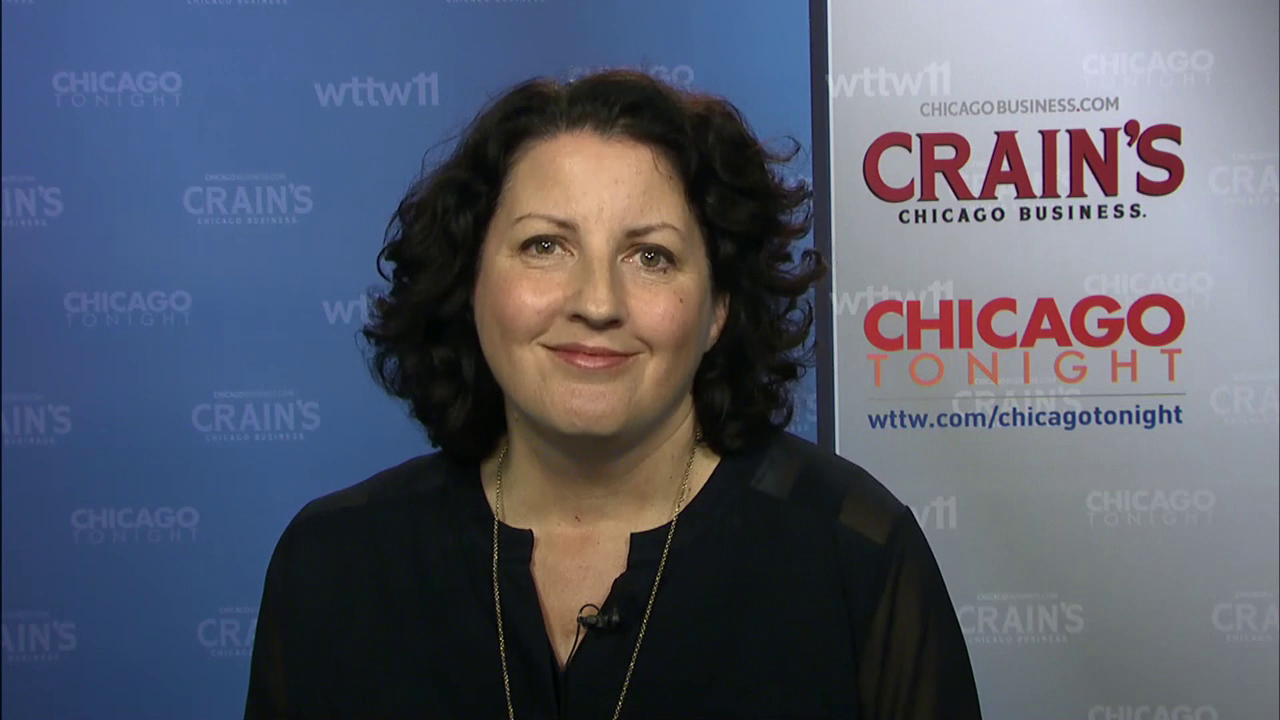 Crain's Roundup: Kraft Heinz Cuts Workforce, NFL Draft Returns, More
Aug. 12, 2015: Kraft Heinz cuts more than a third of its workforce, the NFL Draft will return to Chicago, and tech giant, Apple, will move its Michigan Avenue store further south along the Mag Mile. 
---
Crystin's NFL Draft Notebook: Day 3: Grading the NFL Draft
May 3, 2015: The picks are all in, and after three days of festivities and thousands of fans pouring into Grant Park, the 2015 NFL Draft in Chicago has concluded. Crystin Immel grades the NFL on the overall fan experience they provided in Grant Park.
---
Crystin's NFL Draft Notebook: Day 2: In Enemy Territory
May 2, 2015: Crystin Immel returned to Auditorium Theatre to cover rounds two and three of the NFL Draft on Friday. But things didn't go as smoothly as she planned. 
---
Crystin's NFL Draft Notebook: Day 1: From Back Room to Row One: Getting In and Staying In
May 1, 2015: Crystin Immel is an assistant producer and the assignment desk editor for Chicago Tonight. She's also a big NFL fan. We thought it would be fun to send her to the NFL Draft at the Auditorium Theatre to see the draft through her eyes. 
---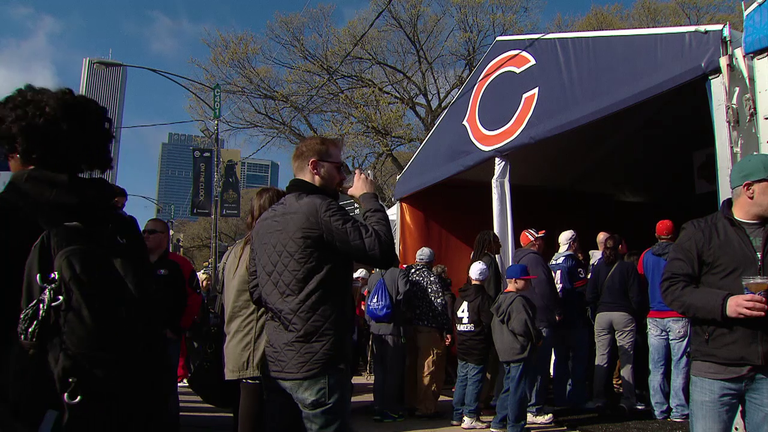 NFL Draft Kicks Off in Chicago
April 30, 2015: The new, supersized NFL Draft gets underway in Chicago this evening. Just what does it mean for the city?
---