In the North Shore suburb of Glencoe, a group of women have found a way to deal with their community's cast-off clothing and furniture that generates a lot of money for organizations that help low-income people in the Chicago area.
It's called the North Shore Exchange, and Jay Shefsky has the story.
TRANSCRIPT
Jay Shefsky: The North Shore Exchange is not what I think of when I think of a resale shop: French china service for 10: $595. Women's clothing from $30 to $1,500. Crystal for $95. A pair of lamps for $395. A hand carved wood console table for $495. 
Wendy Serrino: The North Shore Exchange is a charitable, upscale resale shop. We focus on women's fashion and home accessories.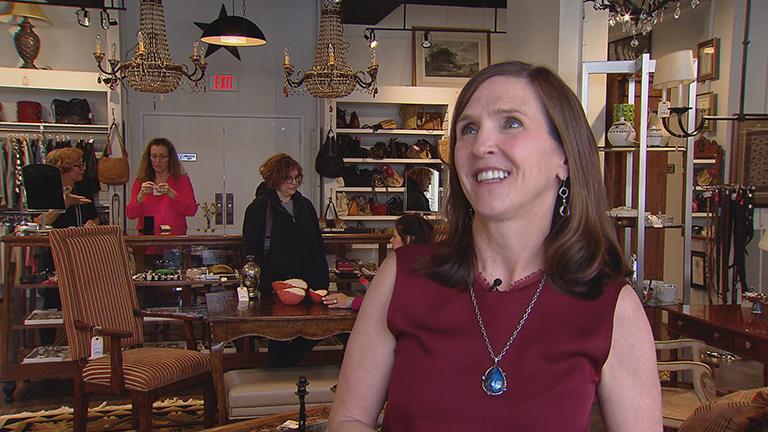 Wendy Serrino
Shefsky: Wendy Serrino is one of the founders of The North Shore Exchange, which generates a lot of money for charity by being very selective about what they accept for sale.
Serrino: We only take women's designer fashion. The things that sell best at our store are Prada, Channel, Gucci, Versace.
Missy Brownson: Year in and year out we find that our biggest sellers are handbags. For example, if you are going to own a Chanel bag, I am told that this is the Chanel bag to own. It retails for $3,800, and as we know, Chanel does not go on sale. We have it here for $2,700. Kate Spade is a big seller in our store. We sell it for $45.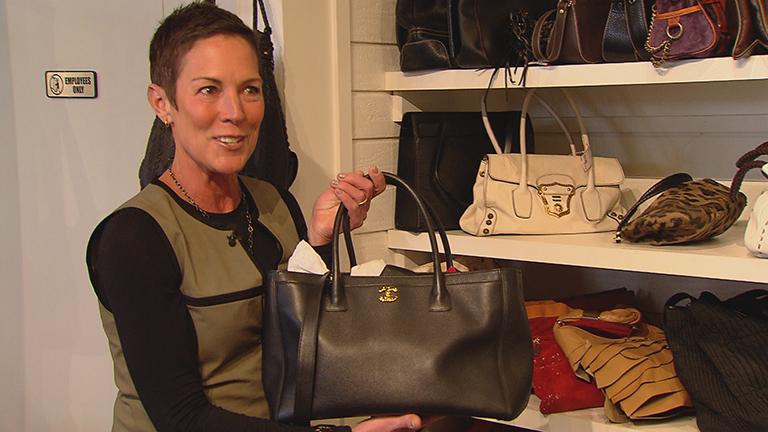 Missy Brownson
Shefky: Some of the items in the store have been donated, but most of the clothing, furniture and home accessories are here on consignment. For most items, consigners get 50 percent of the sale price.   
Nancy Pred, customer: It feels a lot better than just throwing it in a bag and leaving it out for somebody. You kind of know where the money is going, and they send out reports about where the money is going and how much is made.
Serrino: Our mission is to serve those at or below the poverty level through human service agencies that serve them. So things like homeless shelters, food pantries, legal aid for the poor, elderly care, preschool for moms and children in poverty.
Shefsky: Since North Shore Exchange opened in 2013, they've transformed their high-end merchandise into grants to more than 20 organizations, like The Night Ministry, Connections for the Homeless, the Greater Chicago Food Depository and the Uptown People's Law Center.
Serrino: The first year, we gave $75,000, the second year we gave away $150,000 and the third year we gave away $200,000. And we're hoping to give away somewhere between $200,000 to $250,000 this year. Our goal is to get to $1 million given away within five years.
Shefsky: North Shore Exchange is an independent 501(c)(3) nonprofit. It has a close relationship with the Women's Library Club of Glencoe, which ran a more traditional thrift shop here for more than 80 years. Many of the 30 or 40 volunteers that run the place are members of the library club, including Susan Sholl, who selects the home furnishings.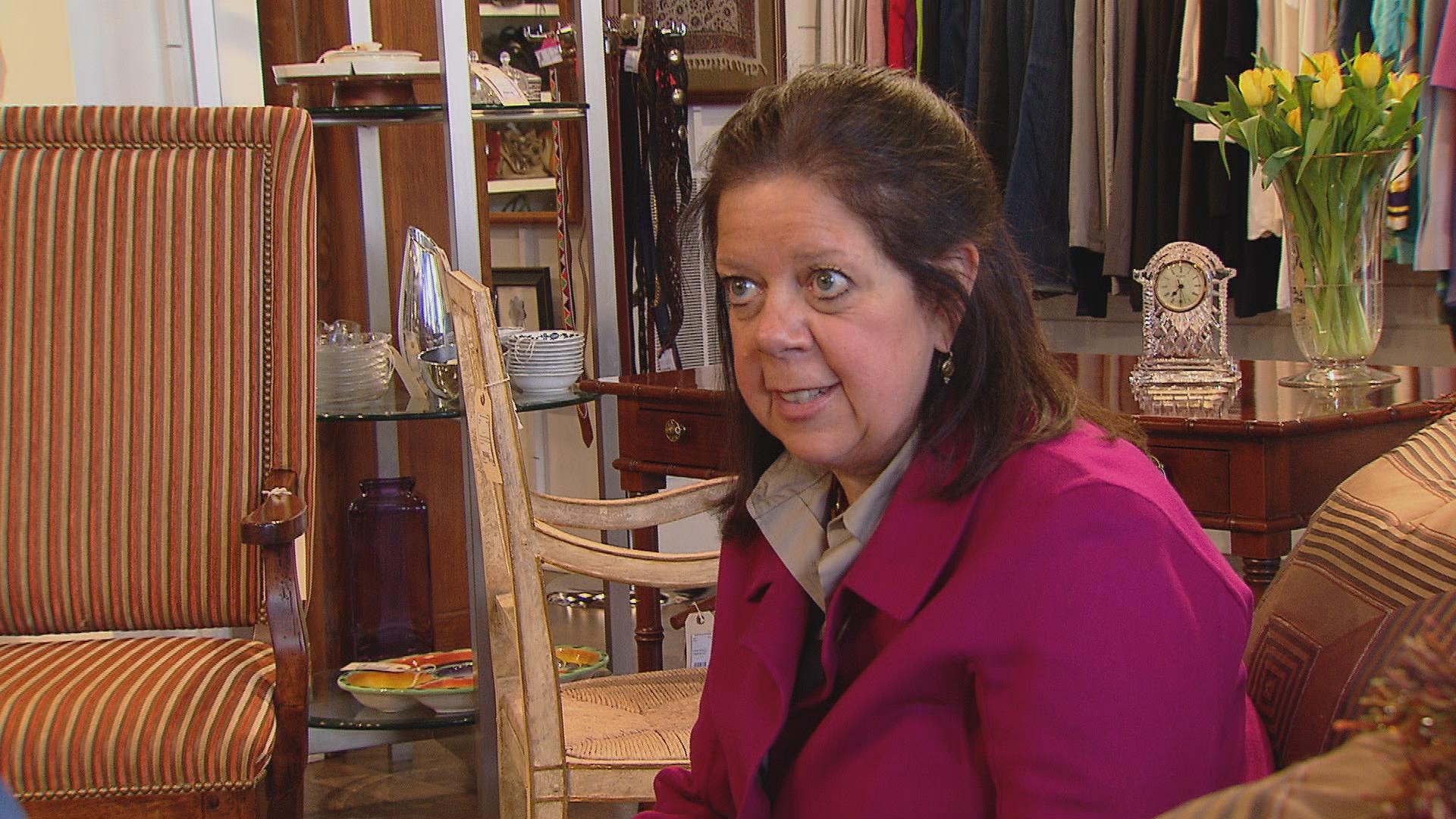 Susan Sholl
Susan Sholl: We are so lucky to live in the area that we do because there are some very beautiful things that we get. And we're able to pass onto our customers at great prices. Although it can be difficult to turn someone down for their furniture, we also don't want to be stuck with it either. 
Serrino: I have been doing fundraising for a long time for a lot of organizations, and you get tired of asking people for money. And it's a great way to create an income stream so an agency doesn't have to keep asking for money. 
Shefky: They like to say that North Shore Exchange is a "win-win-win": good deals on high-end stuff, a place to give away or sell high-end stuff and lots of money raised for good causes. 
The North Shore Exchange is located at 372 Hazel Ave. in Glencoe and is open from 10 a.m.-5:30 p.m. Tuesday through Saturday. For more information, visit the shop's website.
---
Related stories from "Chicago Tonight"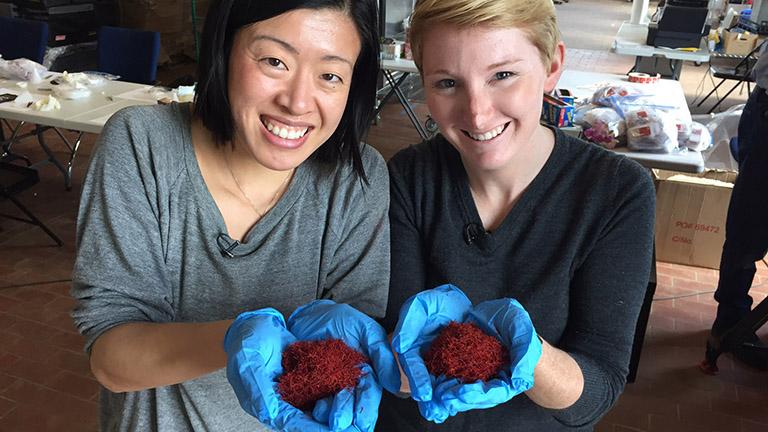 Chicago Veterans Aim to Cultivate Peace in Afghanistan Through Farming
April 5: Could a spice help rebuild Afghanistan? Could it decrease the production of poppy for opium? Meet three Chicago war veterans who have started a business with these goals in mind.
---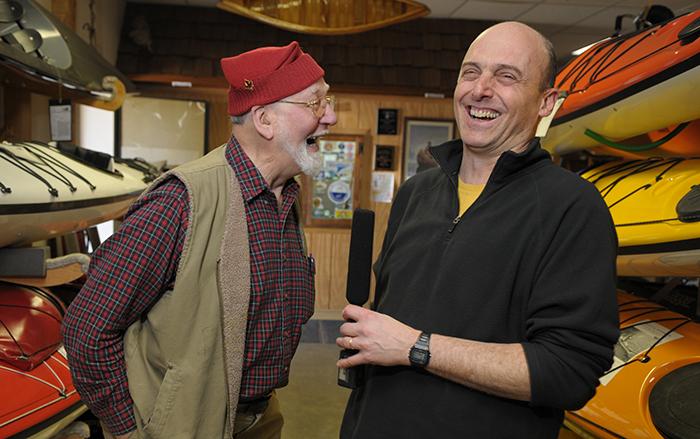 Find more of Jay's stories about Chicago people and places right here.
---