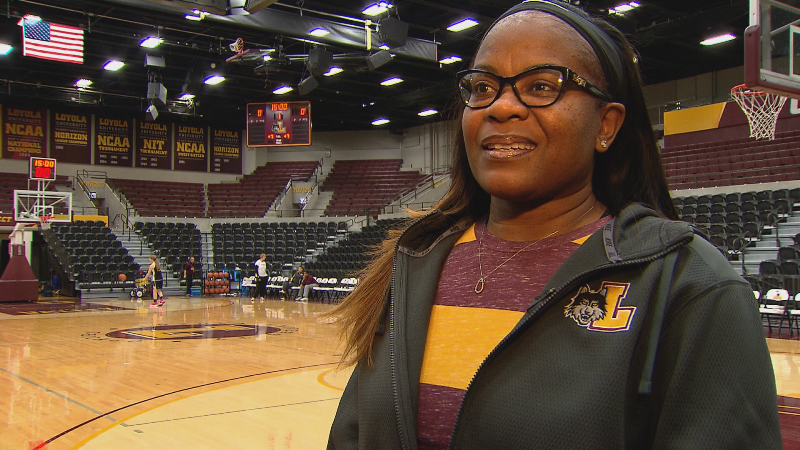 Sheryl Swoopes
Naismith Memorial Basketball Hall of Famer Sheryl Swoopes is under investigation following a mass exodus of players and allegations of player mistreatment.
Ten of 12 players on the team have transferred or requested a release from their scholarships. After the 2014-2015 season, five players left the program for other teams.
The Loyola Phoenix, the university newspaper, reported that some of these players were leaving due to mistreatment by Swoopes.
"The majority of them said no comment," said Madeline Kenney, a junior at Loyola and sports editor for the Phoenix. "But two of them said it was due to off-court issues with Swoopes and player mistreatment."
That sentiment was echoed by former players who spoke with Kenney and Nader Issa, sports editor for the Phoenix.
"[They said] she was very unprofessional, and she would get too involved in their personal lives and make comments about players' physical appearances, or make fun of the way players would run or shoot the ball," Kenney said.
Many of the players—both current and former—told the school newspaper they took their concerns to the athletic department, though some were hesitant to be too specific for fear of retribution.
"[A former player] didn't go into a lot of detail because she was so concerned about what Swoopes could do regarding allowing her to pursue basketball in the future [outside of Loyola] because she has a lot of influence with what her resume states," Kenney said.
After the Phoenix's article was released, the university announced it was beginning an investigation into the allegations.
"Any time there are allegations of student-athlete mistreatment, it is more than concerning. The welfare of our student-athletes is paramount. Thus, the Loyola University Chicago Department of Intercollegiate Athletics has asked for an independent and comprehensive University investigation into the women's basketball program," Jermaine Truax, deputy director of athletics and sport administrator for women's basketball​, said in a statement.
"Coach Swoopes is aware of, and will fully cooperate with, the investigation," Traux said in the statement. "We look forward to learning how we can resolve these allegations and improve the student-athlete experience within the women's basketball program."
Since the Phoenix's article, Kenney said more players have come forward.
"We've had a [former] player and her parents contact us, and she's going to go on the record and might be telling past instances that happened," Kenney said.
Campus reaction to the allegations against Swoopes is mixed.
"I think a lot of students have been shocked, but some players have thanked us that we've spoken up and brought light to this issue," Kenney said. "And other players haven't really said much."
Earlier this month it was announced that the four-time WNBA champion and Olympian was going to be inducted into the Basketball Hall of Fame.
"I think a lot of people were excited because the Hall of Fame class included Shaquille O'Neal and Yao Ming," Kenney said of campus reaction to Swoopes' induction. "They're really big names in basketball and [students] thought it was really cool to have a head coach who would be alongside those great names in basketball in September."
Swoopes was hired by Loyola in 2013. The Ramblers finished the season 14-16 (10-8 in the Missouri Valley Conference Tournament).
Follow Kristen Thometz on Twitter: @kristenthometz
---
Related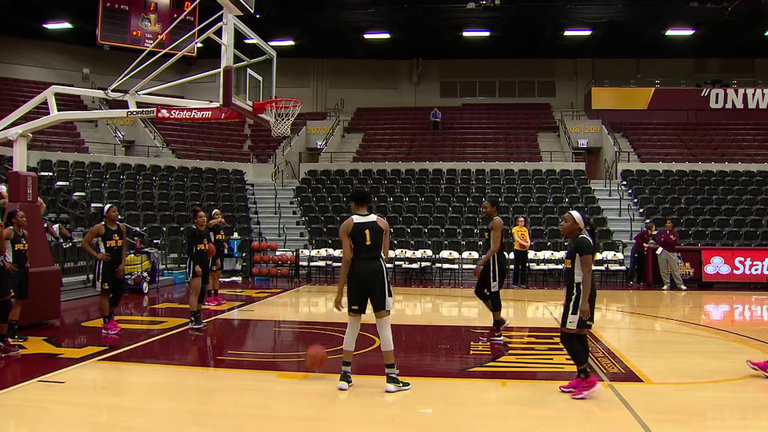 Basketball Hall of Fame Finalist Sheryl Swoopes Heads LUC Women's Team
Feb. 15: She's been known as the "female Michael Jordan," but basketball legend Sheryl Swoopes has made her own name as a trailblazer in women's basketball. No longer playing professional sports since 2011, she's now coaching the women's basketball team at Loyola University Chicago.
---