She's been known as the "female Michael Jordan," but basketball legend Sheryl Swoopes has made her own name as a trailblazer in women's basketball.
No longer playing professional sports since 2011, she's now coaching the women's basketball team at Loyola University Chicago.
Her work has not only led the team to a better season this year, it's earned her a spot on this year's roster of Naismith Basketball Hall of Fame finalists, along with greats like Shaquille O'Neal and Allen Iverson.
Brandis Friedman caught up with her and the team during practice.
---
---
TRANSCRIPT
Sheryl Swoopes Sheryl Swoopes, coach Loyola women's basketball: Our focus, starting right now has to be on this game tomorrow. They're gonna come in here very confident. There's no reason why we shouldn't be more confident than they are.
Brandis Friedman: It's the final stretch of the season for the Loyola women's basketball team. And this year, the players plan to finish far stronger than last.
Becca Smith: It's just all around more competitive from practices to games, post-season, pre-season. Everyone's always working to get better, and we all have a common goal and that's to win basketball games, get to championships, and to just do the best we can. And I think the culture has completely changed since she's been here.
BF: The "she" senior Becca Smith is referring to is coach Sheryl Swoopes.
SS: Reverse it, double-stagger! Hit it.
BF: Swoopes' rise to basketball greatness started when she began playing the game at the age of 7. Her path took her to Texas Tech, where her team won the national championship her senior season, and she was named college player of the year. In 1996 she became the first player signed to the brand new WNBA.
Swoopes went on to become a four-time WNBA champion, a three time MVP and a three-time Olympic gold medalist.
Swoopes is in her third year as coach of the Loyola women.
So far this season, the Ramblers are 12 and 12, with five games remaining before the conference tournament: A marked improvement over last year, when the team went 6 and 25.
SS: By far this is best season that we've had since I've been here and this is my third season. I would say things are looking good, things are getting better. Recruiting is going great.  And to me, when you get into coaching, it's all about recruiting, you have to be able to find the right talent, it's gotta be the right fit.
BF: One of the players Swoopes recruited was Taylor Manuel, a communications major from Saint Louis.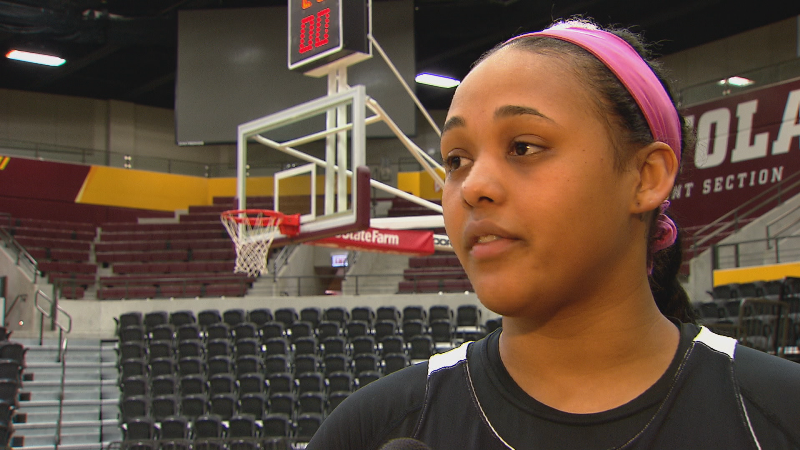 Taylor Manuel Taylor Manuel: Honestly, I was star struck because growing up, I've been playing the game since I was 4, and I've had that dream of I want to be in WNBA. To be coached by this legend and personally one of the best female basketball players, in my opinion, is a huge blessing.
BF: In addition to finding great recruits, Swoopes says, she hopes to instill in all of her players the lessons she's learned from years on the court.
SS: For me having played so many years I think I can really relate to my players. They give me a hard time all the time because they say, "You can't play anymore." I get frustrated because I can't do the things I used to be able to do when I was younger. But really trying to motivate them and instill in them hard work. If you come out every day—that's the only think that I ask is you bring the effort, you bring a great attitude and you work hard.
BF: Team members say they find encouragement from Swoopes both on and off the court.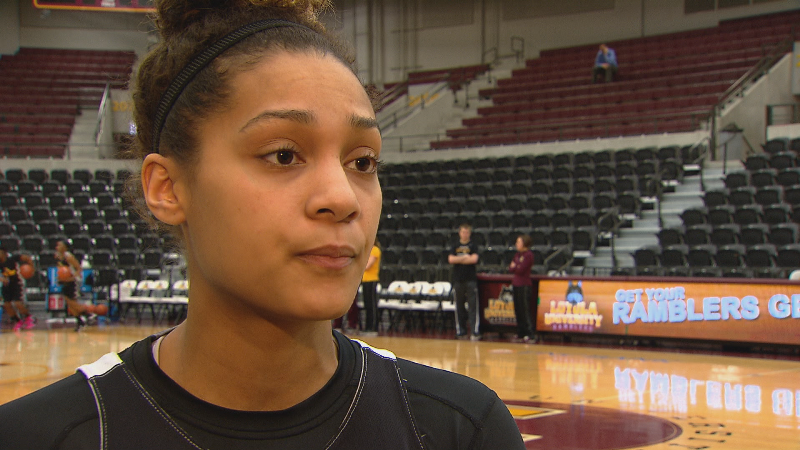 Becca Smith BS: I had been in a slump past couple of games, previously and she had pulled me aside, told me to take what the game gave me. Not to rush anything, not to force anything, but rather just play the game and let the game come to me. Taking that pressure off really helped me relax and just play my game.
TM: She never lets me settle. Sometimes I don't think I can go any harder, but she somehow tends to bring more out of me, which I didn't even know I had that.
BF: Swoopes says she's learned a few lessons in her first few years as well.
SS: Coaching is stressful!
BF: But she still has that winning spirit that's earned her so many wins, awards and now a basketball hall of fame nomination.
SS: We wanna win! People say it's not about wins losses. I will say I don't determine the success of this team on how far we'll go in the tournament.
Because I can already tell that this team has been successful in the changes we've made. Our record speaks for itself but I want to win. I'm a competitor, I'm a champion, I try to instill that in my players every single day, and I believe this team has every tool to do some great things in conference, do some great things conference tournament.
BF: She hopes it gives her players the confidence she thinks they've earned--no matter how far the team goes.
For "Chicago Tonight," I'm Brandis Friedman.
Follow Brandis Friedman on Twitter: @BrandisFriedman
---