FRIDAY (Jump to SATURDAY | SUNDAY)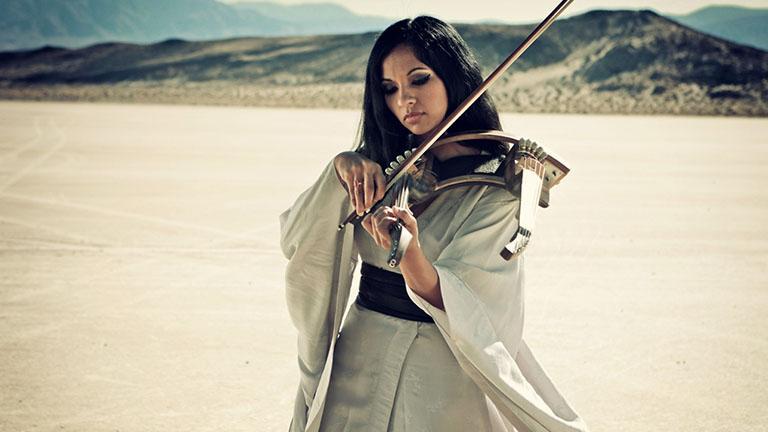 Gingger Shankar (Courtesy of CIMM Fest)
Chicago International Movies and Music Festival (through Sunday)
Various Locations
The eighth annual, five-day CIMMfest is underway and runs through Sunday. Highlights this year include performances by Indian-American singer and composer Gingger Shankar and American rapper David Banner. There's plenty to hear and see, including the North American premier of "Blackhearts," a look at Norway's notorious black metal scene. Check out the movie lineup  and music lineup. Times vary by show. Individual tickets cost $8 for concerts; $12 for films. Passes start at $79.
---
Also on tap:
Antiques, Garden and Design Show (through Sunday)
Chicago Botanic Garden, 1000 Lake Cook Road, Glencoe
Get inspired by the latest design trends for your home both inside and out. You can also explore indoor gardens at this year's show. 10 a.m.-5 p.m. $20-$22.
'Ma(s)king Her' (through Saturday)
Jay Pritzker Pavilion, 201 E. Randolph St.
This dance theater performance is designed to address the absence of women of color in speculative fiction. Utilizing AfroSurrealism and black feminist thought, the folktale stresses the urgency of creating alternative worlds where woman of color are valued and empowered. 7:30 p.m. $15.
Chi Teen Lit Fest (through Saturday)
Various Locations
The inaugural event aims to provide a safe creative space for youth ages 13-19 by bringing together young literary artists to celebrate their talents. The lineup includes open mics, workshops, networking opportunities, food, music and performances. See the full schedule and RSVP here. Walk-ins welcome. 6-10 p.m. Friday at the Harold Washington Library, 400 S. State St.; 11 a.m.-5 p.m. Sunday at Columbia College Chicago, 600 S. Michigan Ave. Free.
Drew Holcomb and the Neighbors
Thalia Hall, 1807 S. Allport St.
The Tennessee-based folk/rock band performs. Since 2005, the band has established itself as a solid indie act, with more than 75,000 records sold. 7 p.m. $18-$26.
'Dead Man Walking' (through May 15)
Piven Theatre Workshop, 927 Noyes St., Evanston
As part of its Quality of Mercy Project, the Piven Theatre Workshop is putting on Tim Robbins' play, based on Sister Helen Prejean's bestseller of the same title. The play follows the real story of Sister Prejean as she works as a spiritual advisor to a man on death row. On Saturday, Sister Helen Prejean performs a free reading and book signing at Bookends and Beginnings, 1712 Sherman Ave., from 1-2:30 p.m. Play begins 7:30 p.m. Thursday through Saturday; 2:30 p.m. Sunday. $15-$35.  
---
SATURDAY (Jump to FRIDAY | SUNDAY)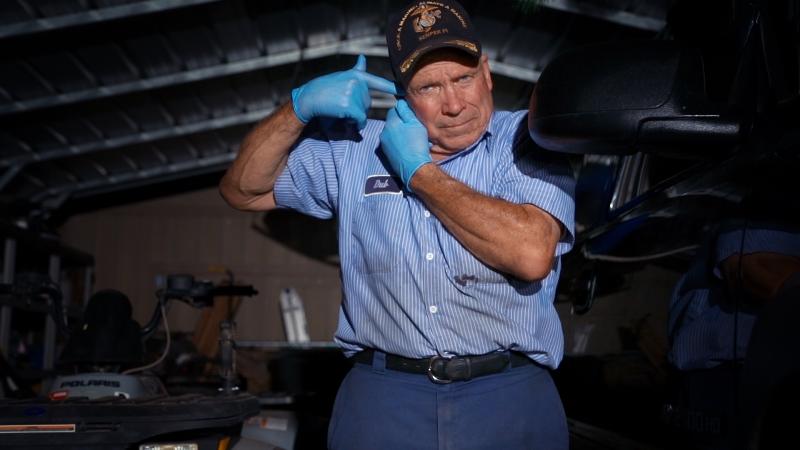 "Peace Officer" follows former sheriff Dub Lawrence (Brad Barber)
'Peace Officer' Screening
Chicago Cultural Center, 78 E. Washington St.
In collaboration with the Department of Cultural Affairs and Special Events, WTTW presents a free screening and discussion of Indie Lens pop-up documentary, "Peace Officer." The film examines the troubled relationship between law enforcement and the public from the perspective of a former Utah sheriff who set up his state's first SWAT team. The same team killed his son-in-law in a standoff 30 years later. The film has won several awards, including two at the South by Southwest Festival in 2015. Watch the trailer to learn more, or read our recent story. RSVP here. 2-5 p.m. Free.
---
Also on tap:
North Shore Veg Fest
National Louis University, 5205 Old Orchard Rd., Skokie
Vegging out takes on new meaning this weekend. The plant-based expo features cooking demonstrations, information about farm share programs and nutrition; and veggie-friendly restaurants. Dr. Terry Mason, COO of Cook County Public Health, speaks at noon. 11 a.m.-2 p.m. $5-$7; free for children under age 12.
Maggie Daley Park Climbing Walls Open
337 E. Randolph St.
Reach for the sky when and try out bouldering or top-rope climbing. 11 a.m.-8 p.m. Prices vary. 
The Chicago Artisan Chocolate Festival, Artisanal Foods & Charity Wine Tasting (through Sunday)
Plumber's Hall, 1340 W. Washington Blvd.
Want a sculpture made out of chocolate? Who doesn't? Enjoy the sweeter things in live at this two-day event. Sit it on talks, demonstrations and samplings with more than 40 artisans – and take some of that chocolate and wine home with you. Plus, $10 from every ticket will go to the Bear Necessities Pediatric Cancer Foundation. 11 a.m.-7 p.m. $35.
Be Thou My Vision: All Things Irish (through Sunday)
Various Locations
The Chicago Chamber Choir celebrates Chicago's Irish music heritage and the 100th anniversary of the 1916 Easter Rising with this performance of works by various Irish composers, including Michael McClynne, Colin Mawby and Seoirse Bodley. Guest artists Anima of the Glen Ellyn Children's Chorus and celebrated Irish soprano Maire O'Brien also perform. Saturday's performance takes place at Old St. Patrick's Church, 700 W. Adams St.; Sunday's performance at St. James Cathedral, 65 E. Huron St. 7:30 p.m. Saturday; 3 p.m. Sunday. $20; $10 for students.
---
SUNDAY (Jump to: FRIDAY | SATURDAY)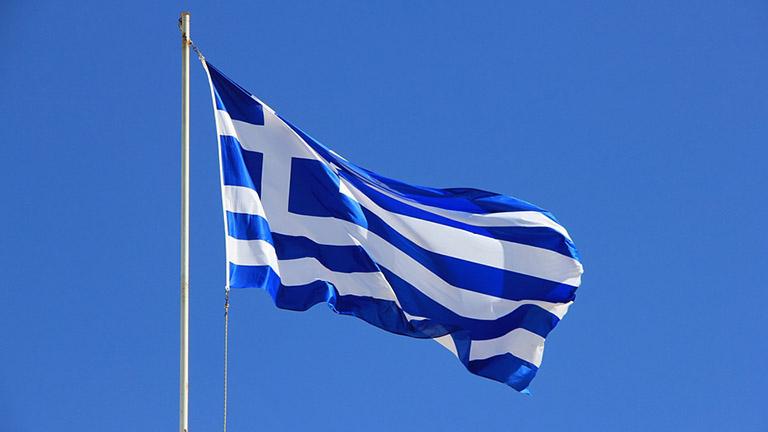 Greek Independence Day Parade
Greektown, Halsted St. and Randolph St.
Opa! Celebrate Hellenic heritage and the 195th anniversary of the Greek Declaration of Independence. Get ready for food, dance and plenty of floats in Greektown for this annual parade. 2:30 p.m. Free.
---
Also on tap:
Chicago Chef Week (through April 22)
Various locations
More than 100 restaurants in the city and suburbs offer special three-course lunch ($22) or four-course dinner ($44) menus. Participating spots include HUB 51, Avec, Green Zebra, Piccolo Sogno, Heaven on Seven, Bistro Campagne, Boka, Gather, Intro, Dusek's, Oceanique and Vie. To make your reservation and see participating restaurants, go here. Times vary.
Comedy's Best Kept Secret Tour
Reggie's, 2105 S. State St.
The national tour makes a stop in Chicago with comedians Andrew Frank, Dan Frigolette and Sonya Vai. 7 p.m. $15. (21+)
Sergio, Odair and Clarice Assad
Mandel Hall, 1131 E. 57th St.
Brazilian-born brothers Sergio and Odair Assad are innovative guitarists. Sergio's daughter, Clarice, is a composer, pianist and vocalist who will also perform. Listen to their creative take on classical music. 3 p.m. $35; $5 for students.
Bavarian Radio Symphony Orchestra
Chicago Symphony Center, 220 S. Michigan Ave.
The group returns to Chicago to perform Shostakovich's Seventh Symphony. Mariss Jansons conducts. 4 p.m. $48-$155.
---
Events listed are subject to change. We recommend double-checking times and locations before you head out the door. Want to share your upcoming events with us for consideration in a future roundup? Send us an email.
---