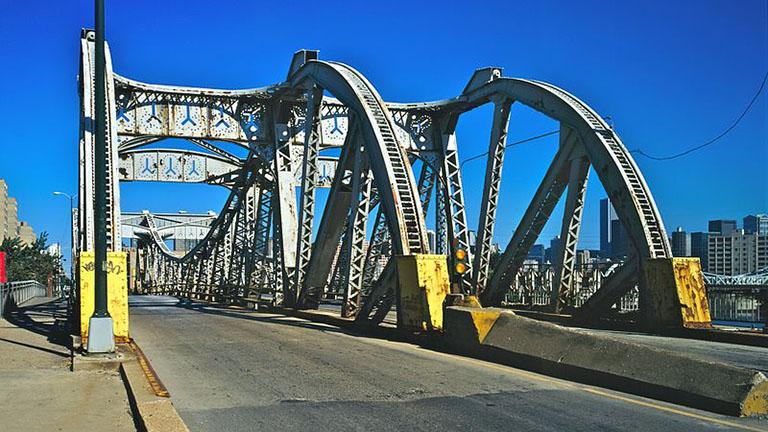 Division Street Bridge
In this edition of Ask Geoffrey, our local history expert Geoffrey Baer hits the streets to answer road-related questions such as, Why are there so many angled streets running northwest in Chicago? And, What exactly does Division Street divide? And also, Where is Beethoven Place?
---
Why are there so many angle streets that go Northwest (e.g. Milwaukee Ave), but not nearly as many that go Southwest?
– Earl Stubbe, Naperville
According to cartographer and historian Dennis McClendon, there are two reasons that there are more roads leading northwest out of the city than southwest, and both have to do with the Native Americans who originally lived here. One is that Native Americans traveling southwest or southeast often used water routes instead of land routes. Another is that while there weren't more places to go heading northwest, there were more ways to get to the same place.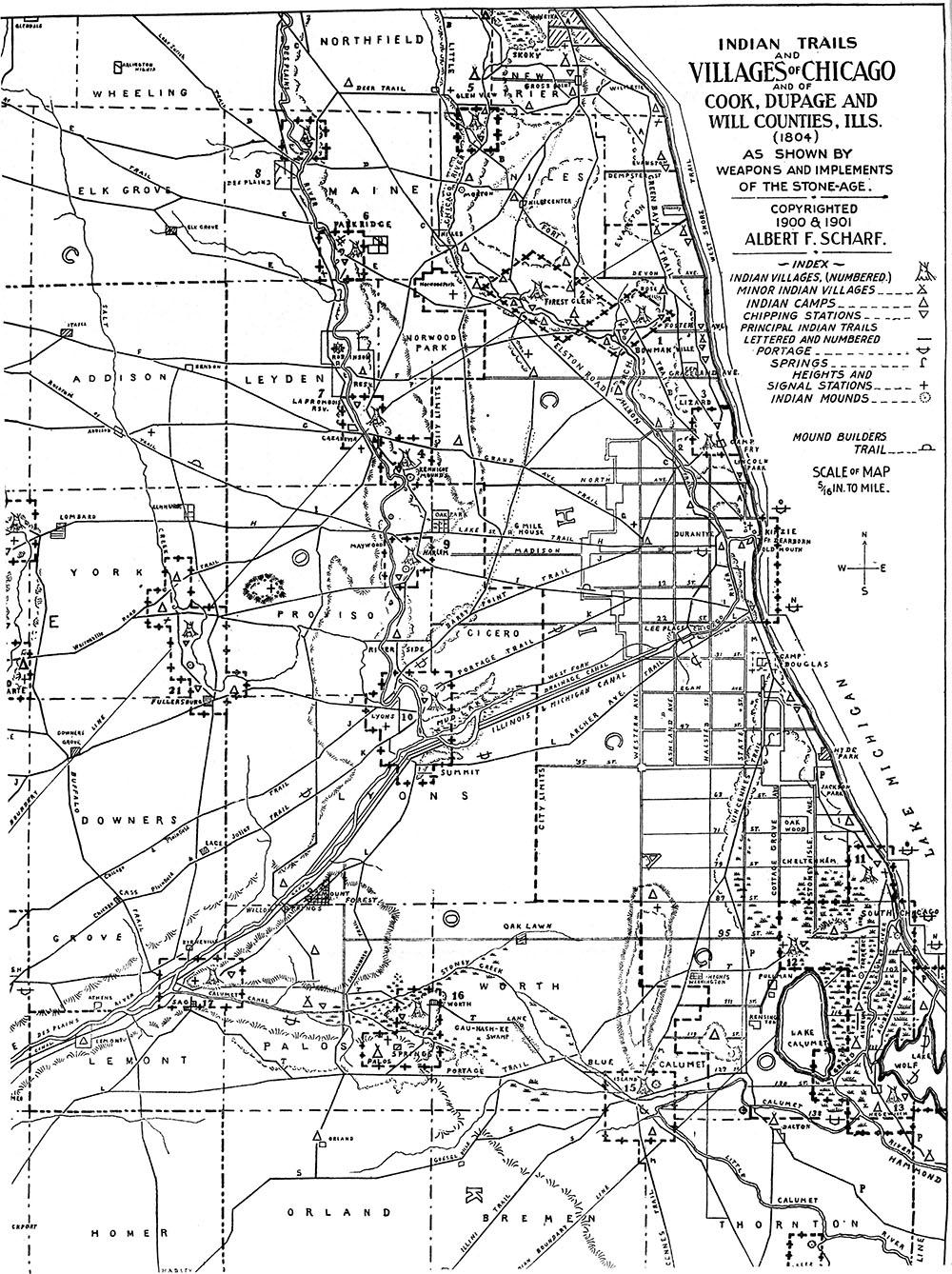 Albert Scharf's map. (Click to enlarge) A map of significant early trails was drawn by a mapmaker named Albert Scharf in the early 1900s that shows Scharf's best guess about the location of trails that existed in 1804. Many of the trails followed esker trails, a term referring to Native American trails along high ridgelines above wet areas. Some of these ridges consisted of debris deposited by glaciers that later receded. Others were former shorelines created as ancient Lake Chicago receded to become Lake Michigan.
McClendon points out that because the Native trails were footpaths that didn't long affect the terrain, the only trails we know about today are the ones that were adapted for use by early settlers. These settlers took over the use of these established trails, which later became plank roads and then modern-day streets. McClendon also notes that railroads were built on some esker trails that otherwise might have become streets. The Chicago and Northwestern, now Metra's Union Pacific North Line on the North Shore and the Rock Island toward Blue Island are good examples.
On a modern map of Chicago, the diagonal streets stick out like a sore thumb against the prevailing grid pattern. When Daniel Burnham created his 1909 Plan of Chicago, he advocated for a careful arrangement of streets that would "facilitate the movement to and from the business district" – in other words, all roads lead to the city center downtown. In his renderings, this was depicted as a regular grid of straight streets with a few angled streets radiating from the city center. Only one diagonal street was realized as a result of the Burnham Plan – an extension of Ogden Avenue.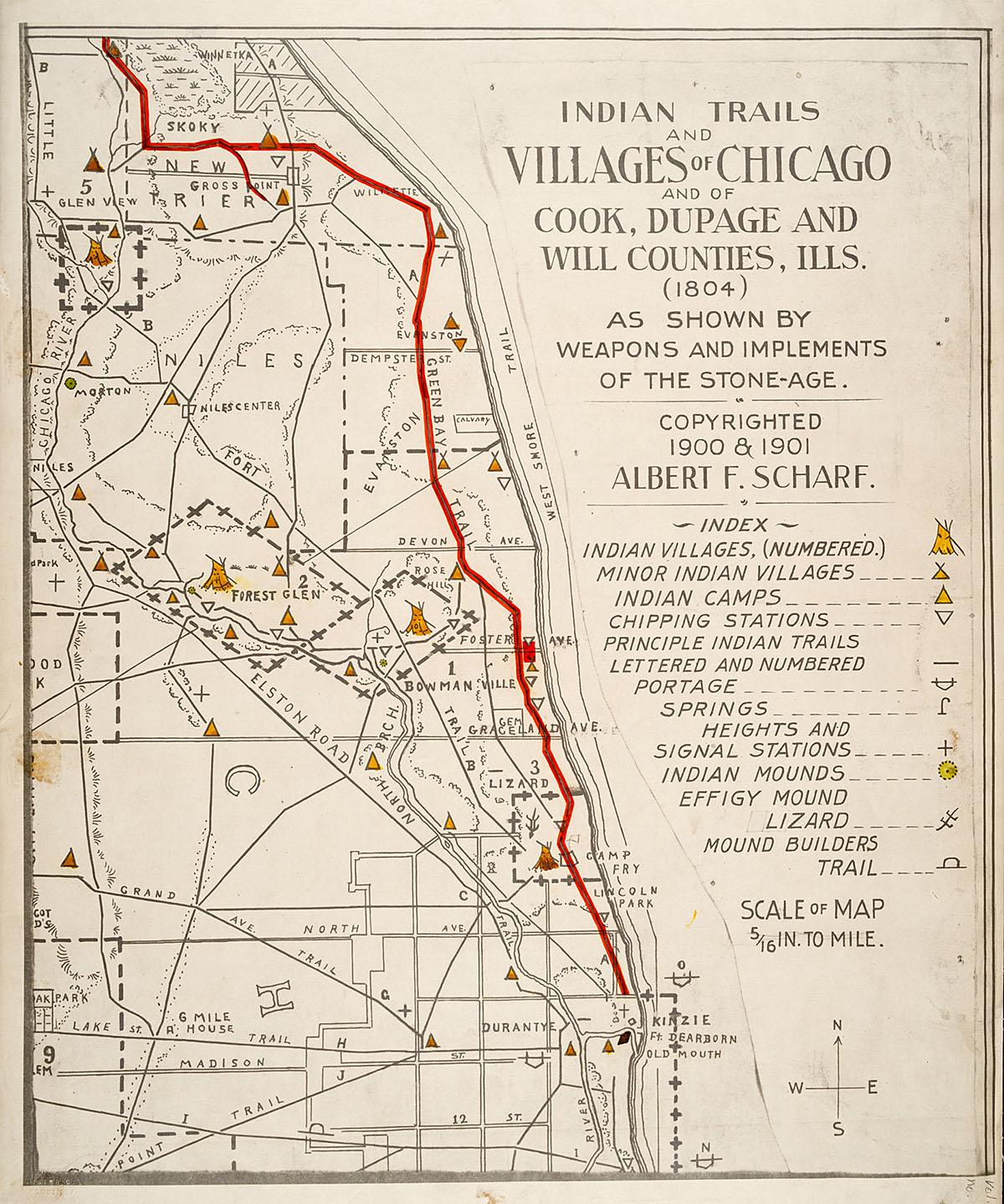 Click to enlarge But even Ogden Avenue began its life as a Native American trail, as did most of the angled streets in Chicago. McClendon says that Broadway, Ridge, Clark, Lincoln, Clybourn and Elston can all be thought of as parts of the trail to Green Bay – when one trail became impassable due to weather, fallen trees, or other obstacles, Native travelers would switch to another.
And finally, it should be noted that are many diagonal streets that were not Indian trails: Northwest Highway, Higgins, Columbus, South Chicago, and perhaps most surprisingly, the majority of Milwaukee Avenue. Within the city limits, only the stretch of Milwaukee between Irving Park and Argyle appears on the Scharf map. According to Dennis McClendon, the rest of it, from Six Corners to Chicago, appears to have been constructed across open prairie as a plank road.
---
What does Division Street divide?
 – Anonymous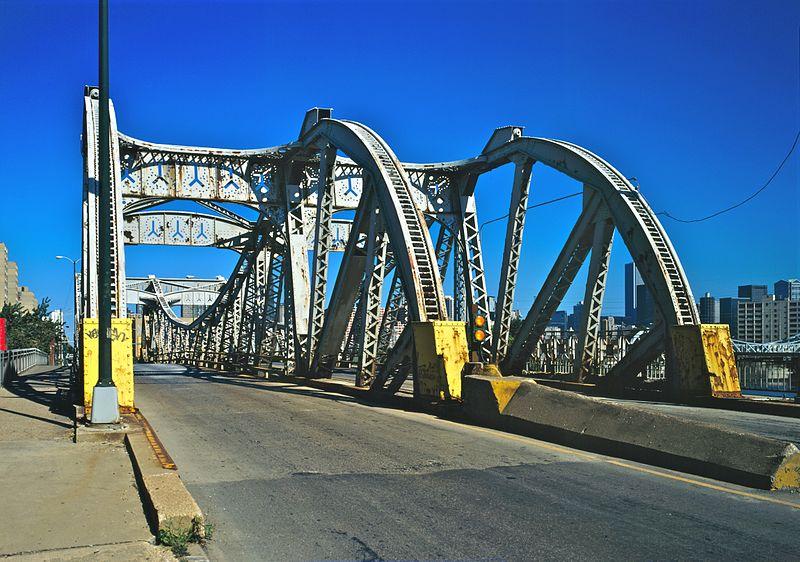 Division Street Bridge
According to Chicago streets guru Dennis McClendon, A.T. Andreas's 1884 history of Chicago notes that Division Street divides Section 4 of Township 39N Range 14W. Probably not the answer you were expecting, huh?
There are a couple of common, but erroneous, theories about this. One is that Division Street divides Goose Island. While it does neatly bisect Goose Island into northern and southern lobes, a look at the 1849 Rees & Rucker map shows that Division Street actually predated Goose Island. Goose Island was created in the 1850s when the Ogden Canal was dug through a bend in the North Branch to provide a straighter path for boats, thereby creating an island.
A second theory holds that Division Street was at one point the northern border of the city, so it would have divided Chicago from northern suburbs – but it was actually North Avenue that was the northern edge of the city until 1847, not Division. 
Division Street was made famous by Chicago legend Studs Terkel in his 1967 book "Division Street: America," which had nothing to do with the actual street at all. In classic Studs fashion, he interviewed 70 Chicagoans of all stripes about their lives in the city. In 1992, the bridge over the North Branch Canal was christened the Studs Terkel Bridge (despite the fact that the "Division Street" in the title was, according to Studs, just a handy metaphor.)
It's also interesting to note that many large U.S. cities have a street named Division, including New York, San Francisco, Baltimore, Los Angeles, Houston, Dallas, Buffalo, Portland, Detroit, Seattle, Washington D.C. and St. Louis.
---
I found an old postcard addressed to a home on Beethoven Place in Chicago, but I can't find Beethoven Place on a map. What gives?
 – Michael McKee, Jefferson Park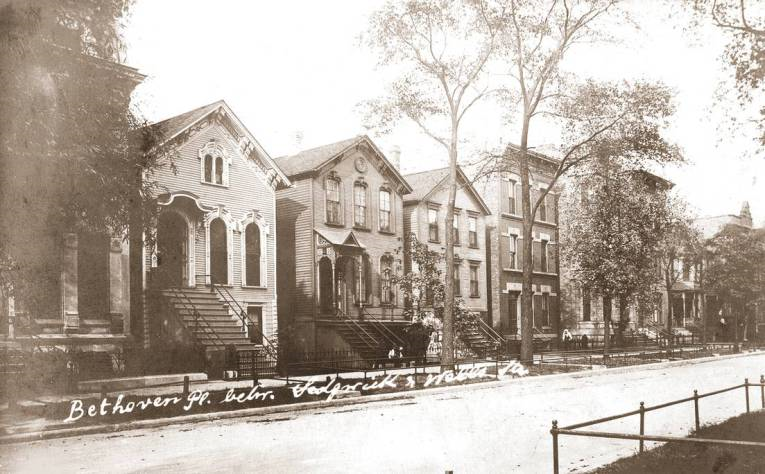 Beethoven Place was a very short street between Wells and Sedgwick at about 1230 North. The street is still there, but now it's a block of Scott Street, which runs from the lake west to Halsted. It was one of several street names that honor famous Germans, reflecting the city's German heritage. Others are Germania, Goethe, Schubert, Mozart and Schiller.
If you look at a present-day map of the area, there are a few disconnected blocks of Scott Street on a rough east-west line. Each of those blocks used to have a different name – Vedder, Twomey and Crystal. Beethoven Place was also known as Granger Street from the 1860s to the early 1890s. In 1936 the city unified all of those blocks east of Halsted under the single name of Scott Street, honoring General Winfield Scott, who served in the Black Hawk War and went on to serve as Commanding General of the U.S. Army for 20 years.
---
More Ask Geoffrey: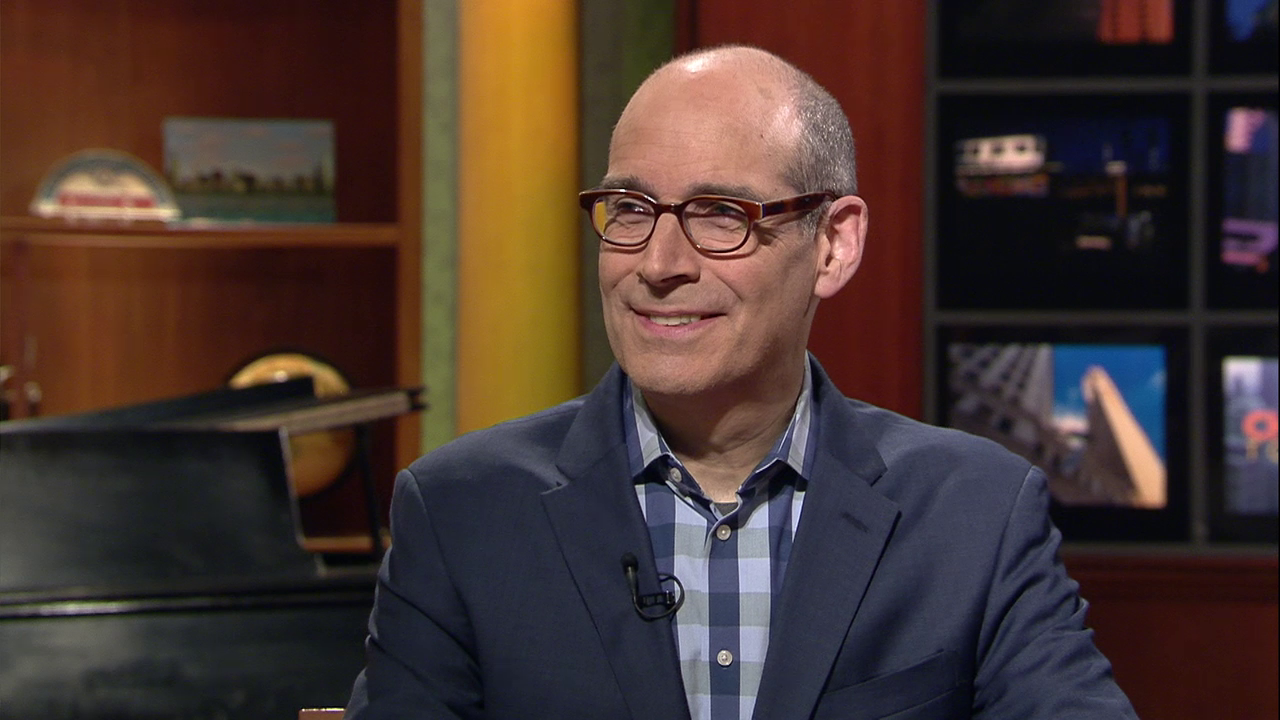 Did you know that you can dig through our Ask Geoffrey archives? Revisit your favorite episodes, discover new secrets about the city's past, and ask Geoffrey your own questions for possible exploration in upcoming episodes. Find it all right here.
Do you have a question for Geoffrey? Ask him.
---