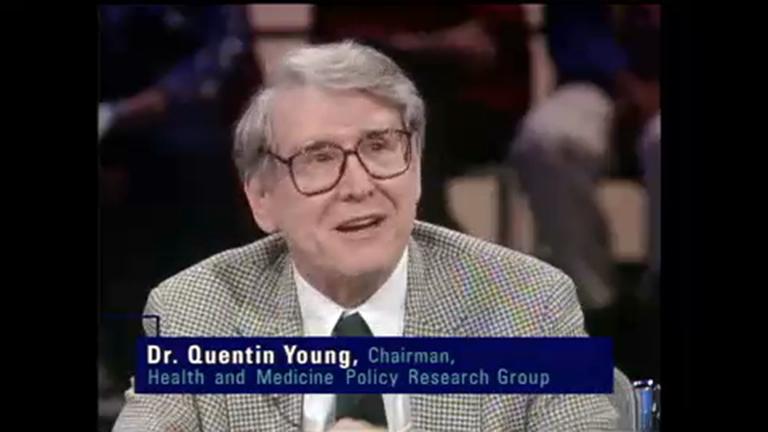 Dr. Quentin Young appeared in a health care forum on WTTW in 1994.
Dr. Quentin Young, a political activist and physician who treated President Barack Obama and Dr. Martin Luther King, Jr., died Monday in California. He was 92 years old.
The Hyde Park native was a longtime advocate for a single-payer health care system and was considered a leader for other progressive policies.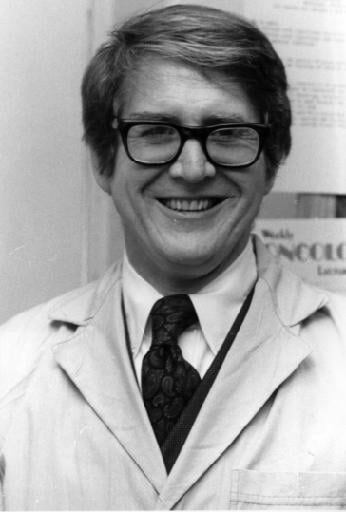 (Courtesy of Cook County Health and Hospitals System) While marching through a white neighborhood on Chicago's South Side, Young tended to King after the civil rights leader was hit in the head with a rock. He was also on hand to treat protestors injured in Grant Park during the 1968 Democratic National Convention and in Mississippi to care for the Freedom Riders.
Young did not shy away from these or other contentious political events in recent American history.
"I enjoy struggling for rights," Young said in an interview with WTTW's John Callaway in 1976 after getting into hot water with management at Cook County Hospital while speaking out for hospital workers' rights. "I have a big problem when I'm confronted with what I consider evil and oppression. I have to resist it."
Young had a long and varied career: He served in the U.S. Army during World War II before graduating from Northwestern University. He went on to open a private practice in Hyde Park, and for 35 years he worked at Cook County Hospital as a physician and as an advocate for better health care for African-Americans.
In 1981 he co-founded the Health and Medicine Policy Research Group, which examined the impact of social factors on health.
"Quentin taught me to always stand in solidarity with the struggles of working men and women," the group's executive director Margie Schaps said in a statement posted on the organization's website.
His autobiography, "Everybody In, Nobody Out: Memoirs of a Rebel Without a Pause," was published in 2013.
"While Quentin's impact on the health care landscape is far reaching and extraordinary, the deep, personal impact he had on me will forever guide my work and my commitment to the patients I serve," Dr. Claudia Fegan, Executive Medical Director of Cook County Health and Hospitals System, said in a statement.
In recent years, Young was a physician for Obama and advised him during his push for health care reform. He retired in 2008, but his calls for reform didn't stop.
"I have this affection for the First Amendment," Young told Callaway in 1976. "And if I'm merely exercising my responsibilities as a citizen … I don't know how to quell my speech."
Watch John Callaway interview Dr. Quentin Young in 1976:
---