Author Irvine Welsh catapulted to fame when his first novel, "Trainspotting," became a blockbuster movie in 1996 starring Ewan McGregor and directed by Danny Boyle. The gritty story chronicles the lives of a group of unemployed heroin addicts in Scotland.
Since then, Welsh has continued to write about many of the same working-class themes and follow many of the same characters in his books. There is even a follow-up to his acclaimed film in the works.
"We're going to shoot the sequel this year. We're all getting back together, 20 years later" said Welsh. "Everybody's back. The toughest part was getting myself and the screenwriter and the producer and the director together. The actors were OK. Once they realized that the background team were all kind of singing from the same song sheet, they were quite happy."
And while he's been called the best storyteller in Britain, for about 10 years now he's lived in Chicago. (Don't miss an upcoming appearance by Welsh at the Chicago Humanities Festival on March 8.) When asked how he came to live in the city, Welsh said it all started with a nice set of teeth.
"I was here, doing a kind of festival – a book festival thing here," Welsh said. "I was out having a drink in the bar, and I met this woman, basically. She had these big American teeth and I was fascinated by them. We don't have teeth in Scotland. I was fascinated by her teeth so kind of I ended up marrying her, and she wouldn't let me leave Chicago."
Welsh's new novel, "A Decent Ride," revisits Edinburgh, Scotland and one of his unsavory characters from an earlier novel. 
"Terry's a great character to write because he's one of those guys who knows what he wants out of life," said Welsh. "And it doesn't seem to be a great deal, but in some ways, it is as well. He's just so uncompromising about that."
Read an excerpt from "A Decent Ride," below.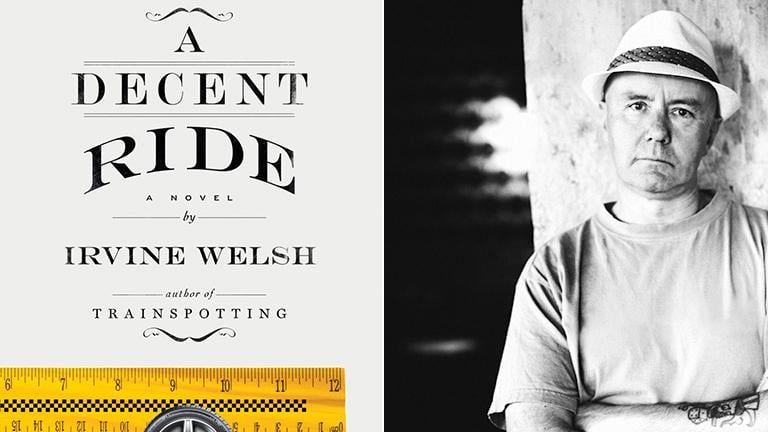 (Author photo by Jeffrey Delannoy)
Chapter 1: Taxi Days
Yi'll nivir guess whae ah hud in ma cab the other day, "Juice" Terry Lawson explains, his solid build contained by a luminous green tracksuit. His luxuriant corkscrew curls lash wildly in the gale that slaps up against the side of the perspex barrier winding from the airport concourse to a bank of parked taxicabs. Terry stretches, rips out a yawn, sleeves riding up to expose gold chains at the wrists and two forearm tattoos. One is of a harp that looks like an egg slicer, with HIBERNIAN FC and 1875 scrolled above and below. The second is of a fire-breathing dragon, which offers the world a lavish wink, inviting it in winding letters beneath to LET THE JUICE LOOSE.
Terry's mate, Doughheid, a thin, asthmatic-looking man, gazes blankly in response. He sparks up a fag and wonders how much of it he can suck back before he has to deal with the approaching planeload of passengers, jostling their luggage-laden carts towards him down the enclosed ramp.
—That c--t oaffay the telly, Terry confirms, scratching his balls through the polyester.
—Whae's that? Doughheid mumbles, sizing up the piled suitcases of a huge Asian family. He's willing a distracted man who struts behind to overtake them on the ramp, so that he won't have to load the many bags into the cab. Let Terry get that one. The man wears a long cashmere coat, open over a dark suit, white shirt and tie, with black-framed glasses and, most strikingly, a Mohawk haircut.
The man suddenly sprints ahead of the pack, and Doughheid's spirits soar. Then he stops dead, and looks at his watch, as the Asian family trundle past him, all over Doughheid like a rash. —Please, please, quickly, please, please, a cajoling patriarch calls, as buckshot rain suddenly lashes against the perspex.
Terry watches his friend  struggle with the cases. —That stand-up boy, oan Channel 4. Eh wis ridin that burd, what's-her-name, tidy f--kin boady oan it. He traces an hourglass, then steps up snugly against the perspex barrier for shelter.
But as Doughheid strains and grunts with the cases, Terry regards the bespectacled man  in the long coat, his incongruous hair blowing everywhere in the wind, fingers delivering heavy number-punches into his phone. Terry recognises him from somewhere, a band perhaps, then sees that he's older than the haircut suggests. Suddenly, a cowed associate appears, blond hair shorn above a tense face, cautiously standing alongside him. —I'm so sorry, Ron, the car we had ordered broke down—
—Get outta my sight! the punk businessman (for this is how Terry now thinks of him) barks in an American accent. —I'll take this godamn taxi! Just have my bags delivered to my hotel room!
The punk businessman  doesn't even make eye contact through  his pink-tinted lenses with Terry, before climbing into the back of his cab and slamming the door shut. His shamed associate stands in silence.
A Decent Ride, by Irvine Welsh. Publshed by Doubleday, ©2015 
---
Below, the 1996 movie trailer for "Trainspotting"
---
Related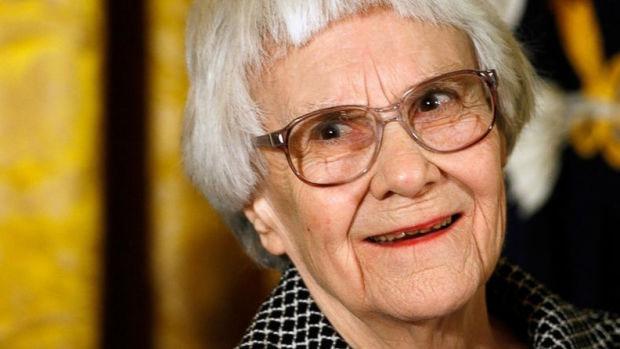 Remembering Harper Lee's Literary Legacy with Author Marja Mills
Feb. 23: Marja Mills, the Chicago-based author of "The Mockingbird Next Door" shares stories of her friendship with the late Pulitzer prize-winning author Harper Lee, who died last Friday in her hometown of Monroeville, Alabama.
---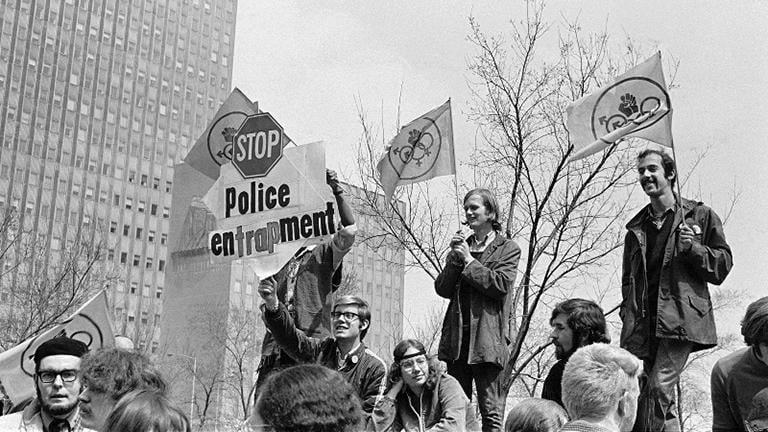 From the Closet to City Hall: Looking at Chicago's 'Queer Clout'
Feb. 22: The political awakening of Chicago's gay and lesbian community is documented in a new book called "Queer Clout: Chicago and the Rise of Gay Politics."
---