The video cannot be displayed.
A famous photo taken in 1940s Bronzeville features the faces of five young African-American men, but their identities have remained a mystery for generations.
Local history expert Geoffrey Baer is here with the story behind one of Bronzeville's most enduring images in this encore edition of Ask Geoffrey.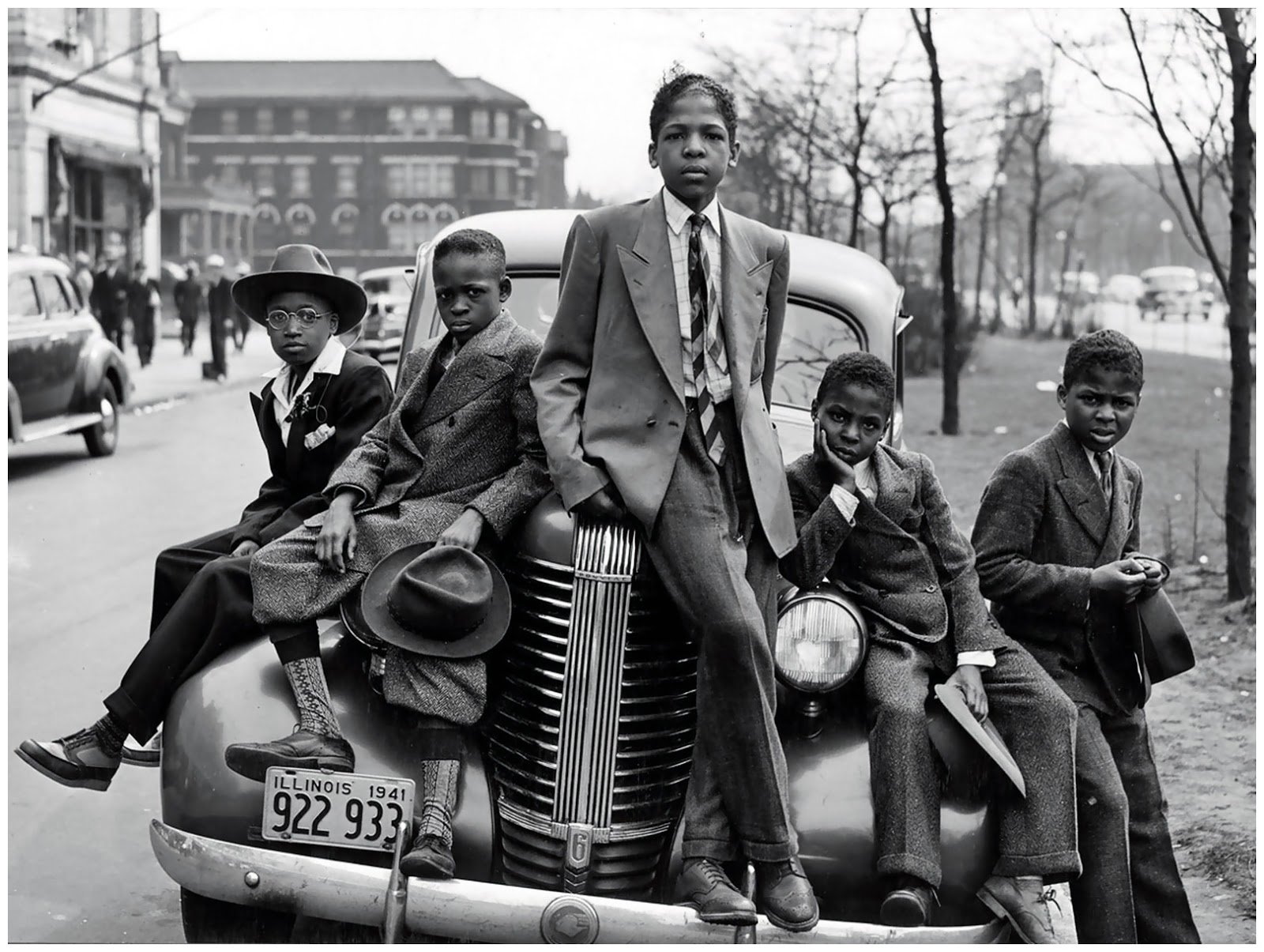 I have come across this picture several times in different collections. I find it haunting, powerful and poignant. Any idea where this picture was taken or if any of the subjects are still alive? –Phil Ponce, WTTW "Chicago Tonight"
The photo in question is titled "Negro Boys on Easter Morning" and was taken on Easter Sunday in 1941 across from the Regal Theater in Bronzeville by a government photographer named Russell Lee. The photo of five African-American young men dressed for church perched atop a Pontiac Silver Streak Six has become iconic in Chicago. And like Phil, many folks have wondered the same thing: Who were these young men and what became of them?
We were able to identify only one of them: the tall, hatless child in the middle is Spencer Lee Readus, Jr. He was 14 when the photo was taken, and he passed away just two years ago at the age of 86. But before we hear more about Spencer Lee, let's get into the history of why the photo was taken in the first place.
It was part of a photography project by the federal government's Farm Security Administration. A group of photographers traveled the country for the FSA documenting the struggle of the rural poor during the Great Depression.
Part of this project involved documenting the great migration of African-Americans to Chicago from the rural South. Two of the FSA photographers, Russell Lee and Edwin Rosskam, spent a couple of weeks taking photographs in Chicago. In Rosskam's words, he "couldn't do migration without showing ... where migration went to. Migration went to the city."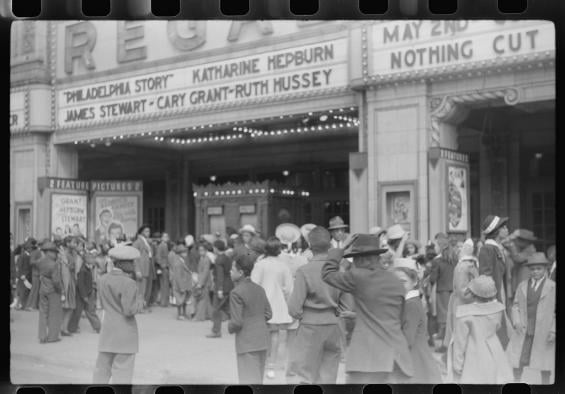 Rosskam and Lee took more than 400 photos in Bronzeville of Easter celebrations, nightlife and everyday street life. After visiting a handful of Bronzeville churches on Easter, Lee and Rosskam arrived at the Regal Theater on 47th and Grand Boulevard where children were lined up to catch a movie. Spencer Lee Readus' daughter, Claudia, told us her father remembered the day like this: "I was going to the show on Easter Sunday and a white man approached me to ask if he could take a picture of me and these other boys."
Lee posed the kids in front of a parked car. Spencer was the tallest and the only one not wearing a hat, so he was put front and center in the photo. Remarkably, that was the last Readus heard or saw of the photo for more than 50 years.
Flash forward to the 1990s, when Readus and his son were in the waiting room at a dentist's office. Spencer Lee was reading a magazine when his son saw him rip out a page and put it in his pocket. Later that day at home, Spencer Lee showed his son the page with the photo, and said he was in the picture.
In 2008, Chicago radio station WVON held a contest to identify the young men in the picture, and the winner received a trip to Memphis. Readus' daughter Claudia brought photos of her father into the station, including a school picture, and they won the trip! But Spencer Lee himself didn't go on the trip, nor did he go on the radio to talk about it. Claudia says he was very private about the photo.
Despite WVON having identified Spencer Lee in the photo all those years ago, we could find no record of the contest, and for a while our research team was getting nowhere identifying the young men. But as luck would have it, an Ask Geoffrey producer was on a video shoot for "Chicago's South Side" at the Englewood Bank Building and spotted a copy of the photo on an office wall. The owner of the photo offered to put us in touch with someone who knew one of the kids in the picture, and through that connection, we were able to get the program from Spencer Lee Readus, Jr.'s 2013 funeral. It paints a picture of a life well-lived.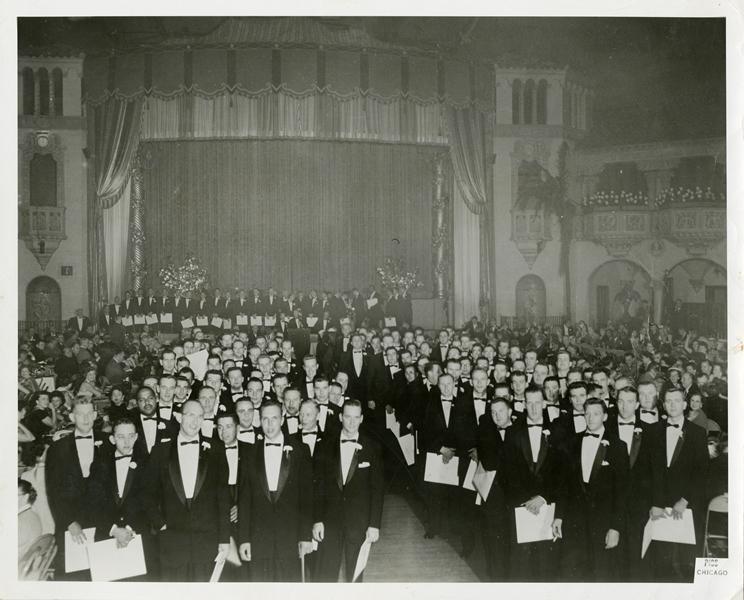 Spencer Lee went on to serve in the U.S. Army during World War II and build a career as a plaster foreman. In a 1956 photo (above), Spencer Lee is the only African-American at a Chicago Plastering Institute celebration – he's on the lower left. He and his wife of 65 years, Setrennia, raised four children – Spencer Lee III, Claudia, Cherie, and Laurence – in the Roseland neighborhood.
Spencer Lee's daughter Claudia says her father was a devoted family man with a phenomenal work ethic. She said he had a saying he was fond of: "Work while you can, my father told me a man should always have money. Your own mama don't want to see you coming if you can't afford to even buy her a stick of gum."
[Never miss a "Chicago Tonight" headline! Get our daily newsletter delivered straight to your inbox.]
Many people we spoke to said they had heard about the others being identified over the years, but couldn't give us any direct leads. So now it's Ask Geoffrey's turn to ask our viewers. Do you know the identity of any of the other kids in this photo? If you do, please email Erica Gunderson [email protected] or call 773-509-5403. We'd love to find out what happened to them and share more about this story. (For the record: Bobby Rush was born five years after this photo was taken, and Herbie Hancock was one year old.)
We'd also like to thank the people who helped us find our way to Spencer Lee's family – Glen Fulton of the Greater Englewood Community Development Corporation, who has "Easter Morning" displayed in his office and put us in touch with Olu Augustine, who was a personal friend of Spencer Lee and provided us with his funeral program.
Finally, we'd like to say a big thank you to Spencer Lee's family, especially Claudia Kemp, who told us his story and provided all of these wonderful photos.
---
More Ask Geoffrey: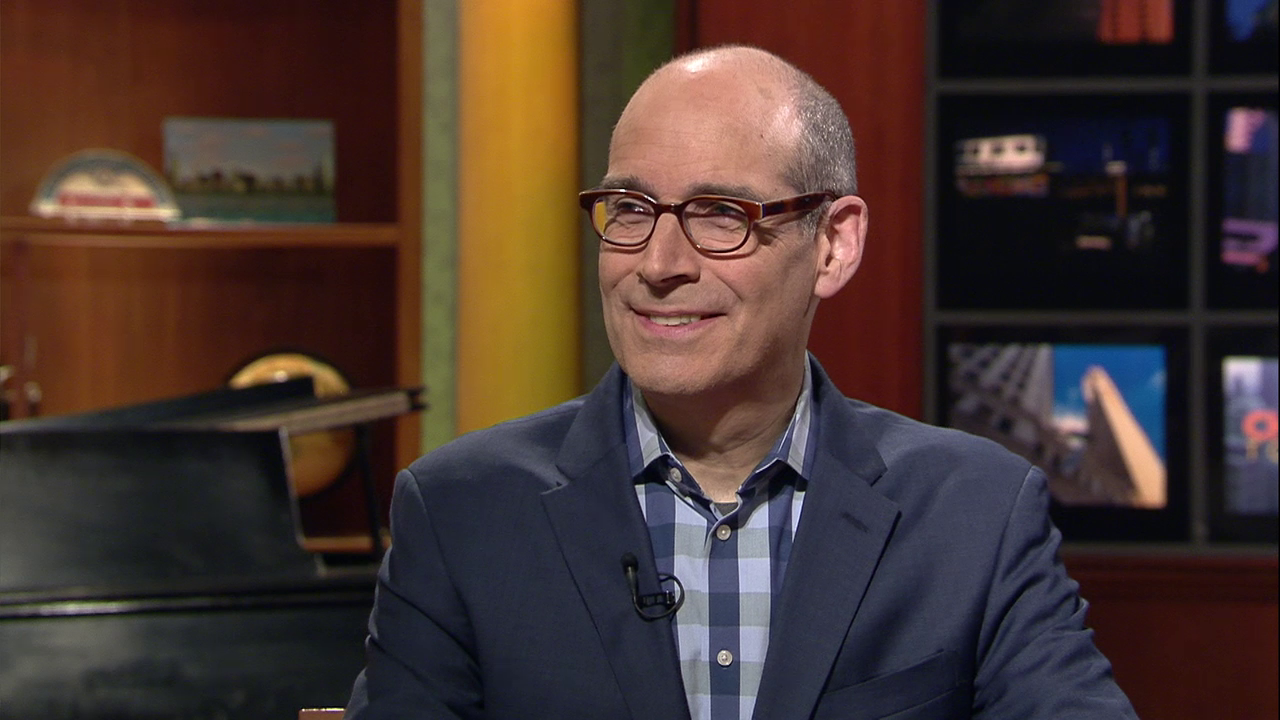 Did you know that you can dig through our Ask Geoffrey archives? Revisit your favorite episodes, discover new secrets about the city's past, and ask Geoffrey your own questions for possible exploration in upcoming episodes. Find it all right here.
Do you have a question for Geoffrey? Ask him.
---