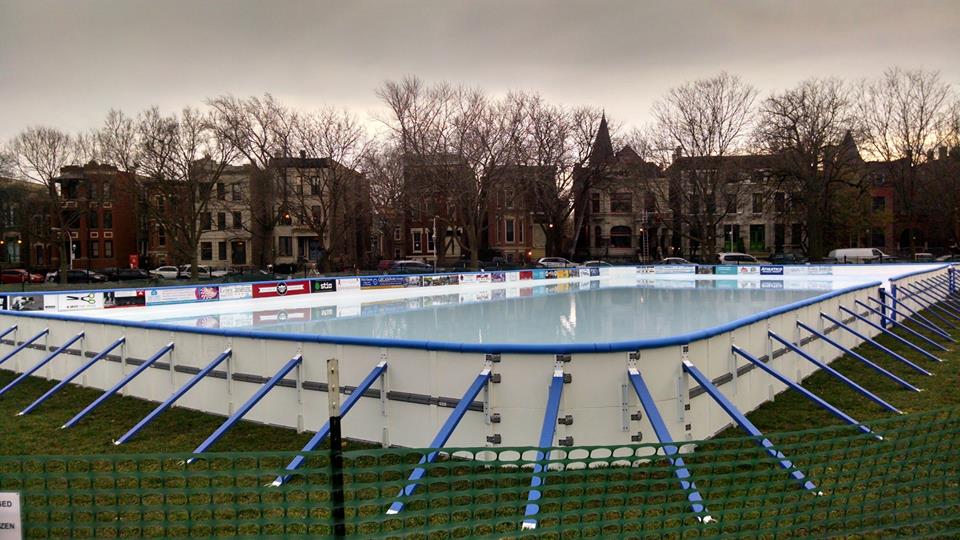 Wicker ICE (Courtesy of the Wicker ICE Committee)
Never underestimate the power of a late arrival.
After more than a month of trials and tribulations, the Wicker Ice outdoor ice skating rink is set to open—weather permitting—this Sunday, Jan. 17.
A grand opening party on Sunday includes a ribbon-cutting ceremony at noon by Ald. Proco "Joe" Moreno (1st Ward), Chicago Park District staff and members of the Wicker Ice Committee, followed by a free open skate until 8 p.m. The nearby Wicker Park Field House will also be open to provide shelter from the cold, and access to restrooms and food donated by volunteers.
Measuring 120 feet long and 60 feet wide, Wicker Ice is non-refrigerated and will therefore only be open when temperatures are cold enough to freeze the ice naturally.
The rink was filled with water by the Chicago Fire Department last month and was scheduled to open Dec. 5, but its debut has been delayed due to the warmest December in nearly a century and New Year's Eve ice damage that was caused by unknown individuals who allegedly broke into the rink. At the time, organizers were fearful that the rink's lining had been damaged, which would have made the rink unusable for the entire 2016 season.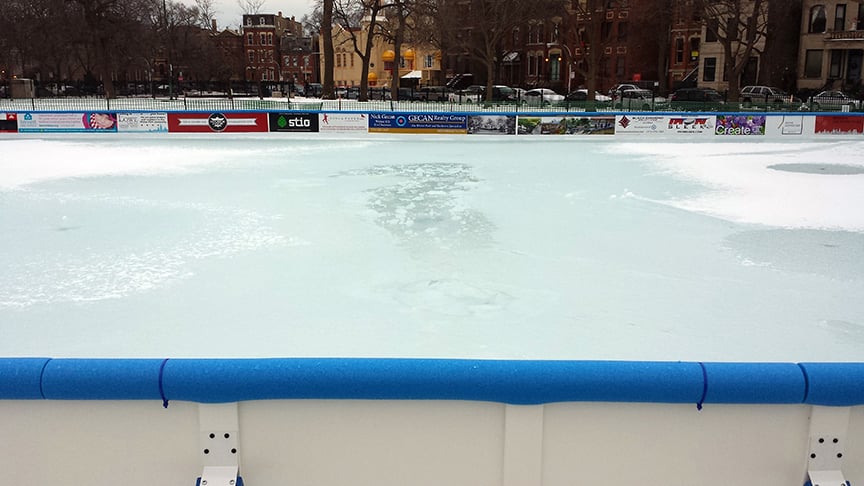 A photo shows the damage caused to the Wicker ICE rink by trespassers on New Year's Eve. (Courtesy of the Wicker ICE Committee)
After resurfacing the ice with a converted Chicago Blackhawks golf cart-Zamboni and with consistent temperatures dipping below freezing this month, the ice appears to be frozen solid and safe for skating.
---
The Origins of the Project
The Wicker Ice initiative came to fruition through a partnership between the Wicker Park Advisory Council and the Chicago Park District. Located a stone's throw from the CTA Damen Blue Line station on the Wicker Park softball field, the rink–which is funded, installed and maintained by the community–was spearheaded about a year ago by Wicker Ice Committee Chairmen Nick Gecan and Brian Culliton, who earned support for the project from the Wicker Park Advisory Council, Ald. Moreno, the park district and the neighborhood itself.
"We sent out a survey to approximate 1,000 people in the Wicker Park community and we asked them, 'Do you think an outdoor ice rink in the park is a good idea, bad idea or a poor idea?' It came back as an overwhelmingly outstanding idea," Nick Gecan said. "We also asked in that survey, 'Would you be willing to volunteer to contribute funds and volunteer your time to maintain the rink?' And, once again, the response was overwhelmingly positive.
"A lot of the neighbors have been very supportive and they say 'I can't wait, I can't wait.' So I think it's going to be a great meeting place, a great place for families, a great place for young people to go skating and maybe go out to dinner afterwards. It's going to be an old school-type environment. It's just a real grassroots community and I cannot tell you how proud I am of the community of Wicker Park, they've supported us so well."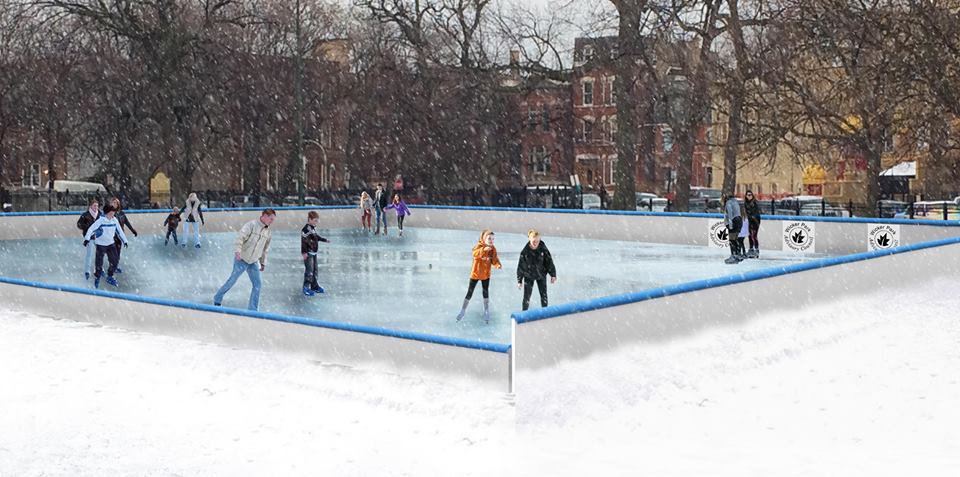 An artist's rendering of Wicker Park's new community-funded outdoor skating rink. (Design by Culliton Quinn Landscape Architecture)
With the park district's approval of the plan, the committee secured money through fundraisers and donations from an online GoFundMe campaign, which raised $31,472 in three months—exceeding the project's $30,000 goal.
"Every now and then you come across an idea that is pure and that is just simply good—and I think this is one of them. It's just fantastic for the community and in this day and age, with all of the negative news, it's nice to see something positive," Gecan said. "This is a great place for an ice skating rink—we've got these beautiful buildings, we've got the park—I think it's going to bring a little magic to the neighborhood."
---
Hours of Operation
Wicker Ice is open daily through March 1 for all-ages open skate from 9 a.m.-7 p.m., and 7-8 p.m. for adults only. A weekend adults-only free skate will be held from 7-9 p.m. on Saturdays.
Puck and stick hockey will be held Tuesdays, Thursdays, Saturdays and Sundays from 7-9 a.m., and Tuesday and Thursday evenings from 8-9 p.m. Registration is required and players are required to resurface the rink after hockey hours.
On days when the rink is open, the field house will be open daily from 9 a.m.-9 p.m. to provide restrooms and a warming area.
Skaters must provide their own ice skates as rentals are unavailable this season.
---
Related: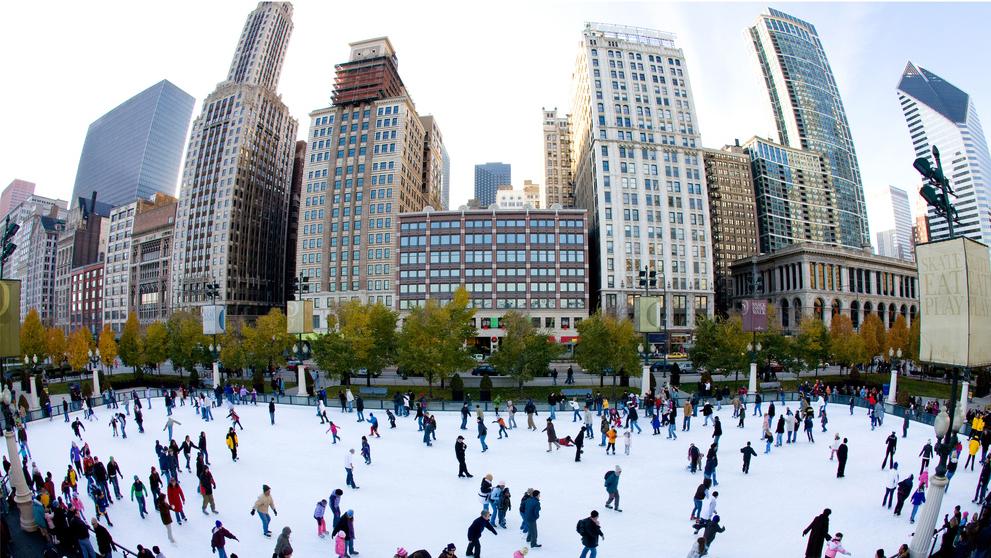 Ice Skating in Chicago: Outdoor Rinks Serve Up Frozen Fun
Bundle up, strap on those blades and hit the ice at Chicago's citywide outdoor ice skating facilities. From old-school to the cutting-edge, we'll have you gliding gracefully into the long winter season.
---
Follow Sean Keenehan on Twitter: @seankeenehan