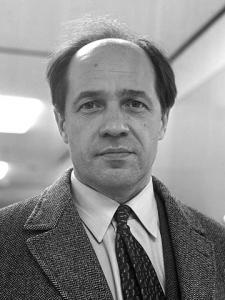 Pierre Boulez (Joost Evers/Anefo) French composer and conductor Pierre Boulez died on Tuesday at the age of 90 in his Baden-Baden, Germany home, his family confirmed.
There is a vast array of achievements that Boulez will be remembered for – and the recurrent, unifying theme among them is innovation.
Born in Montbrison, France, on March 26, 1925, it didn't take long for Boulez to make his impression on the musical world.
His "Second Piano Sonata," completed in 1948, garnered the then 23-year-old composer international attention. The piece would be one of Boulez's first forays into 12-tone serialism, a technique of musical composition developed by Austrian composer Arnold Schoenberg that gives equal attention to all 12 musical notes of the chromatic scale.
His celebrated composition "Le Marteau Sans Maître" ("Hammer Without a Master"), which premiered in 1955, established Boulez as a forward-looking champion of modernist music. Four of the piece's nine movements are set to poems by French surrealist poet René Char. At the time, the composition was unique for its arrangement, which lacks a bass instrument and includes the African balafon percussive instrument and the stringed Japanese koto. This was an early example of Boulez's penchant for blending different instruments and musical motifs from far-reaching, diverse cultures.
In 1956, one year after the premiere of "Le Marteau Sans Maître," Boulez made his conducting debut in Paris. He devoted most of his later life to conducting and led many of the world's foremost symphonies and orchestras. In 1971, he became music director for both the New York Philharmonic and the BBC Symphony Orchestra – positions he would respectively hold for six and four years. Known for his keen ear and ability to discern rhythmic and harmonic intricacies, Boulez opted to conduct with both hands instead of using a baton.
Below, watch our 1999 interview with Boulez.
---
At the request of French President Georges Pompidou, Boulez founded and opened the Institutes for the Research and Coordination of Acoustics and Music, also known as IRCAM, in 1977. It's here that Boulez married acoustic and electronic music by emphasizing live electronic sound transformation. Prior to this, ensembles incorporating electronic music played along to pre-recorded tapes. In 1981, he premiered his composition "Répons," the first major piece to emerge from his work at IRCAM, written for a large orchestra, six soloists and live electronics.
Boulez's proclivity for the avant-garde and uncommon did not preclude him from mainstream success. He won 26 Grammy Awards in his lifetime. He also planted roots here in Chicago.
Boulez made his debut conducting the Chicago Symphony Orchestra in 1969 and would return to the orchestra numerous times in the past three decades. In 2006, he was named conductor emeritus of the orchestra, a position he held until his death. Undoubtedly, his pioneering musical legacy will not only live on here, but throughout the world.
In this 2005 interview, Boulez explained why he was drawn to Chicago and the orchestra.
---