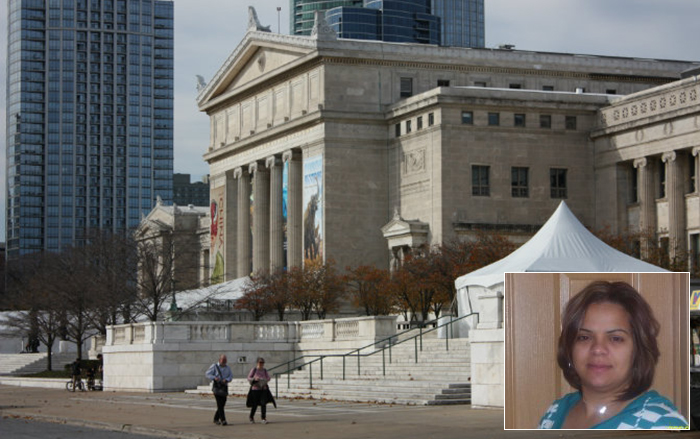 Caryn Benson (inset) pleaded guilty Monday to stealing more than $375,000 from the Field Museum. (Chloe Riley / LinkedIn)
A former employee of Chicago's Field Museum accused of stealing more than $900,000 from the museum pleaded guilty in federal court Monday to embezzling over $375,000.
Caryn Benson of Romeoville had been federally charged with stealing $33,014 between Jan. 1 2014 and April 5, 2014 – she admitted to stealing an additional $376,986. The Field Museum had previously stated that Benson confessed to stealing $903,284, after which she was promptly fired. The U.S. attorney's office refused to elaborate further on the charge.
[Former Field Museum Employee Stole $900,000, Documents Allege]
In federal court Monday, Benson appeared before Judge James Zagel. She wore a dark green coat and shifted back and forth as Zagel asked her if she understood the charges against her.
"Yes," she replied softly. 
Benson faces a potential sentence of up to 37 months, according to the government's recommendation in the plea deal entered Monday.  
There's also a disagreement on how much money was actually stolen. While the museum claims it has been reimbursed for the $903,284 via its insurance policy, Judge Zagel stated Monday that the U.S. attorney's office will still seek $870,270 in retribution for the Field Museum. Benson's lawyer Anthony Sassan countered that his client would only agree to pay the additional $376,986 she confessed to stealing. 
When asked about the discrepancy, Sassan said a review of the Field Museum's initial forensic audit of the embezzlement indicated mismanaged computer systems which could potentially have allowed multiple individuals to steal money from the museum. Sassan stressed that he was not accusing anyone else at the museum of participating in the theft. 
"Unfortunately, it wouldn't have been too difficult for others to figure it out as well," Sassan said Monday of the Field's computer system. 
Document: Read full text of plea agreement Benson was in charge of membership sales at the Field, which speculates that she used that position to frequently pocket cash sales. Judge Zagel also stated Monday that Benson, who held a non-managerial position at the museum, is suspected of stealing money from cash bar sales at museum membership events.
Field Museum Chief Marketing Officer Ray DeThorne said the museum maintains that Benson was solely responsible for the museum's $900,000 theft. 
"We did forensic accounting and it indicated to us it was not a systematic problem, it was just one individual operating on her own," DeThorne said Monday.  
Sassan said Monday that he had concerns about Benson's ability to pay back the restitution as the money she stole was already spent, mostly on "living expenses and children" he said. Sassan also said Benson had gone on to work at two separate insurance companies after being fired by the Field Museum in April 2014. 
DeThorne had previously stated that while both the Chicago police and the Illinois state's attorney were contacted after the theft was discovered, the case ultimately fell into federal jurisdiction because the museum receives more than $10,000 annually in federal funding.
[Woman Accused of Stealing $900K from Field Museum Has History of Theft, Records Show]   
Benson had a previous run-in with with an employer. According to Cook County records, in 1997, a Chicago police report states that she was accused of stealing from a South Side motor supply company where she worked as a cash register clerk. She was ultimately ordered to pay $210 in restitution and the case was dismissed.
The Field said a background check was performed on Benson when she was first hired as a temp in 2003 and that the check came back clean.   
Judge Zagel also allowed Benson permission to leave the state later this month for a visit to an adult daughter residing in Virginia. 
Benson's sentencing will take place Aug. 25 at 1:30 p.m. 
---
Related stories: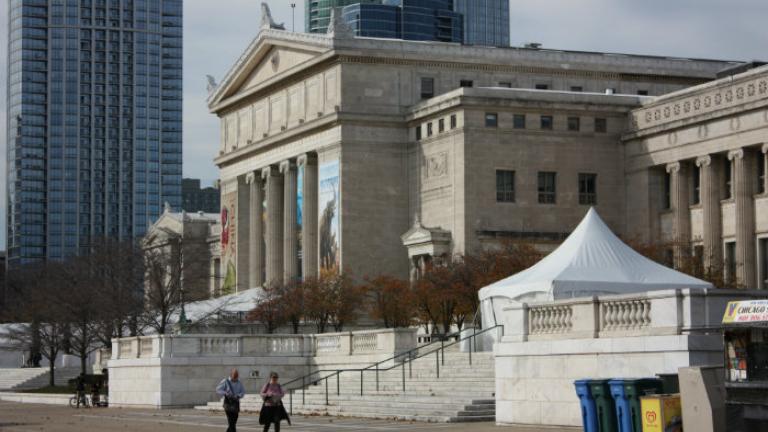 Woman Accused of Stealing $900K from Field Museum Has History of Theft, Records Show
Dec. 16, 2015: Caryn Benson, 38, of Romeoville, was charged on Tuesday by the federal government with one count of embezzlement, but records show a past theft charge.
---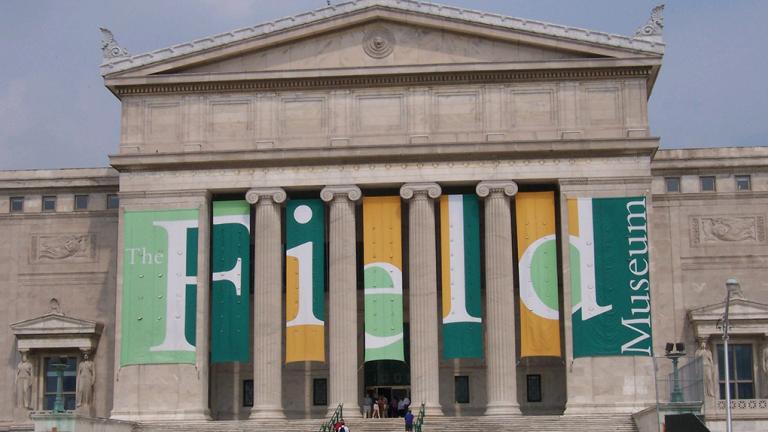 Former Field Museum Employee Stole $900,000, Documents Allege
Dec. 11, 2015: A former museum employee allegedly pocketed more than $900,000 over a seven-year period before the theft was discovered. The former employee has yet to be formally charged.
---