Surrealist art brings dreams and reality closer together–sometimes uncomfortably so. The movement started in Paris in the 1920s and influenced generations of Chicago and other American artists. Its echoes are heard loud and clear today.
The Museum of Contemporary Art Chicago dug deep into its holdings and brought forth a trove of surrealist art that is both foreign and familiar in the exhibition "Surrealism: The Conjured Life."
TRANSCRIPT
Phil Ponce: Alongside a famous image by French painter Rene Magritte and an obscure canvas by the German artist Max Ernst an Ed Paschke looms.
Up above, a sculpture by the American artist Lee Bontecou spins like a satellite over an alien world. These uncanny creations conjure a slice of life. The surreal life.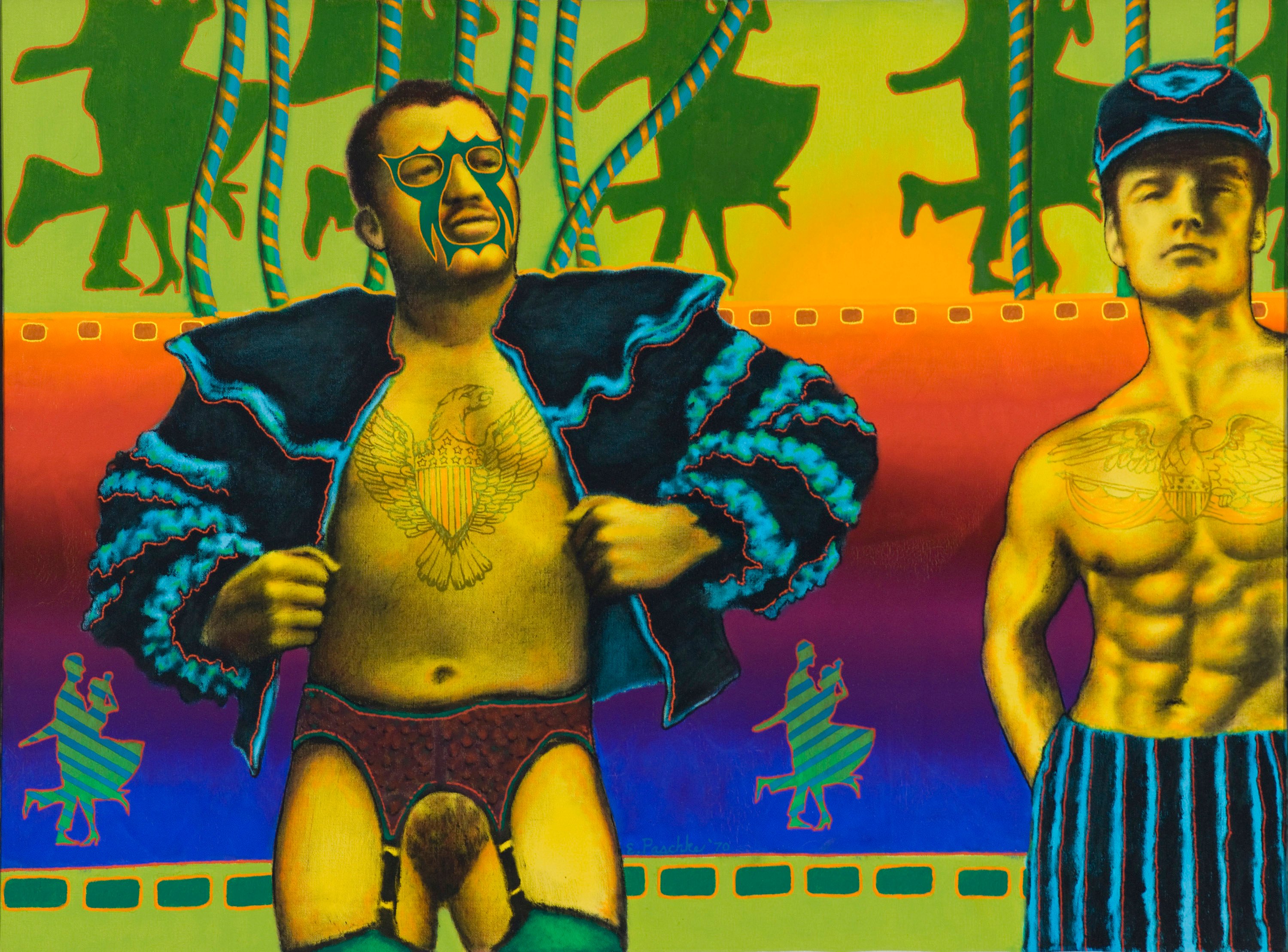 Ed Paschke, Sunburn, 1970. (Courtesy of the Museum of Contemporary Art)
Lynne Warren, Museum of Contemporary Art: The title "The Conjured Life" was really my attempt to get to both the feeling the visitor has looking at works of surrealism–where strange things and strange vistas are often conjured up–but also to get at how the artists themselves viewed their creativity.
Surrealism is often called the art of the irrational, but what's interesting about the original group of surrealists is that they named themselves. They formed a group, put out a manifesto by Andre Breton in 1925 and thus chose that word, which now has a different vernacular meaning. But at that time it really did mean living on the fringes and trying to get through to a different state of consciousness.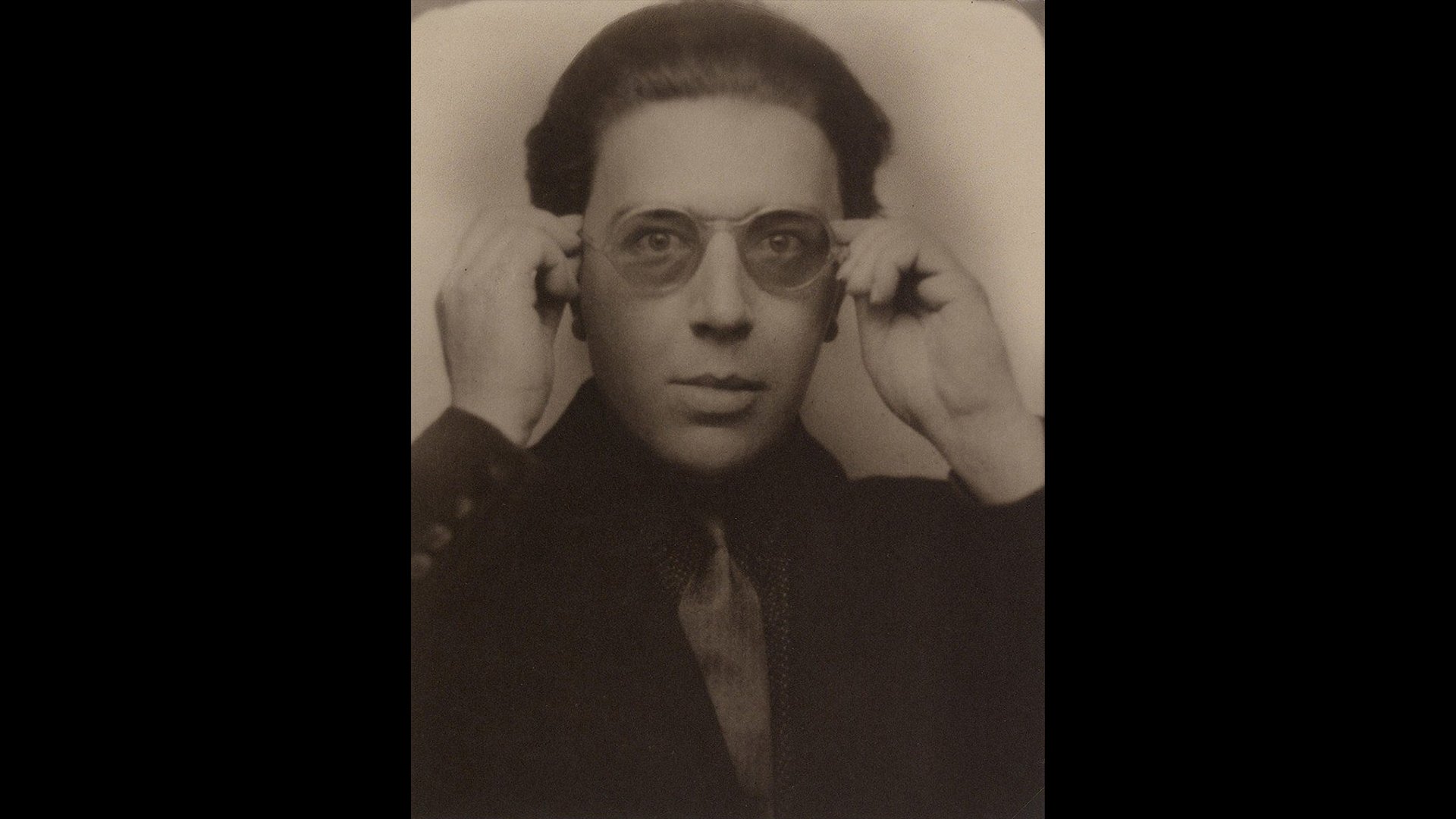 Andre Breton
The word "surrealism" for this exhibit really looks at that original nexus of trying to break through the confines of the everyday and come up with a more potent way of reaching one's creativity and then giving that to the viewer.
PP: In surrealist art, the artist sets free his or her imagination, and challenges the observer.
LW: "Unleash their imaginations" is a very good way to put it. For our eyes now–where we have seen so much experimentation go down in the 20th and 21st century–the original surrealists works may not look that experimental to us, but it was definitely an experimental time, where they were experimenting with imagery of course, but also different media and different ways of expressing.
PP: The exhibition is built on a spiral inner wall of influential surrealists and expands outward to the artists they influenced, including Chicago artists from the so-called "Monster Roster" of the 1950s and '60s as well as the Chicago Imagists.
The show also spotlights one-of-a-kind artists like Chicago's Gertrude Abercrombie, whose majority of work became a self-portrait packed with symbolism.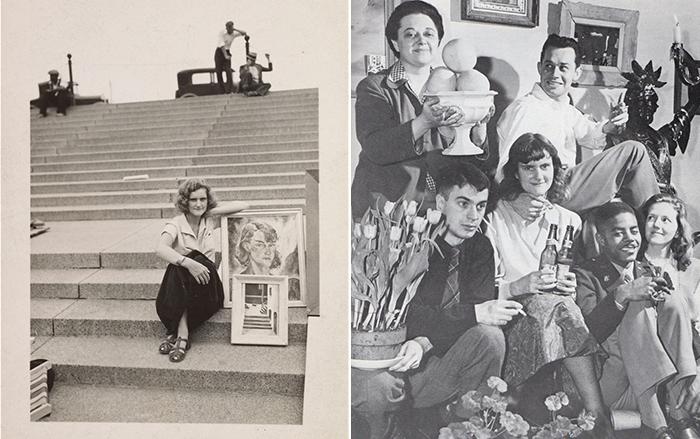 Left: Gertrude Abercrombie with self-portrait. Right: Abercrombie, center with beer bottles, surrounded by friends. (Phillip A. Harrington)
LW: Gertrude Abercrombie is I would say an artist's artist who's becoming much more popular and much better known. She was an artist who had a salon and was very influential, not only on other visual artists but on musicians, writers. She's the type of artist that now we would think of as in the thick of social experimentation.
There's a lot of very rich ideas going on psychologically as well as autobiographically of this fascinating woman who did a great deal of work in this city that was distributed to other artists, and also was influential on the whole Midwest scene in the post-war years, in the '40s and '50s.
PP: Others American artists include one-time Chicagoan H.C. Westermann, with his fantastic carpentry constructions and the Chicago Imagist, Glady Nilsson.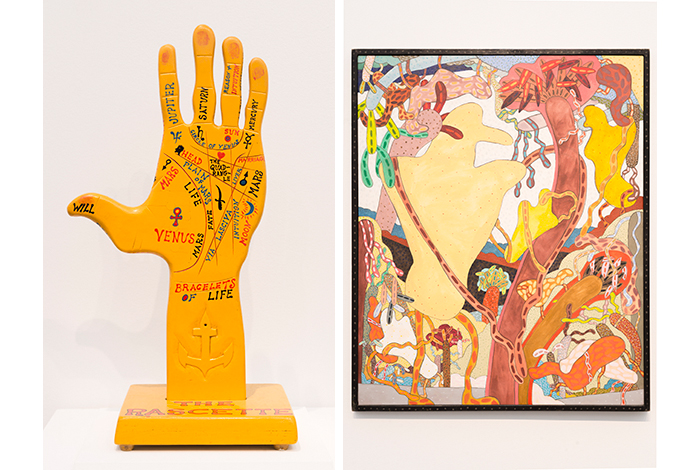 Left: H. C. Westermann, The Rascette, 1961. Righ: Gladys Nilsson, Giant Byrd, 1971. (Courtesy of the Museum of Contemporary Art)
LW: Surrealism found fertile ground in Chicago, I think in part because the art history of this town was always looking at the figure and representational imagery. There were some abstract artists here of course, but the overriding style was representational, and surrealism is a representational art form which followed on the heels of a very abstract time for art in Europe. I think that was one of the reasons there was this convergence between what the surrealists were doing in Europe and then the sort of tastes or interests of the Chicago collectors and Chicago audiences.
PP: The exhibition features a strong showing by original surrealists who were women.
LW: One of the things that happened with the original generation of surrealists is there were a number of women involved in that movement. They didn't get the recognition that they should have at the time because of the nature of social values in the '20s, '30s and '40s, but they're exciting and interesting artists.
PP: At the MCA Chicago, the surreal works on display come from a very real collection.
LW: We have amazing holdings of surrealism from the original generation of surrealists because our founding fathers of our museum, that was what they collected.
It's the type of art that I think anyone can enjoy. Pictorially it's very rich, there's rich colors and strange intriguing images but also very sophisticated work, it's work on the highest level.
---
The exhibition "Surrealism: The Conjured Life" is open through June 5, 2016 at the Museum of Contemporary Art.
---
Related: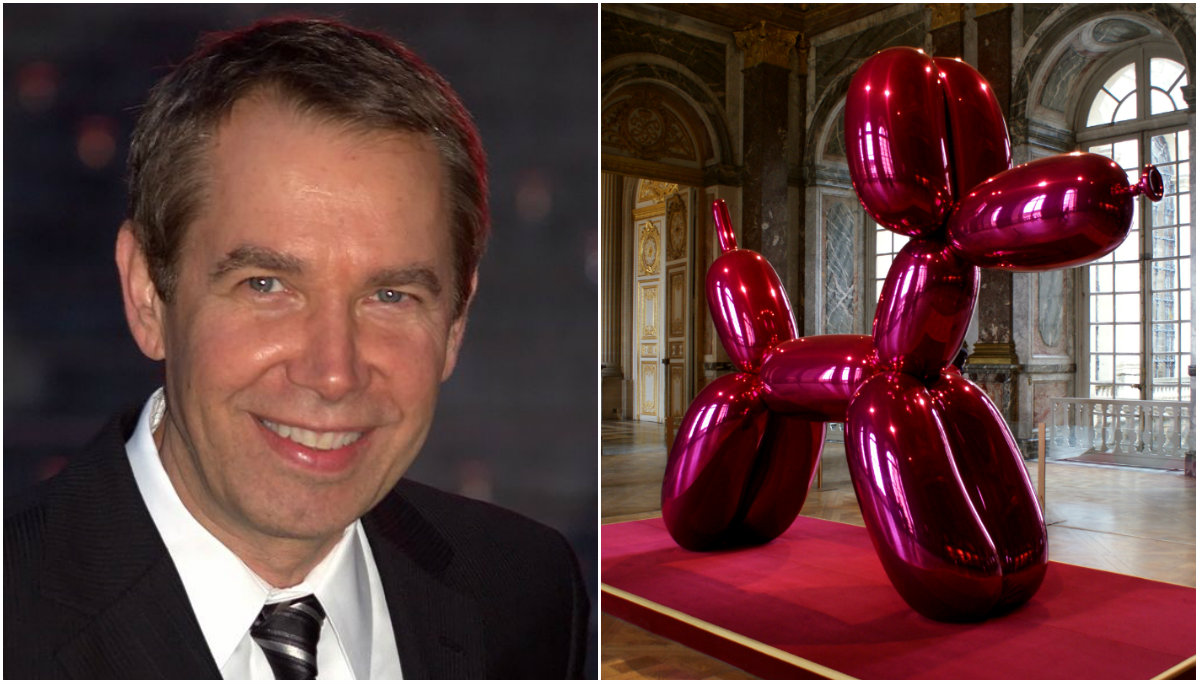 Jeff Koons Deemed Surrealist, at Least for New MCA Show
Work from Koons, along with a slew of other contemporary artists, will be on display at the Museum of Contemporary Art's show "Surrealism: The Conjured Life."