John Murray is hoping to create a Chicago New Year's tradition to rival Times Square in New York. The event, featuring celebrity and musical guests, is called Chi-Town Rising and will climax with fireworks and an enormous 71-foot illuminated Chicago star ascending to the heavens—or rather the top of the Hyatt Regency Chicago—to herald in 2016.
So what can New Year's Eve revelers expect?
Murray, founder and president of Arena Partners LLC and leader of the organizing efforts behind Chi-Town Rising, joins us to provide an inside scoop on the event.
"Our mission statement is that we're inspiring celebration in Chicago, and that's what we really want," Murray said. "We want people all over Chicago to look at New Year's Eve as an opportunity to go out and have a great time and have the rest of the country, and the rest of the world, look at Chicago as a destination to come celebrate."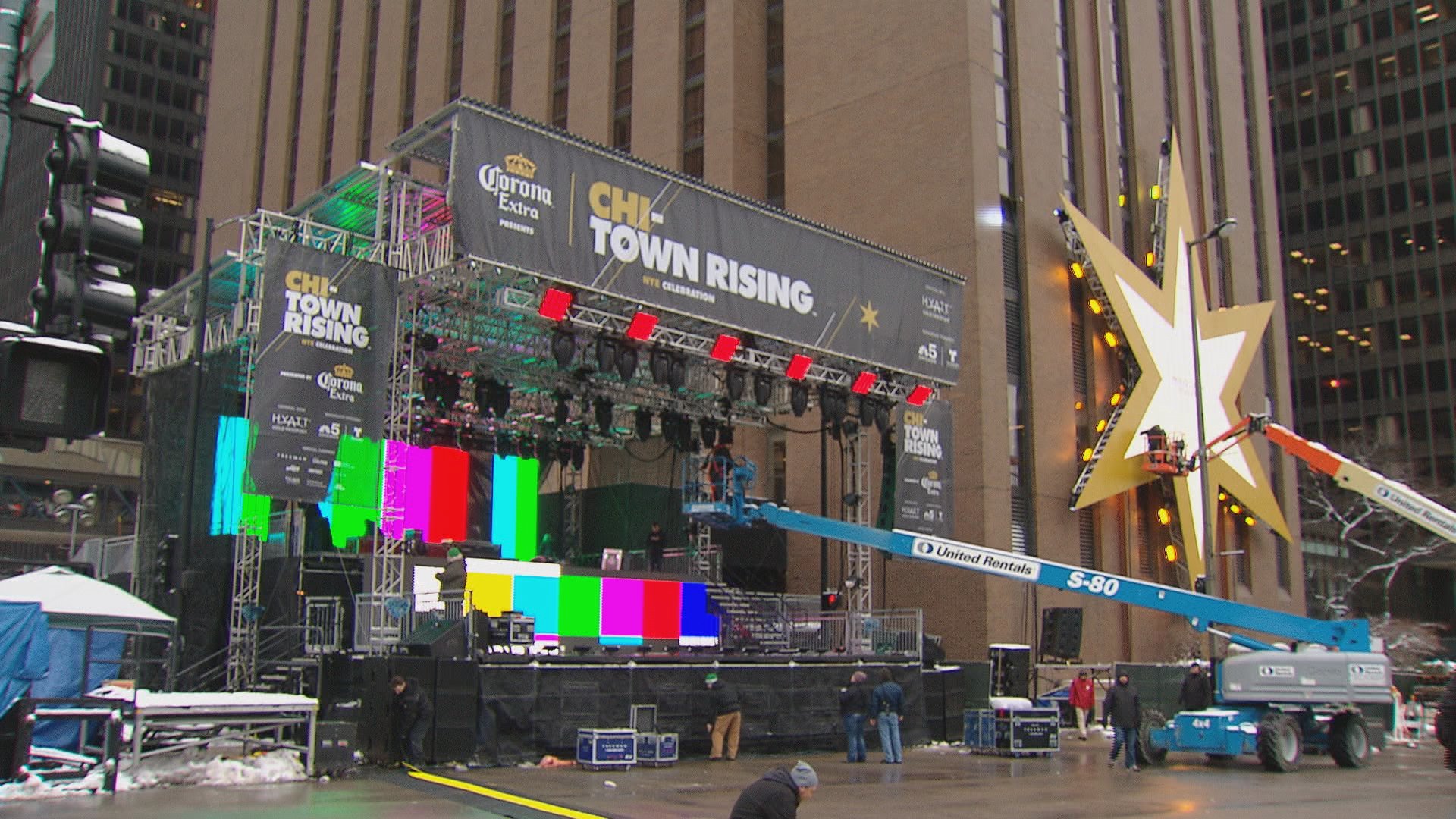 Crews set up the Chi-Town Rising Countdown Stage and Chicago star on Wednesday afternoon.
Chi-Town Central
The party takes place at multiple locations downtown, but the official heart of the event, dubbed Chi-Town Central, takes place along the Chicago River on Upper Wacker Drive, between Michigan Avenue and Columbus Drive.
Highlights include live music starting at 7 p.m. on the Countdown Stage with DJ Sye Young spinning tracks all night and a live broadcast starting at 11 p.m. Camera-ready New Year's Eve revelers willing to pay $150 per person to enter the Broadcast Boulevard area–designed to hold about 7,000–may be featured on the live broadcast and will have access to concessions and prime viewing of the stage.
"In the same way that you can enjoy Times Square in New York without a ticket, you'll be able to enjoy this event without a ticket," Murray explained. "It's a 70-foot star, 360 feet in the air—people will see it from a long way."   
Performers on the Countdown Stage include:
• 7 p.m. – The NuBlu Band (sponsored by Buddy Guy's Legends)
• 7:30 p.m. – Carlito Olivero
• 8 p.m. – Kweku Collins (sponsored by Closed Session)
• 8:30 p.m. – Radio Free Honduras
• 9:45 p.m. – The Heard
• 10:35 p.m. – The O'My's
• 11 p.m. to 12:30 a.m. – Live broadcast with Chicago and American Authors
The most highly anticipated portion of the night–the countdown to midnight–will be underscored by fireworks and the Chicago star, which is set to rise 36 stories along the west tower of the Hyatt Regency Chicago at 151 E. Wacker Drive.
"We've been running through the technical checks the last couple of nights and I can tell you that it's going to be unbelievable," Murray said. "This star has lots of bells and whistles and when it reaches the top of the building, we're going to have fireworks from the roof,we'll have fireworks along the river, fireworks on the lake—all synchronized to a music track and synchronized with the fireworks at Navy Pier. It's going to be a fantastic showcase of our skyline and our city on New Year's Eve."
Other locations
Across the river from the main event is the Corona Beach House (225 E. North Water St.). Tickets (limited to ages 21 and up) include a dinner buffet, prosecco toast and access to indoor and outdoor party areas, plus DJs, illuminated dance performances, outdoor lawn games, multiple cash bars and beach-inspired food options.
A free family celebration takes place from 3 to 6 p.m. at Wrigley Square in Millennium Park. Entertainment includes a DJ and interactive performance by WTTW's "Dr. Cool & Pride: The Big Show" from 5 to 6 p.m., followed by a kids countdown at 6 p.m. Free hot chocolate is available and activity stations feature New Year's Eve customs from around the world.
"We'll have 10 countries and we'll have stations there talking about how those countries celebrate New Year's," Murray explained. "And the kids will have a chance to take a passport and go to each country, learn a little bit, get their passports stamped and get some free gifts."
In addition to its official events, Chi-Town Rising is partnering with nearby Howells & Hood restaurant to offer dining and drinking packages. The Resolution Gala at Navy Pier offers an alternative viewing perspective of Chi-Town Rising, showcasing the skyline, river and lakefront.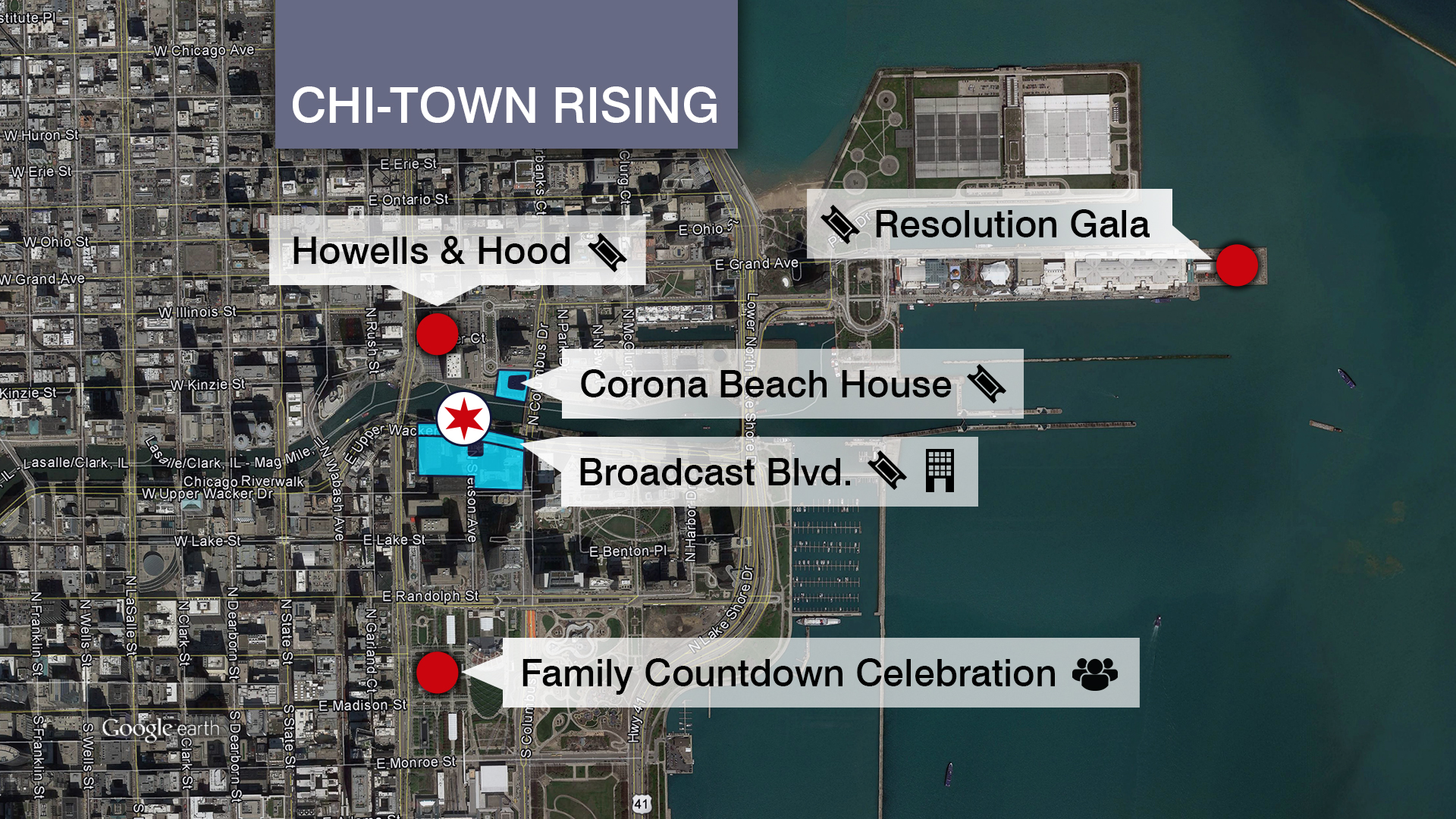 A map shows the locations of Chi-Town Rising events
Mario Lopez will host a live broadcast from 11 p.m. to 12:30 a.m. on NBC 5 Chicago and Telemundo, and nationally through 40 NBC affiliates, COZI TV and TeleXitos. Festivities include live music performances by Chicago and American Authors, celebrity guests, a review of 2015, a New Year's toast, the rising star countdown and the midnight fireworks show.
For complete schedule and ticket information, click here.
---
Street closures
If you're planning to travel downtown this weekend, the following roads will be closed at the listed dates and times due to the Chi-Town Rising events:
Closed through 11:59 p.m. Friday, Jan. 1:
• North Stetson Avenue from East Upper Wacker Drive to East South Water Street, with an exception for taxis going into the Hyatt East Tower using the northbound lanes on Stetson
• East Upper Wacker curb lane from Stetson to North Columbus Drive
• Eastbound southernmost lane on mid-level Wacker Drive from Columbus to Stetson
• Westbound northernmost lane on mid-level Wacker from Stetson to Columbus
• East Upper Wacker westbound lanes from Columbus to 111 E. Upper Wacker Drive at Michigan Avenue, which Includes the closure of the west-bound ramp and effects bus routes
• East Upper Wacker eastbound lanes from 111 E. Upper Wacker Drive at Michigan Avenue to North Columbus Drive, which effects bus routes
Closed from noon to 11:59 p.m. Saturday, Jan. 2:
• Southbound curb lane on Columbus between East Upper Wacker and East South Water Street
Closed through 5 p.m. Friday, Jan. 8:
• East Upper Wacker Drive, eastbound curb lane and southern most east-bound lane from North Stetson Avenue to 111 E. Upper Wacker Drive.
---
The meaning behind the Chi-Town Rising star
"Our unofficial motto is 'go big or go home' and we wanted to do something grand," Murray said. "We wanted to just stand out and differentiate ourselves from any other city that's doing a New Year's Eve celebration of this kind, and we wanted to have it represent Chicago uniquely, so we chose a star to represent Chicago. Specifically it was inspired by the second star in our flag and the way the city rose after the Great Fire of 1871 to become the fastest growing city in the world by the end of the 19th century. And that Chicago star is a very unique design that was designed specifically for our flag and that inspired our rising star."
Just how does the Chi-Town Rising star measure up to other Chicago icons?

(Courtesy of Chi-Town Rising)
Browse more New Year's Eve party options–and see what else is going on this weekend–in our events roundup.