Before it was called the Willis Tower, the downtown Chicago landmark was known as the Sears Tower. And long before construction on the skyscraper was completed in 1973, Sears had another iconic tower in Chicago. It was part of the massive Sears Roebuck headquarters on the West Side. Much of the Sears site has been torn down and redeveloped in recent decades. It's called Homan Square. But the tower remained empty and unused, until now.  
Tuesday morning, Mayor Rahm Emanuel was on hand to reopen the newly developed tower, renamed the John D. and Alexandra C. Nichols Tower in honor of the longtime benefactors of the Homan Square Redevelopment. (The Nichols are also major contributors to WTTW.)
Jay Shefsky got a sneak peek at the tower on Monday. We bring you his report.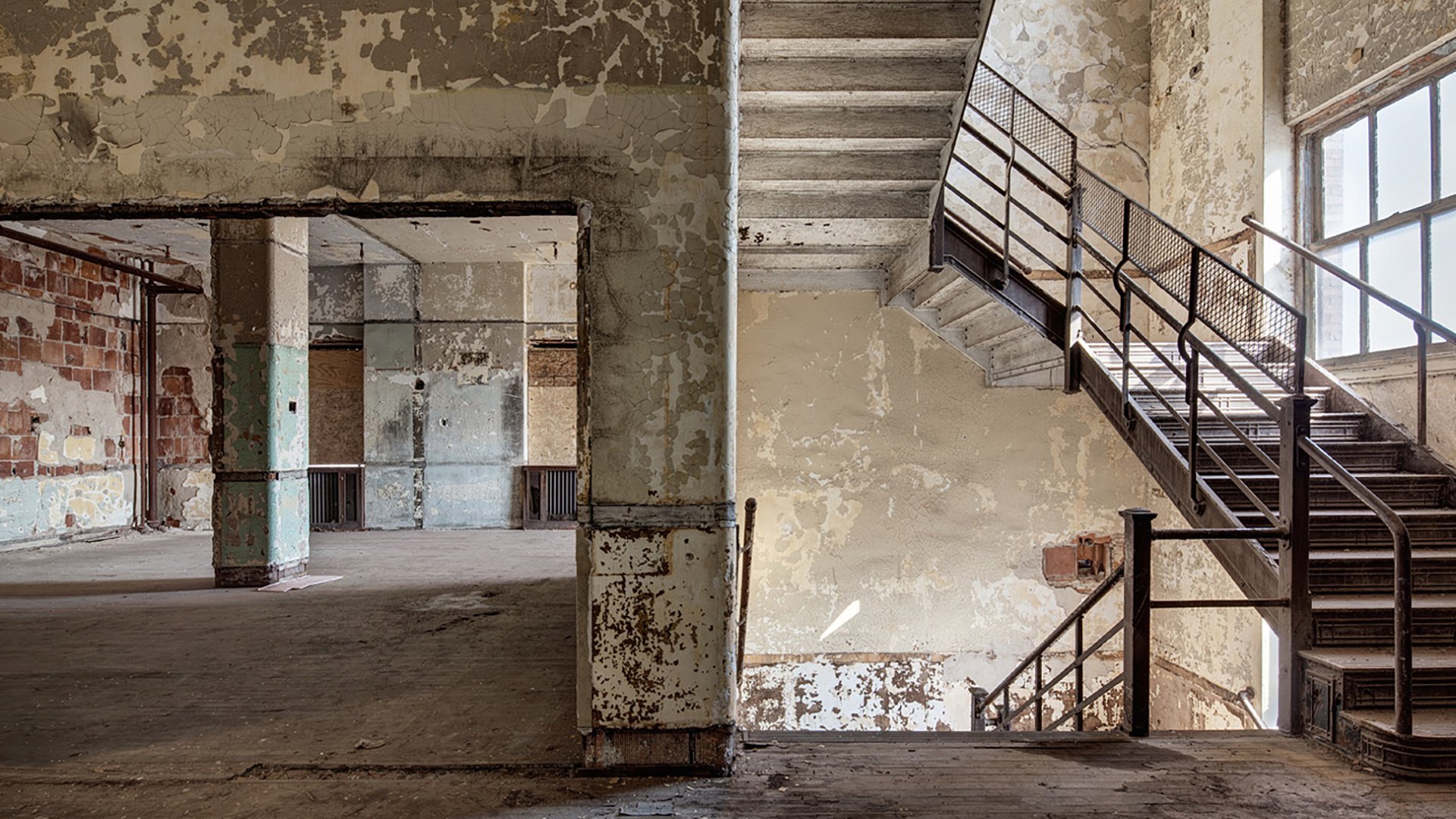 The historic tower before renovations began. (©2012 Darris Lee Harris)
TRANSCRIPT
Jay Shefsky: The Homan Square development in North Lawndale includes nearly 400 units of affordable housing. There's a community center with health care, recreation and child care; a high school in what was once the power plant for the 55-acre Sears complex; and more.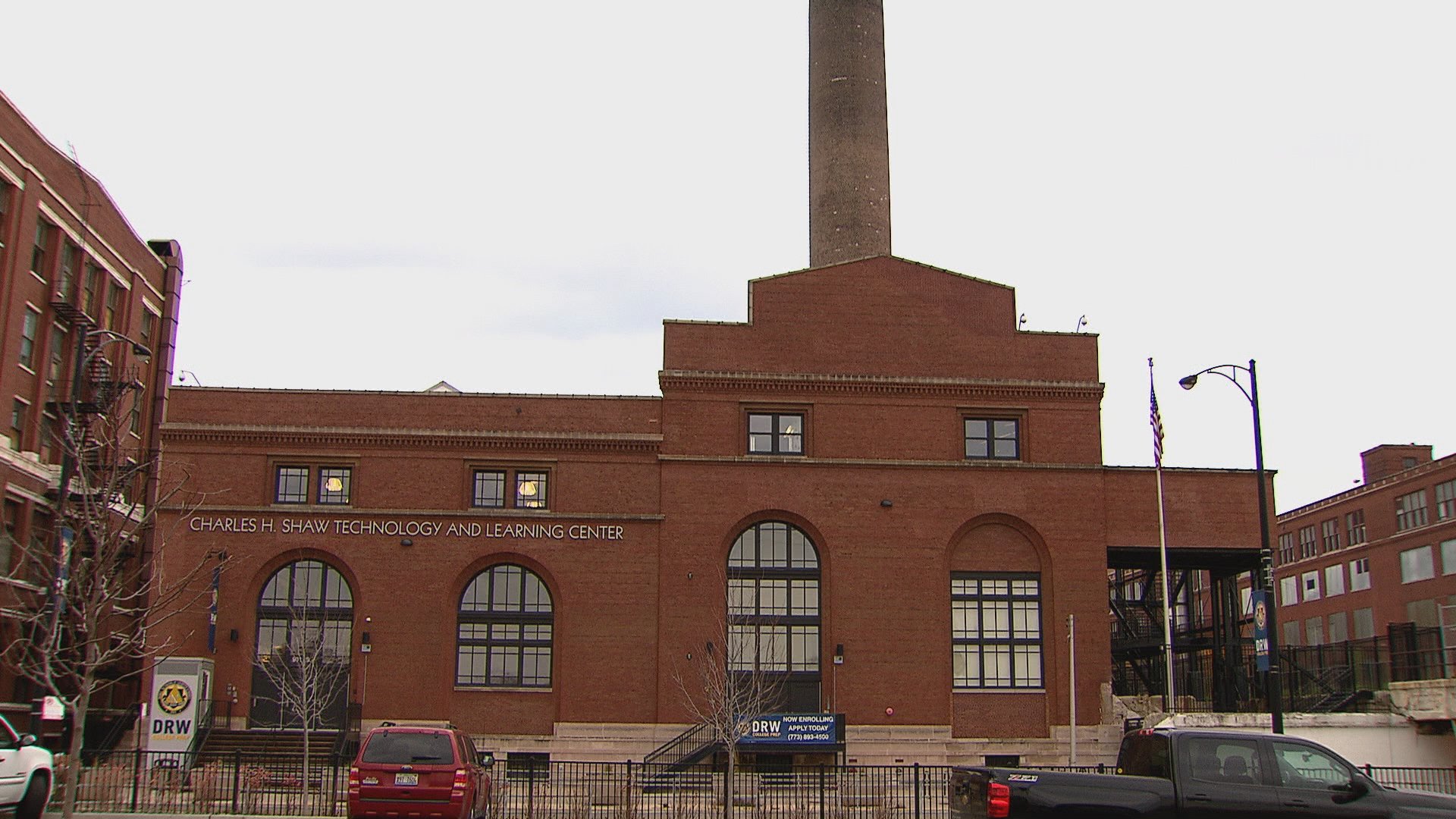 Rising above it all is this 250-foot tower, which was left standing when the rest of the Sears merchandise building was torn down in 1994.
John Nichols and Kristin Dean are the main forces behind this project. The Nichols funded the redevelopment of the tower.
Dean is president of the Foundation for Homan Square. She has overseen the project, including this last-minute scramble just one day before the ribbon-cutting.
Kristin Dean: Had we known what we were getting into we probably never would've done it, because it has been really, really difficult. I think that's true of many great projects. 
Below, more photos of the tower before renovations began.
JS: Vacant since 1987, they found the building in a shambles.
What had once housed offices, secretarial training and a 200,000-gallon water tank for the fire sprinkler system was in total disarray.
Dean: Basically it's a whole new building inside. All new HVC and new electrical, all new plumbing, everything is brand new except all the bones. 
JS: John Nichols remembers coming up here for the first time.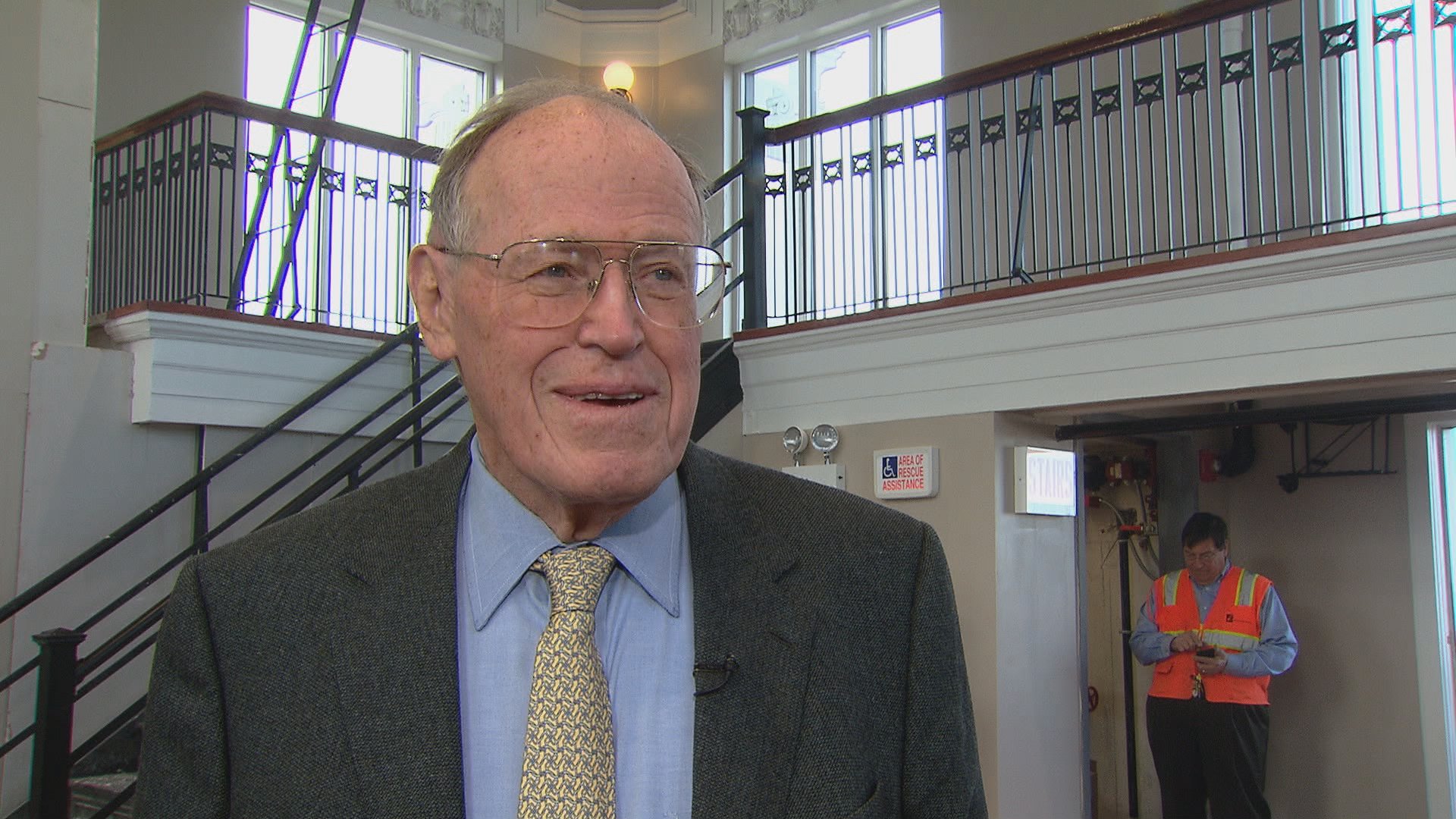 John Nichols Nichols: It wasn't exactly safe. The stairways were the only way up. The elevators didn't work. And every floor had its own disaster. But when I finally got up here to the top and saw the view that we have of the city–which is unique–I said this has got to be developed. This is an important part of this neighborhood. 
JS: This carefully restored 14th floor will now be used for city and neighborhood events.
Most of the building will bring nonprofit organizations into the Homan Square development.
Dean offered to show me around. The restored staircase includes the Sears, Roebuck and Company initials.
Dean: This is the 6th floor. This is the only floor where the tenant has already moved in. 
JS: Kylia Kummer runs Turning the Page, which works to engage families on the West Side in their children's education.
Kummer: One of the things that we are excited about is that we are so close to the Turning the Page families, and our school partners.
JS: What about being in such a historic building? Does that mean something to you?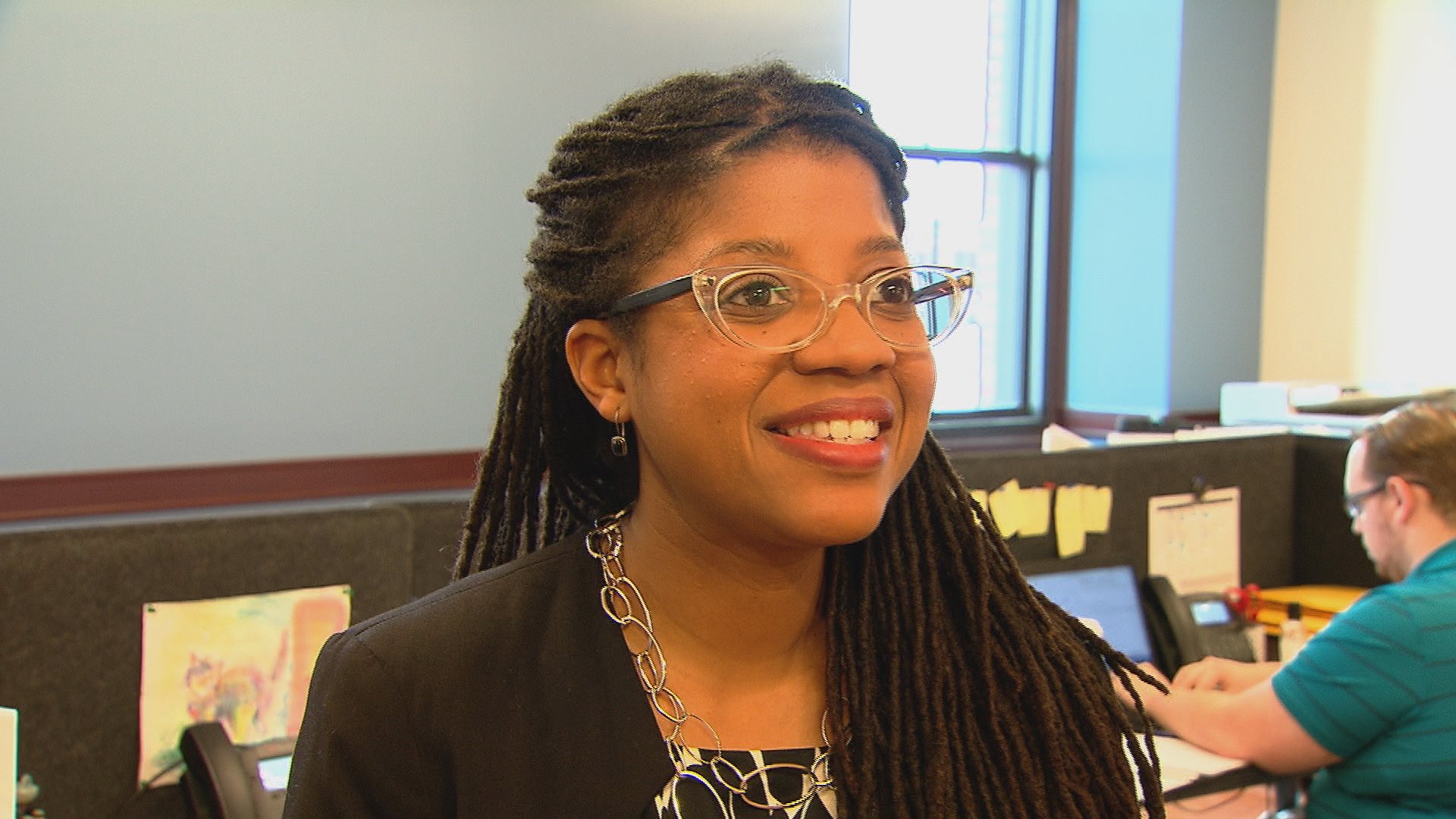 Kylia Kummer Kummer: It does mean something to me. I'm really excited about architecture. Kind of an architecture nerd. So the first thing I tripped out about was seeing the stairs and all the handiwork there and being a part of the rebirth and revive of this building is really exciting to me.
JS: The other tenants will be moving in soon. Like the youth video project called Free Spirit Media.
Jeff McCarter, founder of Free Spirit Media: It will essentially be the West Side bureau for Free Spirit Media.
JS: And what a view!
And it turns out that this 11th floor was the original home of a legendary Chicago media outlet.
McCarter: The original WLS radio, World's Largest Store, was right here on this floor. 
JS: The School of the Art Institute will also have space in the building.
Paul Coffey, Vice Provost at School of the Art Institute of Chicago: We're so excited to be here. We are going to be offering in the fall and spring three classes geared toward the community. On the 12th floor we will have a studio space up there. That's where our programming will be. We'll bring community members in. We'll also bring classes from SAIC out here. Those classes will be classes dealing with civic engagement as a subject matter. And down here on 10 we will have an artist's residency and all artists will be working with the community.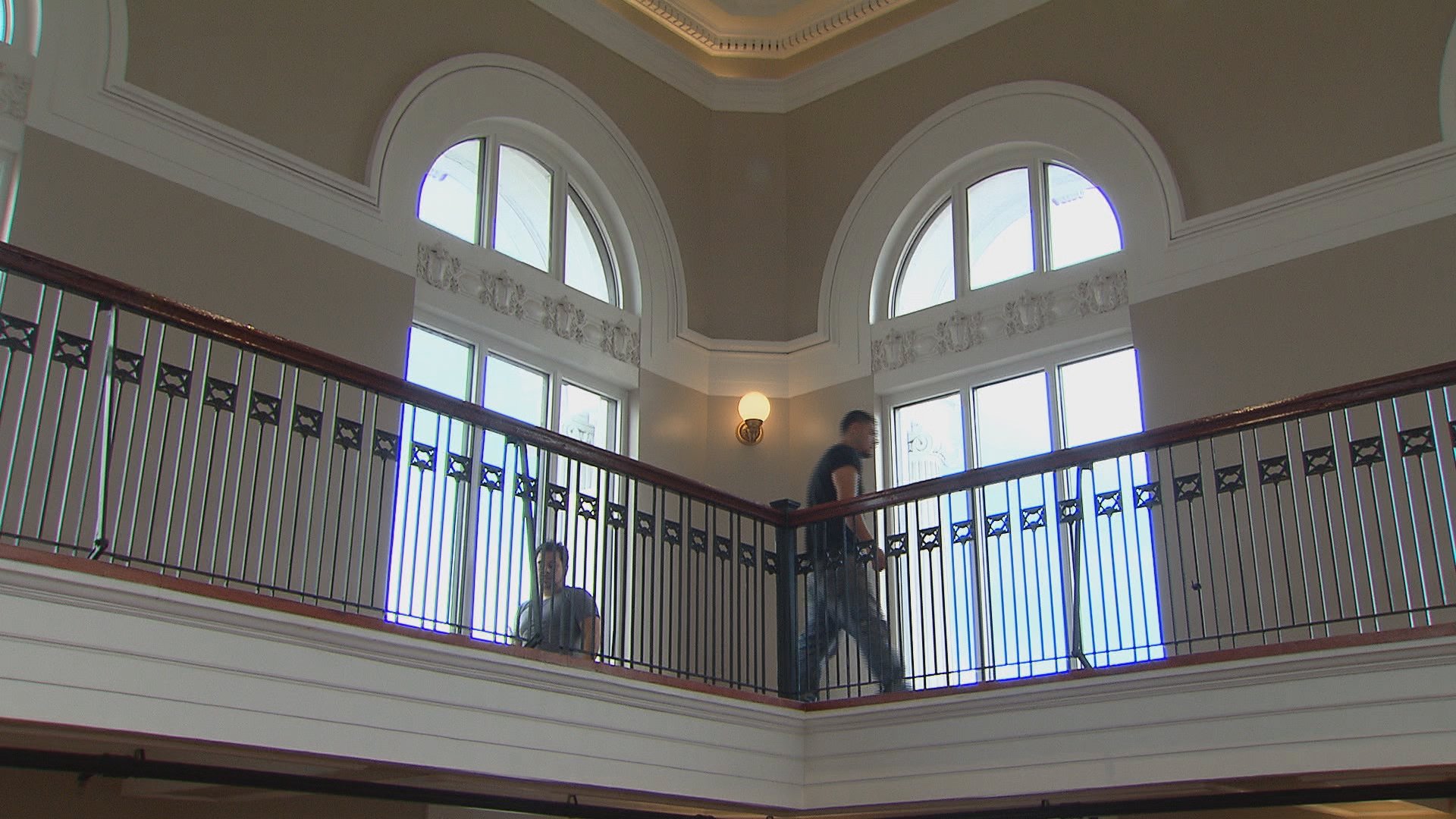 JS: The tower is on the National Register of Historic Places. The $15 million renovation took five years.
JS (to Gioglis): You recreated all of this plasterwork? What did that take?
Dmitri Gioglis, New Millennium Construction: It takes a lot of work. We didn't have any starting point. The only starting point was right up there.
JS: That's all that remained up there?
Gioglis: That's all that remained. But we were lucky enough to have all the three or four mouldings. So we can recreate the rest of it.
JS: They also built all new doors and a mosaic landing in a stairwell.
JS (to Gioglis): This is a big project!
Gioglis: It is and it is a lovely project. Challenging. Very challenging. We are happy that we can bring it back originally. Our objective wasn't to make a new building. Our objective was to bring the old building back to his original glory.
JS: Kristin Dean knows that they could have torn down this building and built a new one in its place.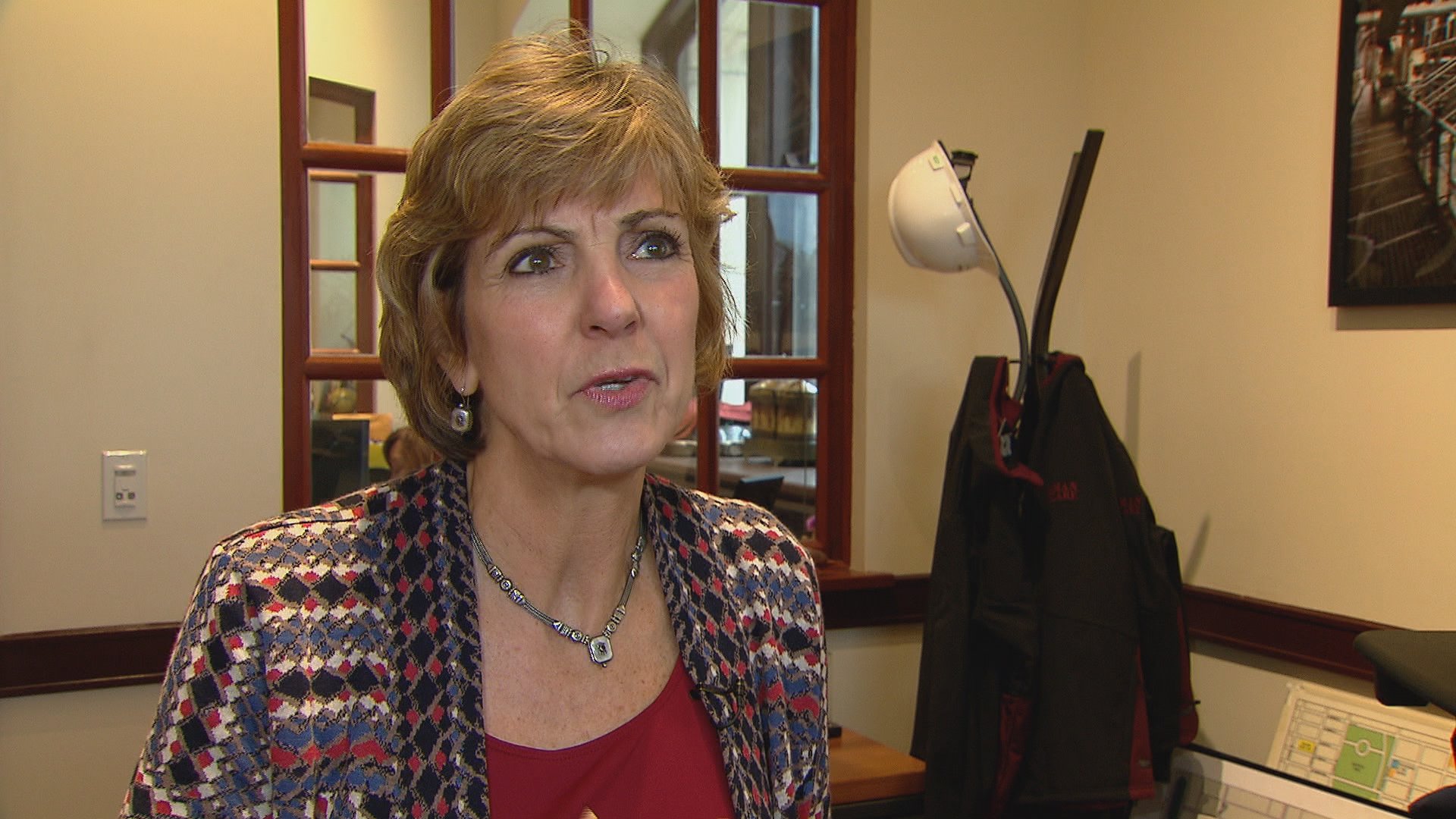 Kristin Dean Dean: Absolutely, and it would have been a whole lot cheaper but it wouldn't have been nearly as wonderful. This building has been an icon in this community since 1905. It's always been our dream to do something special with the tower. It's a special place and it needs to be celebrated, we want people to celebrate in here, we want this to be the place where we're looking at the assets of the community not the deficits. This is a special place and we want everyone to appreciate it.
JS: For "Chicago Tonight," this is Jay Shefsky.
---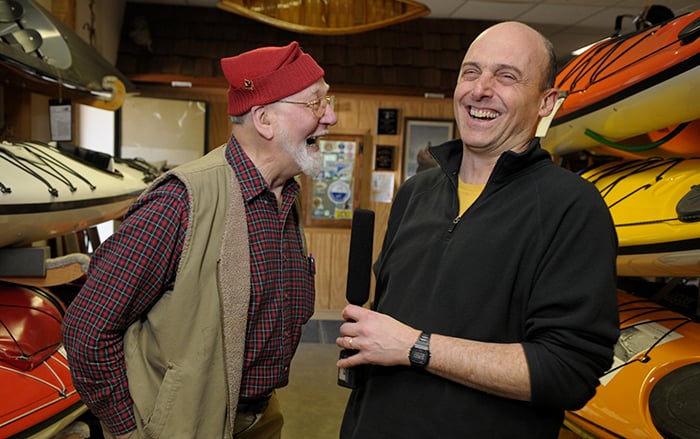 Find more of Jay's stories about Chicago people and places right here.