Several Chicago Public Schools could be consolidating with neighboring schools, if residents in at least two Chicago communities are able to convince the district to take action.
CPS is in the process of updating its School Action Guidelines to consider community-driven processes for consolidation.
One of those communities is Austin, where the Austin Community Action Council is planning to request that the district consolidate three schools which are already on the same campus: Austin Business and Entrepreneurship Academy, Austin Polytechnical Academy and VOISE Academy.
Each of the three schools has its own principal but is under-enrolled and on intensive support. Organizers say a consolidation would rebrand them under one new school.
Residents on the Near North Side have been considering a similar proposal to merge two seemingly different elementary schools. Brandis Friedman has that story.
TRANSCRIPT
A Jenner Academy of the Arts parent: You're not diverse when it comes to class, and there's a sense of snobbiness there and, 'Why are you here?' And I do believe that. I have witnessed myself the shut out. I refuse to bring my child and any other child into an environment where they have to experience that. 
Brandis Friedman: Protective parents are in an impassioned discussion over where their children attend school.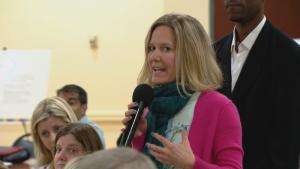 Rebecca Wells Rebecca Wells, Ogden International parent: What's happening tonight is really what my personal fear has been. Right? It's the arguments between our families, between our adults. It's not between our kids.
BF: On the table at this parent's meeting is a proposal to merge two neighboring elementary schools on the Near North Side: Ogden International and Jenner Academy of the Arts. Each school is led by a young, energetic and fairly new principal. 
Robert Croston, principal of Jenner: I am trying to position our school to get into a position to be successful. 
BF: When Ogden Principal Mike Beyer started the job in August, he found a school overcrowded at 103 percent capacity.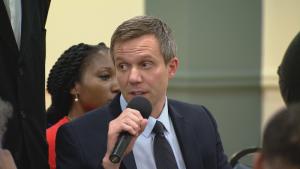 Mike Beyer Mike Beyer, principal of Ogden: And we found that there are 3,700 students in our attendance boundary who are school aged and yet we only enroll 1,600 total. So there's a massive number of students in our attendance boundary. 
BF: The two schools are only a mile apart. Jenner is under-enrolled, with only 250 students in a somewhat new building built for up to 700 students. The solution seemed simple: merge the two elementaries, with lower grades attending one campus and older students at the other.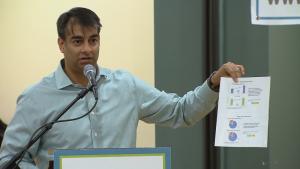 Sandeep Sorrya Sandeep Sorrya, Ogden parent: A merger between Ogden and Jenner would result in a 71-percent increase in classrooms for the Ogden community. And from a student perspective, that would be a 21-percent increase in students.
BF: Though the schools are geographically close, they are academically and socioeconomically far apart. Ogden is a level one-plus school on the Gold Coast. Barely 21 percent of students are considered low income, and it has a mostly minority diverse student body. More than 50 percent of the student body is a mix of Asian, black and Hispanic students.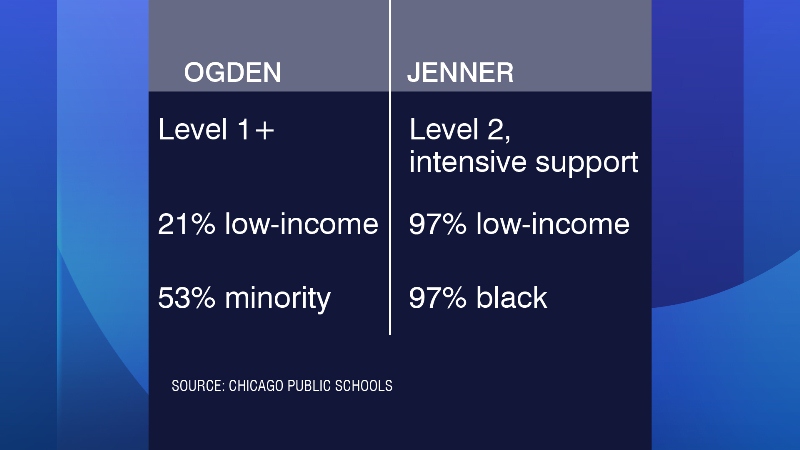 BF: Though it's improving, Jenner is a level two school, having been on intensive support for the last nine years. Ninety-seven percent of students are considered low income, and nearly all of its students are black. It sits across the street from the former Cabrini Green housing development. And despite its new principal working to turn the school around, it's still underachieving academically. Though Chicago Public Schools has asked principals Robert Croston and Mike Beyer not to speak to the media, Jenner Principal Croston tells parents the merger is about a better education and survival.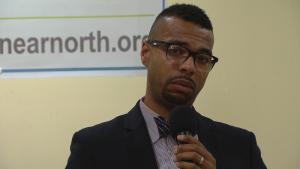 Robert Croston RC: We have 240 students right now. That school last year was projected to have 207. That's how we lost our $310,000, and so if we don't increase enrollment, how do you convince the board to keep our school open? So for me, from where I sit, the future looks grim without being very proactive, without being solution focused. 
BF: Jenner's history of poor performance is why Ogden parent Rasha Gad is leading the effort against the proposed merger.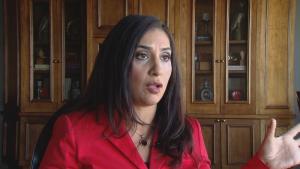 Sasha Gad Rasha Gad, Ogden parent: You can't take a high performing school and expect to mix – sort of consolidate with Jenner – in less than a couple of months and expect that the Ogden students, or the community at large will not be affected. 
BF: She and other parents are also concerned that the merger would only be a Band-Aid, not a long-term fix for the overcrowding issues at Ogden.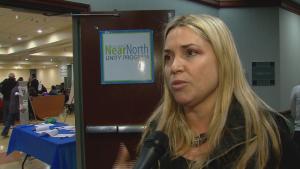 Amy Hoffmann Amy Hoffmann, Ogden parent: Now we're talking about possibly merging with Jenner. The difficulty with that is that Jenner only has about 300 spaces available. 
BF: But parents in support of this idea at both schools say the time is now and the district is otherwise occupied.
Rosa Rodriguez, LSC president at Jenner: It's gonna be bumpy at first.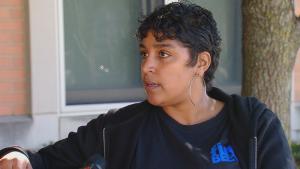 Rosa Rodriguez Everything that changes isn't always the perfect thing, but it doesn't hurt to try.
RW: We're trying to take this to the Board of Education. This is unprecedented what we're trying to do. I don't care what color you are. I don't care how much money you make or you don't make. We're trying to do something that's unprecedented in this nation. And our public school system is not doing this for us!
BF: A schools' task force – made of members from each community – has considered other options, including delaying the merger, adding more space at Ogden or even advocating an entirely new school in the Lakeshore East neighborhood. In the end, both principals and the task force have agreed to wait until the 2016-2017 school year to present the district with a plan to merge. In the meantime, Jenner will have to fight to maintain or increase enrollment, while class sizes swell at Ogden. 
Though the district is in its third year of five-year moratorium on school closings, consolidations are still possible. A spokesperson for Chicago Public Schools says it has no comment on any of these proposed consolidations.
For "Chicago Tonight," I'm Brandis Friedman.