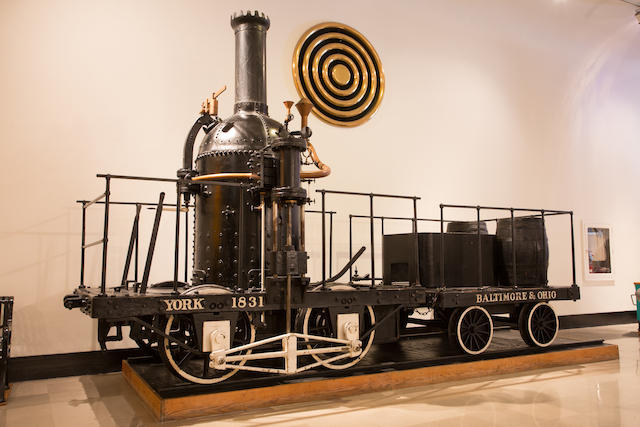 A 1926 replica of an 1831 B&O "York" train - just one of five sold by the Musuem of Science and Industry last month. (Courtesy of the Museum of Science and Industry)
Happiness cost just over 100K for one Baltimore museum.
That's the amount which Baltimore's B&O Railroad Museum was willing to shell out for a train – one of five sold last month by Chicago's Museum of Science and Industry. 
Part of a public auction that ultimately netted MSI $435,000, the sale included a reproduction of an 1831 York locomotive – a train which the B&O had originally donated to the Museum of Science and Industry in 1934, following the Century of Progress fair.
For the B&O museum, the purchase completes a collection that includes two other trains originally built for a 1927 fair celebrating the 100th anniversary of the B&O Railroad, one of the oldest in the United States. 
"Having the chance to bring that locomotive home, where it was built, was a huge opportunity for us," said Courtney Wilson, the B&O museum's executive director.
As to whether it was worth it to spend $110,000 to re-acquire a train originally donated to the Museum of Science and Industry, Wilson said B&O was "prepared to spend what we had to spend to get it back."  
The five trains sold represented a "very narrow historical timeframe in transportation history," and will most likely be swapped out for more contemporary cars and motorcycles, according to MSI spokeswoman Renee Mailhiot. The money raised will go directly back into the conservation and acquisition of new museum artifacts, Mailhiot said.