The violence in Chicago continues to spark rage and national headlines.
Last week it was the murder of 9-year-old Tyshawn Lee whom police believe was executed because of his father's possible gang ties.
Then 20-year-old Kaylyn Pryor, an aspiring model, was gunned down on a street in Englewood, and just this weekend 14-year-old J-Quantae Riles was killed in the Gage Park neighborhood just days after his family moved back to Chicago following a move to Virginia to escape the violence.
Eddie Arruza reports on steps being taken on the city's West Side to combat the violence.
---
TRANSCRIPT
Eddie Arruza: To witness some of the street violence happening in Chicago, you don't have to visit one of the communities most impacted. You can see it on YouTube. Some of the videos of violence are posted by witnesses who capture it happening right outside their homes. Other videos are brazenly shot and uploaded by the alleged perpetrators. 
Rick Miranda: Right now it's everybody shooting at everybody. The guns, the drugs, everything is easier. You know it's more accessible.
EA: In some Chicago communities the bullets and the lives they take are on the uptick this year. According to data compiled by the Chicago Tribune, neighborhoods on the city's South and West Sides, those with mostly black and Latino residents, are the city's most violent.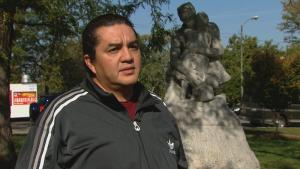 Guillermo Gutierrez Guillermo Gutierrez: Some people in Chicago have an issue with the idea of Chi-raq but that's pretty much where it comes from. Some of these young people really feel that they are in a little war zone. Their everyday movement is how are they going to survive and it consists of drugs, guns or any other criminal activity.  
EA: Last year, the Chicago Police Department touted what it called historic lows in crime and murder rates in the city, and police Superintendent Garry McCarthy continues to insist that his force is making positive strides in fighting crime. But that argument's a tough sell among some in the hardest hit communities. Guillermo Gutierrez is a former gang member who lived a life of violence until a bullet wound followed by a conviction and prison time turned his life around. He's now a community activist in the Humboldt Park neighborhood and says it's a new version of street gangs that are creating the so-called war zones.
GG: When Chicago had a huge movement in the '80s where they fought gang structure and went after gang leaders, they locked up a lot of them [and] it kinda broke down the structure where it created just isolated communities and little pockets of young people who are still doing the same things, illegal activities. But now there's no control over them. Everybody's pretty much on their own.
EA: One of those young people who was part of the street violence is 19-year-old Adolfo Tolayo who grew up in Logan Square. He was preteen when he joined a gang and in no time, the older members had him breaking and entering into homes in search of weapons.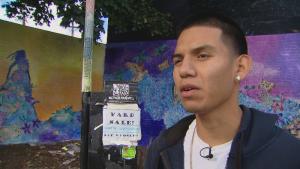 Adlofo Tolayo Adolfo Tolayo: Probably from the age of 12, stealing houses, going into houses robbing, taking [weapons from] under bed, sometimes under the mattress; anywhere you think that you won't find a gun, you find a gun. 
EA: Mayor Rahm Emanuel and his top cop say the influx of and access to guns is feeding the ongoing violence and have called for stricter gun laws. Rick Miranda, an ex-gang member turned youth mentor, says city officials are right.
RM: Everybody—now that, you know, the carry and conceal—everybody's getting permits to have guns and people know that. These kids that are breaking into these houses, they ransack your house, and these guns are just laying wherever and it's easy to come out. 
EA: But if gun control is the answer it doesn't appear to be a political reality anytime soon. Police Cmdr. Dwayne Betts heads the 15th police district. It covers most of the hard-hit Austin community. He's been on the CPD force for 30 years and says the short-term solution is not entirely in the hands of law enforcement.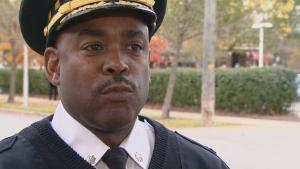 Cmdr. Dwayne Betts Cmdr. Dwayne Betts: A lot of times we make great arrests in the same community that people are complaining about activity. And when we go to court I think it would be significant if we had our court advocates there—people who are from the community that would let the judicial system see that "this crime matters to me, matters to my neighbor and we're here and we want to see justice served." We know we can't do it alone. We know we can't arrest our way out of this situation. We're employing strategies to deal with it and together we think we're going in the right direction.
EA: Adam Alonso is the executive director of the nonprofit called Build on the city's West Side. His organization strives to prevent youth from turning to street life and helping those in it get out. Alonso says the state of Illinois is not helping crime fighting matters and may actually be making those efforts worse.
Adam Alonso Adam Alonso: We're currently in a state with no state budget. A lot of our colleagues who are doing this work have shut down, closed programs, or are on sort of the life support system of volunteers trying to serve young people. Nothing's getting better and without a resolution, without really trying to push things forward and make families and working families have the supports they need, I don't think we can see anything other than the uptick in violence.
EA: Adlofo Tolayo is now 19 years old, and he says he left the gang life after getting arrested for breaking and entering. He also says he's found an outlet for what he calls his personal issues by creating artwork.
AT: If you say you feel angry every day, you say you feel angry on your mom, you feel angry on society, paint it. Paint it on a canvas. Show me how you feel besides holding a gun.
EA: Adolfo's mentor is Rick Miranda who now heads what's called the Artevism program at the nonprofit Build, where youth at risk are given a creative outlet. But in that program some youth show just how much mistrust they have in law enforcement which activists say fuels the violence.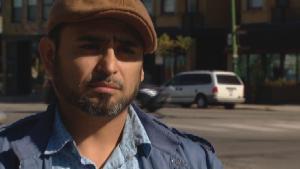 Rick Miranda RM: To build that relationship, I think they need to come out into these communities. Police officers that these youth can identify with 'cause you can cruise through the West Side and it's all white cops. It's kind of hard for them to even walk up to a cop to have a conversation with them because they're already coming in there with the mentality of, "All these kids of color are either selling drugs or out here gang banging."
EA: For his part Cmdr. Betts says he does personal outreach to prevent known offenders from becoming repeat offenders.
DB: So what I'm spending time doing is going to their doors, knocking on their doors and telling them, "Hey, we know that you have that past, but you don't have to continue those ways." Normally when we do that I have somebody coming from the community and from social programs that can offer them an alternative because a lot of people will say, "What am I supposed to do?" So, I did it yesterday, and I thought the feedback was great.
EA: Whether small steps will lead to bigger victories in combatting Chicago's violence is yet to be seen. But one thing is for sure, a number of complex hurdles still lie ahead.
For "Chicago Tonight," I'm Eddie Arruza.