Last month, Chicago Archbishop Blase Cupich took part in Pope Francis' synod on the family, where bishops from around the world gathered to discuss the Catholic Church's relationship with gays and lesbians, divorced people and unmarried couples living together.
"We voted on almost 100 paragraphs. For the most part we had about 95 percent agreement on all of them. There were two or three paragraphs that came close to not receiving the two-thirds vote but did by two or three votes," Cupich said. "I was heartened by the fact that the bishops came together after three weeks of small group discussion as well as general assembly to put together a document that we felt comfortable that we could give to the Holy Father."
As for divorced people whose marriages haven't been annulled by the church, Cupich says the church wants to accompany them and "walk with them."
"We want to help them form their conscience with the eternal truths that we believe are revealed in Scripture but also to show the mercy of God to them," he said. "I would say if people are in a position where their marriage is not in the church, they should go and talk to a priest and receive the pastoral care that they deserve and make sure that they know that their archbishop is telling them they are not going to be left on the margins. We want to work with them and move forward."
Cupich on the budget crisis
Illinois is still without a state budget and in the midst of a fiscal crisis that's been years in the making.
"It's going to take a lot of effort and cooperation on people to unravel the puzzle that is a part of this budget crisis right now. My only hope would be that people would be patient with each other, listen to each other but work as adults to come to some agreement by which we can settle these issues," Cupich said. "Everybody, I think, has a good point to make. My hope would be people would listen to each other."
In September, Cupich spoke before an audience of organized labor about where he and the Catholic Church stood on labor issues. While some may have taken Cupich's stance as critical of Gov. Bruce Rauner, Cupich maintains he was revisiting the church's social teaching with regard to workers.
"I laid out for them in a way that reminded them what the church teaches. When it came to that particular topic of right-to-work, I did not take a position on any piece of legislation, but I did pose some questions about the rights of workers to have collective bargaining but also respect for their human dignity," Cupich said. "And as I raised those questions, I noted history does show that when the rights of workers are protected that we as a society are better off. So my hope would be those principals are kept in mind when those decisions are made."
Watch the video above to hear Carol Marin's full conversation with Cupich.
---
Related "Chicago Tonight" stories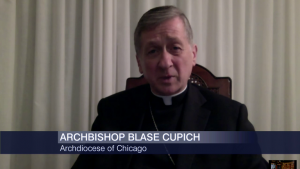 Archbishop Cupich on Communion for Divorced, Gay Catholics
Chicago Archbishop Blase Cupich is one of eight American delegates at Pope Francis' synod on the family. He joins us from Rome to discuss what conversations with his fellow bishops have been like, and what we can expect to come out of the synod.
---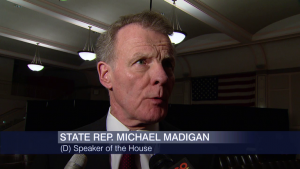 Madigan Rejects Emanuel on CPS Bailout
House Speaker Michael Madigan says he's rejecting legislation that would provide relief to cash-strapped CPS. He also attended a speech by Archbishop Blase Cupich about where the Catholic Church stands on labor issues.