A plan to have the state provide $480 million of relief to cash-strapped Chicago Public Schools is all but dead today. Chicago Tonight caught up with the powerful Democratic Speaker of the House Michael Madigan, who made no bones about his feelings on the matter.
What now? And what about the other items Mayor Emanuel is asking Springfield for?
If Speaker Madigan's comments today are any indication, Mayor Emanuel and CPS CEO Forrest Claypool will have to go back to the drawing board on a bill to have state government provide $480 million in relief. Money the school system is banking on. That bill, sponsored by Illinois Senate President John Cullerton, passed the Illinois Senate. The same legislation freezes property taxes statewide and proposes to change the formula the state uses to fund education across the state. The bill will likely die in the House. The speaker said that it had no momentum, and that he "does not support" the legislation.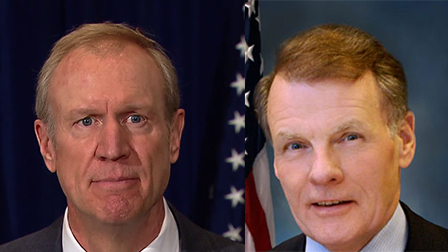 Gov. Bruce Rauner, left, House Speaker Michael Madigan "The bill sets up a system where, at a date in the future, all the support for Chicago would be subject to a sunset, and Chicago would be in the hands of 80 percent of the state and a Republican governor. I don't think that's a good situation," Madigan said. "CPS does deserve special help, attention, consideration from the state government, and I'm working to get that done. The state picking up some of the pension costs is something that could be done. There's been a lot of discussion, not serious negotiations."
The legislation that Madigan is rejecting was negotiated between Emanuel, Cullerton, and – to an extent – Gov. Bruce Rauner. What the speaker seems to be saying is: any solution to the CPS crisis will have to go through him.
In a separate issue, Emanuel has also proposed to exempt residential property owners whose homes are worth $250,000 or less from paying any part of a coming $500 million property tax hike. This too will need the speaker's support – any action on this would have to be approved by Springfield. Judging by Madigan's comments to us, this one sounds much more likely.
"I stand in support of relief for homeowners on their real estate taxes," Madigan said. "Historically there's been broad support for helping homeowners on their real estate taxes." Madigan added that he did not yet know whether or not the plan would apply relief to all homeowners throughout the state or only to Chicago. Cullerton has also supported the idea; Rauner has come out against it.
A  lot of these issues are caught up in the broader budget battle between Madigan and Rauner – Rauner wants pro-business, union-weakening items attached to a budget. Madigan has referred to those items as being extraneous to the budget process and says the governor is "operating in the extreme."
Today, he said that he thinks it would be a good idea for the governor to start serious talks with him about resolving the issue. And he may have a high-profile ally, at least on matters relating to unions: We found Madigan today attending a rousing speech by Chicago Archbishop Blasé Cupich in front of an audience of organized labor. Cupich made it clear where he and the Catholic Church stand on labor issues, and it is not with Gov. Rauner.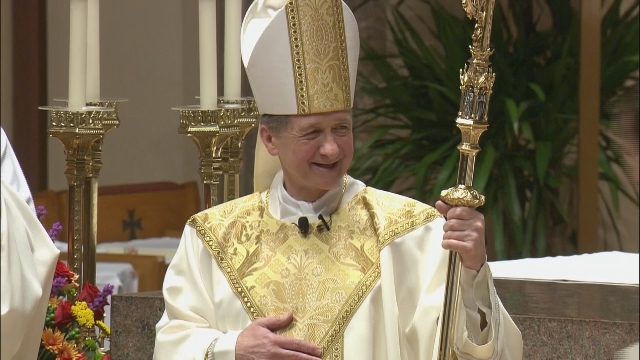 Blase Cupich "I have come today to tell Chicago workers, the Catholic Church is with you, Pope Francis is with you, and I am with you," he said. "In lieu of present-day attempts to enact so-called right-to-work laws, the church is duty-bound to challenge such efforts. History has shown that a society with a healthy, effective and responsible labor movement is a better place than one where other powerful economic interests have their way and the voices and rights of workers are diminished."
Cupich also said the church would support any union workers who decided to take to the picket line.