Geoffrey Baer cruises by with the history of the Illinois Tollway oases, a Chicago lass on Irish cash and O'Hare's sleek new air traffic control towers in this week's edition of Ask Geoffrey.
---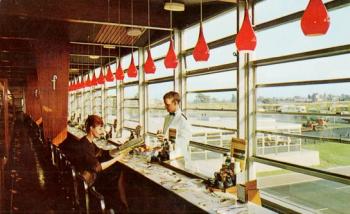 The movie "Inside Llewyn Davis" set in 1961 has scenes of a road trip to Chicago which includes a stop at a Fred Harvey restaurant overlooking the highway below. Were the Illinois Tollway stops the only ones with this unique design?
–Robert Pierce, Edgewater Beach 
When most of the tollway system in northern Illinois was built in the late 1950s, the largely undeveloped region lacked places for road trippers to stop for gas and food. Thus, the folks who ran the Tollway leased land to Standard Oil of Indiana for five oases which Standard would build and run. The architects who designed the five original oases, Charles Genther and PACE Associates, recommended over-the-road pavilions because they could serve traffic from both directions, so it would be cheaper to build and operate than two separate oases.
In 1957 Standard Oil subleased the oases to the Fred Harvey restaurant chain to run the restaurants. During this motor age, the novelty of enjoying a meal over the thrumming highway drew crowds. Patrons dressed up to dine there and watch the cars zoom by – and there were a lot of patrons. In 1961, the "Top O' the Tollway" restaurants served 5.6 million people.
By the early 1970s, the Tollway Authority had taken over for Standard Oil, and gave Howard Johnson's a shot at running the restaurants cafeteria-style after complaints of poor service under Fred Harvey. The HoJo's at the Des Plaines Oasis even made a cameo appearance in that most famous of Chicago movies, "The Blues Brothers."
In 1984, individual fast food restaurants like Wendy's and McDonald's took over the oases. In some cases, the restaurants erected walls where the glass windows used to be, blocking the views of the expressway.
Twenty years later, the deteriorating structures were replaced with larger new buildings, with soaring roofs and even bigger glass windows than the original oases. They're now more like food courts, but they also offer exhibits of art and history, kids' play areas and informal meeting spaces for business travelers. 
There are a handful of similar structures built over the highway, like the Great Platte River Road Archway Monument in Nebraska, a Walgreens in Reno, Nevada and a McDonalds in Oklahoma. But the only place in America that has system of oases where you can gas up and grab a bite as you watch the cars fly under your feet is northern Illinois.
---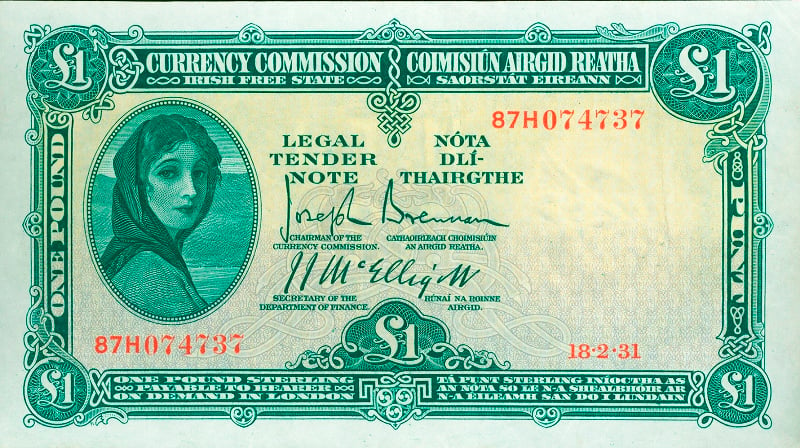 Pound Note (American Numismatic Association)
I heard that a Chicagoan is pictured on Irish money. Is that true? 
–Dan Protess, WTTW
It's true. A Chicago woman named Hazel Lavery graced all of Ireland's bank notes for almost 50 years, and she never even lived in Ireland.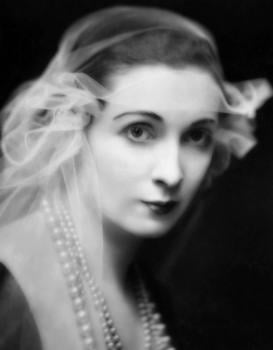 She was born Hazel Martyn in Chicago in 1880, and was the daughter of a wealthy industrialist. According to a 1950 Chicago Tribune profile, she met the Irish-born portrait artist John Lavery while studying art in Europe, where her family had relocated following her father's death. The profile claims that Mrs. Martyn cabled Hazel's stateside sweetheart, Dr. Edward Trudeau, and warned the young doctor that he was about to lose his love to the much-older Lavery. Trudeau rushed Hazel back to the states and they married, but Trudeau died from pneumonia only few months after their 1904 wedding, before their daughter was born.
Hazel returned to Europe and reconnected with John a few years later when her mother fell ill. They married in 1909 and settled in London. The lovely Hazel frequently modeled for her husband. Ultimately, John would paint over 400 portraits of his wife, including using her as the subject of his most famous painting, "The Red Rose."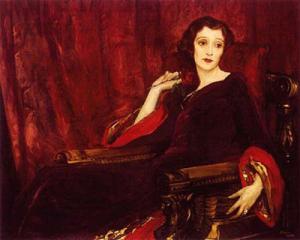 John Lavery's "The Red Rose" During World War I, John became an official war artist for the British government, painting ships, planes and portraits of war leaders. After the war, John was knighted, making his wife Lady Hazel Lavery. 
The Laverys became deeply involved in the fight for Irish independence, entertaining both Irish and English leaders in their London home. After Ireland became a free state in 1921, the Irish government asked Lavery to paint the symbolic Irish girl Kathleen Ni Houlihan using Hazel as the model. The resulting portrait became the engraving that appeared on all Irish money from 1927 until 1976 and on 100 pound notes until 1996. In 2002, Ireland joined much of the rest of Europe in switching to the euro.
Lady Hazel herself died in 1935 at the age of 54. 
Thanks to the ANA for sharing an image of the Ireland pound note.
---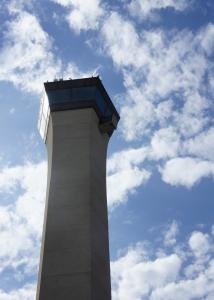 I.M. Pei air control tower (@mollypg/Twitter) I work for an airline at O'Hare. The airport is undergoing an expansion and they are building new air traffic control towers. Who designs these? They are all different.
–Wallace Robertstad, Melrose Park
Two new and architecturally interesting air traffic control towers were built as part of the massive $8 billion O'Hare modernization plan. Part of that plan involves replacing the airport's crisscrossing runway arrangement with six parallel runways to handle more simultaneous departures and arrivals. So there are now a total of three towers from which air traffic controllers guide planes on the ground and in the air within 10 miles of the airport.
The towers were needed because two newly constructed runways are partly obscured from the view of controllers in the main tower by buildings on the airfield. Controllers obviously need to have an unobstructed view of the entire runway they are controlling so the new towers were placed to provide that. 
In a city as hip to architecture as Chicago, even control towers are architectural gems. The newest tower just opened a few weeks ago to serve a brand new runway that also just opened. It's the $40 million south tower consisting of a minimalist 12-story tall square tower clad in glass and stone, topped with an octagonal glass cab for the controllers. It was designed by the architecture firm exp.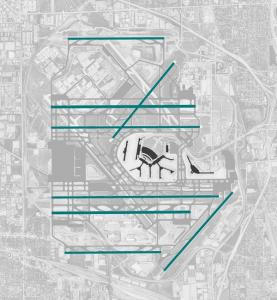 O'Hare runway configurations post modernization The north tower opened in 2008 to serve a new runway that opened that year. The sleek design curves outward at the top and is capped with a dramatic prow-like windowed cab. The $42 million tower was designed by DMJM Illinois (now AECOM).
O'Hare's main tower from 1996 between Terminals 2 and 3 is octagonal and clad in milky blue glass panels in a grid pattern. The original design called for a more mundane concrete tower, but Chicago architect Helmut Jahn was brought in to modify the design and give it more panache.
And there's yet another tower – the beautiful minimalist 1966 tower by the renowned modern architect I.M. Pei. It's next to the O'Hare Hilton. It doesn't guide airplanes anymore. Instead, the Chicago Department of Aviation uses it to oversee snow plows and other ground vehicles on the airfield. 
---
More Ask Geoffrey: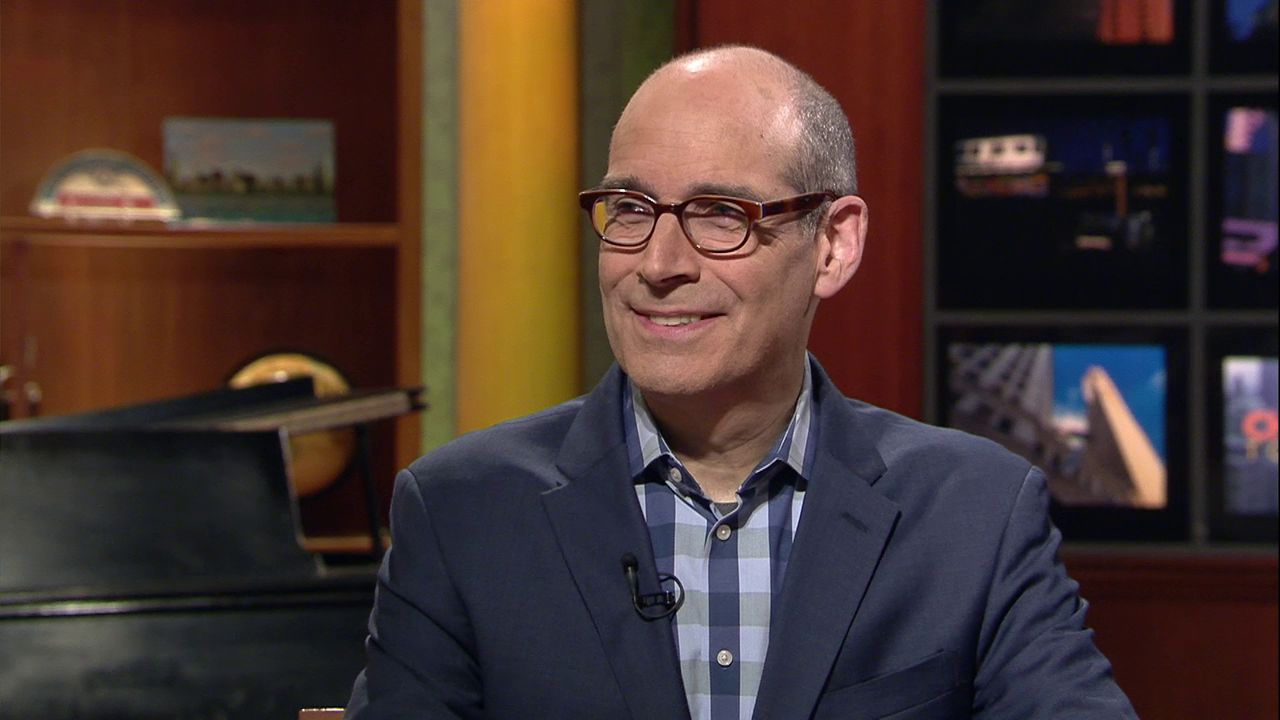 Did you know that you can dig through our Ask Geoffrey archives? Revisit your favorite episodes, discover new secrets about the city's past, and ask Geoffrey your own questions for possible exploration in upcoming episodes. Find it all right here.