Halloween is here! As you put the finishing touches on your kids' costumes (or your own—who said grown-ups can't get into the spirit, too?), we share some safety tips for trick-or-treating.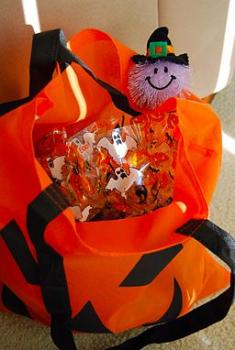 (Janine from Mililani, Hawaii/Flickr) Finding the right costume is probably the most important part of Halloween. If possible, dress your children in light-colored costumes so they are easily visible. If that's a no-go (Batman doesn't do pastels), the Chicago Police Department recommends placing reflective tape on the front, back and sides of dark costumes. This way your children can be spotted easily. The CPD also suggests avoiding masks since they restrict vision. Paint your kid's face instead. 
Go trick-or-treating during daylight hours. While the city of Chicago doesn't have trick-or-treat hours, the Chicago Police Department recommends keeping trick-or-treating confined to daylight hours.
Don't let kids trick-or-treat alone. Parents should go trick-or-treating with their children (here's your chance to bring your old costume back to life) or arrange that they go with another responsible adult.
Walk, don't run from house to house. Yes, this one may be a challenge for the little ones, especially first timers, but remind them to look both ways when crossing streets. Also, cross at the corner and stay on sidewalks.
Only accept wrapped treats. Throw away any unwrapped candies, open candies or suspicious-looking treats. The CPD also recommends trick-or-treaters pitch any fresh fruit.
Trick-or-treat in your neighborhood and at residences you're familiar with. Do not enter a home to receive a treat, especially abandoned buildings. Do not accept treats from people in cars.
Don't want to go door-to-door to collect candy? Navy Pier is getting into the spirit on Oct. 30 and 31 with trick-or-treating, free scary movies, a costume contest and live entertainment. On Friday, trick-or-treat hours will be 4-8 p.m.; on Saturday, from and noon-4 p.m. Want to do something a little closer to home? The Chicago Park District is hosting Halloween-themed parties in several parks through Oct. 31. Click here for more information. 
Have you been getting into the Halloween spirit? Whether you've got shots of your Halloween decorations, kids or pets in costume, or jack-o'-lanterns, we want to see them. Share your Halloween-themed photos and fall images of the leaves changing, scarecrows and pumpkins.
Share your photos with us