Television writer and producer Norman Lear took a lighthearted approach to many challenging social and political issues in groundbreaking sitcoms such as "All in the Family," "Sanford and Sons," "The Jeffersons," "Maude," "One Day at a Time" and "Good Times."
Lear, now 93 years old, joins us to reflect on the many adventures of his long life and to discuss the new edition of his memoir "Even This I Get to Experience."
"The origin, the story behind the title is even this—it took me 93 years, some months, some days, some hours to get here just to say what I'm saying this split second. And it took you, I would judge 37 years, 39 years and several minutes and days, but it cost you every second of your life to get here and talk to me," Lear said.
The notion of "even this I get to experience," first came to Lear during a conversation he had with his son-in-law when Lear was going through some tough times. The next day Lear's son-in-law called him back and asked Lear to promise him to let the family bury him when he dies rather than be cremated because some day he wanted to take his grandsons to a stone that read "Even This I Get to Experience."
Of all of the characters featured in TV shows produced by Lear, Maude from "All in the Family" was the character Lear related to the most.
"She wasn't a student or scholar, or she didn't know the issues the way she needed to know [them] and that's who I am. I talk about myself and think about myself, truly, as a bleeding heart conservative." Lear said. "The bleeding part is I do care about everybody that doesn't have an even break in this country that promises equal justice, equal fairness, etc. And at the same time, you will not mess with my First Amendment, my Bill of Rights, my Constitution, my Declaration. Those are conservative opinions in my point of view."
Read an excerpt from the book below.
"Even This I Get to Experience"

By Norman Lear

Part 3: "Joyful Stress"

Carroll O'Connor sat down to every reading of a script worried and unhappy. He was, after all, at the beginning of a process where he was to shed the gentle Irish intellectual Carroll O'Connor to become the poorly educated, full-of-himself blowhard Archie Bunker, spewing a kind of rancid, lights-out conservatism for a television audience that grew quickly to more than fifty million people.

Today's script was called "The Elevator Story." Circumstances find Archie on the seventy-eighth floor of an office building. He gets in the elevator reading the hysterical front page of a tabloid. In the car, too, reading his New York Times, is a tall, very elegant black man and a white woman prone to hysteria. Some floors below, the elevator stops and a working-class couple, clearly Latin, gets on. They speak both Spanish and English. She is extremely pregnant and nervous. Archie is annoyed with everyone. And suddenly the elevator jerks to a stop between floors. The emergency causes the pregnant woman to go into labor.

Immediately after the first table reading, which seemed an agony for Carroll, he announced there was no way in the world he would do this show. "But that's a joke! You know you can't do that! A baby born on the floor of a goddamn elevator! What's that all about? I don't want to talk about this anymore!" I said we were keeping to our schedule with the current script and would gather again to rehearse in the morning. And Carroll left saying it was "Good-bye."

The next day, Tuesday, the cast collected on time, but for Mr. O'Connor. CBS had formally advised us that All in the Family would be canceled and appropriate legal action taken if they did not have a new episode to air on the expected date. Some time that evening I got word that Mr. O'Connor would be at rehearsal on Thursday.

Carroll O'Connor as Archie Bunker on the set of "All in the Family"

We worked on Saturday, and when the episode was taped the following Tuesday we got a phenomenal reaction. The audience cheered. Some cried. Everyone agreed it was our best work to date and simply had to win an Emmy. It did. Carroll O'Connor's Archie was stunning, the scene even better than I imagined. The camera in tight, we see that face reacting to the sounds of the birth taking place below, Archie's expressions mirroring everything going on—and then, cutting through the commotion, from the center of all life, comes that first cry and Archie melts, simply melts, at the wonder, the mystery and beauty of it all. It was a watershed performance.

Reprinted by arrangement with Penguin Press, a member of Penguin Group (USA) LLC, A Penguin Random House Company. Copyright © Norman Lear, 2014
---
Lear is the subject of a new documentary that is being co-produced by Loki Films and THIRTEEN's "American Masters" series with the working title "American Masters: Norman Lear."  The documentary is expected to premiere on PBS in fall 2016.
Throughout his lifetime, Lear has received innumerable accolades for his contributions to the arts, including four Emmy Awards, 14 Emmy nominations, a Peabody Award, the National Medal of Arts, the Humanist Arts Award and Women in Film's Lucy Award.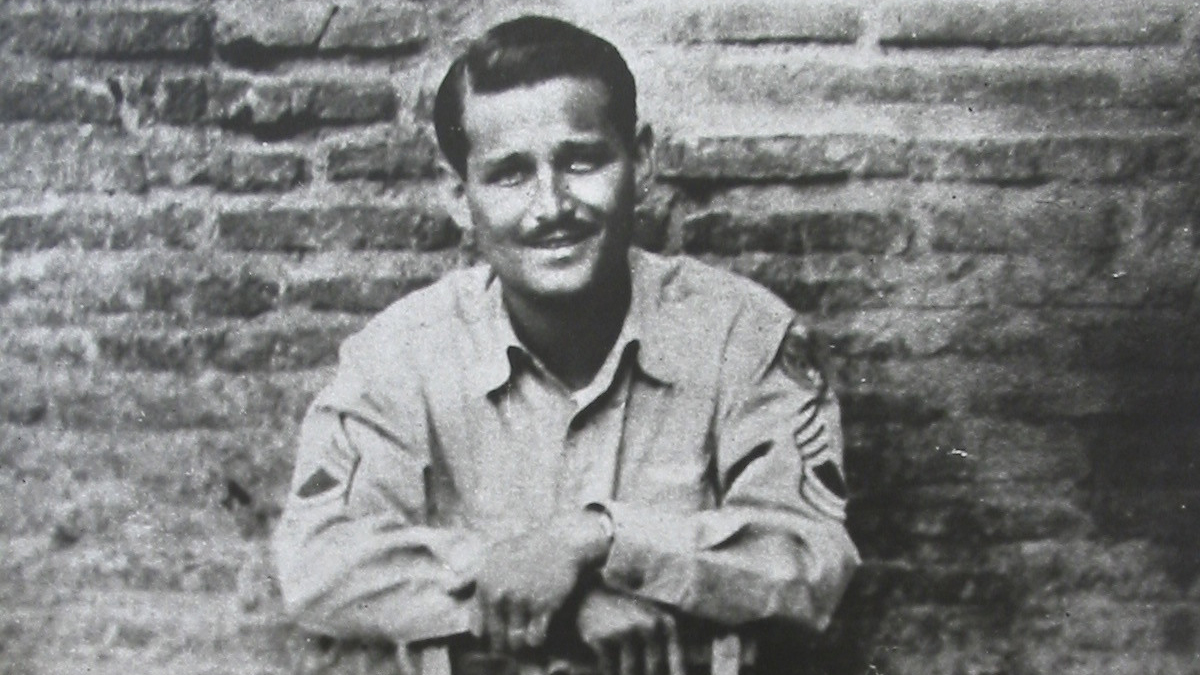 Norman Lear in uniform (Courtesy of Norman Lear)
Here's a look at 10 things you might not know about Norman Lear:
1. He was born Norman Milton Lear on July 27, 1922 in New Haven, Connecticut to Herman and Jeanette Lear.
2. When Lear was 9 years old, his father served a three-year prison sentence for fraud from 1931-'34.
3. In 1942, Lear dropped out of Emerson College in Boston to join the United States Army Air Force during World War II. Serving as a radio operator and a gunner, Lear flew 52 missions over Europe during the war and earned the Air Medal with four Oak Leaf Clusters.
4. After leaving the Army in 1945, Lear worked in public relations for four years before moving to Los Angeles in 1950 to launch his career as a comedy writer.
5. Former President Richard Nixon included Lear in his second "Enemies List" in 1972. Lear would shake hands with the next seven United States presidents.
6. Lear appeared as a guest host for "Saturday Night Live" on Sept. 25, 1976, with musical guest Boz Scaggs.
7. In 1984, Lear was one of the first seven inductees into the Television Academy's Hall of Fame.
8. Lear kick-started "All in the Family" actor Rob Reiner's film directing career by financing the films "This is Spinal Tap" (1984) and "The Princess Bride" (1987).
9. In 2003, Lear worked as a writer for Comedy Central's animated series "South Park" during part of its seventh season in 2003.
10. After being a part of more than 100 TV shows and over 20 movies, "Even This I Get to Experience" is Lear's first book.