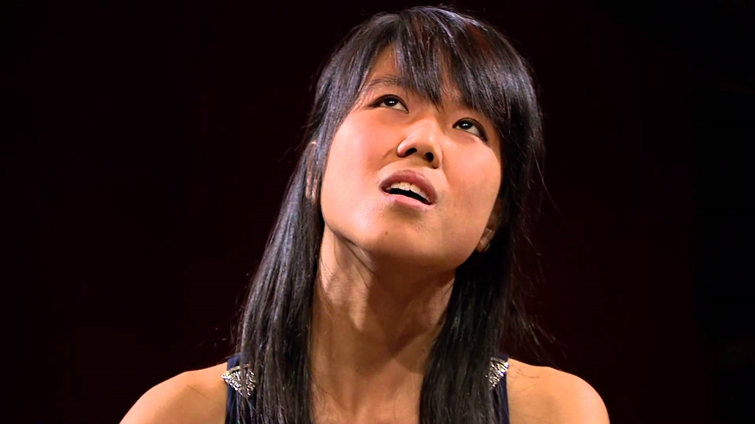 Kate Liu at the 17th International Chopin Piano Competition in Warsaw, Poland, 2015.
More than a few people saw it coming years ago.
When Winnetka native Kate Liu was still a pre-adolescent she already was showing rare abilities as a classical pianist. At age 10 she began studies at the Music Institute of Chicago (MIC) and four years later she was showcased on WFMT radio on the program "Introductions" for young up-and-coming musicians.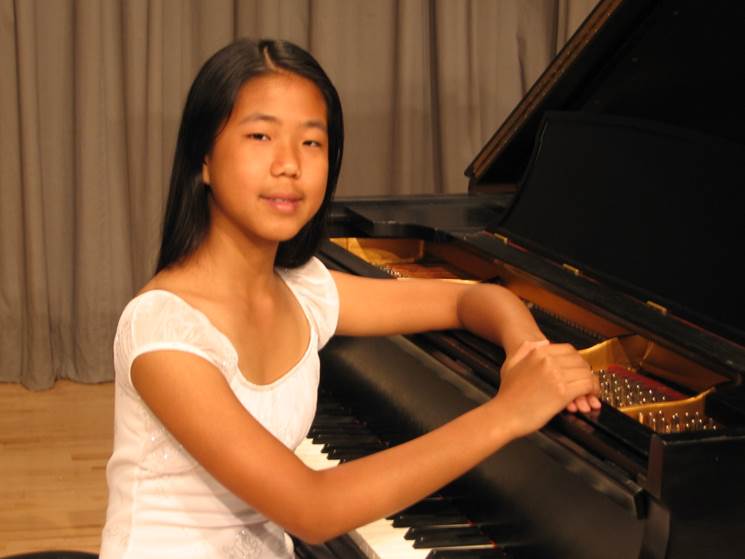 Kate Liu at age 14 on WFMT's "Introductions" program in 2008.
Among Liu's teachers at the MIC was the noted pianist Alan Chow who is also on the piano faculty at Northwestern University. On the MIC website Chow says: "Kate is an absolute joy to know and to teach. What sets her apart from other pianists of her generation are perhaps two things: first, her intensely personal desire to know more, to search for meaning and answers in her music – she is always thinking and is never easily satisfied. Secondly, it's her ability to express and communicate her emotions fully and completely in performance – she's 'in the moment' on stage. And when she performs, it's completely honest – no affectations of any kind. I think this combination of qualities is quite rare in someone her age. She is clearly on the verge of a wonderful performing career!" 
That performing career was catapulted to a world-class level this year when Liu was among the 160 young pianists out of 450 entrants selected to take part in the 17th Chopin International Competition. Held only every five years, this year's edition was open to pianists born between 1985 and 1999 and the competition is among the most prestigious and challenging contests in all of classical music. To make it to Warsaw to perform for some of the most discerning judges in the world is a major accomplishment in itself but to be among the smaller number of pianists who make it to subsequent rounds is a sign of enormous talent. Liu not only was among the 43 competitors who proceeded to Round 2 of the competition but she did well enough to make the top 20 in Round 3. And then came word that she had advanced to the final round of 10 pianists.  
Early Wednesday morning, after hours of deliberation and tense anticipation, the 16-member jury announced its decision: Top prize went to 21-year-old Seong-Jin Cho of South Korea who won the gold medal, a cash prize of $33,600 and a recording contract with the renowned Deutsche Grammophon label. The silver medal and a $28,000 prize was awarded to 26-year-old Charles Richard-Hamelin of Canada; and the bronze medalist and recipient of a nearly $23,000 cash prize was Winnetka's own Liu, now 21 years old, who also won the 5000€ Polish Radio Prize in a separate category of best performance of mazurkas.
Here is Liu's final round, prize-winning performance of Chopin's Piano Concerto #1 in E minor Op. 11 with the Warsaw Philharmonic Orchestra, Jacek Kaspszyk conducting.
---
In 2008, Liu visited "Chicago Tonight" in advance of a performance with world-renowned pianist Lang Lang. Watch her discussion with Phil Ponce below and enjoy a live performance of then 14-year-old Liu.
---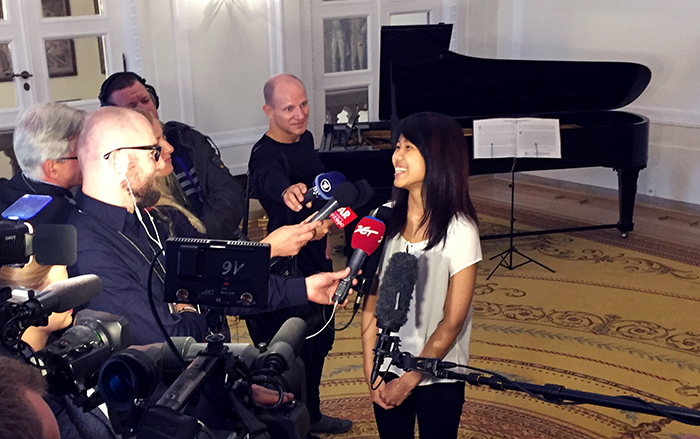 More from our sister station WFMT: Chicago Native an Audience Favorite at Chopin Competition