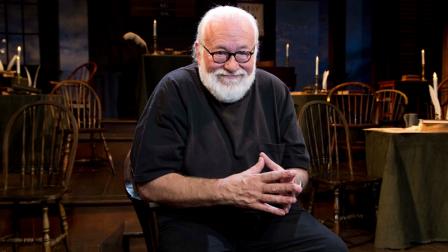 Frank Galati (Photo by Juan Davila)
Over 25 years ago, Steppenwolf ensemble member Frank Galati adapted and directed "Grapes of Wrath" – John Steinbeck's classic novel about a family of destitute Dust Bowl tenant farmers. His Steppenwolf production went on to Broadway, ultimately winning two Tony Awards. Now Galati's back in Steinbeck-land again – this time with an adaptation of "East of Eden," often described as the writer's most ambitious novel. The book's been incarnated as a film starring James Dean, and was known by many others as the book that re-launched Oprah's Book Club, but – until now – had yet to find a place on the American stage.
We sat down with Galati to talk about his return to Steinbeck. Join us Monday on "Chicago Tonight" for an interview with Steppenwolf co-founder Terry Kinney, who is directing "East of Eden" and Steppenwolf artistic producer Jonathan Berry.
Chicago Tonight: Your 1988 adaptation of "Grapes of Wrath" ultimately became the official dramatic version for the novel. The idea to have you adapt "East of Eden" actually came from the Steinbeck estate, is that right? With the thought that, if you were the one adapting, they might consider that same status for "East of Eden" as well.
Frank Galati: We have long considered doing "East of Eden," but when I was first approached about it a few years ago, I put it off. I didn't know how to do it. I thought it was so epic and so huge and so heavily populated with characters. But it persisted. There were several ensemble members who remained very passionate about the book, and it turned out that the Steinbeck estate two or three years ago called Martha Lavey and said, look, there's another writer that's very interested in doing a stage adaptation, but it was someone I think they didn't know very well and were nervous about. And they said, look, if Steppenwolf will guarantee a first class production and if Galati will do the adaptation, we'll give you the rights. And I thought, well, that's fantastic. And I don't know how to do it, but I'm gonna give it a try.
CT: I mean, why not, right?
FG: Yeah. So, a couple of summers ago I started working on it and had numerous false starts, but that was true of "Grapes of Wrath" as well. Then I began to realize where the story was that we should tell on stage. It's sort of like archaeology or excavation – you have to find the play that's hiding inside the novel.
Click through a slideshow of production photos from Steppenwolf's "East of Eden." (Photos by Michael Brosilow)

CT: What challenges have you faced with the adaptation? Were they the same challenges posed by "Grapes of Wrath"?
FG: It's a smaller cast of characters by far than "Grapes of Wrath" and it is a much more introspective and personal drama. If "Grapes of Wrath" was epic, and I think it was, then "East of Eden" is mythic. Of course, during this rehearsal process, we've made lots and lots of adjustments. One of the biggest challenges is time, the audience's sense of felt time. The story we're telling spans 18 years – from 1900 to 1918 – and that means time is collapsed, it's compressed, it's sometimes elongated. Time is manipulated by the narrative and that is one of the great challenges of doing a piece like this.
CT: What keeps drawing you back to Steinbeck?
FG: His passion for the disenfranchised, his deep social consciousness. His empathy with the working class, with the farmers and immigrant workers. He was a deeply, deeply compassionate man and his stories are a cry for understanding and help. ["East of Eden"] is really his story. He's being very personal, confessional, introspective. He's writing the novel, he starts in January of 1951 and he worked on it for 11 months until November, working every day, writing in longhand in pencil. This amazing outpouring of narrative, character, drama, incident is all stirred in a dramatic structure that is actually based on the template of the Book of Genesis.        
CT: You've been an ensemble member at Steppenwolf since 1985. Most recently you directed Rory Kinnear's "The Herd," starring John Mahoney and Lois Smith. Where do you see the company headed under the guidance of Anna Shapiro, who just officially took over for Steppenwolf longtime artistic director Martha Lavey?
FG: Anna is a brilliant, brilliant leader. Perfect choice to take the baton and continue the tradition of courageous work that we do at Steppenwolf. Martha was a brilliant artistic director and she brought the ensemble into the 21st century. She increased the size of the composition of the ensemble, her programming was extraordinary. And Anna Shapiro was her first choice for artistic director. And everyone was unanimously in favor of the idea. There's a tremendous amount of excitement in the company about the future and Anna's ideas and the way the ensemble will continue to interact and have a creative life.
"East of Eden" is currently in previews and opens at Steppenwolf Sept. 29. Performances continue through Nov. 15.