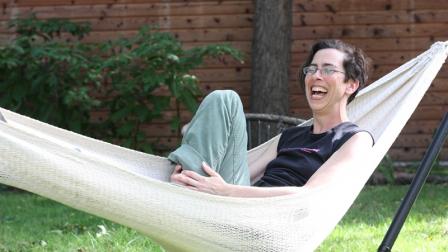 Anne Elizabeth Moore hanging out in her hammock in Beverly. (Photo by Chloe Riley)
As the former co-editor of the now defunct Punk Planet – which she ran with Rahm Emanuel Twitter impersonator Dan Sinker for some 13 years – Chicago-based author-slash-general badass Anne Elizabeth Moore has more than a few words on the state of the city's publishing scene.  
"All alternative media's in a bad way. What we've seen is that independent print publishing doesn't have the same national impact as it did when Punk Planet was around. So a lot of things have shifted in a pretty big way."
I'm sitting with Moore in the backyard of her new residence in Beverly – that far South Side Chicago neighborhood that feels more like a west suburb in disguise. Or, as Moore calls it – "basically upstate New York." The 45-year-old has authored the award-winning books "Cambodian Grrrl" (Cantankerous Titles, 2011) and "Unmarketable" (The New Press, 2007) and has given lectures around the world on media, globalization and women's issues.
She now shares her Beverly house with artist Shay DeGrandis – producer for Mortified Chicago – Moore's two cats, Thurber and All Girl Metal Band, and DeGrandis's 14-year-old blind dog Pork Chop, who gently bumps into the outdoor furniture as we talk.
Before we get into lamenting the state of Chicago publishing, we talk about what we've come to talk about – Moore's new book, "Threadbare: Clothes, Sex and Trafficking" – a collaboratory comics series illustrated by members of the Ladydrawers Collective, using Moore's reporting from her time spent in Cambodian sweatshops and traditional Austrian clothing workshops. The book, which comes out in May, is a combination of new work combined with previous strips, some of which were previously posted on Truthout, a monthly comic series from Ladydrawers.
Above: Click to read a Ladydrawers comic about fashion and sex-trafficking.
Moore, who wears a black shirt that reads "F*ck fast fashion," sips sparkling water as she talks about the connections she makes in the book between the global garment industry and sex trafficking.  
"It leads to this ridiculous realization that the way human trafficking is being talked about and legislated all around the world in many ways exclusively benefits the garment industry by forcing those women back into garment labor. We really have to think about that. We really have to think about – is it okay that we're running around other countries arresting women who are selling sex because it's the only way for them to make enough money to survive because the garment industry doesn't pay them?"
We're both sitting near a hammock that Moore bought in Nicaragua in 1994 and which she swears played a crucial role in her recovery after contracting cholera. After being diagnosed with autoimmune disease over a year ago, Moore – who's explored the disease via recent Ladydrawers strips – says it's been fitting to have the hammock back in her life.
Above: Click to read a Ladydrawers comic on autoimmune disease.
Since Punk Planet's demise in 2007, Moore points to CAKE (the Chicago Alternative Comics Expo) and Chicago Zine Fest as examples of groups that picked up the slack on subculture coverage in the city. But she says there's still a large hole in that coverage, and it's been hard for smaller publications to hang on in the city. She points to constant revival and demise of Chicagoan Magazine and the city's loss of The Baffler – a Hyde Park-based art and criticism mag which switched its operations to Cambridge, Mass. in 2010.  
Throw in a mayor – Rahm Emanuel – with a penchant for privatization and you have a recipe for a press that's more festering than free, Moore says.
"We have a couple different things going on right now that are kind of a mess. A lot of decisions coming out of the mayor's office are about privatizing and so these spaces for public gathering, sort of as a metaphor, mean people aren't necessarily getting together and talking about ways of making sure there's an intellectual and social safety net in the city. What is working in Chicago is the activist support structure and a lot of the stuff coming out of Chicago Task Force on Violence Against Girls and Young Women, Project NIA, all of the Black Lives Matter protests. Clearly, totally different goals than having a thriving cultural publishing and/or creative community. But it's something for sure. And it's very much in line with Chicago's history and it's a key part of continuing to make the city work."
Moore's book "Threadbare" comes out in May. If you'd like to catch her before that, she'll be performing Wednesday night via queer dance collective Chances Dances at UIC's Gallery 400, 400 S. Peoria St. at 6 p.m. She'll also do a live reading for Chirp Radio – along with Chicago artist Tony Fitzpatrick – on Oct. 14 at Martyrs', 3855 N. Lincoln Ave.