Class is in session for what could be a hectic year at Chicago Public Schools, which may face layoffs in the middle of the school year if state lawmakers don't come through with $480 million. On top of that, district officials are negotiating a new contract with the Chicago Teachers Union.
"Not a lot of progress going on right now at the table. Contract negotiations don't like uncertainty, and there's a tremendous amount of uncertainty about the whole school year," said Chicago Teachers Union Vice President Jesse Sharkey.
More highlights from our discussion with Sharkey on negotiations and the likelihood of a strike are below.
What's at stake
"We think there could be 5,000-7,000 layoffs and steep cuts in teacher pay and just an evisceration of a lot of programs unless there's help from Springfield. And any time you're banking on Springfield for help, you know you're in trouble." 
Impact of CPS CEO Claypool on bargaining
"Well, not in a good way, I'll say" Sharkey said of CPS CEO Forrest Claypool's impact on contract negotiations. "The issue is that over the course of the summer we thought that we were close to getting a one-year deal which would've allowed for a pay freeze in exchange for which teachers wanted some assurances that some of the qualities of school we really care about weren't going to be cut, weren't going to be slashed."
"And we were looking for things that didn't cost money as well that we could have some assurances that we could have some control over what would happen in our classrooms, grading policies, we wanted reductions in standardized testing. We wanted some assurances there weren't going to be deep layoffs, and within a couple days of Forrest coming in that one-year proposal was taken off the table and removed. And we're back at the drawing board with a proposal that would call for a 7 percent cut in teacher's compensation."
Likelihood of a teachers strike
"What we were asking members to do was go out to their schools and hold meetings and have a discussion and then take the question in the meeting: if the board insists on a 7 percent cut, if the board insists on these cuts and attacks on schools, would you be willing to strike?" he said. "And the answer came back overwhelmingly yes."
Note: Discussion highlights have been condensed.
---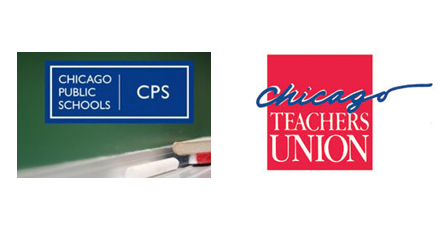 Contract talks between CPS and the CTU have been ongoing for months, and the last contract expired on June 30.
In August, the two parties agreed to bring in a mediator to help reach a new contract. During the most recent negotiation, in 2012, talks failed and CTU President Karen Lewis led members on an eight-day strike.
With the S-word floating around again, we asked the CTU to explain the steps that lead up to a teachers strike. 
Mediation
The union and district are currently in mediation. 
"The law stipulates that mediation should go on for a reasonable period but doesn't specify how long," said CTU staff coordinator Jackson Potter. "The last time [in 2012] this was a two-month period of mediation."
Fact finding
If an agreement cannot be made during mediation, the parties will go into a period of fact finding. During this phase, a third-party mediator or arbitrator that's selected by both parties will "analyze proposals, counter-proposals, evidence submitted by either side and help the two parties come to a compromise," Potter said.
If a compromise has not been reached within 75 days, the third-party mediator has a maximum of 15 days to submit a report which includes recommendations. If either CTU or CPS refuses the recommendations, those suggestions are rejected.
Cooling-off period
Both parties then enter a 30-day "cooling-off period." As early as 20 days into this phase, the union can issue a 10-day strike notice.
While a vote to authorize a strike can occur at any time, a strike cannot occur until the culmination of the 30-day cooling-off period.
At least 75 percent of union members have to vote in favor of a strike. Once that has occurred, the House of Delegates, the CTU's representative body, "would be charged with picking a day [to strike] and that wouldn't happen till after all of the legal hoops," Potter said.