Comic actors George Wendt and Tim Kazurinsky appear together in Bruce Graham's new play Funnyman, about a fading vaudeville star and his long-suffering agent. The show opens this week at Northlight Theatre in Skokie.
Wendt and Kazurinsky also recall their days in the cast at Second City in the 1970s and fact-check a couple of Internet rumors about their long careers.
---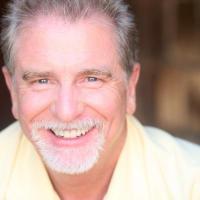 BJ Jones, director of "Funnyman" and artistic director at Northlight Theatre Funnyman, a new play about second acts and show business, gets its world premiere at Northlight Theatre in Skokie this month. The story, set in New York City in 1959, stars George Wendt as fading actor Chick Sherman, and Tim Kazurinsky as his agent Milt "Junior" Karp. When Karp tries to revive Sherman's career with a role in an avant-garde play in an off-Broadway theater, a bevy of struggles arise, including the strained relationship between Sherman and his adult daughter, played by Amanda Drinkall. 
We talked about the play – and what it's like working with Wendt and Kazurinsky -- with Funnyman director BJ Jones, who is in his 17th season as artistic director of Northlight Theatre.
How does working with big names in a production impact the play? 
The thing is when I read the play, I realized that George [Wendt] is uniquely qualified to play this role because George can walk down the street and people will say, "Hey, Norm!" -- his character from Cheers. [In the play], people say to Chick Sherman, "Wowza," which is his trademark epitaph, and George is uniquely qualified to play a role whose professional experiences [are] almost identical to his own. Chick Sherman started in vaudeville and burlesque and went to big-time Broadway shows; George went from Second City to a famous TV show that ran for 10 years playing the iconic character Norm. … to this day he does appearances in which people call him Norm, so he has a deep resonance with the character that's hard to find in other actors…. So the minute I read it, I said, "Oh my God, this is George."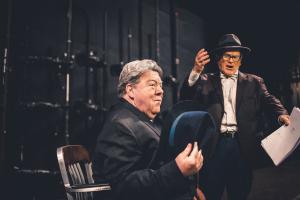 George Wendt and Tim Kazurinsky in Northlight Theatre's "Funnyman." (Joe Mazza / joe mazza -- brave lux inc.) Did you have the same reaction in terms of casting Tim Kazurinsky as Milt "Junior" Karp?
Yes, because he's incredible and George and Tim are very close. He's supportive and encouraging and finally is the guy who has to confront and tell the truth to his closest friend, which is very hard to do.
What's the best thing about working with Wendt and Kazurinsky? 
We all grew up in the Chicago theater community, so we all understand –and performers outside of Chicago don't quite understand—"yes, and …" [an improv teaching philosophy]. It all stems from the process of improvisation and all dates back to the Compass Players, and I would argue that almost every major theater in this city has a direct lineage back to those days.
You've directed multiple world premieres at Northlight, what's different or unique about this one?
[Funnyman playwright Bruce Graham] understands me and we trust each other and respect each other enormously. White Guy on the Bus last year was nominated for new best work for a Jeff award. Northlight has done a lot of world premieres—we did two last year and we're doing two this year.
I think what's special is I've worked with Tim Kazurinsky and George Wendt since 1979. This really speaks to a long-term artistic collaboration. Drawing on the collaboration of the three artists and myself, and Northlight as an institution, we've had tremendous success. I think there's huge value in working with people you trust and understand. We speak the same language, and to me, that's what's special.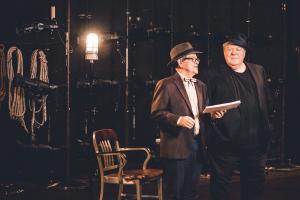 Tim Kazurinsky and George Wendt perform in Northlight Theatre's "Funnyman." (Joe Mazza / joe mazza -- brave lux inc.) In addition to directing, you've acted in plays. How does your acting background influence your role as director? 
I have nothing but reverence for the actor and his process, and many times when I read a play, I read it from every character's point of view. Every time I read it, I look at it through the arch of each character and see how those threads are interwoven into a strong fiber of the play.
What do you hope the audience takes away from Funnyman?
I hope they are energized by the opportunity to catch their second wind, to understand life is longer now. Reenergize your life periodically. Try something new, do that which is fearful to you. Embrace the fear and let it empower you, no matter what the outcome. The effort is the triumph.
What else can you tell us about the production?
We're having such a good time rehearsing. Like old friends, we have the stories that everyone tells -- that sense of camaraderie -- and it really fuels the creative process.
That's really the joy of the process: everyone getting together and appreciating, admiring and encouraging each other's work. That's what's great about doing new work. We're all vulnerable. We're all taking risks. We don't know what the outcome will be. 
I was worried that audiences would not accept White Guy on the Bus but they did the opposite. They were talking about it for weeks after and I'm still getting phone calls about it. Our audience was really challenged and jazzed. 
Oddly enough, we aren't recognized to the extent that we should be by the amount of new work we do. Of our Top 10 shows in history, three have been world premieres that I directed and commissioned. That's highly unusual.
Interview has been condensed and edited.