I have wondered about the old Goldblatt's Building on 47th and Ashland. I remember it was open for business when I was a child in the 1990s. I've also noticed that it looks similar to the building right across the street. There is currently renovation work starting on the beautiful building. And it houses a furniture store chain. It would be great to know more about this building's history and future. – Julio Lopez, Back of the Yards
Many Chicagoans have fond memories of days spent shopping at their local Goldblatt's, a chain of discount department stores that anchored many of Chicago's "bright lights" neighborhood shopping districts, including the Goldblatt's at 4700 S. Ashland in the Back of the Yards neighborhood. Officially known as the Oppenheimer-Goldblatts Brothers Department Store Building, it was designated a Chicago landmark in March 2013 and since then has undergone restoration and renovation work. As our viewer notes and as you'll see in the video clip below, the ground floor is currently leased to Famsa Furniture; the remainder of the building is being redeveloped into a senior living facility.
Back of the Yards was home to many immigrant German, Irish, and later Eastern European stockyards workers. To cater to these workers, Julius Oppenheimer and Simeon Lederer built the Oppenheimer Department Store at 47th and Ashland in 1894. Twenty years later, it burned down and was replaced in 1915 with an elegant building designed by architect Alfred Alschuler featuring a white glazed terra-cotta façade, cast-iron structural frame and large display windows. Oppenheimer sold the building in 1926 to a New York retailer which then sold to brothers Maurice and Nathan Goldblatt in 1928.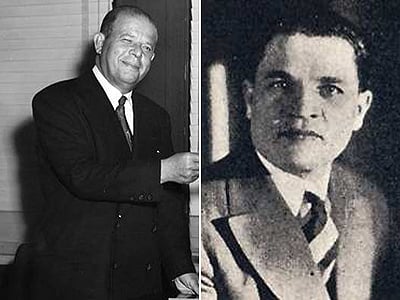 Maurice, left, and Nathan Goldblatt
The Polish immigrant Goldblatts had started the Goldblatt Bros. Dry Goods Store in 1914 with the intention of selling low-priced household goods to working-class families. Their first location was at 1615 W. Chicago Ave. and by 1928 had grown enough to add a store in the Oppenheimer building, where the business flourished. They added on in 1929, again engaging Alfred Alschuler to expand the building west to Marshfield, and once more in 1933, adding floors to a portion of the building.
In 1930, Goldblatt's proclaimed itself "America's Fastest Growing Department Chain" and its discount merchandise made it a big success during the Depression. In 1936, when other businesses were contracting, Goldblatt's opened yet another location at 333 S. State St. According to the Chicago Historic Landmark Designation Report, after WWII, Goldblatt's expanded even more to become the largest department store in Chicago and the third largest in America – at its peak in the '70s, there were 47 Goldblatt's locations across four states.
Goldblatt's success was based on the notion that everyone wanted and needed to buy household goods, even families with little disposable income. Goldblatt's kept their prices low and their stores open from 7:00 am to 9:00 pm, allowing people to shop before or after work. They also sent circulars promoting sales directly to community residents as well as advertising in the newspaper.
Historic Goldblatt's building in Back of the Yards Their array of goods for sale was incredibly wide – one advertisement for the Back of the Yards location offered just about everything customers could want: ham, ironing boards, roller skates, even live canaries! Perhaps the most lasting of their retail innovations was eliminating sales clerks behind counters and instead piling merchandise out onto tables so customers could see and handle the merchandise. This made for a more cluttered display than the neat-as-a-pin downtown stores, but in the words of one of the Goldblatt brothers, "Goldblatt's was a beehive of excitement and fun; it was not intended to be fancy or even comfortable."
The formula worked for many decades, but eventually the retail world caught up with the Goldblatts, and they faced competition from other discount chains like K-Mart. In 1981 Goldblatt's declared bankruptcy, and a few years later, the Goldblatt's chain was purchased by another discount retailer, Ames. When Ames folded in 2002, the Ashland location was revived as a Goldblatt's Bros. Department Store briefly by a Goldblatt descendent, but that location also succumbed to competition, and it closed for good in 2003.
I seem to recall seeing, when I was younger in the '60s, perhaps, a photo showing a Nazi rally at Soldier Field in the later 1930s. But I cannot seem to find anything about this event now. It would have been pre-WW2, of course, when there were Nazi bunds active on the North Side. – Doug Deuchler, Oak Park
A swastika flag did fly at Soldier Field in the 1930s, but it wasn't at a Nazi rally – it was at a German Day rally. We spoke with Liam Ford, author of Soldier Field: A Stadium and Its City. Ford confirms that a German flag emblazoned with a swastika was raised alongside the American flag to open a 1936 German Day rally. (Unfortunately, we were unable to turn up the photo our viewer recalls.)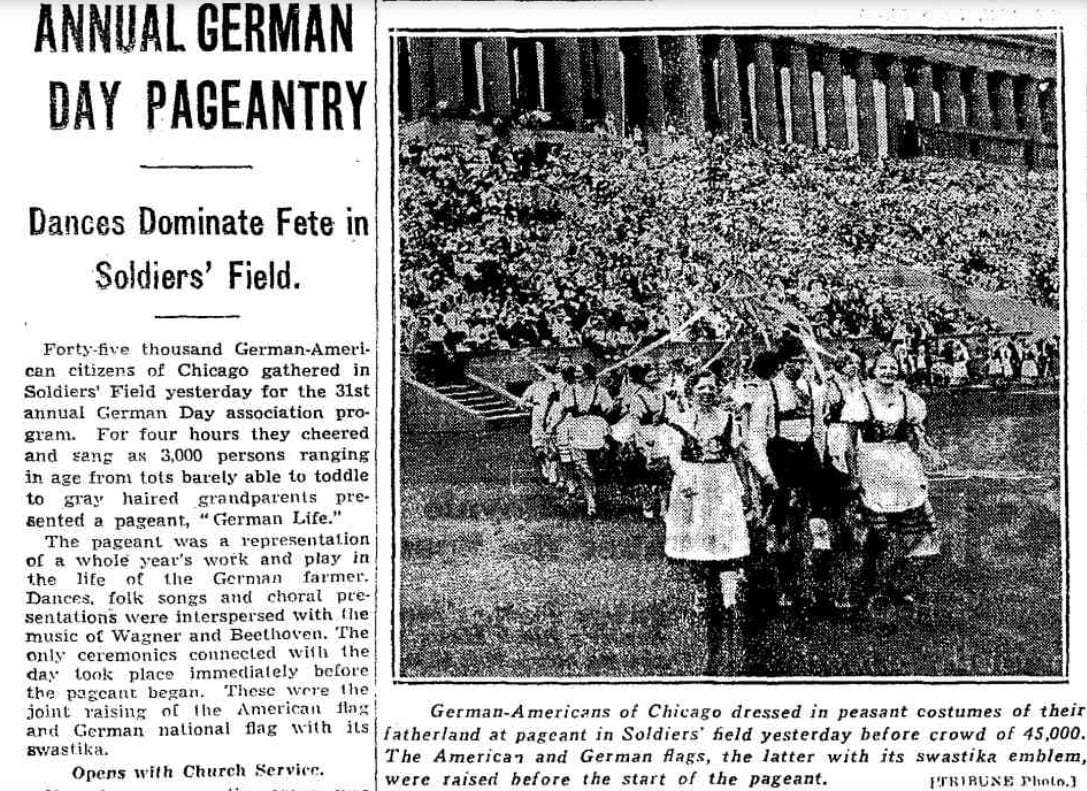 German Day featured in the Chicago Tribune During the late 19th century, Chicago became home to many German immigrants, who enthusiastically sought to preserve the culture of the old country in Chicago. One way Germans celebrated their heritage was the German Day festivities at Soldier Field. The first such festival at Soldier Field was held in 1925 and included traditional German music, dancing, athletic contests, and even a 21-gun salute to the American flag to show unity post-World War I. The popular annual event routinely drew more than 40,000 attendees, but organizers began to face controversy as the Nazi Party rose to power in Germany.
In 1936, Jewish groups protested the Park District's decision to issue a permit for German Day festivities when it was revealed that swastika flags would be on display. According to a Chicago Tribune article, the Chicago Park District president Robert J. Dunham ultimately allowed the swastika flag to be flown as a "courtesy to representatives of the German government" who were in attendance. However, Nazi propaganda or anti-Jewish speeches were strictly forbidden.
The following year, rising tensions in Europe led festival organizers to emphasize German immigrant history in Chicago over remembrances of the old country. It was last German Day festival at Soldier Field.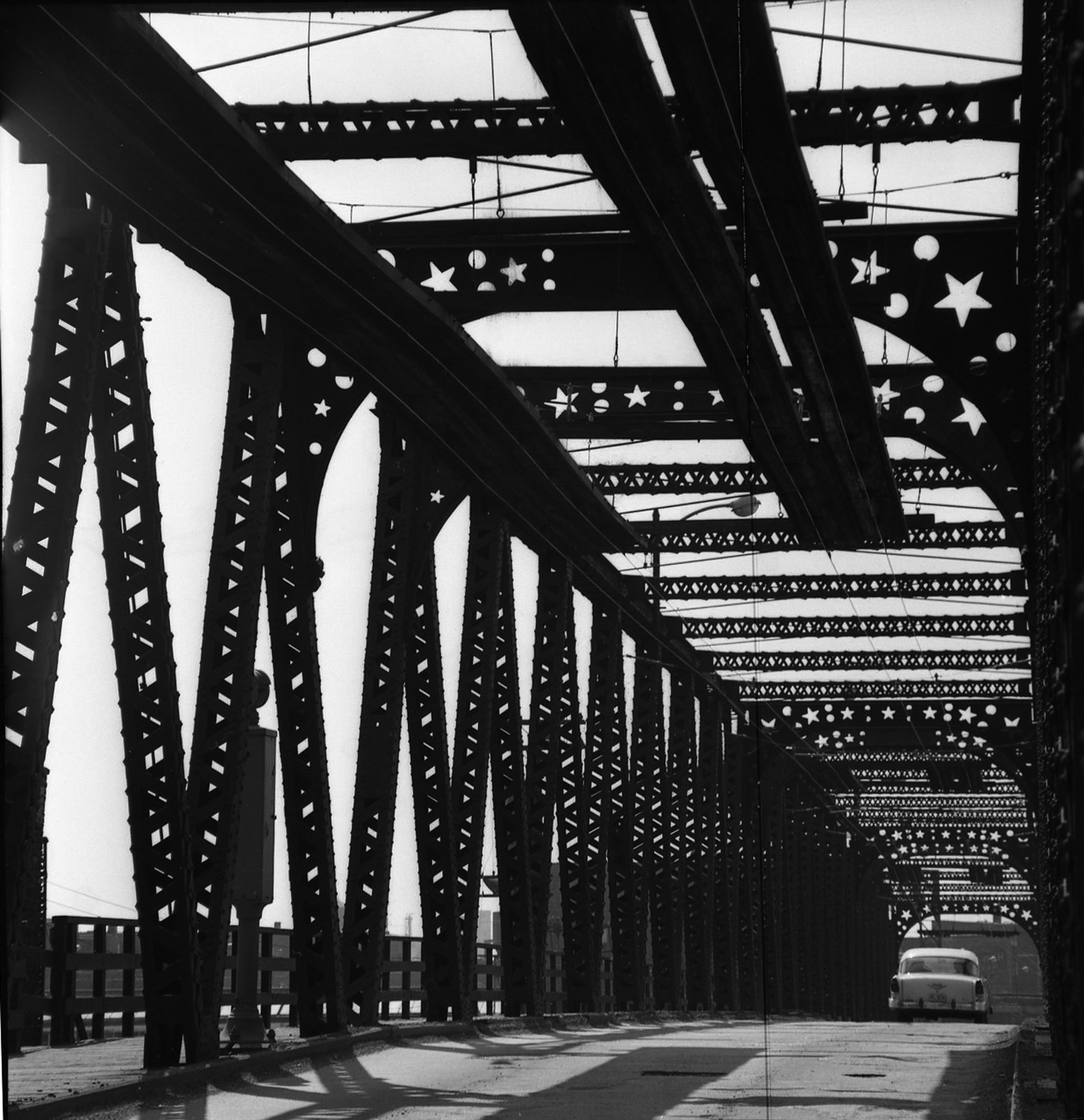 (Click the image for a larger view)
Sometime in the '60s, I took photos of a bridge near Chicago and Halsted that had stars stamped out of the metal support structure. Can you give any information on its history? – Tom Palazzolo, Oak Park
At left, Tom's 1960s photo of the bridge structure.
Pretty memorable! But it wasn't near Chicago and Halsted – it was about half a mile south at Grand Avenue and the river. And this star-spangled structure was actually an approach viaduct leading to the eastern end of the Grand Avenue bridge to carry traffic over railroad tracks running along the river.
According to local bridge historian and author Patrick McBriarty, viaducts are a type of bridge that carries traffic over another transportation way – for instance, Chicagoans are very familiar with the viaducts that carry railroad traffic over surface streets.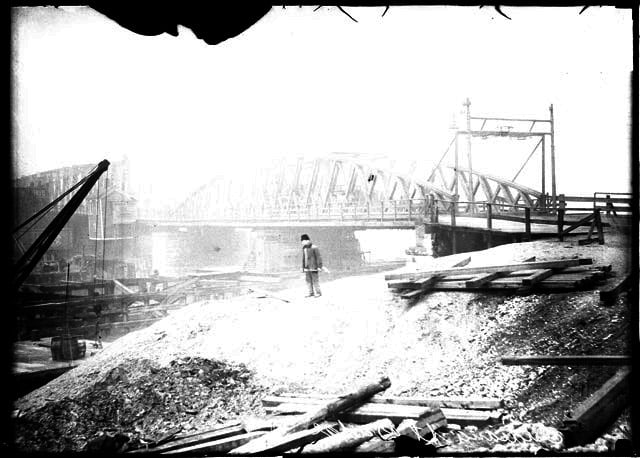 Indiana Street swing bridge, 1909 The Grand Avenue bascule bridge (a type of drawbridge) was completed in 1913 and was briefly known as the Indiana Street bridge before the 1913 city ordinances that changed about 500 street names throughout Chicago took effect, changing Indiana Street to Grand Avenue. According to the Historic Bridges website, the starry approach viaduct was noticeably narrower than the Grand Avenue bridge because it was originally built to lead to a swing bridge built in 1869 that the bascule bridge replaced – you can see the approach viaduct in this 1909 photo of the Indiana Street swing bridge. The viaduct was demolished and replaced with a new viaduct in 1975. The century-old Grand Avenue bridge was rehabilitated by the Chicago Department of Transportation in 2013.