Next month, Chicago will host the 11th annual Great Lakes Restoration Conference. The gathering, known as Great Lakes Week, is expected to attract some 700 government, industry, and environmental activists.
Among the topics on the agenda: Toxic algae blooms, an issue that could impact drinking water and the multimillion dollar economies dependent on the Great Lakes. It was just one year ago that algae blooms in Lake Erie contaminated water for hundreds of thousands of Michigan and Ohio residents.
Christy McDonald of our sister station, Detroit Public TV, reports. Below, a summary of the video's findings.
---
Algae blooms: Looking back, ahead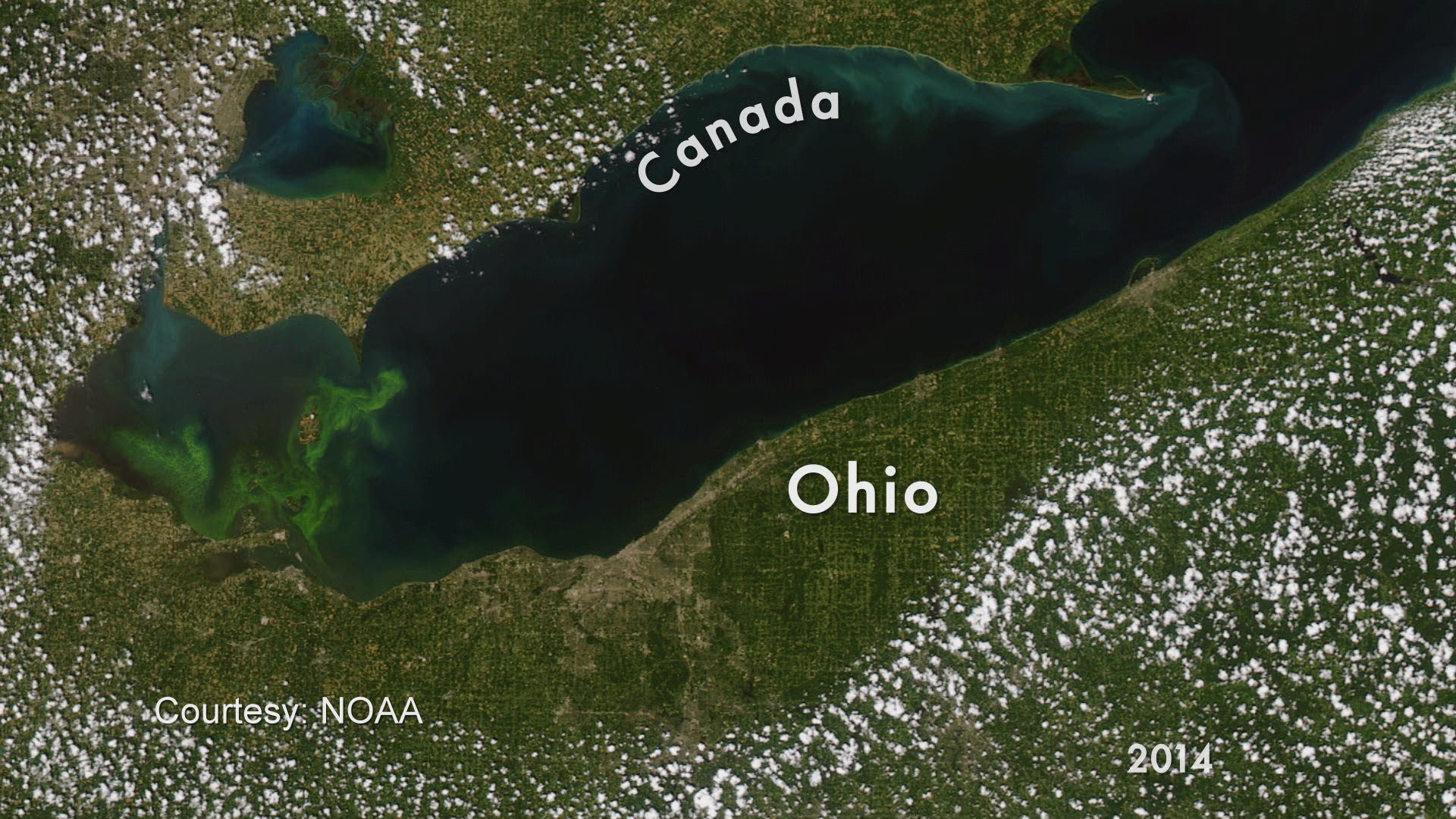 In 2014, a bloom of toxic algae covered the southern shores of Lake Erie and left approximately 400,000 people in Ohio and southern Michigan without drinking water for three days. The bloom also made an international impact on the Canadian side of Lake Erie's Pelee Island, whose 300 residents were left without drinking water for almost two weeks after the bloom shut down the island's water supply.
According to Tim Davis, an ecologist at the NOAA-Great Lakes Environmental Research Laboratory, the organism in the Great Lakes that dominates the algae blooms is Microcystis, which produces the toxin Microcystin and was the cause of the water shutdowns last year.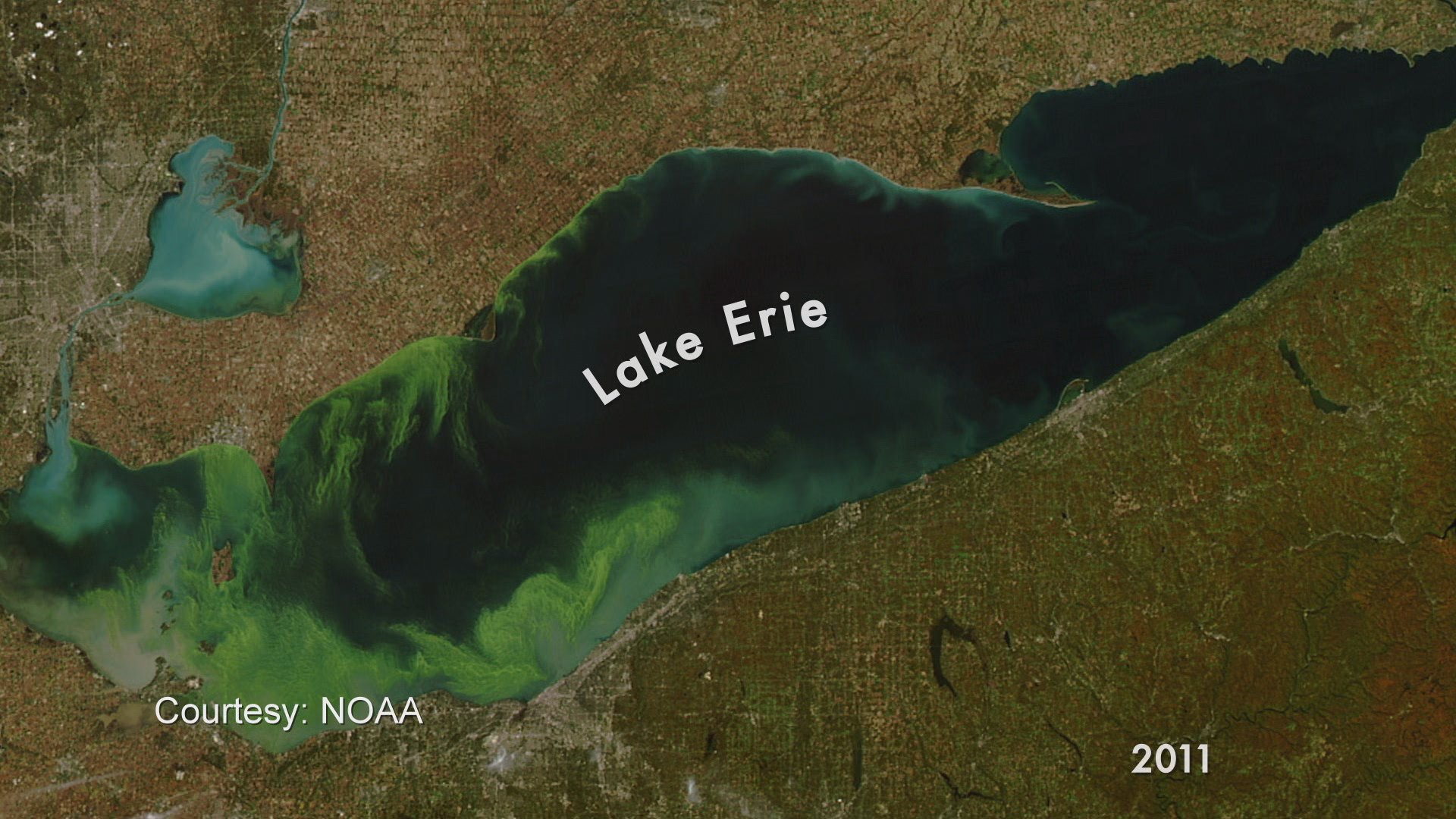 The largest bloom of algae in Lake Erie occurred in 2011, when 2,000 square miles were covered with slime. According to Jeffrey Reutter, the director of Ohio State University's Stone Laboratory who has been researching the lake for 40 years, the 2011 algae bloom was two-and-a-half times worse than any outbreak in the past.
"I had never seen a bloom that when you hit it with a boat it actually slowed you down. It was that dense," Reutter said.
Although algae blooms have historically been a common nuisance in Lake Erie, most notably when the lake was heavily polluted during the 1960s and 1970s, agriculture has been identified as a new cause of the blooms. Phosphorus, when mixed with warming weather conditions, is a key ingredient to forming algae blooms and is contained in chemical fertilizers that are sprayed onto farm fields. The fertilizers that are unabsorbed by the soil get washed from the fields by heavy spring rains into streams, down rivers and out to the lake.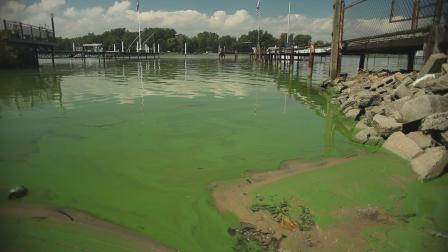 Due to weather conditions that helped wind and waves push the bloom to shore, the 2014 algae bloom occurred unusually early compared to previous blooms. The 2014 blooms emptied the beaches along the lake, creating a negative economic impact on tourism and lost revenues to local businesses and the fishing industry.
"The water quality influenced my customers' perception of Lake Erie. I had to actually move out of this end of the lake and move to another area that wasn't so deeply impacted by the bloom," said Lake Erie Charter Boat Association president Paul Pacholski. "You're chasing around after fish that are farther away, harder to catch, and out of their normal patterns."
Currently, there is a possibility for an algae bloom that is just as severe or perhaps even larger than the bloom in 2011. Heavy rains this year have caused large amounts of phosphorus to pour into Lake Erie and a large bloom of algae is forming in the middle of the lake.
"As climate change continues to occur, these types of events, these harmful algae blooms, will become larger, more frequent, and potentially more toxic. We hope that there's not going to be another water crisis, but it's hard to tell at this point," Davis said.