Chicago Public Schools unveiled Monday a $5.7 billion operating budget proposal that includes laying off 1,491 employees (479 of which are teachers), raising property taxes by $19 million, and banking on $480 million in pension relief from state lawmakers.
"This budget closes a $1.1 billion structural operating deficit by relying on our leaders in Springfield to agree on a comprehensive solution," CPS CEO Forrest Claypool told reporters during a conference call, adding that if a state bailout doesn't come through, the district will have to start making cuts at the beginning of next year.
The district also proposes freeing up $255 million by restructuring its debt and deferring more of its payments into the future. Another $62 million will come from the city through special taxing districts known at tax increment financing (TIF) districts, according to district budget documents.
Chicago Tonight's Brandis Friedman walks us through the ins and outs of CPS' proposed budget and what comes next.
Below, a transcript of the conversation.
---
Phil Ponce: Hundreds of Chicago Public School teachers and staff will be entering the job market this week as the troubled school district releases its budget proposal for the coming school year.
The operating budget released today by CPS for the 2016 fiscal year is $69 million less than last year's budget. 
Brandis, how many schools will be experiencing layoffs?
Brandis Friedman: Phil, these layoffs hit 366 schools. They're a part of the $200 million in cuts the district announced earlier this summer, after Chicago Public Schools made that whopping $634 million pension payment that was due June 30th. Across district schools, 479 teachers are being cut, 204 of them high school teachers and 275 elementary.
Another 866 non-teachers who work in schools and 146 non-teachers in citywide CPS jobs are also being cut. That's a total of 1,491 people.
News also broke today that schools CEO Forrest Claypool cut nine members of his senior staff and leadership team to save a million dollars.
These layoffs come at a time when the district and Chicago Teachers Union have reached their own stalemate in contract negotiations, with CPS pulling the one-year contract offer that was being negotiated – and when a seven-percent pension pickup by the district has been a major point of contention.
CPS says this budget does account for the district continuing to pick up the seven-percent pension payment for the teachers, but it does not include a raise for teachers.
This budget also assumes $480 million in support from Springfield, somehow; as well as increased revenue from property taxes which are at their max.
The total operating budget this year is $5.7 billion.
PP: Brandis, what, if anything, is the district doing to assist the teachers who are losing their jobs?
BF: Of those teachers losing their jobs, the district says they may apply for the 1,450 teaching vacancies, and they're also invited to attend a job fair the district is holding this Friday.
The district says historically, 60 percent of the displaced have found employment within CPS schools before the new year begins. But CTU president Karen Lewis says those layoffs don't reflect the impact of the already 350 vacancies that won't be filled by CPS.
We heard from her and one of those teachers who'd been told just this morning that she'd lose her job and was given no explanation of why her position was among those being cut.
Lewis and her fellow teachers recalled schools shutting down in 1979 and teachers not getting paid.
Another concern? The drastic cuts to special education -- with 200 special ed positions that were unfilled, being eliminated entirely.
PP: Brandis, the governor weighed in on this today. What did he have to say?
BF: Governor Rauner told reporters this afternoon that he's optimistic about this budget, which as you mentioned earlier is $69 million less than last year's budget.
Rauner says he thinks this budget shows that leadership in Chicago is acknowledging the need for structural change and beginning to move in the direction of some of the reforms he's been advocating for months.
In offering the support from Springfield that CPS has been seeking, the governor says he's willing to have the state pick up $200 million a year of Chicago teacher pensions for the next two years, but in the context of other overall reforms.
This morning, the district also announced that it is rolling back the adjusted bell schedules at 34 schools, after hearing concerns from the community. (See below.)
Meanwhile, CPS is holding hearings on the proposed budget in advance of the board vote at the August 26th board meeting.
---
Bell times
CPS also announced today that bell times will be restored at 34 schools. This is in response to concerns expressed by students, families and educators. An additional 40 schools will adopt new times, while eight  have agreed to an alternative. These adjusted schedules will save the district $5 million in transportation costs, CPS says. The majority of CPS schools do not have new bell schedules. See if your school has a new bell schedule for the coming year.
Public hearings
On Tuesday, Aug. 18, public hearings on the proposed budget for fiscal year 2016 take place at three locations (listed below). For each public hearing, registration is open from 5:00-6:00 pm; hearings open from 6:00 pm-8:00 pm.
Malcolm X College Theater, 1900 W. Van Buren St.
Olive-Harvey College Gymnasium, 10001 S. Woodlawn Ave.
Schurz High School Auditorium, 3601 N. Milwaukee Ave.
---
A chart released by CPS compares state funding for teacher pensions in Chicago and outside Chicago: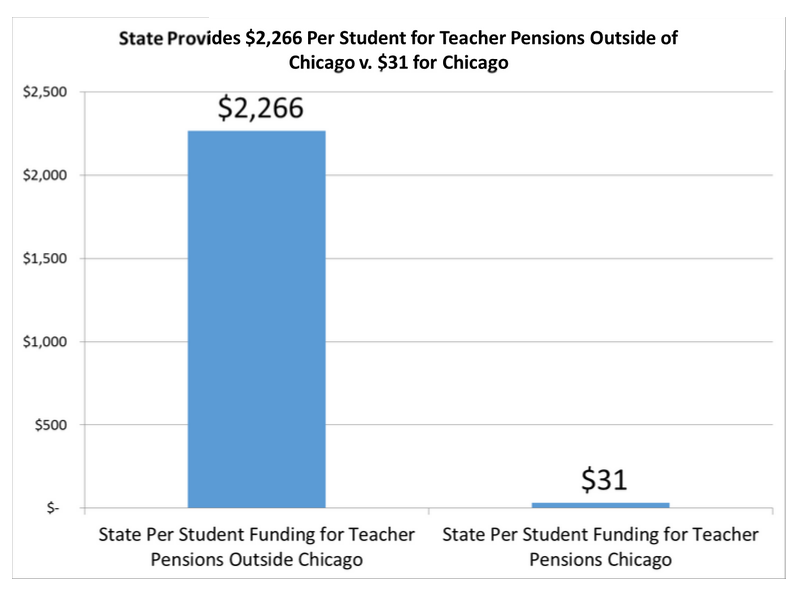 CPS chart illustrates state pension funding inequity.
Last week, new CPS CEO Forrest Claypool, and Janice Jackson, the new chief education officer for CPS, joined Chicago Tonight to discuss the district's budget and other challenges facing the nation's third-largest school district. Watch the video, below.