The American-born artist James McNeil Whistler had a profound impact on his 19th century European contemporaries. A new exhibition at the Art Institute of Chicago, Whistler and Roussel: Linked Visions, looks at Whistler's artistic vision – and his influence on a little-known French artist held in high regard by curators and collectors.
---
Upon entering the dual show on James McNeil Whistler and Theodore Roussel, visitors are invited to compare a pair of paintings – each a nighttime view of the waterfront. One was painted by the American and the other by his French protégé.
But the real focus of the exhibition is on prints and drawings, which explains the protective low light in the galleries.
Elsewhere there are nudes by the artists to compare and contrast, domestic scenes, and representations of rural and urban scenery.
"Both Whistler and Roussel and quite a number of their contemporaries shared an interest in describing the landscape that immediately surrounded them, so in the case of Whistler's oeuvre we have many examples of scenes along the Thames," explaines Victoria Sancho Lobis of the Art Institute of Chicago.
"Roussel had the same practice so there is a certain sense of topographical interest, a kind of recording of the visible world, the environment that surrounded them, but I think in both cases they did treat the subjects in very aesthetic terms as well, to correspond with their ideas about beauty," she says.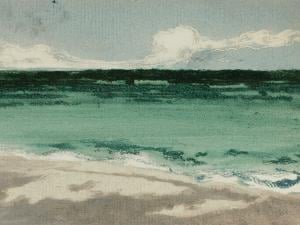 Theodore Roussel. The Sea at Bognor, 1895. The Art Institute of Chicago. Gift of Meg and Mark Hausberg. Co-curator Meg Hausberg says, "Both artists were interested in a certain kind of realism; they were interested in the local scene, and it was really through this shared interest, which basically developed independently, that they came together."
Born in Lowell, Massachusetts, James McNeil Whistler attended West Point Academy where he learned to draw and make maps. He lived all over the world and has been claimed by more than one country.
"He was born in the U.S. but lived abroad, lived in Russia as a child with his family, had some important training in Paris, also spent a number of years in Venice. He really made London his artistic home, and so for many people he's a Brit, for other people he's sort of a continental European and we continue to consider him a representative of the American school as well," says Lobis.
Whistler met the younger French artist Theodore Roussel in London in 1885, and for more than a decade they experimented with printmaking, lithography and etching.
"Whistler was one of the leading figures in what's called 'the etching revival' which was a movement in the late-19th century to revive the art of etching and to really emphasize that it was  an original form of artistic expression. Roussel shared that interest and they explored the range of graphic expression that's possible in etching using different techniques such as selective wiping, a sort of transformation of the etching plate over progressive states," Lobis explains.
Sometimes they made prints that were used on the frames around their work – so the artistry extended to, and was complemented by, the framed mount.
The Art Institute is perhaps the ideal art museum to host such an exhibition.
"The Art Institute's collection is one of the world's best collections of Whistler works on paper specifically, and this exhibition was inspired by the recent gift of Meg and Mark Hausberg of 240 works by Theodore Roussel, the contemporary and collaborator of Whistler," says Lobis.
It is a rare exhibition that has as co-curator the collector who granted the works to the museum.
We asked her why she chose the Art Institute for the gift.
"The Art Institute is known for having very strong holdings of late-19th century works in addition to Whistler, quite a few of the major French artists of the late-19th century like Rodin, Degas, etc., and it seemed like a good home for this large collection of Roussel prints because it compliments these other holdings," Hausberg tells us.
Now that those holdings have expanded, the Art Institute plans to spread the word on Theodore Roussel, someone they feel is an underappreciated artist.
"People may come to this exhibition because they already know about Whistler, and we hope that Whistler will help bring people here to see something familiar, but they'll also have a chance to discover a really special artist – Theodore Roussel – who simply hasn't had the same amount of exposure and attention that we think he deserves," explains Lobis.
"So we hope that people will come because they already know something about Whistler but will leave having fallen in love with Roussel."
The exhibition is called Whistler and Roussel: Linked Visions. It's at the Art Institute through September 27th. View a digital exhibition catalog.