Drinkers across the state may be toasting Gov. Bruce Rauner, who signed a bill into law on Wednesday allowing Illinois bars to offer happy hour drink specials, but not everyone is happy about its return. On Thursday, we'll get the latest on the bill with Rep. Sara Feigenholtz (D).
More on Illinois' history with happy hours:
The state outlawed happy hour in 1989 in an effort to curb binge drinking and drunken driving.
The original bill banning the sale of discounted drinks during a short number of hours was introduced by former state senator William F. Mahar. Citing drunken driving statistics at the time, Mahar said that the Illinois Department of Transportation's Division of Traffic Safety reported that 45 percent of all motor vehicle accidents were alcohol-related, 35 percent of which involved a fatality and occurred during happy hours.
"What we have suggested by all the legislation in the past four or five years … [is] to exercise moderation," Mahar is quoted as saying in a transcript of the Senate's discussion of the bill. "The idea of happy hours flies in the face of moderation."
The bill eventually passed and took effect Sept. 1, 1989, and came to be known as the Happy Hour Law.
The Happy Hour Law prevented bars, taverns, restaurants, hotels, and other establishments that serve alcohol from serving one person two or more drinks; serving unlimited alcohol for a fixed price; or holding contests or games that involve drinking alcohol or award alcohol as a prize, among other limitations.
One edict set out by the Happy Hour Law required that drink prices "must be the same for all customers, for all purchases for the whole day." Just months after the law took effect, the Chicago Tribune reported that liquor-license holders got creative and invented a new concept to bring customers in, while still obeying the law: happy days.
Offering $1 shots from 5:00-7:00 pm, for example, was prohibited; but bars were allowed to offer $1 shots during their regular business hours of operation (i.e., all day).
Some statutes of the old Happy Hour Law still stand under the new legislation, known as the Culinary and Hospitality Modernization Act.
For example, liquor retailers still cannot sell unlimited alcohol for a fixed price or more than one drink for the price of one; increase the amount of liquor in a drink or the size of the drink without raising the price; or hold games or contests that involve drinking or present winners with alcoholic prizes.
While establishments may now offer drink deals and alcoholic beverages as part of meal packages during a short number of hours, they cannot offer these "happy hour" deals past 10:00 pm. The new law also requires that anyone serving alcohol in the state take a training course about responsible service.
The Illinois Restaurant Association released a statement May 31 after the bill had officially passed in both houses, lauding it as a way to "advance Illinois' culinary and hospitality industry," "drive more sales taxes into municipal coffers," and "create a better trained workforce in restaurants and bars across the state."
While bar-goers may rejoice and employees may get schooled on responsible serving, happy hour opponents fear repealing the ban and allowing these promotions sends the wrong message.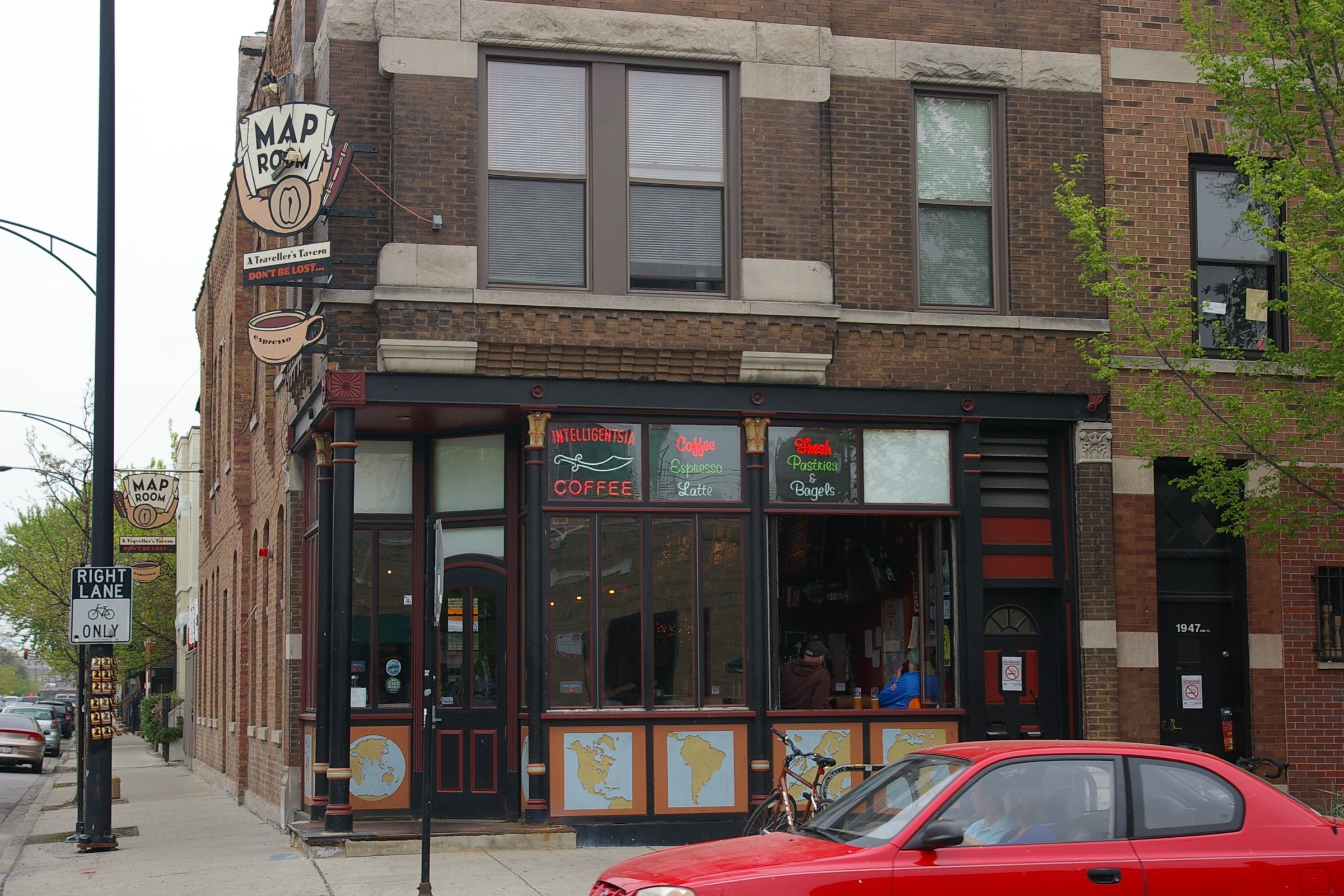 The Map Room, 1949 N. Hoyne Ave. (Photo courtesy joelplutchak) "When they put this law in place [banning happy hour], it made a lot of good sense for a lot of good reasons," said Jay Jankowski, manager of – and beer buyer for – the Map Room, a Bucktown bar with a travelers theme and an extensive beer menu. "It's just kind of a way to get people into your bar and get them hammered."
Jankowski grew up in Michigan and has worked in establishments where happy hour is permitted.
"It's just kind of ugliness," he said. "Most of it encourages binge drinking and then the employees have to endure what's going on with those people. … I wouldn't put my employees in that situation."
While many taverns will now likely offer happy hour deals, Jankowski said the Map Room won't be doing anything differently, and he isn't concerned that a lack of happy hour specials will affect business.
"We offer very reasonable prices for the quality of beer that we serve," he said, noting that the Map Room's beers are generally $1-$2 cheaper than other establishments throughout the city, where a pint can cost $9. "People that come in here, especially in the afternoon, are not looking for that sort of situation."
See a map of happy hours of laws across the country.